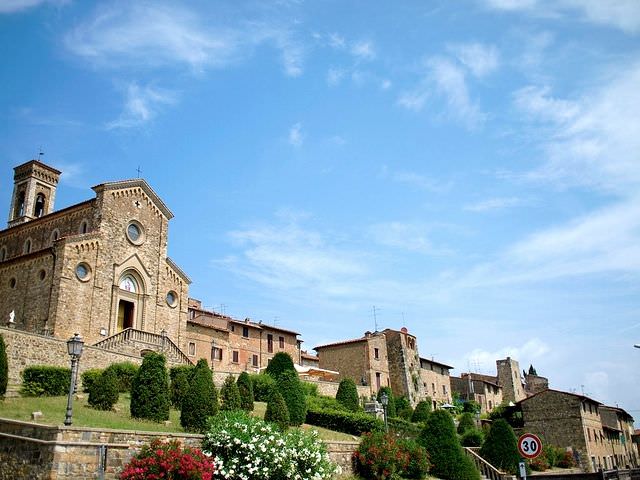 My trip to Florence was fundamentally flawed.
It was July and on a whim I'd decided to re-route my ticket from Asia to spend a month in Italy. And, as habit would have it, I didn't have a single plan to my name. For a style of travel that is theoretically carefree, it can come with an awful lot of stress and potential expense. Especially when you turn up in the wrong place in the wrong season…like Florence during one of the busiest periods of the year – summer.
Peak Season Problems in Florence
I'd been to Florence a couple of times before. In spring and autumn and although there were plenty of tourists milling around, it was a volume that felt like a good party that wasn't overcrowded. So, I was completely unprepared for the mass of bodies that awaited during my summer trip.
I knew pretty quickly that my plan-free trip was going to be trouble when I tried to score a room for the night. I say "score" because it was a somewhat competitive process that involved hours scouring the web until I succeeded. A room for the night. But what about the other 30 days of my trip? I didn't plan to stay in Florence the entire length of July, but long enough to gaze up (blushing) at David, tackle the Uffizi, gorge on Ribolita (even in summer) and simply amble along the Arno. Ten days would do it (I travel pretty slow these days).
Night one, I stayed in the place I'd "scored" online and, upon check-in was lucky enough to slip into someone else's cancelled room for another two nights. And then the weekend hit and I started to realise the seriousness of the accommodation problem in Florence and Italy as a whole. With little choice bar a huge blow to my credit card, I strapped on my bag and pumped up my footballer calves to hike up to Piazalle Michelangelo where a camp site held the promise of beds.
Sure enough, I was rewarded. Not just with a tent (the wonderful kind that you can stand up in) but some of the most magical vistas in the whole of Florence. Sitting down with a cold beer, mesmerised by the slowly fading brightness of the sun as it set over the rooftops, I felt pleased; my lack of planning had brought me to a better spot, and my contentedness lingered for the evening.
Until I went to bed.
What I didn't mention is that somewhere between check-in and checking Florence out, an almighty downpour had taken place. It had rained hard and fast but cleared quickly, my memory of the storm lasting no longer than it did. My bed, on the other hand, hadn't forgotten so quickly. It wasn't soaked, but it held a level of moisture that slowly seeped through the four blankets I placed on the bed, leaving me feeling already showered (in mildew) when I woke.
I sighed. Time to find accommodation number three.
The problem was, I'd fast run out of options. Booking on the day was clearly not a viable solution in Florence in mid-summer, and certainly not on a Saturday night. I had to think more laterally. I had to look further afield, and ideally a dry field at that.
Which is how I came to visit Tavarnelle val di Pesa.
Tavarnelle val di Pesa, Chianti Region
Using the internet as my guide, I discovered a small town called Tavarnelle val di Pesa. I fell in love with it before I even got there because it ticked all of my practical requirements:
it wasn't too far – I planned to return to do my sight-seeing after the weekend rush…everlasting fool I am;
I could get there by public transport – great given I didn't have a car and stood about the same chance of hiring wheels as finding a bed at the last minute; and
it was in the Chianti Region AND there were accommodation vacancies – I nearly blew the foam off my cappuccino with that news.
I booked online and within a couple of hours (part of which was consumed by hoofing back down the hill and locating the bus station), I arrived…to mild disappointment.
First Impressions
Rolling Tuscan countryside. Sunflower fields in abundance. Rustic charm. Hidden gem. And all those lovely cliches that draw us in had been on the promised list but as I looked around, all I could see was brick. 1960's-looking housing-estate, brick. I sighed. It was my own doing. My lack of planning and detailed research had seemingly struck again. At least the town had beds. And dry ones at that. I was in no position to quibble.
I checked into my accommodation…actually, I hung around for nearly two hours waiting to check into my accommodation as is customary family run places in Italy if you turn up during the four hours designated for lunch (hey, I'm not bitching, I'm flat out envious of the lifestyle). Grateful for a roof for the night that didn't cost the price of a one-way ticket on a Learjet, I resolved to ride out the next few days, and use the uninspiring concrete jungle surroundings as a prompt to spend more time indoors getting some work done. It would be ok.
And then I met Simone.
The Real Tuscany
Simone bound into the common area with an exuberance that belied the location. At first, I thought it was entirely down to the nearly empty bottle of rosé wine she was waving around in her hand animatedly. But there was something more. She was describing her day – a traditional Italian old town, a stroll past meandering vineyards, Chianti tasting, balsamic sampling, pasta making and a night market that was just about to start.
What?
Were we in the same place?
Apparently so. As usual, my geographic deficiencies had dragged me in through the backdoor, promptly missing the beauty that sat around me, waiting patiently in the way only a quietly confident town can. I finished making dinner (yes, you can cook good, rare steak in a table-top camping oven with just a baking tray), strapped on my heels, accepted a slurp of the warming rosé wine and set out into town with Simone as my willing guide.
My favourite things to do in Tavarnelle val di Pesa
Explore the old town
While I was staring at modern brickwork, old Tuscan charm lay ridiculously close. The old town used to be a Roman station and was documented as far back as 790AD. The town ticks all the stereotypes that many of us go to Italy for – tall, straight towers, decked with huge clock faces, reaching for the sky; a church that is grandiose and impressively commonplace in equal measures; and cobbled streets running a course through the town that couldn't lie straight or flat if they tried.
The church and the monastery are two of the most popular sights in the town but it was the rudimentary night market which was randomly littered throughout the heart of the town with stalls on folding card tables that charmed me the most . After Asia which tends towards a pushy style of sales, it was such a relief to be able to amble past sellers, touching the wares, sampling the goods without any pressure to buy while the producers grazed on the remains of dinner and sipped on their own brand of wine (no better advert if you ask me).
From table to table we tasted olive oil and Chianti, and fondled locally made jewellery that was so unique that I wondered about the benefits of moving permanently to the town in the hope that by breathing the same air, some of the creative talent could rub off on me. It was the ideal introduction to the real Tavarnelle val di Pesa and as if staged by Hollywood, it was all laid out under the a glow of golden lighting.
But it was the next day I was most looking forward to.
Wine tasting at Il Borgo
Tavarnelle val di Pesa is an official resident of the Chianti Region and I couldn't think of a stronger excuse to try the local wine (not that I usually need to look too hard to find an excuse). Even better, Borgo di Cortefredo, a small, luxury hotel in in the town offered free wine tasting.
Let's take a minute to absorb that concept. Free. Wine. Tasting. In. Italy.
There's an abundance of wine tasting tours in Florence, but most often these cost. Even if you do managed to stumble across a place that will indulge you with a free tasting, you can bet a purse full of Euros that the line will be out the door in summer-time Florence.
Which made the tasting in Il Borgo (as it is affectionately named by the staff) all the more divine. With just five of us sat around a small table, in an ambient wine cellar-come-larder, it was hard to believe that not too far away, the madding crowds were taking Florence by storm.
Under the instruction of an expert, we were guided through a tasting of white, rosé and red wine (Chianti, of course) followed by a sampling of olive oil, balsamic products, honey, jams and cheese. It was heaven in my mouth. Skipping out, slightly tipsy, with some newly procured goods under my arm (there is no pressure to purchase other than what your tastebuds will impose on you), I was already on a high. But more exciting things were to come.
Wine tasting is offered daily even to non-guests. No booking is required – simply ask at reception but do be aware that the tasting may be cancelled if there is a wedding or party on at the hotel.
Pasta Fresca Class with Vilma
Taking a cooking class in Italy is a dream for many, myself included, but the problem with such a large number of people sharing a collective dream is that it is a flashing red light to cooking schools to raise prices for the privilege.
I once did some research on Italian cooking schools and the cheapest of the shortlist was €1,200 for a week's tuition, with prices running over €3,000 for others. Sure, this included accommodation, side trips and other attractions and yes there are cheaper options out there, but even in a family-run guesthouse in Sorrento the discounted rate for the cheapest course I saw was close to €200.
The thing is that as much as I want to try my hand in an Italian kitchen, I don't want to blow a month's budget doing it. I really just want to get flour between my fingers. I don't need to know how to gut a boar and I can figure out tiramisu on my own. A fleeting experience that didn't cost a small swatch of Tuscan earth was fine and that is precisely what Tavarnelle val di Pesa delivered up.
Once again, Simone had done the research and experimenting for me and shared the secret that for €25 I could spend a few hours with Vilma in the local pasta fresca (fresh pasta) shop learning how to make pasta. The shop supplies most of the restaurants in the town as well as being a favourite amongst the locals, so I had no doubt about the quality and signed up instantly. As is common in the town, you can book a pasta class with Vilma by knocking on her door and asking when she is free. 6pm Vilma suggested? Perfect, I agreed.
By 6.05pm I was wrapped in a pinny and up to my elbows (I can be a messy chef) in ingredients. For the next hour and a half Vilma taught me how to create pasta dough, cut, fill and shape the pasta and cook it all to perfection. It was a simple class that came at an attractively low price, with Vilma's winning way thrown in for free.
You can read more about Vilma's class here.
Sat down to eat the tortellini slicked with butter and sage and spaghetti served most naturally in a plain tomato and basil sauce, we shared some Chianti and chatted some more. It transpired that no so long back Vilma has been flown out to Canada by one set of tourists who had discovered her shop. Once there, she had spent time teaching pasta classes and getting herself into the local newspaper in the process. She was a modest minor celebrity with the framed article to prove it. And after tasting what we had cooked together, I could understand why.
Days rolled by as I explored. A mother and daughter in my accommodation hired a bike and rode through the countryside in search of those picture famous sunflower fields, and were rewarded for their effort, while many of us rolled from one eatery to another sampling the daily specials. And, on the occasion we were unable to decide, one chef happily served pizza and pasta for eight in large bowls and on platters with his favourite dishes streaming from the kitchen until we were fit to bust.
Another night was filled when a small concert came to the Piazza while espresso from the local cafes propped up my days.
As each 24-hours passed, I increasingly forgot about my plans in Florence. I continued to absorb this small town that was working its way further under my skin on a day by day basis until suddenly a week had nearly gone by and a mental transition had occurred. I didn't want to return to the city I'd come to Italy to see. I didn't want to weave between Florence's cruise crowds hoping I, as a lone tourist, wouldn't get crushed by my counterparts that travel en masse. I wanted to stay in the town. Ideally forever. I wanted four-hour lunches. Evening chats with Vilma in the Pasta Fresca shop. Coffee in the tiny Piazza. I wanted it all.
But, with another weekend gone by, I packed my bag anyway. I headed to the bus stop and worked my way back to Florence.
Sometimes as I travel, I uncover places that remind me why I do what I do. Not all locations excite me, and certain locations even displease me. But often enough there is a place that completely surprises me and it is in these small discoveries and secrets that I find true delight. And therein, the overwhelming desire to keep seeking such places out… because if I sit still for too long, I might never get to know that they exist at all.
Getting there
Tavarnelle val di Pesa is located 39 km (24 miles) from Florence.
You can get there by Sita bus near the SMN (Santa Maria Novella) train station in Florence. I had some trouble locating the bus station as there are lots of buses out front. To find it, stand with main entrance in front of you and follow the outside curve of the station to the left. Keep going following the road and you will eventually end up at the bus station. Don't get confused by the streams of bus stops outside the train station, the Sita bus station is a covered station.
This is an up to date timetable. Pay attention to evening buses as they do not run late and beware that the schedule is minimal on a Sunday. The journey takes about 40 minutes.
Coming into town, tell the driver you want to get off in Tavarnelle val di Pesa – don't hop off when you see the sign for the town as it is situated at the town's outer limits, a good few kilometres from the centre.
In Tavarnelle val di Pesa, you have to buy your ticket from the bar/tabacchi in the Piazza – don't wait unil the bus arrives to find this out, like I did (cue: panicked run up hill with 8kg bag on back).
A single from Florence cost €3.30. Don't forget to validate your ticket when you get on the bus.
Where to stay
Ostello del Chianti is an excellent budget option and is where I stayed. Dorms are available from €16 per night but double, triple and quadruple rooms are also available. Breakfast is a bargain €1.90 and there is a beautiful terrace with mature trees outside, perfect for sipping a glass of Chianti after a hard day of doing not much.
il Borgo – if you're searching for more luxury, then il Borgo is a worthy option. Although I didn't stay there, the lobby felt luxurious, the pool looked inviting and why wouldn't you want to stay in the place that is generous enough to offer free wine tasting?
Summary of money saving tips for this trip
Although Tavarnelle val di Pesa is only a short distance from Florence, it is a much better budget option as accommodation, food, drink and activities are much cheaper than within Florence and the quality is often better, too. For example, a bed cost €16 here compared to €30 in Florence. If your budget is tight, "commuting" to Florence by bus is an option from the town.
Tavarnelle val di Pesa is a great place to get the feel of Chianti and rural Tuscany without the cost of hiring a car.
Even if you do have a car, €3.30 (one-way), and the ability to watch the countryside amble by, the Sita bus is a great transport option.
Before you sign-up to an expensive cooking class, consider whether a shorter, pasta making evening would scratch your cooking itch. At a fraction of the cost, it makes great budget sense.
Impose a limit before you visit the wine tasting – I didn't and I walked away with a bunch of items I didn't need, my testbeds and the influence of Chianti taking my credit card to the cashier.
The town has a large, well-stocked supermarket, which is great for crafting picnics, picking up cheap wine and pre-made meals that will be cheaper than eating out.
Book accommodation in advance in Italy if you want the best choice of budget accommodation in peak season.
Did I mention: Free. Wine. In. Italy?
Photographs: Thanks to the wonderful Simone, I have pictures to show in this post. My memory card broke in Sorrento taking all of my Tavernelle val di Pesa pictures with it. Unless otherwise stated, the lovely images here belong to Simone and may not be reproduced without her permission.
Want to read more travel planning tips for Italy?
Related Articles: