Times change: Since writing this guide, the political situation has changed in Myanmar. Some adventurous travellers are still visiting, so I'm keeping these guides online. Also, in the hope Myanmar will open once more. If you do visit, check your government's travel advice (it can impact your travel insurance) as well as local advice.
There was no way I could go to Myanmar (formerly Burma) and not travel the road to Mandalay. Rudyard Kipling had all but demanded it in his iconic poem about the city.
O the road to Mandalay,
Where the flyin'-fishes play,
An' the dawn comes up like thunder outer China 'crost the Bay
Rudyard Kipling, Mandalay (1890)
Want a quick summary, check out my video of the journey
And if you like boat journeys, here's what my day on Inle Lake looked like…
And that 'road to Mandalay' as described by Kipling in his poem is not a road at all – it's the Irrawaddy River that carves it's way like a spine through the centre of Myanmar.
The best way to get around Myanmar – by boat
I spent three weeks in Myanmar but it didn't take long to realise that there were myriad ways to travel around the country – and taking the road was seldom the most interesting choice. There were hot air balloons in Bagan, the circle line train around Yangon, trekking through the mountains near Kalaw, flying (an experience that's fresh from the 70s in Myanmar), and, of course, the many boats that ply the Irrawaddy River.
Why take the boat from Bagan to Mandalay?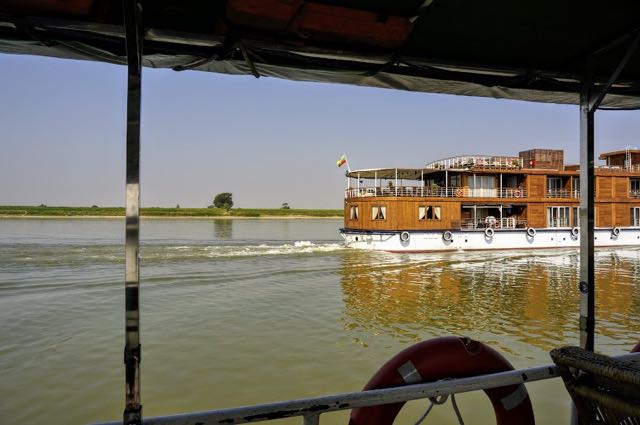 Slushy browny or bog-standard blue at best, the Irrawaddy River may not hold obvious appeal on first glance; not when there are buses that run the same route in under 6 hours compared to 12 hours on the river.
So, why would you take the boat?
The thing with the bus is that the landscape is set – long dusty brown stretches of highway that are so uninspiring you'll be face down in a book (probably Burmese Days by George Orwell) in five minutes flat. After all, this form of travel is all about the destination – and getting there as quickly as you can.
The boat, on the other hand, offers a journey –
… cruising the river under the high, bright sun, cooled by the kind of breeze that is unique to travelling by boat;
… spending a day watching river life unfold between dawn and dusk, waiving to the fishermen and families out on the river;
… snapping and snapping and snapping – your head and your camera shutter as you struggle to capture the overwhelming number of golden pagodas lining the banks;
… and then there's the momentum of the boat. The chugging and gentle sway that will have you more relaxed than a Myanmar massage by the end of the day.
Taking the boat from Bagan to Myanmar may not be the fastest form of getting there. But where in your plans did you ever write down 'see Myanmar as fast as humanly possible?'
How to choose a cruise on the Irrawaddy River
There's an increasing number of cruise companies cashing in on the appeal of sailing on the Irrawaddy River between Bagan and Mandalay. Many of these are foreign tour companies offering package deals for several nights' stay on the river. The boats looked swish and if you have both money and time to enjoy the river for longer than a day, you can find out more about the luxury Irawaddy River cruises.
I opted for the one-day cruise run by MGRG Express, the main (and possibly the only?) local company running scheduled trips between Bagan and Mandalay on the Irrawaddy River.
I have no hesitation recommending this trip with this company and if you're interested, they also offer the same route with a 1 or 2 night stay.
Can you go from Mandalay to Bagan?
In short: yes.
I went from Bagan to Mandalay but you can take the reverse route.
The sights will be the same but you will have a slightly shorter journey on this southern route (around 10.5hours instead of 12) because the Irrawaddy River flows downstream and you'll be going with the flow. That said, on the day I sailed, we made the journey in 11 hours, not 12.
You will also pay a bit more money going downstream.
I've put all the practical details about prices and booking at the end of this article.
What follows is a run through of my experience on the boat.
---
What to expect onboard
Get ready for an early start
My ticket included a free pick-up from my accommodation, which was a good thing because I didn't much fancy fishing around for a taxi at 4:30 a.m.
As we bumped through the dark, dusty streets, I was in a sleepy fog. The ride took about 30 minutes and ordinarily I'd find this a sufficient snatch of time to drift off (because that's what most normal people should be doing at 4:30 a.m.) but my eyes were drawn beyond the window of the minivan.
In most places around the world, 4:30 a.m. is an hour where the streets are occupied solely by stray dogs and those who've been out on the streets all night, taking shelter in doorways against the chill of the night.
While Bagan had it's share both, there was something more – monks on their way to prayer. Riding bicycles, walking silently in pairs, their purple and orange robes punctuating the darkness. In a way, it was worth rising early just for this vision.
Prepare to walk the plank
I was greeted at the dockside by torchlight. Tickets were checked and the boat staff indicated the way with a flick of her light – down a steep, slippy sandbank. Careful not to injure my knee (again) I shuffled down the sand.
In the darkness, the boat looked like it was anchored far out at sea but as I neared, I noticed a rudimentary gang plank – board stacked upon board stacked upon board all the way to the boat.
Good job I'm always one deep breath away from being ready for an adventure. So, taking the hand of one of the boat guys, and letting my suitcase balance me on the other side I stepped one careful step after another until I was onboard.
If you're worried – don't be. It's easier than it looks and was managed by people of all shapes, sizes and skills.
Pack a warm layer for the early morning chill
One word you'll rarely use to describe Myanmar is cold but with that early morning start and the river breeze blowing over you, you're definitely going to feel a chill until the sun is up. A good share of the passengers stayed below deck for that first hour, but where's the fun in that? With a couple of layers to hand, it's possible to face the cold with zero chance of missing the sunrise.
Packing a warm layer – what I take with me
I don't spend a lot of money on travel clothes because they very quickly get ruined with dust, dirt and…yep, sweat. However, I always invest in technical cold-weather clothes because with a few carefully chosen items, you can tackle many cold weather scenarios without adding too much bulk or weight to your packing.
Here's what I carry:
A merino wool base layer top.
A good quality fleece. I like the ones by The North Face.
A good quality windbreaker/rain jacket. Again, I pack one by The North Face and usually buy a size bigger than normal so I can fit my fleece underneath.
Yes, these items can be expensive but they're a good investment – all have lasted for over 4 years. In fact, my fleece is getting close to it's 7th birthday….I might take it on a trip to celebrate.
I don't usually bother with base layer bottoms – the combo of a standard pair of leggings and 80 denier tights work just as well for me and both can then be worn separately.
You can find all my favourite travel gear on my Amazon Store as well as on my Packing List.
Expect to see one of the best sunrises of your life
Around 6:15 a.m. the dawn started to break and for the next 30 minutes the river took on a milky glow of grey, blue, orange and pink.
And then the sun started to appear on the horizon.
Vivid, commanding and unsettling with how unearthly it looks, I could spend the rest of my life watching that red ball of fire rise through the haze of Myanmar's dawn and not get tired of it.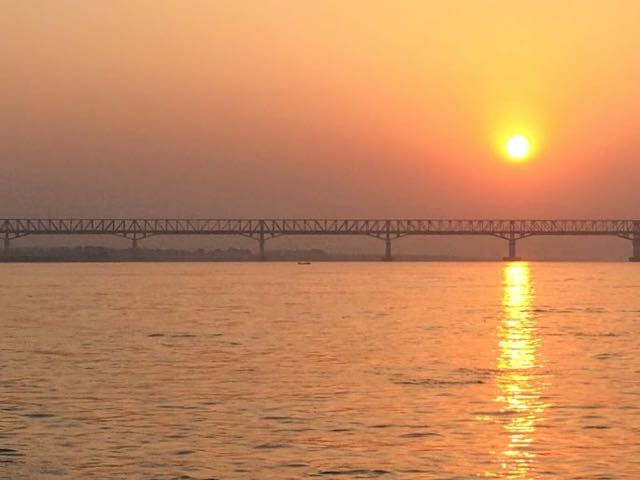 Try to photograph it or video it if you like. I tried both. But the best thing to do is to simply enjoy it. I promise you it will be one of the most memorable parts of all of your travels.
Travel tip: Going upstream, the sun will rise on the right of the boat.
Breakfast is a pretty decent offering
Breakfast was served just before dawn, permitting one of life's greatest pleasures – holding a cup of steaming coffee in hand as the sun rises.
As for the food, let's start with the fact that side by side with the bad food in Philippines, Myanmar has some of the worst food in the world (IMO), so, against that backdrop, breakfast was a pleasant surprise. We're not talking about anything that would get the Parisian's worrying about the competition, but it was edible; not something you can take for granted in this fat, salt and sugar heavy country.
Post trip note: I wrote the above based on my lasting memory of the breakfast on board, and before checking the photo I took at the time. You may be eyeing up the basic banana, boiled egg, dry croissant and slice of cake and rapidly reaching the conclusion that, for someone who is a foodie, I've taken leave of my senses. And you'd be right. I did. When I was in Myanmar. Because everything is relative and this was relatively one of the better breakfasts I ate in the country. Feel free to reference my earlier point about Myanmar having some of the worst food in the world.
Expect an early lunch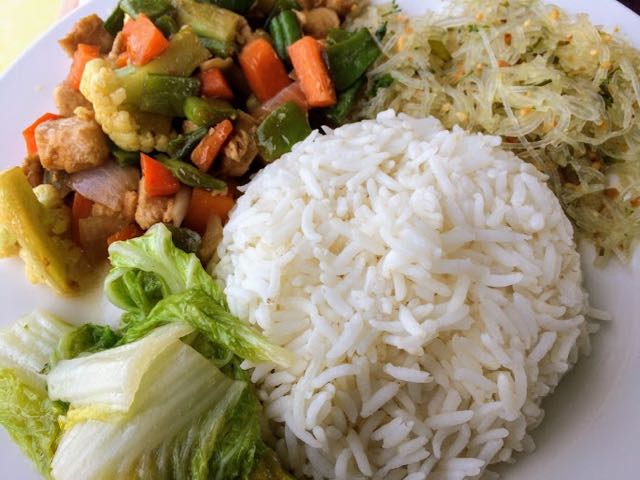 Given we're on the topic of food…breakfast is served not long after boarding and as a consequence, 5 hours later – at 11:30 a.m. – lunch arrived. From memory, it was fantastically tasty but do see my disclaimer above about the relativity of Myanmar food.
Take some snacks
An afternoon snack of a small bit of cake and slices of dry, white loaf materialised (see my point about the food?). Apart from a fridge which had water, soft drinks and beer for sale, there was no other food on board so you might want to pack snacks. Actually – that's good all round life advice: always pack snacks.
Don't be afraid of the toilet
Ok, it's never glamorous to include a shot of the facilities (and, trust me, it's far less glamorous taking your camera to the loo to capture the moment) but I get asked about toilets. A lot.
Yes, the cistern lid was missing and the flush was a pull cord coming out from that open cistern lid, but let's focus on the positives – it's not a squat toilet, there wasn't an inch deep sluice of water on the floor, paper was supplied, I didn't need to hold my breath when I went in, and the seat and toilet were actually pretty clean. Quite a relief when you're on board with just one choice of toilet all day.
Don't worry about getting sea sick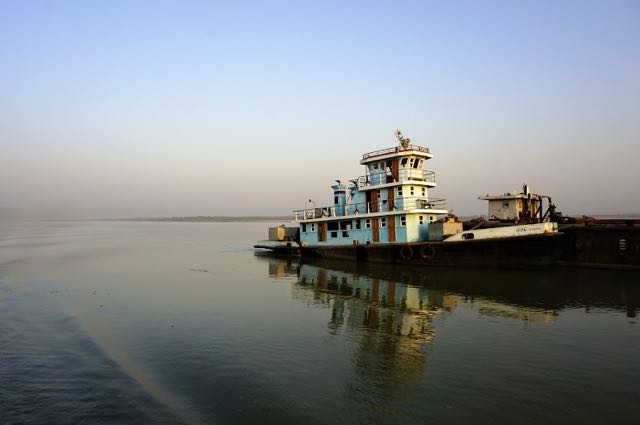 I don't get sea sick, which pleases me immensely, but I've travelled with plenty of people who do and I'm sensitive to how horrible an experience it must be. I'm also pretty well tuned into those boat journeys that make people sick versus those that don't and, I'm happy to report that not a single person suffered from sea sickness.
That said, take your own precautions just in case because it's always best to be prepared.
Make sure your have enough space on your memory card or phone for the journey
I'm going to let the pictures do the talking – what follows is just a glimpse of some of the views you're going to get along the way.
There will be bridges.
Expect to see plenty of boats from fishing boats to tug boats.
Yet the boats aren't the most colourful things to see – that prize goes to the many, many, many golden pagodas dotted along the river banks.
And then there are those moments when you see both the bright boats and the golden pagodas at the same time.
All that glimmering gold…
Sit back and enjoy life passing by
It is a long day on the river and there will be times when you do want to be face down in a book but if I could go back and have a chat with Kipling, I'd thank him kindly for his inspiring travel advice to take the 'road' to Mandalay.
---
Where to stay in Bagan
There are 3 main areas to stay in Bagan – New Bagan, Old Bagan and Nyaung U. If you want to slap a price tag on them for the sake of convenience you could say that Old Bagan is best for budget, New Bagan is mid-range and Nyaung U has more luxury offerings.
Budget: Ostello Bello, Bagan: An Italian chain, I've stayed in the Ostello Bello in Milan more than once and they've definitely exported their high quality offering to Myanmar. Favourite bits – the myriad temple seeing tours they offer, the day beds available when you stumble off a night bus and can't check in until 2 p.m, the social scene – it's great for meeting people if you're a solo traveller. Ostello Bello is located in New Bagan. Dorms and private rooms are available.
Mid-Range: The Hotel at Tharabar Gate: Located in Old Bagan, this hotel wins for location and there is also a tour desk if you want some help planning your sightseeing in Bagan.
Luxury: Bagan Lodge: After a day of hot and dusty sightseeing, you'll welcome access to a pool – and Bagan Lodge has two of them, together with a spa and a shaded terrace off your room. Speaking of the rooms – closer to suites than hotel rooms. If you're after an oasis in Bagan, this place is it. Bagan Lodge is located in New Bagan.
Where to stay in Mandalay
Mandalay is a sprawling mess and, to be honest, doesn't have as many sights as you might expect. If you'd like to see the palace without sitting in traffic all day, book accommodation close by. If your main aim is to get out of Mandalay centre to explore the U-Bein Bridge, it doesn't really matter where you stay.
Budget: Ostello Bello, Mandalay: Close to the palace and with rooftop views, the other offering from Ostello Bello in Mandalay is another success. Once again, great for socialising with evening activities run by the hostel and those little bites of free pasta that turn up a few times a day.
Mid-Range: The Link 83 Mandalay Boutique Hotel: Almost brand new, clean and with a 'western' style to it, Link 83 is close to the palace. I stayed here for a few nights and although there were not many guests here, making breakfast a bit 'interesting' as a solo traveller, the staff were hyper helpful and I got my hands on the fastest wi-fi I'd had in all of Myanmar. (Don't get too excited – it's still painfully close compared to back home). It also helped that I got a last-minute deal on the price – see the link below.
Luxury: Mandalay Hill Resort This place has it's own lake! Not only that, it's sprawling grounds will provide 5-star respite from the hustle, bustle and honking horns of Mandalay.
---
How to book
MGRG boats depart from the Nyuang U Jetty, which is about 25 minutes from New Bagan, 20 minutes from Old Bagan and 15 minutes from Nyuang U.
Boats depart once daily except in March when, towards the end of the month, boats sail every other day. You can find the schedule on the MGRG Express website.
One-way tickets cost:
$32 from Bagan to Mandalay.
$42 from Mandalay to Bagan.
I booked my ticket with the travel agent next door to my accommodation in Bagan and I believe you can do the same with any travel agent in Myanmar. I didn't have to pay a booking fee.
I didn't try to book online but the ferry company does seem to have a good response rate through the MGRG Facebook page.
Want to read more about Myanmar? Check out my other articles
Related Articles:
Have you been to Myanmar? Did you take the boat to Mandalay (or from Mandalay)? Is it on your travel wish list? Let me know in the comments below.
Like this? Share it on Pinterest…