Ever wanted to go swimming with whale sharks in Mexico? I finally put on my big-girls pants and jumped into the water with the world's biggest fish. This article gives you the low down on what to expect, likely costs, trip planning tips and my thoughts on the best place to go swimming with whale sharks in Mexico. Hint: it's not where the millions of other tourists go.
Did you know that whale sharks can be as long as a double-decker bus? I was all up for swimming with whale sharks in Mexico until someone enlightened me to that fact. After that, it took me a solid three months to pluck up the courage to hurl myself into the Caribbean Sea in search of the world's biggest fish (yeah, I know, I'm Indiana Jo and I guess I should be more fearless, but did you hear what I said – THE LENGTH OF A DOUBLE DECKER BUS, I tell you). Eventually, after a lot of umming, ahhing and Tequila based decision-making, I took the plunge. Literally.
However, those three months of deliberating were not a waste of time. In fact, that (significant) pause for thought gave me some great insight – I spoke to many people who had taken tours from different locations and together with my own experience, here's the results.
Whale Sharks – what are they and will they kill you?
Let's start with some fun (scary?) facts about whale sharks.
I've already mentioned that they are gargantuan. More specially, they can grow to 40 feet (around 12 metres). As such, it should come as no surprise that whale sharks are the biggest fish in the ocean.
Wait, what? Whale sharks are fish? Yep. That's another fact that surprised me. Despite the scary sounding name, whale sharks are not related to their mammal friends, whales. But more importantly, nor do they share any characteristics with some of their more deadly friends, sharks.
They may be carnivores but their favourite dish is plankton, not human (thankfully).
So, if they are just big fish, why was I so afraid of jumping in the water with them? Did I already mention they grow to THE LENGTH OF A DOUBLE DECKER BUS? And what those bus-size animals have is a huge, gaping mouth. One deep inhalation of plankton and I could inadvertently be rewriting "(Indiana) Jonah and the whale (shark)".
I accept in hindsight it was an entirely irrational fear (much like my fear of courgettes/zucchini), but the sheer immensity of the whale shark made me hesitate. Yet I'm glad I finally found the courage to go do it because it turned out to be one of the best experiences of all my travel adventures…and I've had a few.
For more information about whale sharks, check out the National Geographic website.
When is whale sharks swimming season in Mexico
Whale sharks are tropical creatures (a little bit like myself) and, as such, they have a fond tendency for warm waters. For that reason, the time and place to swim with them varies as they migrate around the world seeking heat.
Wikipedia gives a long list of the places where you can find whale sharks around the world with destinations ranging from Indonesia to Australia to Tanzania to India. However, if you're particularly interested in doing it in Mexico, there are two main places and swimming seasons in Mexico.
On the east, off the coast of the Yucatán peninsula, the whale shark season runs from 1 June to 15 September. Across the way, on the west, the whale shark season off the Baja peninsula runs slightly later from October to February.
Important booking note: swimming with the whale sharks is a regulated industry in Mexico so the swimming dates are set. If anyone offers to take you on outside of the set dates, walk away. What they are offering is illegal.
Where to go swimming with whale sharks in Mexico
The Yucatán peninsula and the Baja peninsula are the two best places for swimming with whale sharks in Mexico and to a large extent, the time of year you're visiting Mexico is going to determine the best location.
My personal whale shark experience was out in the east in the Yucatán peninsula. As I've not experienced a whale shark swim on the Baja Peninsula, this article will focus on the east coast opportunities, but the swimming experience is, I suspect going to be the same in both locations. Do check it out if you are visiting Baja California.
Swimming with the whale sharks is a booming tourism industry in Mexico during the whale shark season and in the Yucatán Peninsula the tours tend to head out from three spots – Cancun, Isla Mujeres and Isla Holbox.
Options 1 and 2: Cancun and Isla Mujeres If you're staying in Cancun or Isla Mujeres, a small island off the coast of Cancun, you're in prime whale shark tour territory.
It's also very possible to take a whale shark tour if you're based in Tulum, Playa del Carmen or Cozumel – you'll just spend some time at the beginning of your tour on the road getting to Cancun or Isla Mujeres. It's worth knowing that the vast majority of tourists holidaying on the east coast tend to take the tours out of Cancun and Isla Mujeres and while it might make for the simplest and quickest trip, it's not necessarily the best option.
Enter….option 3: Isla Holbox
Related: Quick Guide To Yucatan State in Mexico – with Maps | 16 Best Things To Do in La Paz Mexico | How To Swim With Sea Lions in Mexico – Baja California
Where is Isla Holbox and why go from there?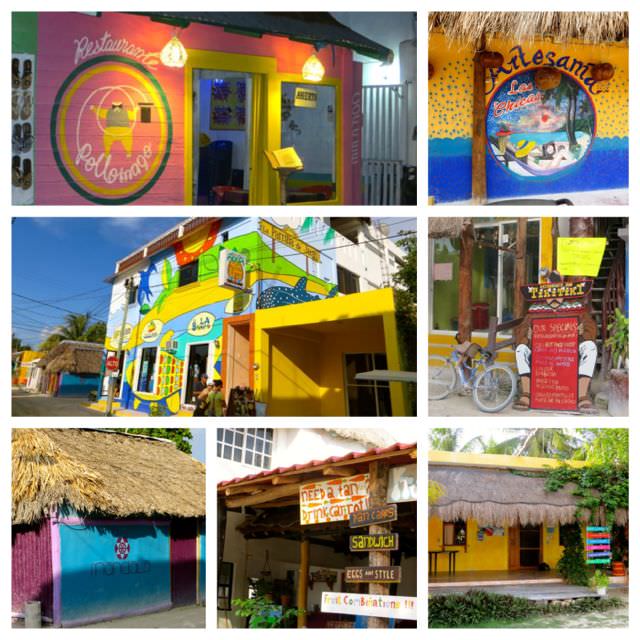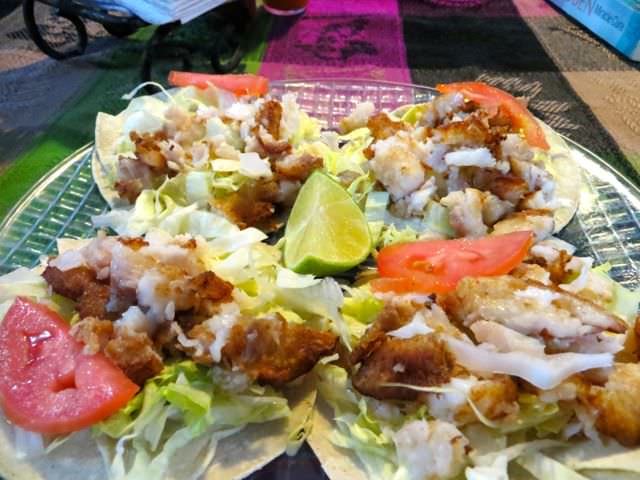 Isla Holbox is one of the most beautiful yet highly underdeveloped islands in Mexico. It sits off the northwest coast of Cancun and retains a fishing village feel. The island is a mere 26 miles (42km) long with sandy streets, brightly painted buildings, minimal cars, beautiful beaches and some of the best fish tacos I've ever tasted. If you thought Isla Mujeres was a place to get away from the buzz of Cancun and other resorts, times that feeling by 10 and you have Isla Holbox. But what makes Isla Holbox so great for whale shark tours?
As well as having the opportunity to visit this stunning island, which has a lower-key tour scene, there is a more fundamental reason to go from from Isla Holbox – seasickness.
What the tours never tell you – seasickness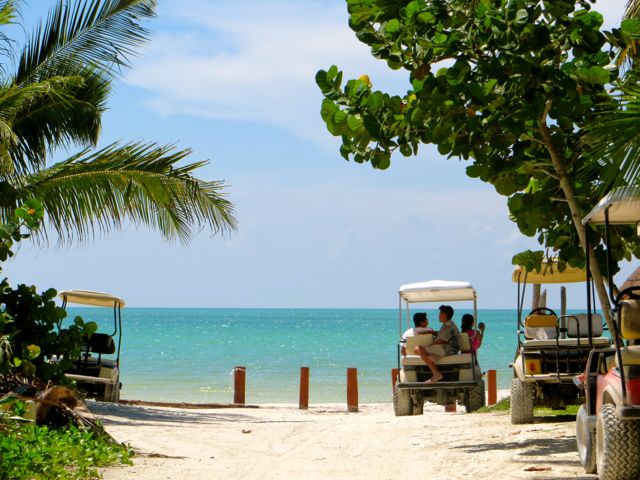 I consider myself very lucky that I don't get seasick but the most significant piece of feedback I kept hearing about the whale shark tours leaving from Isla Mujeres and Cancun was that people who otherwise considered themselves to have cast-iron sea legs were getting sick at sea. And if you did manage to hold onto your exotic fruit breakfast, you were surrounded by plenty of other people who didn't – watching someone else vomit is more likely to push me over the edge than any bumpy waves.
Vomit on the boat, vomit in masks…it sounded like there was vomit everywhere, yet there wasn't a single mention of this by any of the tour companies…but Google "seasick whale shark tours isla mujeres" and you'll see what I mean.
It wasn't what I was looking for – a day spent amongst vomit, and after watching my Travel Amiga come back and take to her bed for hours after her trip from Isla Mujeres (she'd jumped off the boat and waded back to land when they stopped close to shore for lunch), I was growing less and less keen on the idea until someone mentioned Isla Holbox.
I have nothing more than a best guess at why the boats going out from Isla Holbox don't seem to generate the same seasickness – my assumption is that the stretch of water that you have to cross to get to the feeding zone is a lot smoother. Of course, all of the boats – from Cancun, Isla Mujeres and Isla Holbox head to the same area (where the whale sharks are, duh), but the sailing seemed much plainer coming from Isla Holbox. In fact, I didn't hear a single report of seasickness from the tours from Isla Holbox and not a single person on my boat got seasick or even remotely felt unwell.
What more compelling reason could you need to take a tour from Isla Holbox than being vomit free?
Related: Is Mexico Safe? The Main Risks & How To Avoid Them | The Safest Places in Mexico For Tourists To Visit
Booking a tour – How I booked and some booking tips
This is one of those activities when it absolutely makes sense to take a tour. Not only are there regulations that need to be followed, chartering a boat is going to come out way more expensive compared to taking a tour unless you have enough people to fill the boat. Plus, the tour I took gave real value for money.
There are dozens of tour companies to choose from for your whale shark tour – in fact, there are too many to make an easy decision. I booked my tour after a few days hanging around on Isla Holbox. There was good availability (I booked the night before and took the tour the next morning) and it was useful to speak to people about their experiences before I booked (not something you get the benefit of it you book online from your home country).
During my time on Isla Holbox, I stayed at Tribu Hostel (more on the below) and I booked my tour through them. The tour cost around $1,100MXN (around £55/$85USD), which included the return boat trip (kind of essential), snorkelling gear (mask, fins and life vest), an experienced guide, time for snorkelling in addition to swimming with the whale sharks, a decent spot of line fishing and lunch (reference aforementioned line fishing) and drinks.
If that tour doesn't appeal (and you really should make sure you're happy with the company before you commit), there are plenty of tour companies selling services out of shacks and booths on the island. I'd recommend walking around until you find a company that clicks.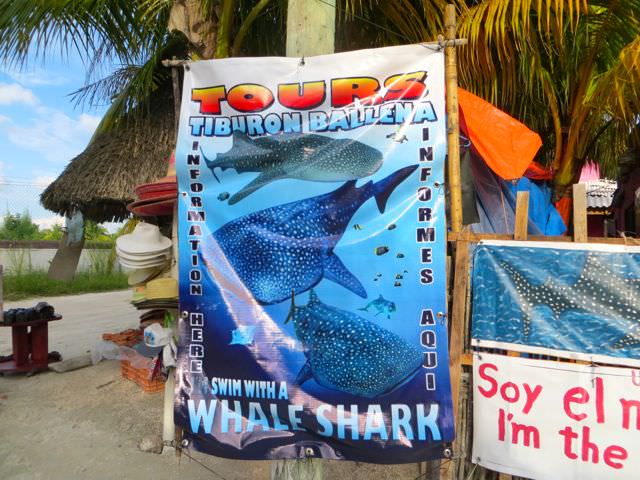 Booking Tips The Spanish word for whale shark is "tiburon ballena" but don't worry, most tour companies have a nice big picture of the beasts to lure you in (or, in my case, scare you away for several weeks).
If you're quoted the price in USD, walk away – these are very tourist focused tours and will have a tax-the-tourist rate of price inflation built in. If you're comparing companies, make sure you know what's included for the price.
The search for whale sharks
Not the most obedient beasts, it's worth knowing that you can spend some time on the water searching for whale sharks during your trip. The trip out to the general area where the whale sharks feed took around 3 hours. We then spent a further hour with the skipper on the radio asking other boats if they'd had any sightings.
Eventually, news came back – the whale sharks had been spotted, and we off we sped.
Mass tourism and the reality of the swim
It doesn't matter how small a boat you've travelled on, when you get close, you're going to see masses of other boats packed with other tourists, and it's worth keeping that in mind for your trip. This is not some placid, tranquil experience with just you, the grand ocean and huge wild fish.
Another frustrating (but good for the big fish) reality is that only so many people are allowed in the water at any one time. The most significant upshot of this is that your time in the water is likely to be limited and the fewer whale sharks there are, the less time you'll get.
On my trip there were only a handful of whale sharks so none of us got more than 5 to 10 minutes in the water (in total). It doesn't sound like a lot, but if you get lucky, it's likely to be some of the best 5 to 10 minutes of your life. But, speaking of getting lucky, there is a significant element of luck involved, from the number of whale sharks in the water on the day of your trip (some people found dozens, some barely one or two) to the path the whale shark takes when you're in the water.
As there are restrictions on how close you can get to the whale sharks, you won't be jumping into the water right on top of them or next to them (unless they turn into your path). So, you're going to need to be a strong, fast swimmer to get a lasting look.
My experience
As I've mentioned, it took a fair while to locate the whale sharks on the day I took my tour – something that absolutely cannot be predicted. And, when we finally did find the whale sharks, there were less than five for us to see, which translated to very limited time in the water as each of the boats and guides took turns letting their tourists into the water. I wasn't exactly expecting a full briefing on what to do when it was my turn in the water but hearing, "Jump. Jump. Jump. Swim. Swim. Swim." was a little less than I imagined. And for that reason I was a little slow on my first attempt.
By the time I'd landed in the water, cleared my snorkel enough to breathe, and started to swim (I'm a leisurely doggy-paddle kind of swimmer in normal sloth-like conditions), the whale shark that was nearest to me had already escaped, a distant flick of its tail being all I saw.
I'll be honest, I was disappointed, but I knew the game – my time was up and that was the reality of chance.
As everybody on the boat, apart from me and another girl, recounted their experiences, I could only smile with hidden jealousy.
However, very conscious of our non-sighting, the skipper came over and offered us both a second chance in the water. All of my past fears aside, I couldn't say yes fast enough. And this time, when the skipper shouted jump, I absolutely did.
What happened next was pure fate. The whale shark I'd lunged into the water to see had once again darted off out of sight. But, with the skipper in the water next to me physically twisting my body and head in the opposite direction, I was barely able to register what he was doing before I saw the world's hugest (I'm 100% sure of that) whale shark swim right under me.
If you've ever tried to have a panic attack and breathe through the small tube of a snorkel while swimming like mad, you'll understand what the next minutes held as me and the whale shark glided through the water together until, after what felt like forever, I once again saw the tail end of a whale shark.
Happy as Larry at having come so close to these huge but graceful fish, I sat as the rest of the day passed blissfully.
A bit of fishing followed (I proudly caught a couple of reasonably big fish) and the skipper expertly turned out catch into a sublimely fresh and delicious ceviche (raw fish marinated in lime and tossed with tomato and onion).
With our stomachs full, the group spent the next hour floating in the water – a bit of snorkelling, a bit of chatting and a lot of smiling. As the early afternoon sun started to sink in the sky, we slowly puttered our way back to Isla Holbox. It had been three months in the making, but I'd had the perfect experience.
Useful information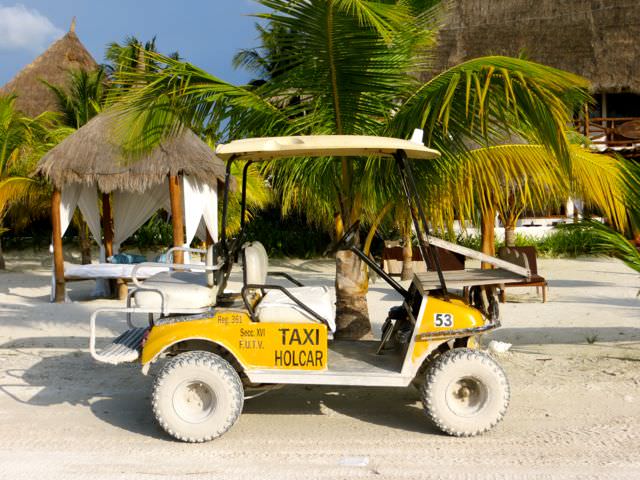 To get to Isla Holbox you can take a bus from the ADO station in downtown Cancun to Chiquila. Note: although you leave from the ADO station you will use the bus company Mayab, not ADO. There are only a couple of buses each day so plan in advance – last check, the buses left at 7.50am and 12.30pm and the journey takes around 3.5hrs.
For the budget conscious, you can take an ADO bus from Cancun Airport to the downtown station – come out of the airport terminal, ignore all of the ticket selling touts, turn right and walk straight to the end of the terminal buildings. There is a staffed barrier that looks like you can't go through it – you can, just say "ADO". You can buy your tickets from the booth under the ADO sign.
Once at Chiquila, you need to take the ferry (company: 9 Hermanos). The ferry runs more frequently than the bus and goes almost every hour on the hour until 5pm and then at 7pm and 9.30pm. The ferry takes around 25-30 minutes and costs $100MXN (around £5/$7USD) one-way.
Where to stay I stayed at Tribu hostel, which I would highly recommend if you're looking for inexpensive dorm space (dorms cost from around $140MXN – around £7/$10USD per night).
If you're looking for a hotel instead of a hostel, a good friend of mine has recently opened a beautiful rustic-chic hotelito (little hotel – 10 rooms) called Casa del Viento. Although I haven't stated at this place, I did stay at another place previously managed by the owner and everything was in top shape. Rooms are very affordable from $500MXN (about £25/40USD) per night and next time I go to Isla Holbox I'll be checking this place out.
A bit on pronunciation: Isla Holbox is pronounced "Holbosh".
For geography nerds: although I refer to the Yucatán peninsula, all of the places mentioned here are actually located in the Quintana Roo state of Mexico, not the Yucatán state, despite being on the Yucatán peninsula.
Being responsible: Whale sharks are classified as vulnerable species and are still hunted in both the Philippines and Asia. Find out more from the World Wildlife Fund.
Related Articles: