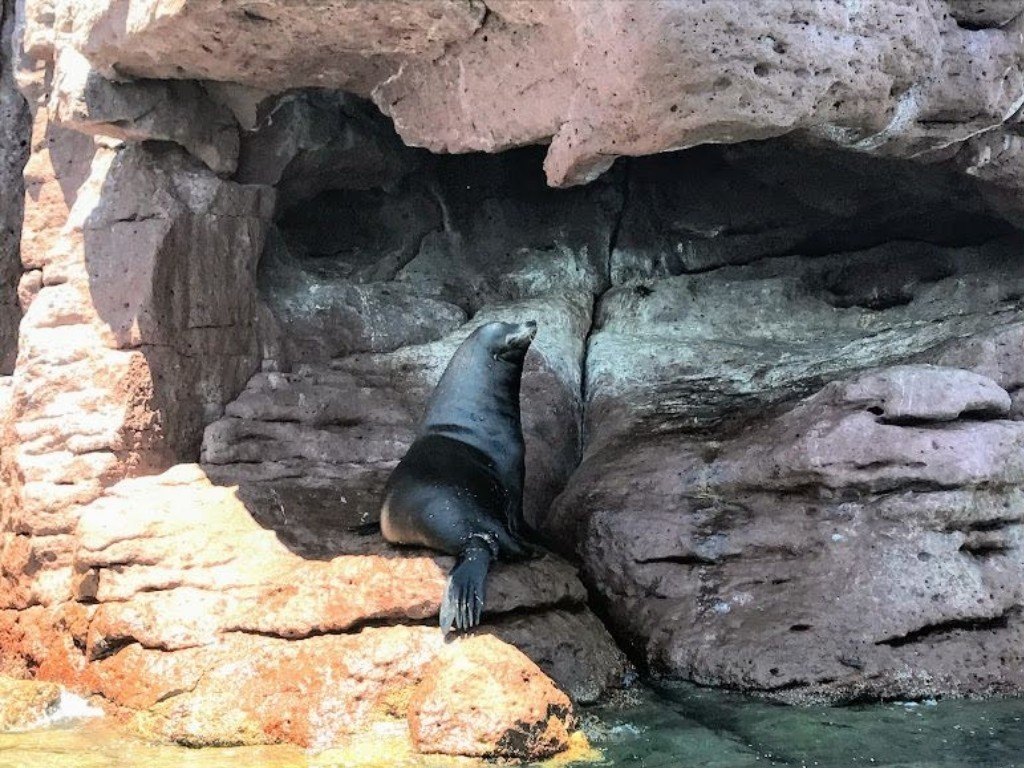 Want to go swimming with sea lions in the wild in Mexico? Isla Espiritu Santo near La Paz in Mexico's Baja California is a great place to do it. Here's what you can expect from your day on the Sea of Cortez and tour companies to book with.
Jacques Couteau once said of the Sea of Cortez that it is the aquarium of the world; an accurate descriptions considering this small swatch of sea is one of the most biodiverse on earth.
But the ocean wildlife isn't the only highlight. Shimmering like topaz under the blazing Mexican sun, the Sea of Cortez is every bit as mesmerising as what goes on beneath her surface.
Located between the Baja Californian peninsula and Mexico's mainland, and preceded by days' worth of desert if you travel down the peninsula itself, La Paz is not the kind of place you tend to stumble upon.
Except, I did. I happened upon the Sea of Cortez quite by mistake. I was on a three month journey across Mexico, travelling from east to west, and after days exploring Mexico's Copper Canyon, I found myself with a body of water before me.
I crossed by night ferry and was spat me out in La Paz. And I've never accidentally ended up somewhere so beautiful in all my travelling life.
I had planned to stay for two nights but I ended up lingering for weeks.
Jaques Cousteau also famously said that "The sea, once it casts its spell, holds one in its net of wonder forever."
La Paz and the Sea of Cortez did that to me.
Related: La Paz Mexico – Full Travel Guide & Attractions | 16 Very Best Things To Do in La Paz, Mexico
Visiting Espiritu Santo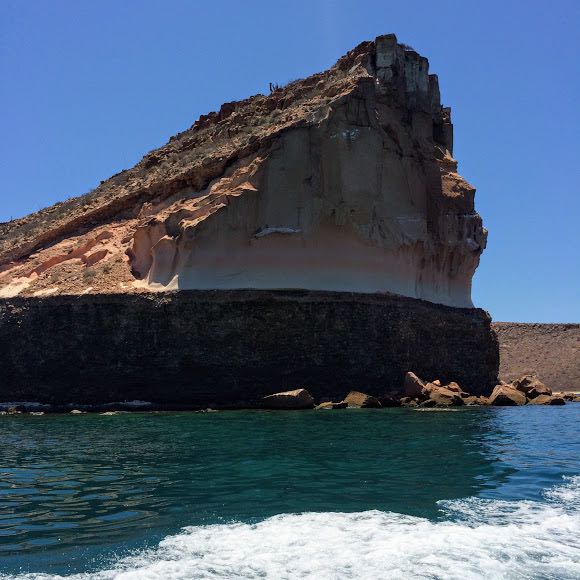 Of course, while I was in La Paz, I took a tour to nearby Isla Espiritu Santo and still, years later, it remains one of the best tours I've ever taken. As I watched the sun set over the sea back the first time, I didn't expect to see this part of the world again – it is, after all, a damn long way from England's shores.
Yet, the sights of the island and the sea stayed with me and when my California plans went awry this summer, I found myself drawn back, edging closer to La Paz day by day on a road trip down the Baja peninsula until I once again stumbled into La Paz quite by mistake. It's a mistake I hope to make again and again.
With a travel friend at my side, I took the tour to Isla Espiritu Santo for a second time and the sights were no less disappointing.
What follows is a run down of what you can expect on a day trip to see the sea lions.
Note: I have taken the same day tour to Espiritu Santo on two separate occasions, years apart with two different companies and the tours were almost identical. Where they were different, I have noted this below.
You might also like: How To Swim with Whale Sharks in Mexico | Mexico's Yucatan Peninsula & The Best Things To Do There | Quick Guide To Yucatan State in Mexico
The pickup – expect a long beginning to the day
I don't think there are many group tours I've been on where there isn't a slow and painful, hotel by hotel pickup. The speed of this pickup process is entirely dependent on your fellow tourists and both times in La Paz I found them to be slower than the setting sun.
Take a coffee and a book and know that you'll have plenty of time to apply sun cream in the minivan. On the plus side: you do get picked up from your accommodation so there's no figuring out how to get to a meeting point on time.
Getting to the harbour
On my first tour, we boarded the boat from the harbour located within central La Paz but for my second tour we drove further out, closer to the ferry port. This did mean that we got to the island quicker by boat but I personally preferred travelling there slower on the water.
Pre-boarding
The first time I took an sea lion tour, the transition from minivan to boat went a little something like this: guide points to boat, people get on boat, people handed lifejacket, mask and fins, boat leaves.
The second time I visited, things were a lot more involved. I was pleased that we were given a proper mask and fin fitting in a room on the dock and the equipment was newer. However, there was some paperwork (an 'if they kill you' disclaimer). This seemed to slow the whole boat boarding process.
In both cases we were obligated to wear our lifejacket for the entire time on the boat, something I find uncomfortable but hey, them's the rules.
Related: The Only FREE Printable Packing List You Need | 21 Long Haul Flight Essentials: What to Take In Your Carry On Bag
The type of boat
Unless you're on a privately hired yacht, the boat for your tour is going to be relatively rustic. See above. I was comfortable with the safety of the boat but we're talking wooden seats and no toilets on board.
Isla Espiritu Santo and the surrounding islands
On the way to the spot where you go swimming with sea lions, you skirt around Isla Espiritu Santo and get to see a few of the surrounding islands. Apart from the sea lions, the highlight is the natural sights – the Sea of Cortez, the many birds, fish and rocky islands you sail past.
While there might be some small differences in the details of how the tours are run, I saw the same sights both times – the pictures scattered throughout this post.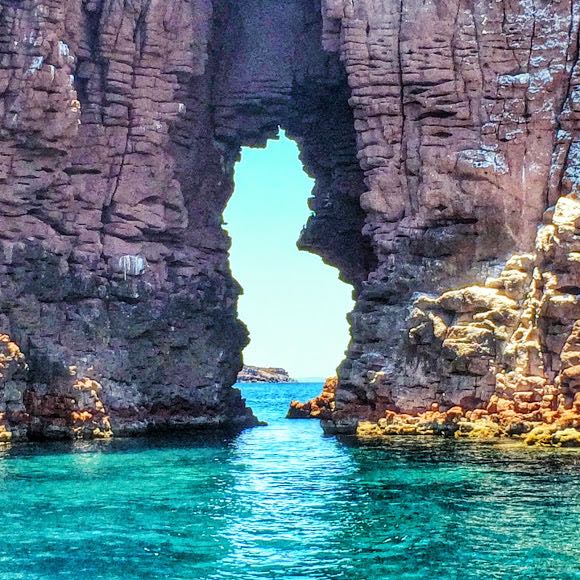 And, for me, both times the best sights were not the sea lions, as you might expect. It was the beach where we stopped for lunch and this natural break in the rocks that is shaped like the Baja California peninsula.
If you're an eternal romantic, don't forget to hold hands with your loved one and make a wish as you sail through the opening – those wishes are supposed to come true. And I think they do. I wished for tacos and, sure enough, that night…tacos galore.
Swimming with sea lions in Mexico
Just by chance, I happened to take my tour at the same time of year each time I visited – late July. The first time, we sailed to the spot for swimming with the sea lion and after being instructed not to get too close, we jumped into the water.
The second time I visited, I was informed that it was mating season and for that reason swimming with the sea lions was not allowed. This was because the male sea lions are particularly aggressive at this time of year (perhaps too much tequila?) and there have been some cases of tourists being bitten and attacked.
I believe this was a new restriction because all of the tour companies I spoke to in La Paz told me the same thing before booking.
I was still happy to go on the tour because I could stare at the Sea of Cortez all day long, and I knew that the tour would still sail past the islands where we could see the sea lions basking in the sun.
As it happened, we got lucky on the day and were still able to swim with the sea lions. Apparently, a group of lady sea lions had taken refuge on one rock, seemingly over the whole idea of being aggressively courted, and without the men around to fight, it was much safer for us to swim there.
Although we didn't get to snorkel in the main spot for swimming with the sea lions, we later went past there for a photo opportunity.
Most vitally, we got to swim with a smaller number of the sea lions without anyone risking losing an arm!
A picturesque picnic lunch
Lunch takes place in a bay on Isla Espiritu Santo surrounded by some of the clearest water I've ever swam in.
Lunch was included in the price of the tour and if raw fish isn't your thing, cheese and ham sandwiches were available along with salad.
There was also a cool box full of soft drinks, cookies and water, which were also included in the price. On the first tour I took, beer was available to buy. On the second tour, the manager at my guesthouse informed me that no beer was available (and I do like a cold beer with ceviche) so I took my own in a cool box loaned to me by the guesthouse.
The lunch spot was the same each time I took a tour. I don't know whether we simply arrived a bit later the first time or whether tourism has increased but there were a few more boats this time, giving less of a deserted beach feel. However, it's still a far cry from the mass tourism you'll find elsewhere.
Related: How To Go Wine Tasting in Ensenada | How To Go Wine Tasting in Thailand (Near Bangkok) | How to Go Prosecco Tasting in Italy – 1hr From Venice | Quick and Easy Guacamole Recipe From Mexico
The toilet situation
The only dry land stop on the tour is for lunch and there are no bathroom facilities. You'll recall that there are also no toilets on the boat. So, unless you're able to hold your bladder all day, you need to accept the fact that the ocean is your only option.
You might also want to pack hand sanitiser because lunch is a very hands on affair.
Back to La Paz
After lunch, there is a fairly long stretch on the boat as you make your way back to La Paz. Keep an eye out because tortoise and dolphin sightings are common – I saw both.
The driver will take you back to your hotel or drop you in the centre of La Paz. Either way, you'll be back in time to see another highlight – the sun setting over the Sea of Cortez.
How to Get to La Paz
By Air: La Paz Airport (Manuel Márquez de León International Airport, Code: LAP) is located 11.5km (about 7 miles) from the centre of La Paz. A taxi takes about 20 minutes and costs around 250 pesos.
Click here to check flight prices:
By bus: If you're travelling within Baja California and you don't have a car, there are great bus connections. The bus terminal in La Paz is right on the sea front in the centre of town so couldn't be better connected. The buses are modern, equipped with toilets and run frequently. There are a few competing companies that have the same prices and run to the same schedule.
Aquila is one of them and you can check timetables online.
By car: I hired a car in Tijuana and drove down the Baja California peninsula. I always use the price comparison site RentalCars.com because it's much more efficient than checking each rental car company separately.
​Car hire tip: I booked through a car rental search website and, as usual, the on the day price was higher than what I had pre-paid and was quoted. Instead, book direct and you'll know exactly what you're going to pay when you arrive to collect your car.​​
By boat: if you're travelling from the mainland, you can take the ferry to La Paz with Baja Ferries. It's usually a night ferry and they don't travel every day so plan your trip.
By train: There are no train connections to La Paz (and no operating trains within Baja California).
---
Where to Stay in La Paz
Hyatt Place – a beautiful spot in the marina for a trusted brand that gets great reviews.
Costa Baja Resort & Spa – if you'd prefer a resort style stay right on the sea front.
Catedral La Paz – a popular 5-star hotel in the centre of La Paz.
Hotel Lorimar – just a block from the sea, this is a great budget choice for under $50 a night.
Peace Hostel – La Paz isn't teaming with backpackers but there are enough to merit a hostel. Great option for solo travellers. A couple on a budget will find Hotel Lorimar cheaper for a private room.
Which tour to take?
As I've already mentioned, the tours leaving La Paz are broadly the same except for a few small details. So, in theory it shouldn't matter too much which company you book with. That said, I'd go with a recommendation because things like the tour guide can make the difference between a dull and fun day.
Overall, I preferred the first tour I took. The boat benches faced opposite each other so it was more sociable – the 'help yourself to beer and pay later' probably also helped that. However, my second tour was more 'grown up' and organised if that's the kind of tour you prefer. I've included both companies below.
Booking tip: You will get a much cheaper price if you book when you are in La Paz. I've always done this through my accommodation. I paid about 650 pesos for my first tour and around 900 pesos for my second tour (a few years apart). If you book online, you're firstly paying in US dollars and secondly looking at prices closer to $100. Still, I've included one such company below because I know some of you prefer to book ahead.​​
Chicalera Tours – this company would be my top recommendation. Unfortunately, I don't have a website or booking link for you, just a Facebook page and a couple of phone numbers. TEL CEL.6121554464, 612 1416019 TEL. CASA.6121286755.
Punta Baja – this is the second company I toured Isla Espiritu Santo with and, although a shade less fun than Chicalera, I'd still recommend them. You can check reviews here on Trip Advisor.
Sunrider Adventure Tours – prefer to book online in English and pay in dollars? You can book here via TripAdvisor
Related Articles:
Like this? Share it on Pinterest.