In 1931, at a time when Britain was still effervescing from the roaring twenties, a gentleman named W.F. Swan set up a small family run travel business called Swan Travel Bureau. Over the decades, and together with his son, Kenneth, they pioneered a new style of adventurous expedition cruising that remains at the heart of Swan Hellenic's ethos almost 100 years on. Revamped and relaunched for the 21st century, I recently stepped onboard SH Vega for an 11-night cruise around the British Isles. The itinerary was designed to get us up close and culturally personal with the Celtic roots of the islands. In this article I'll share my experience of being onboard and cruising with Swan Hellenic.
I have also written a separate guide to Swan Hellenic's Land of the Celts itinerary.
What is cultural expedition cruising?
From a catamaran around the British Virgin Islands to tall-ship sailing in Greece and a mega-cruise around the Caribbean, I've been on a lot of cruises. However, until this trip, I'd yet to take a cultural expedition cruise.
But what is it cultural expedition cruising and what makes it so different to regular big-ship cruising?
The answer is everything. But it seems to start with Swan Hellenic's smaller ships. Accommodating 152 to 192 guests (depending on the ship), and using zodiac boats to reach many of the docks, Swan Hellenic can visit places that the larger ships can't, meaning you get to see what other's don't.
From Penzance to Loch Ewe to the Sound of Mull, so often we were sailing solo through the beautiful waters of the British Isles. Stood out on my balcony, hot tea in hand, it was easy to imagine I was travelling on an expedition to some of the most remote corners of the world. It was actually harder to believe that I was sailing around the islands where I'd grown up, never having seen them from such unpopulated or wildlife-filled locations before.
I can barely grasp what it might be like to experience a Swan Hellenic cruise around a location that is truly remote, like the Arctic or Antarctic. Sublime would be my best guess, and the onboard videos of past cruises confirmed my belief.
And if the harder-to-reach locations set the scene of Swan Hellenic's expedition cruises, the on-shore excursions provide the depth, because the itineraries have been hand-crafted to help you explore the culture of the countries you visit, with a heavy focus on wild landscapes, remote destinations and historic heritage.
Onboard specialists
Yet what really stood out for me was Swan Hellenic's program of partnering with scientists and other specialists. Acknowledging that they are in a rare position, sailing to some of the most unique destinations on earth, Swan Hellenic has an ongoing schedule of onboard specialists.
As well as conducting their scientific research, these specialists share their knowledge with guests through topical lectures and events such as star-gazing, bird-watching and marine-life spotting. The SETI Institute (Search for Extra Terrestrial Intelligence) was onboard during my visit, which led to many fun talks about UFOs, space and the night sky. We were also joined by Dr Nigella Hillgarth, who gave many magical talks on British bird and marine life. There was even a professional photographer and videographer on-ship who created a magnificent video with drone footage of our cruise, which was later shared with guests.
The Ship – SH Vega
A glass of crisp, cold Champagne was the first greeting I received when I stepped onboard SH Vega. It was a sign of things to come.
Like many guests, my assessment of any cruise ship tends to focus on the decor and guest services rather than the technical aspects of the ship's construction (though SH Vega has an ice-strengthened hull, which is important for exploring the polar regions, in case you were interested).
What struck me most was how new the ship was. Purpose-built with a calming Scandinavian-style of soothing blonde woods and low-tone colours, SH Vega has clearly been thoughtfully designed. And nowhere is this emphasised more than with the panoramic viewing windows that make up so much of the interior.
From the lounge to the dining room to the sauna with its sweeping views out to sea, the whole ship has been engineered to bring the view outside inside, placing guests as close to nature as possible (whilst remaining dry and warm with a cup of gourmet coffee or glass of fine wine in hand). This sense of the elements continues into your cabin with the majority of the 76 staterooms (SH Vega) featuring wind-shaded balconies large enough for enjoying your room-service breakfast, lunch or dinner al fresco should you choose.
The crew on SH Vega totals 120 staff for the 152 guests, which is a near 1:1 service. This was clearly evident when my preference for still (not sparkling) water was noted, when just the right amount of tea (not coffee) was replenished in my room, and the soup server came over to greet me every lunch time, ladle at the ready, quickly learning my mid-day need for soup.
The Itinerary – Land of the Celts
Nearly two months. That's how long one of the guests had been onboard when I embarked. Around the west coast of Africa, up through western Europe and onto the British Isles, Catherine had decided to keep going. And I couldn't blame her. The itineraries offered by Swan Hellenic are unique and gripping enough that you won't want to stop.
What's different about Swan Hellenic's ships is that there are three of them travelling long journeys around different parts of the globe, covering the Arctic, Antarctic, South America, Africa and Europe. That means you can book a single leg e.g. around the British Isles. Or, like Catherine (a leading author and motivational speaker), start on one continent and travel on to another. But what I liked most was the novelty for the crew. These were not 7, 10 or 14 day repeat itineraries run for half a year, leaving guests and crew feeling like they're on a conveyor belt of travel. Each day we woke to a new landscape, the crew just as excited, looking out of the window, scanning the horizon with the same fresh eyes and excitement as you. It was a shared experience of awe and discovery.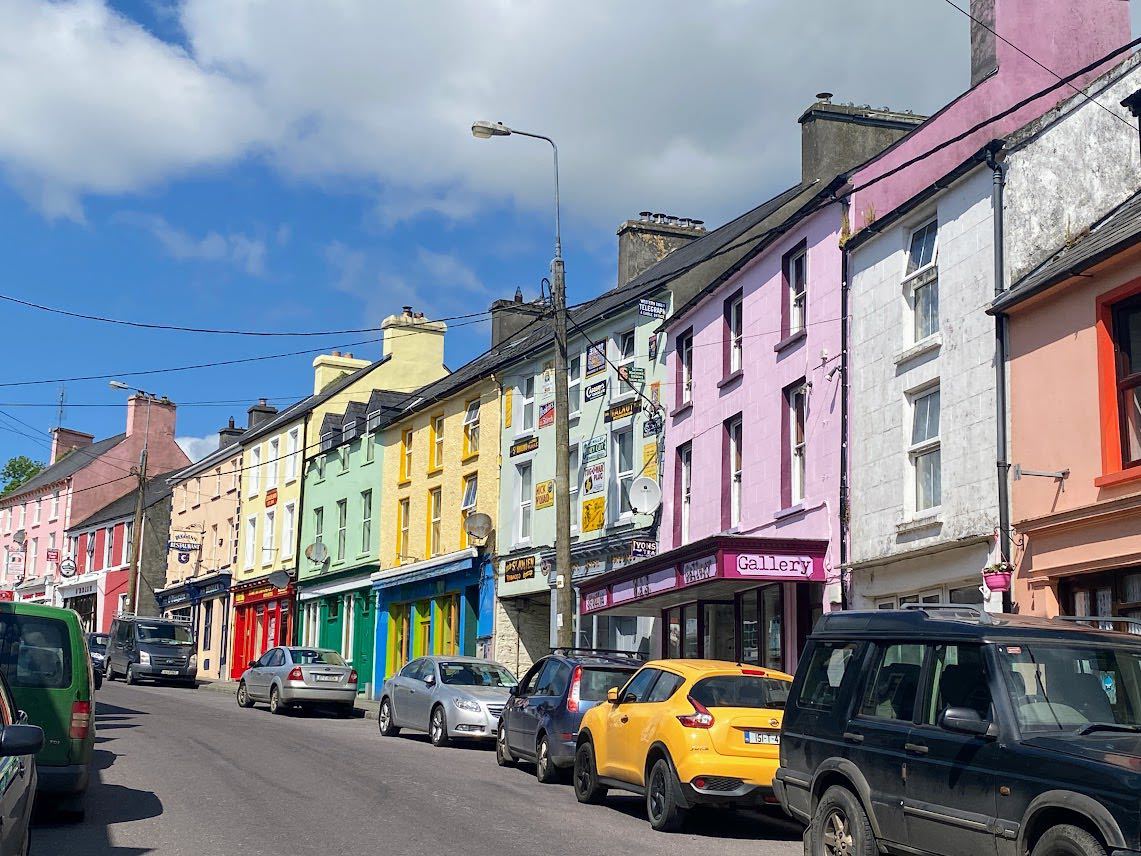 The particular itinerary I booked was called The Land of the Celts and took us on a journey from Southampton to Penzance, Tresco (Scilly Isles), Bantry, Dingle, Galway, Portrush, Craignure, Sound of Mull, Stornoway, Lock Ewe, Portree, Isle of Man and Dublin. I've written a full guide to this British Isles itinerary if you want to explore it in more detail. And if you're interested in Swan Hellenic's other routes and ships, you can find all of their destinations and itineraries here.
Excursions
Excursions sit at the heart of any cruise. They are the link between the ship and the shore, helping you experience the lands around which you're sailing. And, since cultural expeditions are at the core of Swan Hellenic's ethos, they didn't disappoint. Exceptionally, Swan Hellenic includes one excursion per day for your trip, at no extra cost. These are carefully chosen itineraries designed to help you see the highlights of each destination using local experts as guides.
Want more? There are additional in-depth hikes and visits and adventures to add in or swap out of your daily excursion list, for an extra fee. Otherwise, you can simply explore any destination under your own steam.
I went with the included excursions since there was nothing missing from the schedule. As well as getting to many locations most other cruise ships can't visit, there was a sense of exclusivity to the trip – Inverewe Gardens in Scotland opened in the evening just for our cruise, we visited an Irish pub in a tiny village that I would never have found on my own, not in a million years, and I finally got to visit the small island off the coast of Liverpool, the Isle of Man.
We even had a few 'bonus' excursions, taking an unscheduled steer past remote islands, such is the ability of a smaller cruise ship, allowing us to watch the seabirds swooping and diving in a spot most people will never get to see. Yet none of these local, authentic, rare explorations were at the exclusion of the hotspots – Land's End, St Ives and Giant's Causeway were woven into the itinerary, too.
Like any cruise, the port stops can be tantalisingly short and the days wonderfully full. That was certainly the case with the British Isles cruise, and I came away with a list of several destinations to which I must return. But isn't it always that way? For a travel addict, at least.
Zodiacs and local tender boats to shore
Excursions to shore depend on whether the ship is docked or at anchor and this varies by itinerary. Where possible, you get to shore via local tenders (largish boats) but otherwise you have the fun of the zodiacs, robust and resilient inflated boats with an engine attached to power you to shore. I've taken zodiacs many times before and have never felt more confident stepping in an out than on Swan Hellenic, where they take comfort and safety very seriously.
A lot of this comfort is thanks to the ship's incredibly well designed Basecamp room complete with lockers and cleaning equipment, dedicated to getting you kitted out for shore. This room is, I'm sure, a vital changing room on polar trips when snow boots and suits are required. On our British Isles trip, where we didn't encounter such extreme weather, it was a place where the concierge crew helped us into life-vests and assisted us into the zodiacs. Returning back to the ship after each excursion, we were welcomed with a refreshing towel and cold juice (or a hot chocolate or tea on cooler days).
Keeping dry on the zodiacs – It is a good idea to wear a waterproof layer on zodiac days because you are exposed to possible spray. As a nice touch, you're gifted a fully waterproof backpack which keeps all your valuables safe. Within the polar regions, Swan Hellenic supplies all of your polar gear from suits to boots. Worried about zodiacs? Don't be. Joan, a 95-year old lady hopped in an out of the zodiacs each day, no problem.
Staterooms – A Luxury Retreat
It's not very often I want to spend time in my cabin on a ship but the staterooms on Swan Hellenic were a vacation all by themselves. Elegant, luxurious, Scandi-style, bright, light, understated and oh, so very, very spacious, the sleeping quarters were a surprise and a delight. From the full-size double bed that was ultra comfortable, to the full-size sofa, vanity desk and coffee table in the living-area, it felt like a home from home.
As for the amenities, they were above and beyond: a spa-quality white fluffy robe, slippers, Egyptian-cotton towels and toiletries from the Tuscan brand Lajatica Bocelli 1831 that felt so good on skin, I've been trying to find them online since I got home.
Drinks and snacks were plentiful too, your own mini-bar stocked with a choice of alcoholic or soft drinks, including a complementary half bottle of Champagne on arrival, an Illy Italian Espresso machine and, my favourite personal touch, glass bowls filled with dried fruit, nuts and M&Ms.
There was a more subtle benefit to the staterooms that took me a few days to appreciate – they were geared for wellness. Living in an era of excess stress and burnout, the rooms felt like a luxury retreat. From fresh sea air to the soothing glow and crackle of the decorative fire, to the dimmable warm lighting and double black out curtains that kept the summer solstice light outside at night, Swan Hellenic really did have guest comfort in mind when the ships were designed. I even had space to throw down my travel yoga mat in the living-area, a cruise-ship first.
Michelin-Star Food and drink
"I'll start with the lobster salad, followed by the rack of lamb with wild mushroom risotto, then the French cheese plate, and, if I can manage it, the vanilla soufflé." I hand the menu back to Vincent, the waiter. We both smile. We both know I'll manage the soufflé. It's too good not to, because that's the standard of the food on Swan Hellenic.
With three dining venues to choose from and an ever changing menu, there simply isn't the opportunity to be bored or disappointed with the food on the ship.
You can take breakfast in the formal, seated dining room (the Swan Restaurant), which features an extensive buffet of hot and cold foods. Or there is a lighter continental breakfast served daily in the Club Lounge, which is also where lunch and afternoon tea is served.
Lunch is typically buffet-style with a theme – we had, of course, flavours from England, Ireland and Scotland, as well as Mexican and Spanish themed lunches, which can always be supplemented with freshly cooked fish and meat from the Pool Bar & Grill. Afternoon tea bridges the gap before dinner, with delicate sandwiches, cakes and cookies as well as fruit, gourmet teas and coffees.
But the real highlight is dinner, back to the Swan Restaurant for your full waiter-service evening meal. Each night, I entered the dining room excited to see what the menu might hold, all devised by the Michelin-star consultant chef, with portion sizes just small enough that you're able to work your way through multiple courses without getting uncomfortably full.
As if that's not enough, Swan Hellenic invites a guest chef onto each expedition. On our cruise, we were treated to the culinary magnificence of Manu Núñez from Besta reataurant in Barcelona. Each evening, I sought out his specialist dish, from main courses to desserts to the entire gala dinner menu, Manu's Catalan dishes (and paella cooking demonstration) were one of the dining high points for me.
There is also a sommelier onboard, offering a daily-changing choice of wines, each selected to pair with the different courses of the menu. As someone who runs Prosecco wine tasting tours in Italy, I really appreciated this fine touch. And if you did eat a little too much, there was always a premium digestif available.
There were plenty of Champagne and canapés moments, too. From embarkation to the Captain's welcome to the extravagant gala dinner to the farewell drinks, you didn't wait too many days before hearing the sparkle of Champagne onboard, a real treat for guests and an unexpected delight.
Swan Hellenic is truly all-inclusive, including premium beer, fine wines and spirits. There are no alcohol packages or upgrades to add cost, pressure or confusion. And you can have any meal in-room with no additional fee. Breakfast on my balcony was a favourite way to start the day.
Entertainment and leisure facilities
A penguin waddled across the state-of-the-art screen in the ship's lounge, indicating that Swan Hellenic, once again, did things differently. Theirs is not an evening entertainment schedule of karaoke and cabaret. It's videos taken from their wildlife expeditions, pre-dinner talks from their onboard specialists covering wildlife and prehistoric British history, or star-gazing or bird-spotting on the top deck.
There are daily recaps to highlight the sights and discoveries of the day, and briefings to get you engaged and excited for the day to follow. After dinner, the penguins waddle on, while Rene, the onboard pianist plays piano, and the bar staff pour your favourite drink. Sit, sip and watch the sun set, realising that the shifting sight of nature really is the best entertainment to have.
There are, of course, the usual facilities you'd expect on a luxury cruise ship including the fully-equipped gym, dedicated spa with massage and beauty services, as well as a menu of movies should you want to curl up on your sofa in your stateroom. But there is also a stunning infinity pool complete with sun loungers, a whirlpool, luxurious sauna with views out to sea, a library packed with thematic (nature, science and adventure) fiction and non-fiction books, and board games scattered throughout the lounge. On occasion, we were invited by the Captain to join him on the bridge, where we could watch the crew sail the ship across the vast, open seas.
Environmental credentials
A scientist once said to me, "You can't take the temperature of the water without changing it". And so it is with exploring our planet. To see the world, we inevitably change the world. The challenge is doing so without having too much of an impact. And choosing a cruise company committed to preserving the oceans is a huge step forward in meeting that challenge.
I could write an entire article setting out Swan Hellenic's environmental credentials, but they've done such an elegant job of it on the sustainability page on their website. It's a section, I noticed, which sits front and centre of their site, indicating that environmental responsibility is as important to them as the itineraries they offer.
What stood out for me was how Swan Hellenic goes beyond so many of the minimum standards, doing more on waste, pollution, and recycling than is required. They reduce speed and noise and emissions while moving through wildlife sanctuaries. Their cleaning products are biodegradable. The toiletries are free of parabens and other nasties. There are water refilling stations onboard to remove the use of single-use plastic bottles, and you're gifted a beautiful metal refillable canister when you arrive. They have a paperless policy, the day's itinerary is sent to your stateroom TV. They have even eliminated fleece fabrics from crew uniforms since fleece contains plastic-shedding material (something I didn't realise).
In their own words, Swan Hellenic is "Committed to preserving the beauty of the world we explore for future generations".
How Swan Hellenic stands out
Smaller ships that offer access to more remote locations.
Ethos of authentic, cultural exploration onboard, at destinations and within your itinerary.
Wildlife, science and adventure expedition specialists onboard.
Topical lectures given most days.
One-excursion per day included for every shore visit.
Expert expedition team to accompany you on excursions.
Onboard photographer and videographer to help you capture your trip.
Free professional video, including drone footage, provided at the end of your cruise.
Concierge team operating a dedicated boot room to get you to shore excursions with ease and comfort.
Exceptional environmental credentials with limited use of plastic.
Free dry-bag and refillable metal water canister.
Superior, spacious 5-star staterooms with vast windows and (mostly) balconies to bring the outside inside.
Menus created by Michelin-star consultant chefs.
Onboard world-renowned guest chef, including guest chef gala dinner.
Seated full-service luxury dining every evening (no additional booking or supplements required).
Onboard sommelier to help you with your wine choices.
All inclusive premium wine, beers, spirits and soft drinks.
Wi-fi included.
The opportunity to see what other's don't.
Disembarking from my cruise, I was glowing not just from the adventure or the luxury. I stepped off the ship mentally enriched, knowing the history of the land and the people of the British Isles far better; understanding the night sky, the way of the birds, and the marine life that share this planet with us. This, for me, was the essence of cultural expedition cruising.
What to pack
You might like my complete packing list as well as my long-haul flight list and tips for packing lighter. The items I'd especially recommend for an expedition cruise include:
slip over waterproof trousers
lightweight raincoat (I have been packing the same The North Face jacket for over 10 years – they last well!)
I usually also recommend a dry-sack and refillable water bottle but these are gifted to you on Swan Hellenic. They also include a set of binoculars in your room but I still like to take my travel-size ones because they're lighter for shore excursions.
Is there a dress code for dinner? The short answer is no. Swan Hellenic runs expedition cruises so you're better packing walking trousers and sturdy shoes. And there is no formal black tie or cocktail dress event. That said, on the celebratory nights, I was grateful I'd packed a black dress – nothing fancy, just a quick dry jersey travel dress that I paired with my comfortable canvas lace-up pumps. Many people turned up in their walking gear. Diner's choice! And really, no stress. Such is the way of Swan Hellenic.
Pricing and booking
You can explore itineraries, pricing and booking options on the Swan Hellenic website.
Share it on Pinterest.
In partnership with Swan Hellenic.