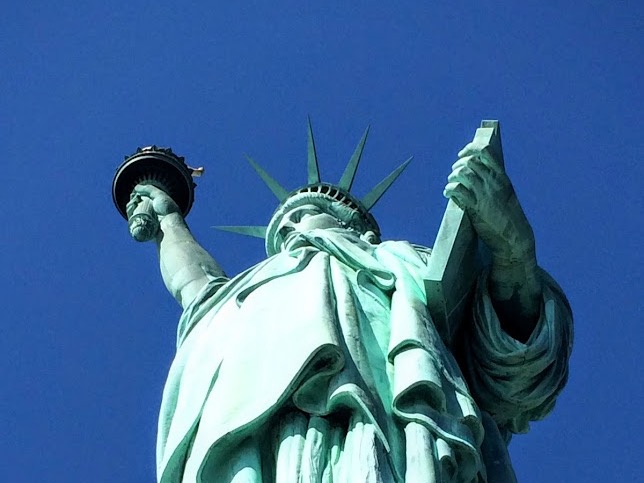 I've already written about how to visit the Statue of Liberty. In this article, I'll cover something very specific – are Crown Access tickets worth it. I'll then give a little info on what you can see and do at Liberty Island (where the Statue of Liberty lives). You can then decide which type of ticket to hunt down – and I say hunt because it can feel like that if you don't book months ahead.
Exploring New York? Check out my guide to 12 Iconic Things To Do In New York For Tourists.
Ticket Types: Standard, Pedestal and Crown Access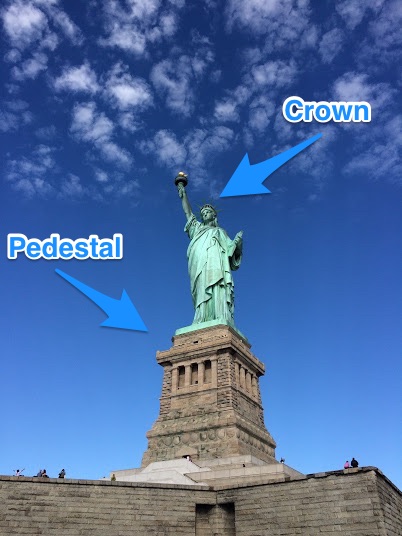 First, a quick walk through the different ticket types. If you plan to go to Liberty Island, rather than seeing the Statue of Liberty by cruise, helicopter or one of the free options, you'll need to buy a ticket. And even if you're taking a tour, you will get a ticket 'type'.
All tickets and guided tours are categorised according to whether you get Standard Access, Pedestal Access or Crown Access. Here I explain the difference to help you decide which tickets to reserve.
Standard Access (also known as Reserve Tickets) means you can go to Liberty Island but you can't go inside the Statue of Liberty.
Pedestal Access means you can go inside the Statue of Liberty and access the pedestal, the 'brown concrete' part of the statue structure.
Crown Access is means you can go inside the Statue of Liberty and go all the way up to the crown, the highest accessible point inside the statue.
Reserve Tickets are the most common and easiest to get hold of, including the possibility of getting on the day tickets outside peak season if you don't mind queuing. Pedestal Access Tickets are more limited but usually easy enough to book a week or more before your visi). Crown Access tickets are the fewest as well as the most popular and must be booked at least 3 months in advance.
---
Quick Links for Tours & Tickets
Short on time and just want to book something? Here are the quick links:
---
Is it accessible?
Before you start searching for pedestal and crown tickets, it's worth doing a quick assessment of whether going inside the Statue of Liberty is for you. While the pedestal area does have an elevator, the crown does not. Here's what you can expect.
Elevator access inside the pedestal
The picture above is inside the pedestal level. It's very accessible relative to the crown. The picture is of the old torch.
Once you've had a look around the small exhibition inside the pedestal you can make your way to the pedestal viewing platform. This was one of the highlights for me. To get to the viewing platform, there is an elevator that will take you to the top of the pedestal. You might want to consider taking this as the alternative is climbing 215 steps. That said, if you're fit and able, the climb gives you access to a few more viewing stages compared to the elevator, which spits you out at the top viewing platform. See below for pictures of what views you can expect from the pedestal viewing platform versus the views from inside the Crown. In my opinion, the pedestal views were much better.
Inside the Crown – The climb to the top
From the top of the pedestal to the crown there is NO ELEVATOR. Instead, you have to climb 162 steps, and they're not the most appealing steps either – you're in an enclosed spiral staircase the entire way. I'm not trying to put you off – I'm sure you'll be able to do it at a steady pace, hold on tight and don't let impatient idiots rush you. Oh, and if you're taking kids up there, they must be at least 4 ft tall (to be honest, at 5ft tall I only just fit the height requirement!) and be able to walk unaided.
If you're not feeling in peak fitness, taking the elevator to the top of the pedestal combined with the climb to the crown is a great compromise. Or, honestly, just pedestal access is good enough.
If you have accessibility questions, you can find out more here. For more general questions see this Crown Access page on the NPS website.
Is Crown Access worth it?
Honestly? I'd say not really. Apart from the climb being exceptionally steep, when you get to the top, the 'peep holes' for views over Manhattan were i) a lot smaller than I expected; ii) made out of perspex and therefore too scratched for great visuals (or photos); iii) in hot demand, so there's a lot of pressure to have a look and kindly move on; iv) experienced whilst scrunched into a hot, tight spot with a bunch of strangers.
These are the tiny 'peep holes' you get to look out of inside the crown – don't they look like they'd be bigger when you see pictures of them? They're not. Also, check out the etching on the perspex. Photo-ruining vandals are the worst.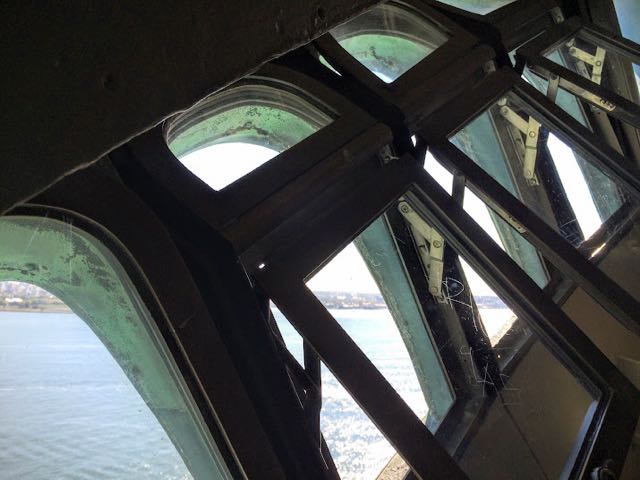 Below is one of the views you get from inside the crown – not as impressive as I thought it would be and makes for below average photos.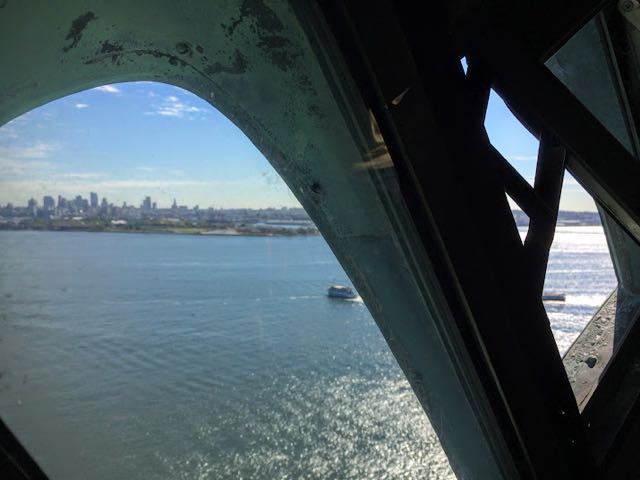 Now let's compare that Crown Access photo above to this photo that I took from outside on the pedestal.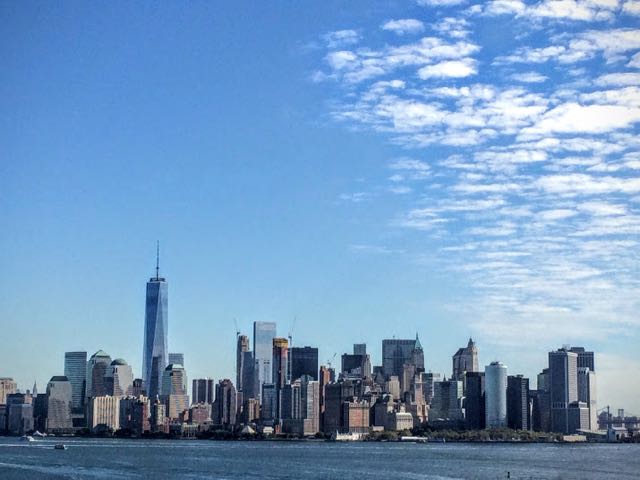 All in, I'd say that pedestal access would have done me and I wouldn't be majorly disappointed if you can't bag one of the highly coveted Crown tickets for your trip.
---
What can you see with Reserve Access tickets?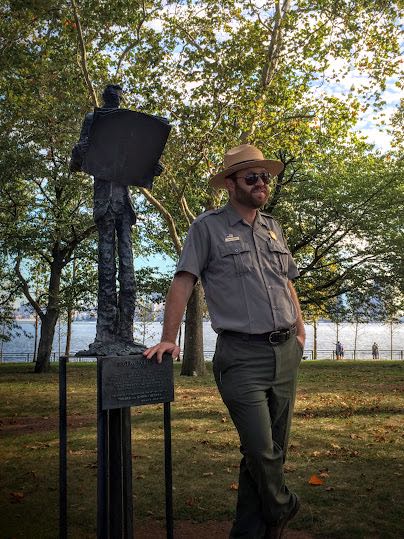 If you've decided to go for standard Reserve Access tickets, or that's all that's available on your tour or sightseeing pass, don't worry. You're still going to have a fabulous visit to the Statue of Liberty. Here's what you can do at Liberty Island without going inside the statue.
Take a ranger tour of Liberty Island
The ranger tour of Liberty Island was by far one of the biggest highlights of my visit, which surprised me. With just enough facts and figures and history to get you started, I'd opt for this human tour over listening to the audio guide (though both are included for free). Tours leave on the hour from the information office and take only 30 minutes. Find out more about the ranger led tours.
Get close-up pictures of the statue
Standing underneath the statue and looking up is literally staggering – see my main picture. You might have seen Lady Liberty countless time in movies and even from a distance on the ferry to Liberty Island but I promise you nothing is as jaw dropping as standing under this huge statue and looking up. You're not going to get that view anywhere else.
Enjoy the views towards Manhattan on the ferry
Standing onboard the Liberty Island ferry, the views across New York Harbor, taking in Manhattan are unlike any you'll get elsewhere. If you're after great 'approach' shots of the Sstatue, assuming you're on the ferry from Battery Park, go up to the third level and stand on the right.
Explore Ellis Island
I feel a little sad for Ellis Island because it's often considered a non-essential add-on that many people skip during their visit. Yet the immigration museum on Ellis Island was actually one of the highlights of my visit. I'm equally guilty – for years and several trips to New York I didn't bother visiting the Statue of Liberty because I thought my time would be poorly used seeing nearby Ellis Island. Oh, how wrong I was. Even if you're not fascinated by immigration (as most people aren't), this is genuinely one fascinating island. Tell yourself you'll give it just an hour. I bet you end up giving it more. It's a fantastic way to understanding a lot of US history in one compact space.
---
Statue of Liberty Facts
The Statue of Liberty was officially called Liberty Enlightening the World and was a joint endeavour by France and the USA to celebrate the 100th anniversary of the Declaration of Independence. Lady Liberty was a bit late (10 years) but was finally dedicated on October 28 1886.
The man who designed the Eiffel Tower in Paris is also the man who helped design inside the statue of Liberty, Mr Alexandre-Gustave Eiffel. Meanwhile, Edouard Rene de Laboulaye is know as the father of the Statue of Liberty because he is the French politician who came up with the idea of this wonderful gift in the first place.
I know it's not polite to discuss a lady's measurements but the Statue of Liberty has a 35 ft waistline. Must be all that New York strip-steak. Makes me feel a bit better about my exanded waistline post New York.
Emma Lazarus is a New York poet who penned the sonnet that is etched into a bronze plaque that sits on the pedestal. You may have heard the most famous part of her Statue of Liberty poem, which says:
Give me your tired, your poor,
Your huddled masses yearning to breathe free,
The wretched refuse of your teeming shore.
Send these, the homeless, tempest-tost to me,
I lift my lamp beside the golden door!"
The Statue of Liberty was designated a World Heritage Site in 1984. That means its outstanding natural and cultural resources form the common inheritance of all mankind.
Interested in a multi-destination trip? Did you know you can easily catch the train to Washington DC via Philadelphia. Find out more in my guide to How to Get from New York to Washington DC.
Related Articles: