"I can't afford it." It's the single biggest reason I hear when people tell me they don't travel as much as they'd like. Sure, travel has a cost but it's often not as high as many people assume. By travelling to affordable destinations, going off-peak and taking advantage of budget accommodation, it's possible to take a break for relatively little money. When I visited Krakow in Poland for 3 nights, I spent only £100, including flights.
In this article, I'll share my tips on how to get cheap flights to Krakow, where to stay, where to eat, where to drink and free things to do in the city.
How to find cheap flights
The key to cheap flights is always flexibility. With that in mind, I always search using Skyscanner and search for whole months or sometimes the whole year, and whole countries rather than specific destinations.
The cheapest flight (when I did my search) went from London Stanstead to Krakow and although the price jumped a bit when I got down to the details, which is not uncommon, it was still only £57 for a return, leaving enough money for accommodation, food, drinks and sightseeing.
How to get to Krakow by train
If you're unable to find affordable flights, consider flying into a cheaper airport and taking the train. I took the train from Warsaw to Krakow and had a very pleasant ride – Polish trains are modern, clean, safe, affordable and, very importantly, contain signs in English.
Check out the viability of your route with Rome2Rio and book tickets online directly with the Polish train company. If you're unsure how to book, Guide to Buying Train Tickets in Poland.
(Rome2Rio is one of my all-time favourite websites for searching routes. It's addictive so set an alarm to remind you to get on with booking your trip to Poland, not figuring out the best route from Nicaragua to Isere.)
If you want more tips on flying cheaply, check out my related article: 101 Tips for Finding Cheap Flights.
How to take the airport bus
You know how it works – the cheaper the flight, the more unsociable the hours. The good news is, Krakow has an all-night bus transfer from the airport (line 902). The bus costs 4ZLT each-way, just £1.40 ($xx) for a return trip. If you arrive by day, you want lines 208, 209 or 300 (previously 252).
You can find the bus schedule on the Krakow Airport website. The details of the bus are a bit hidden so go to the search button and type 'bus'. You're looking for the 'Autobus – komunikacja miejska'.
When you arrive, the bus schedule is displayed near the information desk in the terminal where you can also buy tickets. The bus stop is just outside, making it super simple to catch the bus into Krakow Old Town.
Where to stay on a budget
There are many ways to book accommodation on a budget. I stayed in a hostel. Before you shudder, they're not the flea pits they might have once been and many have private rooms. The place I stayed has sadly closed but there are plenty of cheap hotels and hostels in the city, many under £30 a night. You can find a list of them on Booking.com.
Here are some of the most popular cheap hotel options in Krakow Old Town:
When you're booking accommodation, look out for walkability to the Old Town, where most of the sights are located, as well as freebies like breakfast. Not sure about staying in a hostel? Check out my related article Tips for Your First Time Stay in a Hostel.
Budget restaurants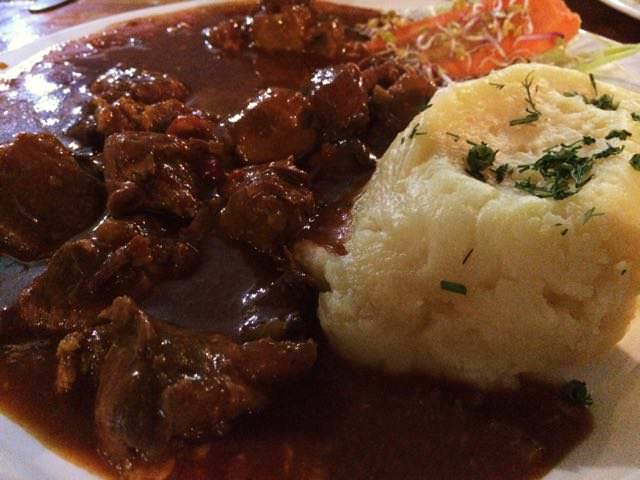 Your third biggest cost after flights and accommodation is going to be food and drink. I ate at 3 wonderful budget eateries, where you can eat until your stomach pops:
Each of these meals cost under 15ZLT – around £2.65 per meal. That's just under £10 for 3 meals.
Budget food tips: If your hotel has a breakfast buffet, you could always make a sneaky cold cuts and cheese sandwich from the breakfast offerings. Add a piece of fruit and you have lunch covered. I pack ziplock bags for precisely that reason.
Otherwise, supermarkets are excellent in Poland stocking a variety of fresh soups and microwavable pierogis if you want to taste some local food without eating out.
Where to drink on a budget
If you want to explore the party scene in Krakow, you can go drinking for as little as as little as £1 for a beer. And let's not overlook the fact that vodka is so very cheap in Poland.
As well as the £1 beer bars, there are plenty of Alcoholes around (yep, that's what they call the place for buying booze called in Poland). Not being a fan of vodka (don't say that too loud in Poland!), I picked up a quarter bottle of decent quality gin as well as a bottle of tonic for under £3. That gave me a few drinks before I headed out each night.
3 cheap bars to check out in Krakow Old Town are:
As well as cheap alcohol, all of the nightclubs I explored had free entry and free cloakroom so you can just go along to boogie if you prefer.
Budget tip: the tap water in Poland is perfectly drinkable. Take an empty bottle from home and fill it up when you get to Krakow. Free tea and coffee is available at accommodation so save your pennies while you're out and about or if you have a flask, fill up before you leave.
Best Free Things To Do In Krakow
The beauty of Krakow is that many of the sights are free. Not only that, the city has a range of free, guided walking tours that you can take. I particularly enjoyed the walking tour of the Jewish Quarter with Cracow Free Walking Tours that took us though the sights and the history of the city and explained how the Jewish community were treated during the War.
If that all sounds too heavy, you can take a guided walking tour of the old town (or walk it by yourself). There is also a communist walking tour.
Fortunately, Krakow is completely walkable (saving costs on transport) and there is enough to occupy your time without having to splash out on big attractions or even taking walking tours – much of the beauty of the city is in its town squares and grand buildings. History and culture are also readily available in the city and all for the wonderful price of free (though do try to spare a what you can to tip your guide).
Here are some of the other best free sights in Krakow:
That's my guide to how to visit Krakow on a budget. If you have any comments, questions or suggestions, let me know below.
Related Articles: