Want to know how to enjoy 3 nights in Krakow without spending more than £100 (including flights), read on.
"I can't afford it."
It's the single biggest reason I hear when people tell me they don't travel as much as they'd like. Sure, travel has a cost but it's often not as high as many people assume. By travelling to affordable destinations, going off-peak and taking advantage of budget accommodation, it's possible to take a break for as little as £100 per person for 3 nights – including flights.
Don't believe me? Read on…
3 Nights in Krakow for £100 (including flights)
I recently travelled to Krakow in Poland where I scouted out some of the cheapest eats, free activities and best place to stay that will allow you to spend 3 nights in Krakow for just £100 (including flights).
Here's how I did it.
Finding Cheap Flights to Krakow
Flights will probably be the biggest chunk of your budget, so I'd suggest starting there.
The key to cheap flights is always flexibility. With that in mind, here's how I search for flights:
I use Skyscanner, and no, they're not paying me to say that, I genuinely and consistently find it the cheapest and quickest way to search for flights.
I use a very broad country search – as you'll see above, I searched for UK to Poland. While you may have a preferred airport, this search will give you the full range of prices so you can see if a nearby alternative airport has better priced flights. You might be surprised.
Next, you'll see I'm searching for the whole year. If budget is your biggest priority, then go when the tickets are cheap. You can also use Skyscanner to search on a whole-month basis, which is another good way of finding out the best priced travel dates but without having to wait six months to go.
Note: Obviously, I've written this article based on flights in and out of the UK. However, you can use this model of searching for flights, accommodation, activities and food the world over.
Once you have your results, you can start to choose your flights. You'll see that you can travel to Poland from the UK for as little as £22 and while Szczecin might not be a popular tourist destination, Gdansk is – and you only pay £6 more.
However, because I travelled to Krakow (and therefore that's what this article is about), and because I like a challenge, I'm going to work with the much heftier priced flights further down the list….which happen to be with Ryanair.
A word on Ryanair

There's something about the very mention of Ryanair that makes human's hiss and spit like cats. I get it. I've been shafted by the airline more than once myself. However, I have two points to make in Ryanair's defence:

1) You'll be hard pushed to find a cheaper airline in Europe. I once travelled from Paris (Beauvais) to Liverpool for just €5 – yep, just £3, I can barely take a Tube ride for that. If you find an airline that flies cheaper, grab hold of that boarding card with both hands.

2) Ryanair have made some dramatic improvements in the past year (since that O'Leary man stepped into the shadows). You're now allowed to take a handbag/laptop bag onboard instead of having to cram it into your minuscule hand-luggage allowance; you can download your boarding card to your phone using the Ryanair app avoiding fees at the airport if you forget to print it; and you are now allocated a seat on check-in – for FREE, which avoids the inevitable fisty-cuffs that Ryanair frequent flyers seem to love so much.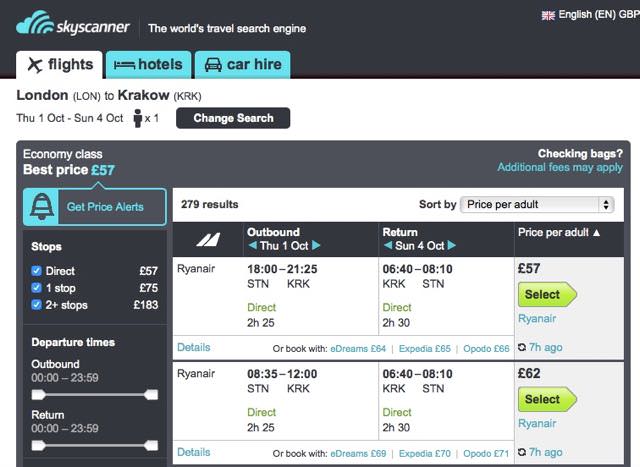 The cheapest flight (when I did my search) went from London Stanstead to Krakow and although the price jumped a bit when I got down to the details, which is not uncommon, it was still only £57 for a return, leaving enough money for accommodation, food and fun on arrival.
The flights also leave and depart at unsociable hours, which is a common downside of buying the cheapest flights available. However, Krakow has an all-night bus transfer from the airport (line 902). The bus costs 4ZLT each-way, costing just £1.40 for a return trip.
If you're really stuck (or in the mood for an adventure), check out one of my favourite budget websites Sleeping in Airports. It seems that people have successfully slept at Krakow airport.
If you can't flight cheap flights into Krakow…

Obviously the flights above are the ones I found during my search and flight availability and timing will inevitably change. If you're unable to find affordable flights, consider flying into a cheaper airport and taking the train.

I took the train from Warsaw to Krakow and had a very pleasant ride – the trains are modern, clean, safe, affordable and, very importantly, contain signs in English.

Check out the viability of your route with Rome2Rio* and book tickets online direct with the Polish train company. If you're unsure how to book, this website will help.

* this is one of my all-time favourite websites for searching routes. It's addictive so set an alarm to remind you to get on with booking your trip to Poland, not figuring out the best route from New Delhi to Des Moines!
If you want more tips on flying, check out my related article: 101 Tips for Cheap Flights
Once you're happy with your flights, go ahead and book.
To keep the price as advertised, make sure you follow a few simple rules:
don't buy insurance from the airline insurance. If you need it (i.e. you have valuables, don't have an EHIC card for medial cover in Europe or don't have insurance elsewhere, e.g. with your bank), insurance will almost certainly be cheaper elsewhere then booking with the airline;
don't pre-book seats – they will cost you – do you really need to sit in a specific place?;
pay with a Visa debit card to avoid credit card charges; and
take hand-luggage only – it's only 3 days, you can pack light (though be sure to read the airline's dimensions so you don't get caught out at the gate).
Flight price total: £57
Bus to and from Krakow airport: £1.40
Booking Budget Accommodation
There are many ways to book accommodation on a budget. However, for the purpose of spending 3 nights in Krakow, I have a very specific accommodation suggestion option for you.
Mosquito Hostel (and no, they also haven't paid me to write about them).
At only £10 per night (a little less if the currency conversion is on your side), it keeps you well within budget. Better still, your money gets you more than just a bed at night – you get TWO free meals a day: breakfast and dinner, plus more than the occasional drop of vodka.
By booking into a hostel that will feed you twice a day, you're able to travel incredibly cheaply while you're in Krakow. The breakfast is more than your standard crappy bread and cereals (there is a platter of meats and cheeses, choice of bread, yoghurt, cereals and salad) and free tea and coffee throughout the day.
Dinner is also supplied each night and changes each day with food ranging from local dishes (zapiekanki and piergoi) to classics like chilli and casserole. There is always a vegetarian option and, with your lunch time meal up for grabs, you still have the opportunity to explore the local food scene.
Oh, and did I mention the hostel is just a few minute's walk from the old town?
Don't sure about staying in a hostel, check out my related article Tips for Your First Time Stay in a Hostel.
Booking tips:

I highly recommend Mosquito hostel – the staff is awesome, they have some of the best (and cheapest) local experiences to recommend and the place was super clean. However, a number of hostels in Krakow include two meals a day so shop around until you find a place that suits.
book direct with the hostel instead of through Hostelworld or Hostelbookers – it will likely only save you about 30p, but every penny counts when you're on a budget and it means the hostel doesn't have to hand over 12% commission.
if you're able to push the budget a bit and loathe the idea of a 10-bed dorm, there are smaller sized dorm rooms or you can book a private room for only £33 a night – still cheaper than most hotels and don't forget the free meals.
if you plan enough in advance, you can eliminate all of your accommodation costs by Couchsurfing.
Accommodation cost: £30
Eating and drinking on a budget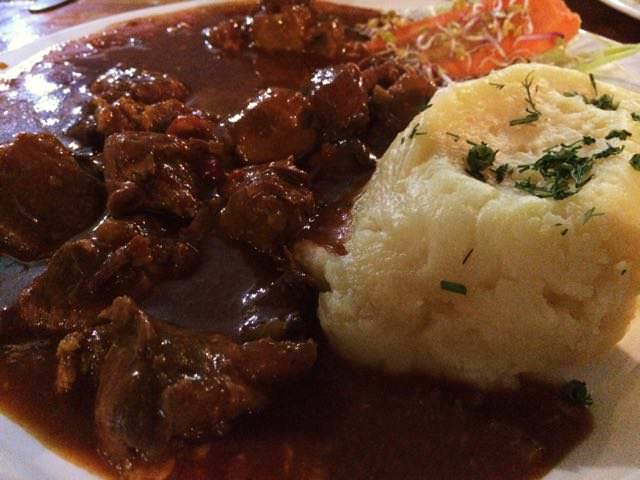 Food
Your third biggest cost after flights and accommodation is going to be food and drink. Fortunately, with two meals per day catered for, your main expense is going to be three lunches and drinks.
Three budget eateries I'd highly recommend, where you can eat until your stomach wants to burst (and all for under 15ZLT – around £2.65) are:
Zapiercek Polskie Pierogarnie (you'll find it on Stawkowska, just off the main square)
Kuchnia Staropolska U Babchi Maliny (also on Stawkowska)
Zapiekanki Krolewski, (Plac Nowy, in the Jewish Quarter)
That's just £7.95 for food for 3 days!
Budget food tips:

I hope the hostel folk don't find this post and poke me in the eyes, but if you're on a really tight budget (or, like me, love a 5pm snack), you could probably make a sneaky salami and cheese sandwich from the breakfast offerings…but I didn't tell you that…

Supermarkets are excellent in Poland stocking a variety of fresh soups and microwavable pierogis if you want to taste some local food without eating out.
Drink
If you want to spend one (or more) of your 3 nights in Krakow exploring the party scene, the staff at Mosquito Hostel will happily recommend places where you can go drinking for as little as 4ZLT (around 70p!) for a beer.
A £100 budget will impose some limits on your party plans, but it doesn't preclude drinking altogether.
At this stage, you've probably only got a few pounds left in the budget (£3.38 if we're going with the example prices here), but with vodka so cheap, that will allow you to have at least one chance at sampling the nightlife.
As well as the 4ZLT bars, there are plenty of Alcoholes around (yep, that's what they call the place for buying booze called in Poland!). Not being a fan of vodka (don't say that too loud in Poland!), I picked up a quarter bottle of decent quality gin as well as a bottle of tonic for under £3!
As well as cheap alcohol, all of the nightclubs I explored had free entry and free cloakroom so you can just go along to boogie if you prefer!
Budget tip: the tap water in Poland is perfectly drinkable. Take an empty bottle from home and fill it up when you get to Krakow. Free tea and coffee is available at the Mosquito hostel so save your pennies while you're out and about or if you have a flask, fill up before you leave.
Food and drink total: £11.33
Sightseeing
The beauty of Krakow is that many of the sights are free! Yay!! Not only that, the city has a range of free, guided walking tours that you can take. I particularly enjoyed the walking tour of the Jewish Quarter with Cracow Free Walking Tours that took us though the sights and the history of the city and explained what how the Jewish community were treated during the War.
If that all sounds too heavy, you can take a guided walking tour of the old town (or walk it by yourself). There is also a communist walking tour.
Fortunately, Krakow is completely walkable (saving costs on transport) and there is enough to occupy your time without having to splash out on big attractions. History and culture are readily available in the city and all for the wonderful price of free (though do try to spare a what you can to tip your guide!).
Sightseeing costs: £0
Cost Summary
Flights: £57
Airport bus: £1.40
Accommodation: £30
Food and drink: £11.60
Sightseeing: FREE (but dig as deep as you can for a tip)!
Total for 3 nights in Krakow (including flights): £100
Have you ever taken a 3-night trip overseas that was on a very tight budget? Any other tips to share? Let me know in the comments below. Even better: let me know if you travel to Poland and manage to spend 3 night sin Krakow for less than £100 – the challenge is on!