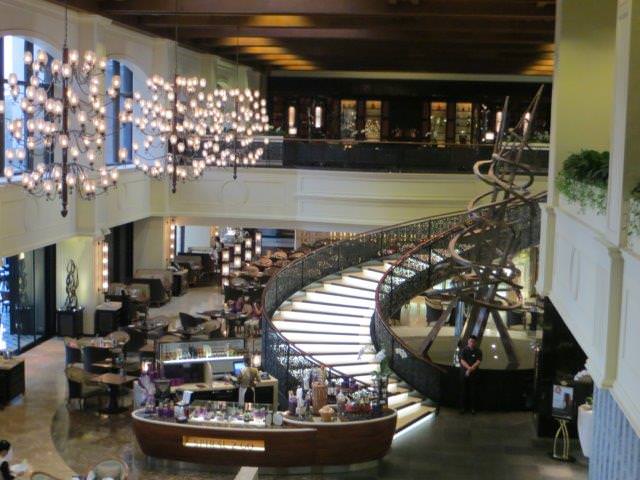 After almost three weeks trying and unanimously failing to find food heaven in the Philippines, I stumbled across the food phenomenon that seizes the palette of wealthier Filipinos and ex-pats alike each weekend – the Sofitel Manila Sunday Brunch.
I should start by saying that there is very little that is Filipino about the food that blossoms from the cooking stations of every high-end hotel in the city each Sunday except that they take place in Manila. Sure, there is usually a Filipino cooking station, serving first rate pig ears to those who want it, but mostly people are swarming elsewhere.
I was days from leaving the city, already disenchanted with the food on offer (something I've already posted about: Food in the Philippines: A Lingering Taste of Salty Disappointment) and a Sunday brunch seemed like my best chance to form a final positive food memory in the country, even if that food came from somewhere – anywhere – else.
I did my research and the Spiral restaurant at the Sofitel hotel came out top. Not only had the hotel restaurant recently received a multi-million dollar refurbishment, the Champagne was free flowing and the food reviewed as consistently spectacular. I flagged down a cab (insisting on the meter) and having skipped breakfast for the occasion, I told the driver to step on it (a laughable request in the context of Manila's permanently jammed roads).
Arriving for Sunday Brunch
After over a month of hostel dwelling, I suddenly found myself back in a world that reminded me of the kind of establishments I'd frequented as a lawyer. The female concierges were dressed beautifully and gladly escorted me down the stunning spiral staircase that gives the hotel restaurant its name. Not batting a beautiful Filipino eyelash at my single dining status, my early arrival permitted me the luxury of selecting a seat with nice views out to the terrace, close to the passing, portable bar (hurrah) and, vitally, not within earshot of the spoiled rich kids that bawled their way through brunch.
Best Tip: Get there early If I could give one tip, it would be to get there early. Not because the restaurant fills up (it does, but there were still spare seats thanks to the size of the dining area) but so you can make the most of the brunch.
I had researched the dining times at the Spiral before arriving, (12 p.m. to 3 p.m) and I arrived (barely) fashionably late at 12.15 p.m. so I could take full advantage of the food.
However, after many years of dining in France, I am highly skilled in the ways of the long, slow lunch, which meant that even though I had nearly three hours to eat, I still felt rushed at the end. In fact, come 4 p.m. I was still going strong and was almost the last (ok, I embarrassingly admit I was actually the last) person to leave. Fortunately, the waiting staff were more than accommodating of my snail-like eating pace and I finished my sixth course without fear that my rhum baba was going to be whisked away prematurely.
Here is what I ate (and drank). Plate (and glass). By. Plate (and glass).
Bottomless Moet & Chandon Champagne
I love a glass of good Champagne and although it was standard issue during my legal life, the opportunities to sip genuine bubbles from the likes of Reims and Epernay are few and far between when I budget travel. It is something I've gotten used to, but is does makes those Champagne quaffing occasions all the more special, which is why I was delighted to see not just bottomless Champagne, but bottomless branded Champagne on the Spiral menu.
Although the former bubbly snob in me would have sniffed at Moet & Chandon as an inferior brand relative to the Krugs of this world, I almost wept tears of joy when I was greeted with a glass of Moet. Crisp, cold and sipped just at the turn of noon, I was confident I had a high-quality brunch sprawling ahead of me.
Throughout my meal the Champagne was delivered freely. At one point I asked to swap from white to rosé Moet. When I returned to my table I found a full to the brim glass of both. I would have complained…but that seemed rude!
Bread pot
The first item of food on offer was an oversized mound of freshly baked bread. As good as it smelt and looked, it was larger than my head (thus contravening Golden Eating Rule Number One: never (with a few small exceptions hat includes thali and pizza) eat anything bigger than your head), I politely declined preferring to fill my stomach on better grade goods.
Seafood and sushi
I'm a fan of a fishy start to a meal so I headed straight to the sushi station. There, I took a couple of pieces of tuna and salmon sushi as well as sashimi (there wasn't much more adventurous than that on offer). I also managed to procure one of my favourites – tuna tartar. With side dabs of wasabi and ginger and a small dipping bowl of soy sauce, I was set.
Verdict: Was it as good as the sushi and sashimi I'd recently consumed in Japan? Of course not, but then I would have been retrospectively disappointed in Japan if it had. Was it nevertheless excellent? Yes. The tartar was perfectly soft and the fish fresh.
What I did find distasteful was the gluttony demonstrated by the other diners. Sure, sushi can come at a premium price outside Japan, but that did not excuse one lady (and I use the word lady loosely), taking all bar two pieces of sushi from one platter and declaring that the sushi chef would simply have to make more if other people wanted it.
The other factor that slightly let the sushi side down was the disposable wooden chopsticks. I usually pack my own (for environmental reasons) but that issue aside, the wooden dining felt sub-par when the rest of the place was set with such nice silverware. Still, I barely noticed after my first bite.
The Wine Cart – Concha y Toro, Chile
Still lavishing in my Moet, it was an extra treat to find, for the benefit of my intended trip to the rare beef chef, that wine was also included in the price. Wheeled around on the same cart as the Champagne, it wasn't long into my dining when I was offered a choice of red or white Concha y Toro wine (Castillera del Diablo brand). I don't recall the grape of the white offering as I was fixing on the red (Cabernet Sauvignon).
Having visited the Concha y Toro vineyard in Chile, I was more than happy with the wine of offer even if on a like-for-like basis, old-world French would have been a better companion for the Moet.
Cured meats and antipasti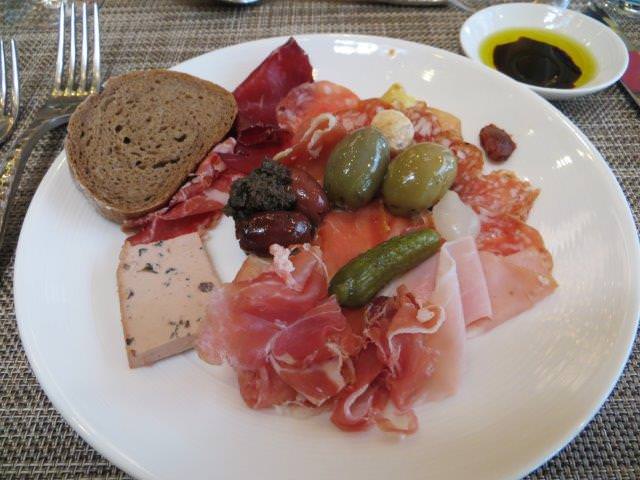 I'd read about the cured meat and cheese room before I visited Spiral and it wasn't hard to locate – follow the baguette trail of any of the fellow European diners. On the left were around a dozen types of cured meats, pickles and antipasti accompaniments while the sweating stink of good, strong cheese pulled at me from the right. Applying discipline, I ignored the cheese (for the time being) and took a small sample of each of the meats.
Verdict: While an utter treat in the context of the Philippines, there was nothing on offer that I couldn't pick up at my local supermarket at home and I was a little sad to find no Iberico ham…though given the per kilo price, it was no huge surprise.
That said, the meats were high quality (especially the sausage, accompanied with strong mustard) and the pate sufficiently tasty that I think the French would be comfortable putting their name to it. So, I was pretty happy. The olives on the other hand were a disappointment – either too oily or bitter. The tapenade was better, though salted in a way only Asia knows how.
Carvary – rare roast beef
Being British, if I ever had to identify a food with Sunday, it would be roast beef, so that was my choice for my main course. However, not wanting to fill up, I focused on the highlight – rare, roasted beef, with a couple of vegetables tacked on for the sake of completeness.
Verdict: The chef followed my cooking instructions perfectly which consisted of me showing my hand as though face down on the grill "sssssss. Three seconds", turn hand, "ssssss. Three seconds". The results were perfect (I should note that the beef had already been roasted rare and the return to the grill was to warm it – not ideal, but I accept it as necessary for a buffet).
My first bite of beef was chewy and I was disappointed but things got much better by the turn of my second and third slice. All in all, excellent quality for a buffet. The vegetables were missable, but perhaps that is my view on vegetables.
Pasta and Italian food
Ok, I went slightly off plan with the addition of a pasta plate but lacking other carbohydrates and having already supped my way through three glasses of Champagne and some red wine, my body needed something more substantial than meat and fish, so I took myself to the Sofitel version of Italy.
There, I selected one or two pieces of the more interesting pastas (gnocchi, tortellini, ravioli) and asked for my medley to be tossed simply in butter and Parmesan.
Verdict: Although it looks so good in the picture, this was my least favourite part of the meal. The gnocchi deserved the highest marks and was actually very good and the heart shaped pasta, which had gooey mozzarella inside was also tasty (though I couldn't eat more than one or two pieces).
However, the tortellini bordered closer to raw than al dente and the ravioli filling tasted…cheap. I don't like to leave food from a buffet, but this choice was poor enough that I didn't want to force myself to finish it. There are certainly better things to eat at the buffet.
Cheese room
I was excited to return to the cheese room with its sweating and pungent rounds on display.
I confess that in a frenzy of loading up my plate I lost track of what I tried…though assuming I tried pretty much everything is probably a safe bet.
Verdict: Most of the cheeses I tasted were premium quality. The Gorgonzola was thick, creamy and strong and the comté more than passed muster, which is impressive given this is by far one of my favourite French cheeses and I judge it harshly. I think I made audible sounds of pleasure when I was consuming my cheese plate…and I didn't care.
In short, if I had consumed a few glasses of bubbly and just been able to eat from the cheese room, my Sunday Brunch would have been a success and money well spent.
Dessert Station
I have long maintained that I have a separate stomach for dessert, which I consider to be a gift and so, even after the preceding 5 plates, I still felt more than up for the challenge of the long row of desserts.
Unfortunately, as I approached, a little disappointment set in. The ice-cream looked unappealing (how I long for Italian gelato) and the pull out drawers of cakes, despite looking pretty, seemed so…ordinary.
Viewing pictures of the buffet online, it was the images of macarons that had sealed the deal and made me delay my plans to visit the Batad Rice Terraces, but when I got there I realised the macarons were not included (they were available separately, at a charge). Sigh.
Slightly glum, I compensated by sampling as many alternative desserts as I could!
Verdict: I had low expectations of the éclair (few can rival those I ate when I lived in Montsoreau, France), but it wasn't half bad (and that is a compliment!). Yes, I would have preferred the centre with plain cream, not chocolate, but it was still very good. Alongside the eclair, the salted caramel eclair and dark chcolate truffles were both excellent.
The rest of the choices were, sadly, average with a combination of too dry (the chocolate tart) and too soggy (the rhum baba – I selected it because it looked both quirky and fun: it contained a syringe containing what I assumed to be rum but was actually a sugary substitute).
I tried a couple of local desserts too – the purple one I didn't retain the name of because it was close to eating plain flavoured plastic. However, the one dessert that redeemed my final course was a stodgy looking cake that I had low expectations for but blew my taste buds away.
Bibingka is a perfectly moist, sweet and moreish cake that I could happily have had several more slices of if I were not at the risk of exploding from fullness (even with my separate dessert stomach). The chef kindly assisted me in preparing the Bibingka, which must be slathered in margarine and sprinkled with crunchy brown sugar. I winced, expecting it to taste vile (the margarine in the Philippines is so processed it doesn't need to be refidgerated), but it didn't. If you only have one dessert at the buffet, I'd say make it this.
Designing a Buffet Plan
Buffet dining can be a blessing and a curse in the same bite, depending how you approach the multitude of food on offer. For my tips on how to come away with maximum value for money and the same sense of satisfaction you get from a la carte dining, see: Designing a Buffet Plan: Top 10 Tips for Buffet Dining.
Overall Verdict
At the end of my six course meal with countless (actually, I do know, but don't want to confess) glasses of bubbly and wine, I sipped on my coffee as my stomach slipped over the top of my waistband. Right there, I had it – the food experience I'd be searching for in the Philippines. I may not have eaten much that was local, but it is a memory of Manila I (and my waistline) will keep forever.
Read more of my Philippines and my Asia posts.
Related Articles: