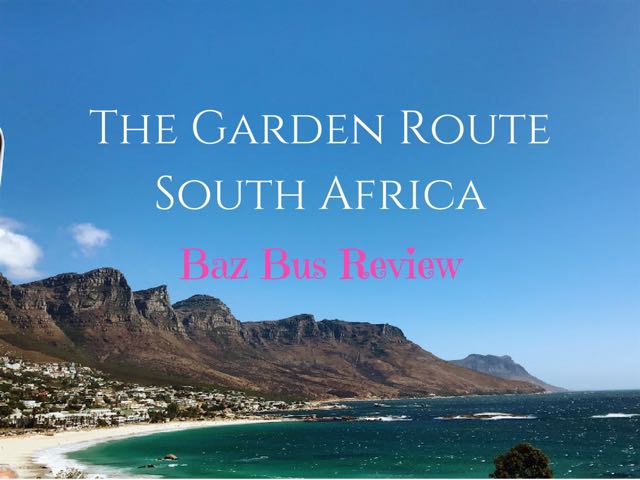 "It's dangerous."
"Especially for a woman on her own."
"You definitely shouldn't drive the garden route by yourself."
If there was one piece of consistent advice I received when I was in South Africa it was that driving the garden route – the famous stretch of road from Cape Town up to Port Elizabeth – was a dangerous idea for a solo female traveller.
"Really?" I asked.
"Because the roads look pretty safe to me." I'd been in Johannesburg for days and was surprised at how easy the roads looked – little traffic for a major city, good road surface and slow, considerate drivers. And some of the best trips I've taken have been road trips, like in the Florida Keys and Baja California.
In my heart and in my head I was confident about taking a car until I allowed people to put me off. Call it superstition but when all the local advice (and from a few travellers) is to avoid a car and catch the bus, I take it seriously. Despite extensive travel alone to many destinations that people consider risky (Mexico, Colombia, Detroit, Naples), I still respect the fact that each country is different. And the local people always give the best advice, don't they?
Not this time, it turns out.
Travelling the route by bus, I saw the roads, assessed the driver's safety and concluded that driving to Port Elizabeth would have been a very safe breeze; even for a female on her own. Of course, you can never predict safety with 100% certain but it's not just cars that can be jacked – buses can crash, planes can fall out of the sky and I could die tomorrow slipping on a banana peel.
Nevertheless, after humming and haring for almost a week, I ditched my car hire plans and booked a ticket on the Baz Bus. What follows is my review of taking the bus.
I should preface my review with a couple of notes:
I planned to travel not just the garden route in South Africa (the stretch from Cape Town to Port Elizabeth) but the wild coast too, from Port Elizabeth up to Durban.
I'm from the UK meaning that, at home, I drive on the left and function best in a manual car. So, of all the places in the world I've hired a car, South Africa was, in theory, likely to be the easiest of them all.
Below are the pros and cons or the positives and negatives of taking the Baz Bus. Whether the Baz Bus is right for you will depend on your circumstances but hopefully, this post will help you decide. And when you're ready to book, you can check car rental rates with Rental Cars. And compare them to Baz Bus ticket prices.
As I've mentioned, I ended up making the wrong decision – I wish I'd hired a car – but there are plenty of people who enjoyed the bus.I won't bother rehashing the details of the Baz Bus routes, prices and timetables, all of which you can find on the Baz Bus website.
PROS
Let's start with the positive points about taking the Baz Bus:
1. You don't have to drive
If you can't drive, or you're nervous about driving on the 'wrong' side of the road, operating a manual car or driving in South Africa (because there are plenty of scare stories about carjackings), having someone else – an experienced local – take the wheel means they also take the stress out of travelling in South Africa. If this sounds like you, I'd wholeheartedly say the Baz Bus is a great option and far superior to other public transport. Just go and book your ticket, you don't need to read any more.
2. You don't have to navigate
Often, sitting on the Baz Bus, when we turned down a strange lane or came off the main road, I was grateful that I didn't have to navigate the country. In theory, the journey should be a straight shot up the coast but we seemed to take way more turns than a single route on a straight highway would otherwise suggest.
Driving Tip: if you do decide to drive, head to the Vodacom shop at arrivals in the airport and buy a local data SIM. That way you'll have Google maps on your drive. You can use Maps.Me for free but for driving I have found it a bit slow and not as accurate.
3. You can do other things
Reading on a long bus journey is one of my favourite things, as is zoning out and listening to music, daydreaming, journaling (smooth roads permitting), eating, chatting and just plain staring out of the window. Obviously, you can't do this when you're driving, especially not when you're on the wrong side of the road in a foreign country paying attention to where you're going. Related: 50 Best Travel Books of All Time.
4. It's a long drive to do alone
Cape Town to Johannesburg is over 1,600 kilometres if you go direct, more if you take the coastal route. If you're on your own, that is a hell of a long way to shoulder all of the driving (at least it is if you're from the UK and that distance would tip you off the end of the island). It's still a chunk of mileage if there are two of you in the car.
Driving Tip: if you're travelling just the garden route up to Port Elizabeth, the distance is much more manageable, around 800km.
5. You meet other people
Once you're in your rental car, the chance of chatting with other people is restricted to when you stop. Hop on the Baz Bus and you've instantly got fellow travellers to chat to for the duration of your bus journey.
Driving Tip: If you're driving solo and you're hoping to meet people to car share along the way, don't be surprised if you find this hard. The direction of travel, itinerary preferences, travel duration and pre-planning all mean that most people have their trip organised before they arrive. Related: What To Do When You Feel Lonely Travelling Alone.
6. The Baz Bus is reasonably comfortable
Ok, it's a minivan and there could be more leg space (said by the 5ft tall person) but the bus was never full when I took it so you could usually enjoy the luxury of two seats. The air conditioning isn't great and is often 'natural' (i.e. open the window) but it never got too hot and stuffy or too cold as so many long-distance buses do.
7. There is wi-fi on board
Sure, it's only 100mb per journey and there were sometimes glitches with connection but there was, at least, social media quality of internet access onboard. Follow me on Social Media here.
8. Rest stops are regular enough
After a near hostage situation on more than on Vietnamese night bus, having to literally break out to use the loo mid-way through a 16-hour journey, I always appreciate when bus companies schedule regular stops. Snacks, caffeine refuelling, smoking breaks (if that's your thing) and just breathing new air – the Baz Bus stopped just enough.
9. The Baz Bus is far better than public buses
First of all, the Baz Bus hits up all the popular backpacker and tourist spots along the garden route and the wild coast. The Greyyhound does too (on the garden route, at least) but it comes with two major inconveniences – first, the Greyhound travels that route through the night, so you're going to arrive sometime between the hours of 1 a.m. and 5 a.m. and, second, you're going to get dropped off in the arsehole of nowhere, leaving you scrambling around at 3 a.m. for a taxi to your bed. Will you find one? Is it safe? Questions I don't want to explore at 3 a.m. on my own in South Africa with all my valuables, including my vagina which I'm eternally keen to protect from intruders.
10. The Baz Bus will take you door to door
The Baz Bus will take you door to door. The benefits of this can't be downplayed. Not only does it save you the cost of getting to and from the bus station to your accommodation, it means you don't have to deal with finding a ride in the middle of the night. While Uber works like a dream in the big cities (Cape Town, Port Elizabeth, Durban and Jo'Burg), there's not a single Uber to be found in the smaller spots. Taking a taxi after dark in Mossel bay, the bar owner called her friend (not a taxi driver) who tried to charge me double what I'd been charged by the official driver on the way there. With the Baz Bus, all you need to do is be packed and ready by the allotted time.
It's a strong list of positive reasons to take the Baz Bus and overall I have few to no complaints about the service. If I was going to review the Baz Bus just as a service, I'd give it a firm 9 out of 10.
CONS
But there are some downsides to consider before you book.
11. You're stranded when you get to your destination
The one thing I wish I'd known above all else is that the garden route is designed to be explored by car. If you've ever travelled through the USA outside the major cities without a car, you'll know what I mean. Distances between things are far and, often, not walkable. And while your accommodation may have a coveted beach-front spot, chances are, all the action (restaurants, cafes, shops, activities and bars) are located elsewhere. When the general advice is not to walk alone at night (and in some spots during the day), and when you're in locations where Uber disappears, getting out to explore and even to do something as simple as eat, can be a real chore. Most backpacker spots along the route offer either a kitchen for self-catering or they sell food and drink but, for me, I don't want to travel thousands of miles to cook dinner or eat a load of western food with a bunch of other travellers.
12. Exploring means forever taking tours
Want to go and explore than nearby nature reserve? You have to book a tour. Want to go three bays over to check out the surf? You'll need to find a driver or a tour. Want to go look around the city when it's not so safe to do it by foot? Guess what – you'll need a tour. I can't say it enough, this part of the world is designed to be explored by motor vehicles and while there are plenty of tour operators willing to step in to help out, sometimes you don't want an 8-hour combi-tour of the area. Sometimes you just want to spend half a day exploring the national park. On your own.
Tip: One exception is if you plan to explore Kruger National Park. In that case, I really do recommend a tour because, on your own, you're not likely to see as much – the safari guides know what they're doing. If budget is a worry, there are some pretty cheap options if you book when you get to South Africa. You can find out more in my guide: Best Kruger National Park Safari on a Budget.
13. The bus timings can be awkward
Don't get me wrong – compared to the Greyhound, the daytime timetable of the Baz Bus is a dream. However, when most (and I'd estimate about 80-90%) of the tourists are travelling by car, you can feel a little stranded, especially as you get further up the coast and the collection times get later. I don't know about you but I prefer to get up and get on the road. However, in some spots, you can be left hanging around until 3 p.m., 6 p.m. or later waiting for your Baz Bus ride. Often, the timings mean you can't make much use of your day – you're checked out of your room but don't have enough time to take a tour. I drank a lot of coffee on this trip, just waiting for time to pass. It didn't help that it rained a lot. (It's worth noting the Baz Bus times can be a bit flexible too – more than once I was picked up late. Once I was picked up over an hour and a half late).
14. You can spend all day waiting just to travel up the road
Once you leave Cape Town and get along the bulk of the garden route, the stops get closer together with 30 minutes and 45 minutes between some places. To have to hang around all day to catch the Baz Bus to take you just 45 minutes up the road can feel like a waste of the day.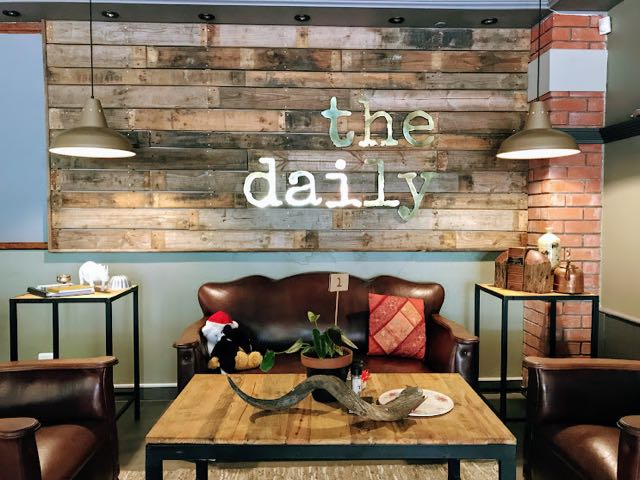 15. The bus might not fit your itinerary
Most visitors seem to breeze into each town for one night only. They arrive early, spend the day exploring by car and leave the next day. From what I've seen of each spot, that's the ideal way to do it. However, if you're taking the Baz Bus, this isn't so easy. You tend to arrive after mid-day, meaning you need a whole day the next day to really explore. This is going to add extra nights at each spot, overall extending your travel time or reducing the number of spots you see on your trip.
16. You need to decide on your itinerary in advance
Baz Bus advises that you book your seats 72 hours in advance. Although I never had any trouble booking the day before, it does remove the spontaneity of seeing how you feel on the day. Feeling stranded in Wilderness when it heaved down with rain for the whole day, I wished I had a car to take me up one hour up the coast rather than having to spend six hours hanging around at my accommodation waiting for my Baz Bus departure time (I read a lot that day). Likewise, you'll have to rearrange your plans if you decide you want to stay on for another day.
17. The Baz Bus booking system isn't as slick as it could be
In an ideal world, you'd be able to book your Baz Bus tickets online but you can't. Yes, you can buy your original ticket online but when it comes to your day-to-day buses, you need to send an email requesting a seat and wait for a reply. The website says that the office is only staffed during weekdays so I found myself having to plan all the way through the weekends, adding too much rigidity to my usual style of travel. That said, I never had to wait too long (a few hours or overnight only) for booking confirmation. Related: Top Travel Sites – Over 100 Links for Trip Planning.
18. On the wild coast the buses don't leave every day
By the time I reached the end of the garden route and was looking to explore the wild coast, I was so over the inflexibility and lack of a car that I abandoned my plans to continue with the Baz Bus.
Travelling through the wild coast without a car seemed even less flexible with the buses no longer running every day. This meant that by taking the route I had planned, I'd end up staying either too many or not enough nights in the spots I wanted to explore, just so I could time my trip with the bus. I did, at this point, consider hiring a car but of the entire road trip, this was the area I'd been most nervous about exploring alone – the roads are not always great and it presents the longest distances. So, I decided to cut my losses, abandoning nearly a week's worth of my Baz Bus ticket in the process. This is purely because of the way I prefer to travel rather than there being anything wrong with the bus.
19. You're not likely to meet other people to travel with
I wasn't using the Baz Bus to meet other travellers but I know this will be on the minds of some solo adventurers and the truth is that it's unlikely to happen. Almost everyone on the bus ends up stopping in a different town or, at least, different accommodation. I didn't see any new travel friendships formed for longer than the bus journey and if this is your plan, I'd say you have more chance of meeting other solo travellers in your hostel.
20. Car hire is often cheaper and there's no reason you can't do it yourself
Most of the Baz Bus users I met were travelling just the garden route. With excellent roads and google maps, cheap car hire prices and much more flexibility, unless you really are too terrified to go it alone or you can't drive, the benefits of taking the Baz Bus do not, in my view, outweigh the inconvenience.
I don't always get my trips right and I believe that this was one of those times. With the ability to rewind, I'd not listen to all those people who told me all manner of bad things would happen if I drove the route alone. I'd have hired a car for 10 days and explored a lot more than I did by taking the safe option of the Baz Bus.
But, we can't ever press rewind and the one thing I have learned is that when a plan is failing, the worst thing you can do is stubbornly stick with it. So I devised a new plan instead: a flight from Port Elizabeth back to Jo'Burg (a city I actually really love), a four-day safari in Kruger National Park followed by an impromptu trip to Zimbabwe and Victoria Falls.
Onwards.
Related Articles:
Heading to Johannesburg? I've written a guide to what to do in Johannesburg – the city is a lot more fun, safe and fascinating than you might think.
If you are going on a safari, here's my safari packing list.
And if you're spending any time in Cape Town, here's my guide to the best things to do in the city.
Have you taken the Baz Bus? How did you find it? Let me know in the comments below.
Like this? Share it on Pinterest…