Getting to Santa Teresa Beach from San Jose
The day didn't start well. In addition to the 4am wake-up, I ended up at the wrong bus station. I knew that I had to get there early to join the rabble-come-queue for the ludicrously popular Saturday morning bus to Santa Teresa. (Nicoya Peninsula, Costa Rica). So, when it dawned on me that I was in the wrong place, I broke into panicked Spanglish explaining my problem to anyone who would listen. 'Me no in right-o place-o. Need-o bus-o.'
Within minutes I was installed in the back of a beaten up car having negotiated a 1,000 Colon fare (about £1.25) to get me to the correct station, pronto.
It wouldn't be the last time on my trip that mid-route, doors locked, travelling at speed, it occurred to me that I wasn't in an actual taxi. Shit. Dark as night, alone, in San Jose, convinced the driver was eyeing up my vital (and non-vital) organs, panic crept over me. Not yet fully recovered from my cough, I began to splutter and choke as my heart beat faster.
Less than five minutes later, we two-wheeled into the station. The 'taxi driver' took my money and quickly prized me and my diseased belongings out of his car. Seemingly he preferred his 1,000 Colon over my terminal lungs. I was insulted! But safe.
Making a mental note to be more careful in furture, and forgetting my mental note as quickly as it was made, I got my elbows out and, in the same manner I used for years cramming onto the tube at rush hour, I rugby tackled my way onto the bus. Thanks to London Underground and its excellent training I managed to secure a seat. Jo -1, Costa Rican's – 0. Several upturned crates in the aisle and 20 extra passengers later and we were off. First stop, the ferry port.
The waters sparked peacefully while the boat pumped out dance tunes on steroids. A Costa Rican stag party is, experience tells me, no different to an English one. Excessive drinking (statement of fact, not judgment), silly outfits (pure judgment), semi nakedness and later, based on the cheering, I guess, full nakedness, leering, shouting and ultimately vomiting with a little bit of crying. I was having such a ball with entertainment lasting the full crossing I had to steal myself from ordering a beer when I went to the bar – I checked my watch, it was only 8am!
It took the rest of the day to reach the small backpacker enclave of Santa Teresa. Honeymooners and holiday makers long having priced the budget travellers out of their original spot in Montezuma (which shares its name with the infamous Montezuma's Revenge – apply Google if you're not familiar, I'm not describing it!), backpackers had headed south to Santa Teresa. And what a good spot they'd picked.
I found my feet pretty quickly, which was not difficult in the tiny stretch of dusty road that calls itself the town. No more than a handful of small supermarkets, cafes, bars and surf shops, it was not possible to get lost there. After a false start with a weird hostel (guys, hippy communes and swinging fell out of favour in the mainstream a long time ago), I got myself a bed in Tranquilo hostel. And boy was it tranquilo. My intended three night stay turned into a week, which turned into two. An actual lifetime in the backpacking world. Santa Teresa beach certainly offered a slice of the good life and I took my piece.
After a happy, beer filled reunion with the German girls (oh, how I miss you!), we quickly fell into a comfortable routine, something my life had lacked since I left. But quite unlike life back in England, this routine was one I didn't want to break.
Santa Teresa Beach Life
It went a little something like this:
– Morning: free hostel pancakes and coffee eaten over invariably failed attempts to recall the night before.
– Post breakfast – small doze in a hammock – pancake eating and partying to dawn, it turns out, is exhausting.
– Post nap – time for the first beach session of the day.
– Beach – book reading, gossiping, surf watching, time passing we'd sit until our stomach's rumbled indicating….
…Lunch – with the freshest avocado and tomatoes on God's Earth, and a budget in mind this combination became a Costa Rican institution. Add cheese, all set.
– Post lunch – small doze in a hammock – lunch eating and lying on the beach, it turns out, is exhausting.
– Post nap – time for the second beach session of the day.
– Beach – repeat performance of morning beach session with one important, glorious addition…
…Watching the sun set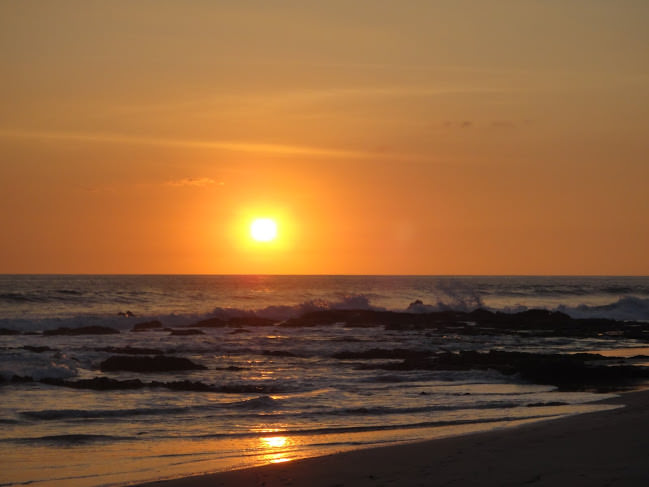 Now I need to make special mention of this phenomenon because who knew that beyond the dark corners of office spaces around the world this astonishing wonder of a huge, hot shiny ball of fire falling beyond the horizon of the ocean happens every day. And it is so beautiful. Tear-jerkingly so. How had I got to the age of, ahem, 26 and not known this before?
As if I'd discovered the Earth wasn't flat, I watched the sun set over Santa Teresa every day like it was a wonder that I didn't quite believe and with suspicion and worry that it might never happen again. It was always my favourite part of each day and some of the most enjoyable sights of my trip. What was in those love-giving avocados?!
By night, another meal, another hammock swing and then, slowly but surely, the hostel would lurch into life. Beer, rum, music and, with the assistance of a few natural born fire-starters, a trip to the beach for a bonfire and more of Costa Rica's excellent and cheap (or just excellently cheap) rum.
Now this routine may seem a bit dull to you – hardly exploring the hard hitting sights of the world or discovering indigenous cultures, or, as I am prone to, getting into a fix.
But fear not, there were a couple of deviations to this routine along the way.
Discovering Israeli speciality: Shakshuka in Costa Rica
The first won't mean anything to you until you experience the taste yourself, but it was in Costa Rica that I stumbled upon my very first shakshuka. No, not an illegal drug, but an Israeli (or Middle Eastern, depending who you ask) breakfast which is a magical mix of tomatoes and fried eggs stuffed down with bread and tahini. This dish is currently running in top place as my favourite newly discovered dish, though possibly because I'm writing this post from Israel! Recipe below – taste it, love it, spread the word.
Surfing in Santa Teresa
Perhaps one of the more interesting of my experiences in Santa Teresa, especially for the observers, was my attempt at surfing.
Being told I was 'goofy' within the first five minutes of the lesson (apparently not an insult – the instructor was goofy too i.e. leading with the left foot), and having a personal part of my upper body pried free from my bikini by the sheer force of the white water was not the best introduction to the sport. But with some perseverance and a lot of head diving into and drinking of salty sea water, I managed to make it up onto the board.
I won't pretend I looked cool or that it was a pretty sight, a grimace of fear spread on my face as I wobbled in an ungainly fashion over the waves, but I did it. More than once. But afterwards I couldn't walk. Or pick up a fork to eat my pancakes. Surfing was fun, but it hurt like hell. It was unravelling all of the good work Santa Teresa was doing on the relaxation front so, at the very tender age of novice and with cries of 'nooooo' from those on the beach who had delighted in my stunt(wo)man style falls, I retired from my surf career returning to my preferred horizontal position, book in hand – not such an easy position on a board.
And then there is always the one thing which none of my destinations or blogs seem to be without – the embarrassing moment. But now that I've talked up the story, how do I make it funny? Answer – I don't. All I'm going to say is it involved a dark beach, a bare bum (mine), a search for dry wood (not so easy – see earlier reference to bare bum) and a French man calling out to me through the dark scared by the screaming he'd heard and worried I'd been taken. If you want the details, feed me more rum on my return and you will be rewarded with the full antics.
Santa Teresa also gave me my first (sand-filled) taste of full-moon parties. However, I think its version was being more on the scale of what Thailand's Kho Phangan was in its hey-day before is saw up to 35,000 revellers drinking and peeing on its shores, all in the name of the cheese cratered disc in the sky (oh another blog awaits on this behemoth of a party).
In fact, Santa Teresa gave me so much – surf scars, record breaking levels of mosquito bites and an extra inch to my waist (pancakes and horizontal living) but it also gave me time to stop and simply enjoy life as it is in the here and now (or as it was in the then and there).
But that wasn't all. As well as generating one of the best tans I've ever had, I staggered away from my Santa Teresa beach bum lifestyle with another rum filled hangover and accompanied by one of the German girls who I was very pleased to have kidnapped/persuaded to come with me. I had all the makings for a riotous trip to the next destination. Nicaragua… but that is for next time.
Ok, I don't have a kitchen to whip this up and try the recipe, but it looks like it has all the good stuff:
But my advice:
– don't EVER let the eggs set (unless you are old or pregnant…God, I wish the lawyer in me would go away)
– ditch the feta and add a side sauce of Tahini.
– Special instructions for Stephen – omit onions and garlic for a fight free dish.
Enjoy!