When you think of the 'French Riviera' what do you imagine? For most people, it would probably be the glamorous beach resorts of Cannes, the super yachts lining the Port of St Tropez and the prestigious upscale casinos of the micro-state of Monaco.
It's fair to say that the Mediterranean coast of Southeastern France, or Cote d'Azur as the locals would call it, has certainly gained itself a long-standing reputation as the go-to holiday hot-spot for the world's rich and famous.
Originally branded as the playground for international Aristocracy during the mid-19th century, the sunny beach resorts of the French Riviera are still drawing in an affluent clientele today. From wealthy 'Made in Chelsea' socialites to celebrities including Elton John, Johnny Depp, Brad Pitt and Angelina Jolie, renting a luxury villa or owning a holiday home on the French Riviera has become the ultimate status symbol.
And with the ever-increasing popularity of social media platforms such as Instagram, snaps of these glamorous celebs sipping champagne with friends in their luxury villas in South of France are thrust in our faces on a regular basis.
It has therefore become a lifestyle that many of us normal folk fantasise about. However, due to false preconceptions, its a fantasy most of think us we can't afford. I know that my bank account would once quiver in fear at the idea of typing the words 'French Riviera villa rentals' into a search engine, just to be hit by pages of luxurious villas way out of my budget.
But as I sat out by my private pool enjoying the hot Riviera sun, glass of chilled rosé in hand, after a day admiring the luxury yachts in the Port of St Tropez, I rejoiced in the fact that the French Riviera was not the exclusive members-only club that I once thought.
How can you make the French Riviera affordable? Stay in a villa in Sainte Maxime.
Stay in a villa in Sainte Maxime
Sainte Maxime is a coastal town on the French Riviera, located on the northern shore of the Gulf of St Tropez. The town is not as well known as close by St Tropez. However, with its beautiful golden beaches, clear blue waters, characteristic old town and busy port, Sainte Maxime has just as much to offer holiday goers as other towns on the French Riviera. Plus, it's significantly more affordable.
With a friend, I stayed at the villas of Les Restanques du Carré Beauchêne (booked through Summer France, full details below).
Our villa had it's own private pool and garden, with deckchairs to make the most of the Mediterranean sun and an outdoor table to enjoy alfresco dining during the slightly cooler evenings.
Despite the villas of Les Restanques du Carré Beauchêne being located within one complex, the distance between each unit and the tall plants surrounding the garden and pool ensured that the villa felt like our own private escape. When we weren't out exploring the local area, we could grab the portable Bluetooth speaker (which comes with each villa), turn on some music and float around in the refreshingly cool pool to escape the hot July sun.
Upon arrival, the villa's fridge was already stocked with cold drinks, while a welcome basket of fresh bread, three delicious pots of tapenade, a bottle of rosé and a bunch of flowers were waiting for us on the table. After driving down to the local supermarket in Sainte Maxime to grab some French cheese and cold meat cuts ('the essentials' for any French supermarket shopping trip), we put together a home-made charcuterie board and enjoyed our first night sat in the evening sun with our tasty dinner and glasses of rosé.
And as if we weren't feeling spoilt enough, on our first morning in the villa we woke up to a delivery of fresh croissants for breakfast. I can't think of a more perfect way to start a luxurious and relaxing stay at our beautiful villa on the French Riviera.
Of course, eating cheese and drinking wine are a perfectly acceptable way to spend your entire time, rooted to your villa in the French Riviera, but if you want to go out and explore, there's definitely enough close by to keep you occupied.
The villas of Les Restanques du Carré Beauchêne are located 2km from the centre of Sainte Maxime, an easy walking distance to the old town, the Port, Sainte Maxime beach and other local attractions. Here are a few of the best things to do in Sainte Maxime.
Explore Sainte Maxime Town
Sainte Maxime itself is a small but lively coastal town, with plenty of restaurants, cafes and bars for enjoying some time away from your villa. Interesting attractions include La Tour Carrée Museum, a small museum celebrating local folk traditions inside a historic tower in the heart of the old town, and Sainte Maxime Church.
Plus if you're a fan of markets, Sainte Maxime is definitely the town for you. Sainte Maxime and the surrounding areas host several markets throughout the week, selling a wide selection of foods and goods. One of the most popular markets is the Marche Couvert (covered market) held in Rue Fernand Bessy every morning and selling a variety of fresh fruit, vegetables, seafood and flowers. Whilst every Friday morning, you'll find the Mermoz market, a lovely little food and crafts market, held in the vicinity of Place du Marché. Hunting for treasures at the towns many markets is definitely one of the top things to do in Sainte Maxime for both tourists and locals alike.
You can find out more about the goings on in Saine Maxime on the official tourism website here.
Admire the boats on the Port of Sainte Maxime
The historic harbour of Sainte Maxime has around 400 moorings where many luxury yachts and sailboats dock up for their owners to enjoy the sunny French Riviera resort town. The harbour is a beautiful place to take a wander, looking out to the deep blue Mediterranean sea and playing a game of who can find the best-named boat (FYI, my favourite was 'the Sacrebleu').
Take a ferry across the Gulf of St Tropez
While you're down at the Port, jump on a 'les bateauxverts' shuttle boat and jet across the gulf to the famous town of St Tropez. As you set out from the Port of Sainte Maxime, watch in awe as the luxury yachts get bigger and more extravagant until you reach the Port of St Tropez. You know you've arrived when you start spotting 5-story superyachts with onboard swimming pools and private helipads.
Whilst the more sensible option would be to shop, eat and drink in the more affordable town of Sainte Maxime, St Tropez is still certainly worth exploring for an afternoon. As well as the yacht-lined port, you'll find rows of designer fashion shops, interesting art galleries, beautiful beaches and even a 16th-century Citadel perched on top of a wooded hill.
The les bateauxverts shuttle boat from Sainte Maxime to St Tropez runs throughout the year with the timetable changing depending on the season. Return tickets cost €13,50 for an adult and €7.50 for a child.
Relax on Sainte Maxime Beach
Plage Du Centre Ville is a beach located in the heart of Sainte Maxime, just minutes away from the town centre and port. The large stretch of golden sand is a great place for sunbathing, going for a dip in the ocean or even sitting at one of the beach restaurants (try Havana Plage or Les Copains d'Abord) enjoying a bite to eat and a cocktail. Along Sainte Maxime beach you'll also find Casino Barrière and the Theatre of the Sea.
If you're happy to wander a little further outside of central Sainte Maxime, you also have the option of Plage de La Nartelle, a popular sandy beach just along the coast. Plage de La Nartelle is a great option for those interested in water sports, with a vendor on the beach renting out kayaks, peddle boats and jet skis.
Visit for Bastille Day or other special events
When you visit the French Riviera, you may simply be looking for a week of quiet relaxation, which is certainly something you can get in this quaint little town. However, if like me you like to mix a bit of excitement into your travels, Sainte Maxime has a whole host of activities and events taking place throughout the year.
During our visit in mid-July, we were lucky enough to be in Sainte Maxime for France's Bastille Day festivities (the national day of France). This involved an impressive fireworks display over the Gulf, which was watched by thousands of people lining Sainte Maxime beach and harbourfront, followed by a free live concert at the Theatre of the Sea and plenty of parties at the town's many restaurants and bars.
Other cool things to do in Sainte Maxime throughout the year include the Sainte-Maxime Free Flight World Masters, two days of aerial shows in mid-October, the Mimosa flower parade in February and the Sainte-Maxime Christmas Village in December.
How to do it: You can read about some of the local festivities here.
Play a round of golf overlooking the ocean
The International Golf of Sainte-Maxime Course is one of the most celebrated courses in the South of France. Set slightly more inland than Sainte Maxime town, the course has 18 holes stretched out across 65 hilly hectares overlooking Sainte Maxime harbour and the beautiful Mediterranean waters of the Gulf of St Tropez.
On-site is the Hotel Amarante Golf Plaza, a 4* Hotel with its own clubhouse and gourmet restaurants for a post-golf lunch or dinner. The course is available to all golfers and even offers introductory tuition with a 22-bay practice range, putting green and chipping green.
How to do it: Bookings for Sainte Maxime Golf Course must be made in advance. A round of 9 holes will cost €55, while 18 holes will cost between €66 and €79 depending on the day. Book your round of golf here.
Splash around at the Aqualand water park
Sainte Maxime is often described as one of the best ports on the Cote d'Azur for family-friendly French Riviera holidays, and this is most evident in the close-by Aqualand Water Park. With several slides, a children's play area, rapids and a lazy pool, as well as plenty of cafes and shops, Aqualand Water Park is a is certainly one of the most fun and family-friendly things to do in Sainte Maxime.
How to do it: Aqualand Sainte Maxime is open between late June and early September each year. Day tickets cost €26 for an adult, €18.50 for children between 5-10 and €10 for children between 3-4. Buy your tickets in advance here.
---
More information
How to book your Sainte Maxime Villa in the French Riviera
Summer France has a portfolio of beautiful and affordable villas close to the centre of Sainte Maxime, available to rent throughout the year. Each Sainte Maxime villa has three large double bedrooms, as well as a comfy sofa bed which sleeps another two people, meaning the prestige villas can host groups of up to eight. At £1,129 for a weeks stay, this brings the price to just £141 per person.
Check out the beautiful villas in Summer France's portfolio here.
Getting to Sainte Maxime France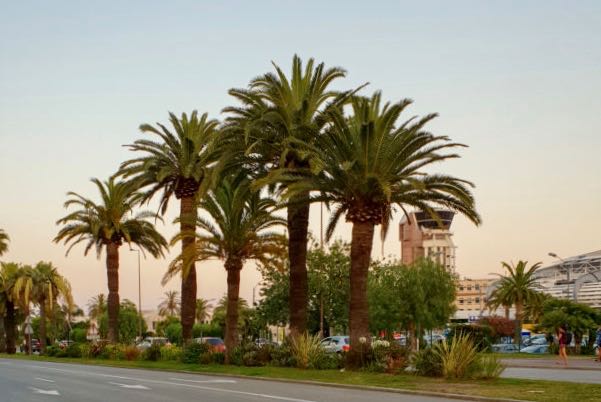 Aéroport Nice Côte d'Azur is the main airport and hub for the entire French Riviera.
As well as the numerous private and charter jets coming into the airport each day, many large airlines from all across the globe fly directly to Nice Côte d'Azur, France's second busiest international airport after Paris. Return flights from London to Nice can cost as little as £34 pp with Ryanair.
Once at the airport, you can either hire a rental car or jump on public transport to get from Nice to Sainte Maxime.
By car you can either take the quicker route down the A8 motorway or the more scenic route along the coast, taking in Antibes and Cannes along the way. The more direct route can take as little as an hour, however, the coastal route can take much longer depending on traffic and whether you decide to make stops.
Public transport is not quite as convenient as driving, with no direct routes from Nice to Sainte Maxime. One option is to get the 3003 bus from Nice airport to the town of St Raphael on the coast, then catch the 7601 bus to Sainte Maxime. Another option is to get the airport bus into Nice itself, jump on the fast train to St Raphael, then finally get the bus into Sainte Maxime.
There are several different options when it comes to public transport between Nice and Sainte Maxime, and therefore the best option would be to do your research depending on the time your flight arrives into Nice Côte d'Azur.
Check out public transport routes on Rome2Rio.
So I hope that, just like me, the beautiful and affordable town of Sainte Maxime has changed your opinion that the French Riviera isn't reserved only for the rich and famous and that one day you'll too get to experience this little slice of paradise.
Note from Indiana Jo: So many places, so little time. So I asked the wonderful Emily, a freelance writer and blogger over at London City Calling to explore Sainte Maxime on my behalf. Kind of jealous I missed out on the wine and cheese, let alone beautiful Sainte Maxime.
Related Articles:
Like this? Share it on Pinterest…
Photo credits: Golf | Aqualand Water Park
In partnership with Summer France.