Into the ocean I go, to soothe my mind and find my soul.
I saw this quote once in a store in Europe and couldn't get it out of my head. Except, for me, it wasn't swimming that made me feel this way; it was unfurling my yoga mat – into the postures I go… And in the last few years, I've needed yoga more than ever. Haven't we all? Who doesn't need a space to go, to retreat from the pace of life that seems to be outstripping what we can supply? Endless emails, messages, social media reels, and the news. Don't get me started on the news.
Then the chance arose to go on a yoga retreat to Greece. Except, this wasn't any old yoga retreat. It was special. It was going to take place onboard a tall sail ship. Yoga each morning and evening, every day a new port to explore, and the chance to swim in the Mediterranean Sea. I booked in an instant.
In this post, I'll share my experience at this yoga retreat which was offered by Running on Waves. At the end, I have a discount code exclusively for you.
The Running on Waves ship
It wasn't my first time onboard the Running on Waves luxury yacht. Last year I took their one-week Aegean cruise around several islands including Mykonos, Kos, Milos and Santorini for the famous Santorini sunset.
With over 6,000 Greek Islands to explore, getting around by sailboat is one of my favourite ways to see Greece, and not just for the ease of it. The 64-metre ship has an old-world glory with three masts and white sails that billow dreamily in the breeze. Sailing under the power of the wind where possible, it casts you back to the golden age of travel.
With a maximum of 45 guests on board, there is a sense of exclusivity, and Running on Waves really is an exclusive trip – mostly it's booked by private charters. So, there are only a few times a year when you can book a cabin rather than the entire ship.
Their scheduled itineraries may only last a week, but the memories imprint for life. If you want to find out more about the ship, its interior and its rooms, I have more details in my full Running on Waves review.
The yoga teacher
By the time I'd booked, I wasn't sure if I was more excited about the yoga retreat or sailing around Greece. I travelled at the end of June and it had already been a busy year. In fact, I hadn't long stepped off another cruise (with Swan Hellenic exploring the British Isles). I'd been spending a lot of time at my desk in between and I was a little nervous about having to bend back into a shape that didn't resemble my office chair. But during that first morning yoga class with Nair, our onboard yoga teacher, all my worries disappeared.
I've personally been practising yoga for over 10 years. No, I'm not the kind of person who likes to fold myself into the shape of a pretzel while desperately hoping a large audience forms. My yoga practice has been small and private, designed to unwind stress, ease my fibromyalgia pain and give me a way to slow down the constant roar of my brain.
My practice hasn't progressed much in those 10 years. I'm not kicking up into headstands or trying to perfect a flying crow. Sometimes my pain makes my practice regress where only yin yoga (longer, slower postures) and even yoga nidra (literally, yogic sleep – try it!) is all I can manage. But there's one thing I do know from over a decade of yoga classes and retreats around the world: I know an exceptional teacher when I meet one. And as luck would have it, Nair was one such teacher.
Nair is an old soul with a young spirit who is the mastermind behind The Yoga Club Barcelona. Yet she is so much more than a yoga teacher. She's an empath that seems so deeply connected to the world that, even if you lack a single thread of spiritual belief, you'll leave the retreat at the end of the week feeling like she has worked magic not just on your muscles and bones but on the deepest parts of your being. And it all started with her classes.
Yoga classes onboard
Yoga classes can be a tricky thing to get right when you have a group of very mixed abilities, and we had that mix on the ship including people who'd never stepped on a yoga mat in their life. Very quickly, Nair adapted. That first morning, she watched us and worked with us, quietly assessing our strengths, our flexibility levels and what each of our bodies needed.
The yoga schedule included two one-hour classes each day, with the evening class pitched at a more advanced level. However, seeing that most of the students were beginners, Nair re-crafted the program, giving us classes we could all handle (with deeper stretches if, like me, you were able). And, to Nair's credit it worked – she had the same number of participants at the end of the week as she did at the beginning, real progress being made by each of us along the way.
Tip: Mats were provided but I always pack my own travel yoga mat. I use the Manduka eKO Superlite Yoga Mat. It folds so I can squeeze it into my carry-on. Plus, it's made of rubber offering extra grip, which is perfect in hot countries.
Yoga on a cruise ship
Aligning the lessons to our ability wasn't the only challenge Nair met with an open heart and a big smile. She had to deal with the extra demands that come with being on a cruise ship. Most yoga retreats take place in a fixed location – each day the same yoga shala, the students having had rest time between classes.
That's not the case on a ship. First of all, we had several classes where the ship was sailing (and therefore moving), we had changing winds and temperatures and, of course, changing energy levels since we often spent the day either swimming or exploring the ancient sights throughout Greece.
Nair thrived amid the challenges. On sailing days, balance postures were low and grounded (and remarkably we all managed them) and we used the shaded area to avoid the wind and sun. But most of all, she adapted the classes to our energy levels. Some mornings, we started with chair yoga. Some evenings, we relaxed our hot and hurting muscles with the slow release of yin. After every class, I felt like I'd been given a full body massage that worked deep into my structure.
Massage & chakras
Speaking of massage, some years ago I went to an eco-retreat on Isla Bastimentos in Panama where the yoga teacher was also a trained masseur. During the class, you would get a few minutes of a relaxing massage while you stretched. It was utter bliss and something I'd not experienced since; until this yoga retreat with Nair.
A fully trained masseur, at the end of each class, Nair would do some hands-on work, from massaging your neck or forehead with Indian tiger balm to rubbing your temples with jasmine lotion or shaking out your legs to bring energy back into your body. On the days I felt sluggish, the thought of the 'free' massage was enough to make me pull on my yoga pant and get myself to class.
If you really liked the massage and wanted to indulge, Nair offered 45 or 75-minute bookable massage treatments. I was the first to sign up and it was a divine hour and a quarter, my skin replenished with rich coconut and almond oil while I listened to the lapping sounds of the sea.
I use the word divine because Nair is also trained and educated in chakras. I sit a little on the fence in my belief surrounding chakras but there was something so spiritual about Nair that it felt like she massaged away not just my muscle stiffness (and eased the slab of marble that is my back), but somehow broke up some of those deeply rooted troubles that had been plaguing me. A couple of people on the cruise booked her chakra session and both rated it highly.
It was all part of Nair's holistic approach.
Pranayama & meditation
I've been to so many yoga classes that focus wholly on the postures, some turning yoga into a form of aerobic exercise. It's a style of yoga that has become increasingly popular, but that's not the yoga that I know from Asia. That yoga is slow and mindful, and it's not just about the asanas (postures). It's also about meditation and the breath (pranayama), and Nair included both of these elements in her classes.
We were not powering through poses, skipping savasana (the final relaxation pose) so we could get up and get on, busy, busy, busy. Nair's classes integrated both the body and the mind, helping our brains reconnect with our limbs to find that sweet, deep level of relaxation that many of us have long forgotten exists.
At the end of our week, at the end of our final lesson, she handed each of us a card. Not quite tarot but in the realms of a guidance card. Together with the singing bowls, essential oils, crystals, cards and gemstones, Nair's practice was more than just the postures that most of us associate with yoga.
For her, it is part of a bigger, more spiritual practice, and whether you believe or not in these deeper ancient traditions of the East, you will leave this yoga retreat feeling physically and emotionally lighter. I certainly managed to release my breath which otherwise sits stubbornly in my shoulders and chest.
Related: You can read more about that time I did a 100-hour silent vipassana meditation retreat in India.
Food & drink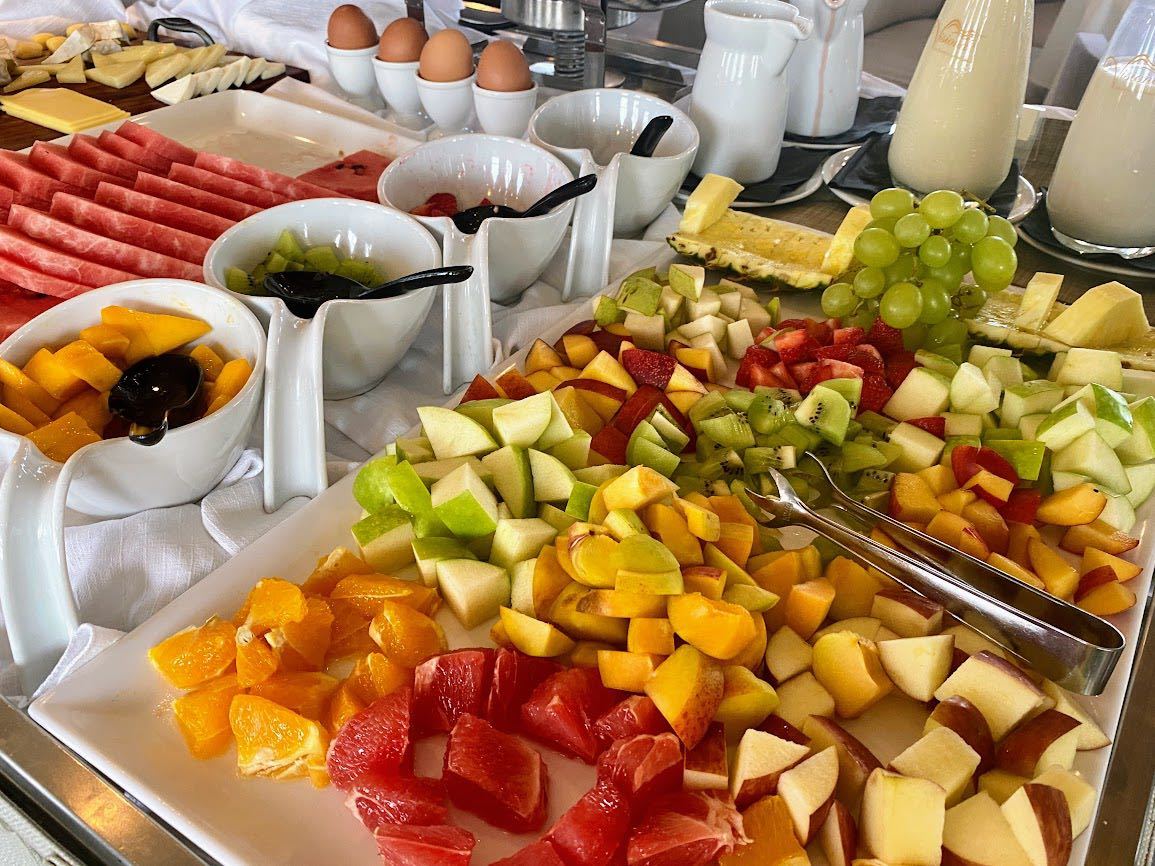 I can't write a review about a Greek yoga retreat without mentioning the food, and the menu on Running on Waves was exactly what our bodies needed to fuel our practice and energise us through each day.
Mornings started with an 'early risers' breakfast – a quick banana and cup of coffee to sustain us for the class ahead. Although I'm not a morning person, I came to love the ritual of that quiet half hour, standing on deck, feeling the early morning sun, watching the ship sail towards that day's port, coffee in hand, sharing a 'good morning' with my new yogi friends.
After class, my body was ready for a fuller feast and it was all laid out in the main restaurant. Sure, there was bacon and eggs and pancakes, but I especially enjoyed the healthful abundance of fresh fruit and berries, topped with thick, creamy Greek yoghurt, honey, nuts and seeds.
Lunch and dinner were also served on the ship each day, buffet style. But it was never an overwhelming choice that would leave you with a potential plate of curry, gravy and sushi. Running on Waves serves a small selection of carefully chosen fresh, locally sourced dishes that all go together. Typically, there would be meat, fish, potatoes and vegetables, accompanied by soup, salads and bread.
It was the perfect balance of nutritious dishes if you're looking to enhance your healthy habits while you're away. However, it wasn't a cruise of forced veganism or a raw juice cleanse. There is a fully-stocked bar and plenty of cake and cheese if you want a treat. If you have dietary needs, just let the ship know. One guest was a veggie and every night he got his own special feast of food.
Related: The Best Traditional Greek Foods to Try in Greece
Tip: if you are craving some healthy, veggie and vegan food when you're in Athens, head to Avocado Cafe. It's one of my favourite restaurants in the city for a nutrition hit.
Cruise destinations
What makes this yoga retreat unique is the cruise around Greece. I booked the Peloponnesus Cruise which started in Athens before travelling on to Monemvasia, Pylos, Katakolo, Kefalonia, Itea, Corinth Canal and Aegina before returning to Athens.
My favourite stops included the beaches and caves of Kefalonia, the ancient sites of Olympia (home to the first Olympic games), Delphi (a spiritual home for thousands of years) and sailing through the Corinth Canal. I've written a full guide to the Pelponnesus cruise.
Ship activities
As well as the yoga and cruise destinations, there were plenty of additional activities to pass any spare time. You can relax on the sun deck, sit in the small pool with a glass of Champagne, or try the free knot-typing workshop (for the record, don't ever employ me to tie knots on a ship). There is also a chance to do an epic mast climb, up the rope ladders to the ship's first crow's nest. More relaxing, you can take a 'ship safari', a 20-minute cruise around the vessel to capture photos from every angle.
For sea lovers, each day that we were at anchor, the crew lowered the back deck and we could swim directly off the ship into the sea. For those a little unsure about deep-water swimming there are life preserver rings, swimming noodles and life vests. For the more adventurous, there are kayaks, stand-up paddle-boards and, if you're at anchor long enough, a giant inflatable slide that shoots you straight into the sea.
It was a week packed with yoga, meditation, connection, Greek history, new friends, wholesome food and a whole lot of fun. So much fun that I'm about to investigate signing up for my next trip.
How to book
You can check prices, availability and book your yoga retreat with Running On Waves. For a 5% discount, use the code: IndianaJoRunningOnWaves
In partnership with Running on Waves.