I had my reservations about Jamaica.
Despite being one of the most popular islands for visitors in the Caribbean, a quick search online told me that tourism in Jamaica has developed substantially since the glitterati jetted to the island in the 1950s. These days, all-inclusive resorts have become one of the major ways to visit. And, if you've read this blog before, you'll know I hate all-inclusive resorts.
However, the alternative – taking myself around the island on an independent basis – came with those back-of-the-brain nagging concerns about safety, because Jamaica does have a bit of a reputation on that front.
Still, after some deliberation and a lot of great advice from the places where I stayed, I spent a wonderful 10 days exploring Jamaica. And, best of all, I didn't have a single moment when I felt unsafe (see more on safety in Jamaica below).
What follows is my itinerary through the country that let me get up close with Jamaica. I'll share with you what to see and do, where to stay, where to eat and how to get around.
1. Slow down in Ocho Rios
After weeks racing around the USA and a few party nights in Miami, the first order of business on my Jamaican travel itinerary was to adapt to the slowness of island time and Ocho Rios was the perfect place for me to take a long, slow release of breath.
2. Stay at a spice plantation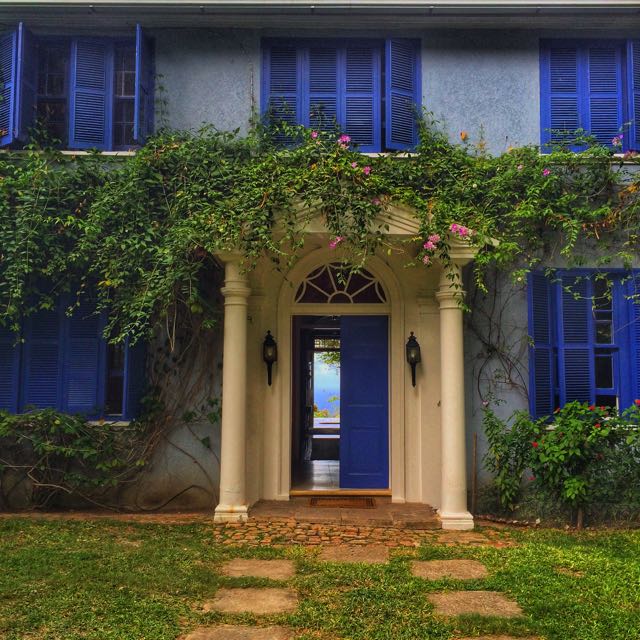 Sussex Great House, which dates back to the 1790s, is by far one of the most beautiful, fascinating and unique places I've ever stayed. At the top of a winding hill in St Anne's Bay (a short drive away from Ocho Rios) 600ft above the sea, this traditional Jamaican house still operates as a spice plantation that sprawls over 150 acres and the hosts couldn't have been more welcoming.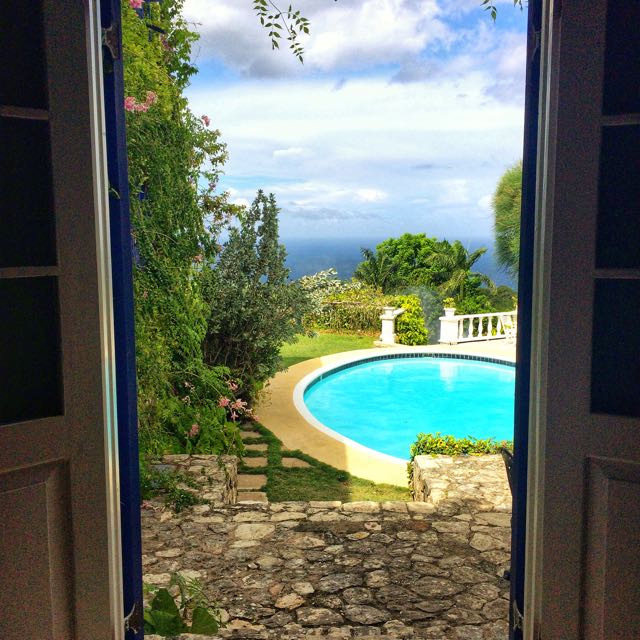 Step out of your private room in this Airbnb rental and you're within plunging distance of a pool that comes with views towards Ocho Rios and out to sea.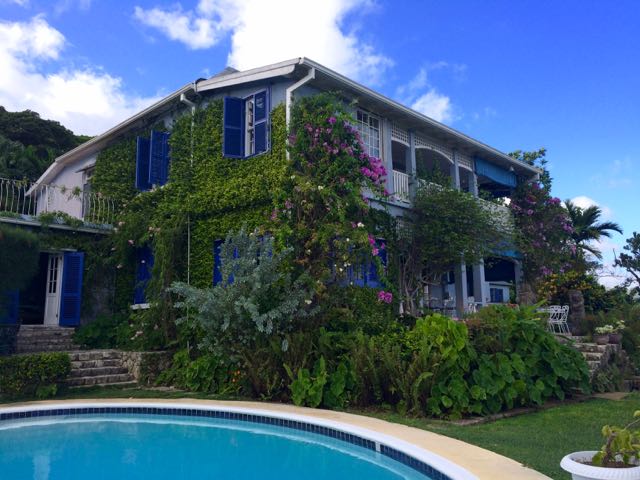 With an attached library room, complete with curl-up-and-loose-yourself-in-a-book sofas and various outdoor seating spaces, Sussex Great House is the ideal way to shake off jet-lag or ease yourself into Jamaica's go-slow lifestyle.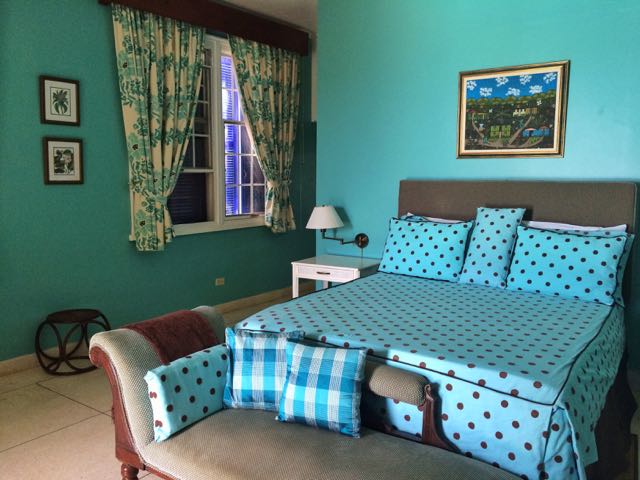 But when you do want to stretch your legs, a stroll through the plantation grounds will take you past local exotic fruits as well as the native spices that are still harvested each year on the plantation.
How to get there:
Getting there: I flew into Montego Bay and took the Knutsford Express, a local bus from Montego Bay to Ocho Rios. From there, my Airbnb hosts collected me and drove to Sussex Great House in St Anne's Bay. The bus journey takes 1hr 50min and costs $2,400 Jamaican Dollars (around £14/US$20) if you book in advance. The journey to Sussex Great House took under 30 minutes.
About the Knutsford Express: I've tried a lot of local bus companies around the world and I was very impressed with the public transport option in Jamaica. New buses with modern air conditioning, seat belts, a prompt service that ran to time and the politest drivers I've ever met, I truly looked forward to my bus journeys in Jamaica, which is not something I say often.
Staying at Sussex Great House: You can book a stay at Sussex Great House via Airbnb. The rate is £64 per night (around USD$95), including breakfast. If you're more than two people, contact the owners as they have a self-contained apartment also available for rent within the same grounds.
Using Great Sussex House as your base, there are plenty of nearby activities if you want to do more than lay around reading and eating (which is pretty much what I did). Here are a few of the local activities on offer. Note: you'll either need to hire a car or, better still, a local driver to take you around. The hosts of Sussex Great House can help you do this.
3. Visit Fern Gully
As dramatic drives go, a road trip through this 5km (3 mile) canyon that's overflowing with ferns, has got to be one of the best out there. The ferns were planted around 1800 and today they fill the gorge and offer an umbrella of sun cover overhead.
Fun fact: Fern Gully in Jamaica was, sadly, not the impetus for the 1990's animated fantasy adventure film of the same name featuring Tim Curry. 
4. Explore Dunn's River Falls
Dunn's River Falls (a series of waterfalls in case the name didn't give it away) is one of Jamaica's biggest tourist attractions. Tumbling down over 55 metres (180 ft) and spanning 180 metres (600 ft) wide, the falls have become a popular spot for a bit of upward hiking. However, if you want to avoid the crowds or don't fancy spending an hour and a half hiking, plan your upward waterfall adventure at Reach Falls in Port Antonio instead (more on that below).
Did you know: Dunns River Falls featured in 1980's hit movie Cocktail, starring Tom Cruise, but that wasn't the waterfall's first movie debut – it was also used as a filming location for James Bond's 1962 movie, Dr No. 
With a lot of relaxation under my belt, the next stop on my Jamaican adventure was Port Antonio, the birthplace of tourism on the island. And after being static for a few days, I was ready to get out and explore.
5. Stay ay Eco-boutique hotel in a jungle setting, Port Antonio
Think of Jamaica and most people think of soft sand and Caribbean Seas. Of course, Jamaica is riddled with beach opportunities and I spent my fair share of time at the beach but not everyone is a beach lover and even those of us who are still want a bit of diversity in our travel environment – and I found it at Hotel Mockingbird Hill.
Clear of the resorts and immersed in nature, a stay at Hotel Mockingbird Hill, which is sandwiched between the Blue Mountains and Caribbean Sea, offers boutique luxury in a natural setting. With only 10 rooms, you can tap into the exclusivity that drew the glitterati of Jamaica's yesteryear to this part of the island's shores. But, perhaps best of all, this eco hotel had myriad eco and environmental accolades, making your stay pure pleasure, no guilt.
Tranquil, serene and promising a sanctuary from mass tourism, I really had to force myself out of my in-room hammock to explore the surrounding area. Fortunately, the hotel's owners were on hand with more suggestions for local activities than I had time to squeeze in.
When I wasn't lounging on my bed, pretending I was Queen of the Jungle…
…I was wandering through the hotel's expansive and meandering garden playing Indiana Jo.
And the food at the hotel's restaurant was some of the best I ate in Jamaica. In fact, even Luca Gargano, one of the founders of the Slow Food Movement has complimented the restaurant. See my related article, What to Eat in Jamaica: Traditional Jamaican Food, for more information.
Hot to get there:
Getting there: I took the Knutsford Express from Ocho Rios to Port Antonio and Hotel Mockingbird Hill is a short drive or taxi ride away. The bus journey takes 2hrs and costs $1,800 Jamaican Dollars (around £11/US$15) if you book in advance.
Staying at Hotel Mockingbird Hill: You can book a stay at Hotel Mockingbird Hill. Rooms start at USD$248 (around £170) per night including taxes.
6. Raft down the Rio Grande
By far my favourite activity in Jamaica was boarding a long, narrow wooden raft and slowly making my way down the Rio Grande. A world away from white water rafting, I sat back and watched life gently meander by.
After about an hour, we pulled up at the banks and after a leisurely swim, I sat down for lunch. Aside from the spectacular river-side location, Belinda, a local lady, carries the food and her cooking wares to this secluded spot each day. Cooked to traditional family recipes using stone and firewood, you're unlikely to find a more authentic and original dining experience in Jamaica.
While I stayed at Hotel Mockingbird Hill, I spent each day enjoying a different activity, from rafting on the Rio Grande to all of the adventures below. Each was organised for me by the hotel, allowing me to take advantage of their local knowledge and decades of tourism experience in the area. You can find out more here.
7. Hike Up Reach Falls
If the idea of hiking up a waterfall is something you'd like to try, I can highly recommend Reach Falls as the place to do it.
Accompanied by a guide who navigates the series of cascades and stepped pools like a ballerina, you'll spend around one hour swimming in the waterfall pools, enjoying the 'natural massage' that comes from bubbling and flowing water and gradually swimming and climbing up the series of rocks towards the waterfall.
Although the hike doesn't deliver you to the foot of the waterfalls (that part of the falls is accessed by another route and a set of steps), swimming and hiking up the falls is certainly the more novel and exhilarating way to get there.
Afterwards, I was served fresh coconut while I dried off in the sun.
Good news: your guide takes a dry route alongside you and can therefore take all the photos you need along the way – all the photos above were taken by my guide on my iPhone.
8. Explore the Coastal Road, Port Antonio
Jamaica is so much more than the resort-selected beaches that dot its perimeter – the rugged coastal road is an attraction all by itself. With the pace of island life on your side, spend an hour driving along the coast around Port Antonio taking in stops at Frenchman's Cove and Winnifred Beach (see below).
9. Enjoy seclusion at Frenchman's Cove
There are very few public beaches in Jamaica and Frenchman's Cove is no exception. Forming part of Frenchman's Cove Resort (a historic hotel that can once hosted Queen Elizabeth), an afternoon at Frenchman's Cove promises seclusion – something of a rare treat in Jamaica.
Fortunately, guests of Hotel Mockingbird Hill can gain access to this exclusive beach.
10. Swim and dine at Winnifred Beach
Unlike Frenchman's Cover, Winnifred Beach is one of the island's public beaches and is a great place to visit if you want to see what Jamaica is like beyond the resorts, and have a lazy sun day along with the locals.
Don't miss Cynthia's beach restaurant where you can truly experience Jamaica with a brimming plate of local food.
Fun fact: Winnifred Beach was named one of the Top 10 Beaches You've Never Heard of by The Guardian.
Top tip: for another beautiful public beach complete with rope swing, head to Boston beach (picture above) just a little around the coast from Winnifred Beach.
11. Drink Jamaican Coffee in the Blue Mountains
Leaving Port Antonio behind and heading Kingston bound, I opted for a route through the Blue Mountains (Hotel Mockingbird Hill arranged a driver and provided me with a packed lunch for the journey).
The drive was wonderfully windy and the altitude fierce enough to pop your ears, but it was the views that kept my line of sight glued to the window (and made me grateful that an experienced local was navigating the sheer-drop hair-pin bends rather than me).
And just when I thought my day in the Blue Mountains couldn't get any better, we pulled up at Alex Twyman's Old Tavern Blue Mountain Coffee Estate.  Tasting locally grown coffee is one of my favourite activities in any coffee producing country but none of coffee estates I've visited have come with views this superlative.
It took a good three cups of coffee before I accepted the reality that I wasn't going to be able to live on the estate and spend the rest of my days sipping freshly roasted coffee from the highest quality beans while staring off into the never-ending Blue Mountain distance. Sigh.
Still, it was time to move on – back down through more spectacular scenery and onto the city I'd been most excited, interested and, I'll admit, a bit nervous to visit – Kingston.
12. Visit the Bob Marley Museum, Kingston
By far the highest item on most visitors' must-see list when arriving in Kingston is going to be the Bob Marley Museum. Please don't make my mistake and turn up on a Sunday when the museum is closed. Sadly, all I got to see was the exterior. Still, what better excuse to return to Jamaica?
13. Explore some history at Institute of Jamaica
One of the most fascinating and important parts of visiting any country is understanding the history and culture of the place and if you're after a slice of Jamaica, you'll find it in spades at the Institute of Jamaica. From the Taino indigenous culture through to Rastafarianism, travel over the centuries to understand the thick and vivid history that makes up Jamaica.
14. Step back in time at Devon House
Whether you visit just to tuck into a rum and raisin ice cream (I might have to confess to that one) or so see the splendid interior of this historic home, you'll have a great day out.
Devon House is "the architectural dream of Jamaica's first black millionaire George Stiebel" and was built in the late 19th century. Meanwhile, the on-site ice cream parlour (i-scream) is good enough to attract Jamaicans from far and wide.
15. Visit Life Yard
One of the best things you can do in Kingston is take a full-day tour organised by Amilcar Lewis, editor of Backayard Magazine. As well as visiting the Institute of Jamaica (above), you'll be taken to Life Yard and explore the Paint Jamaica project run by the Life Yard Family.
Life Yard is an urban garden that's been set up in downtown Kingston and has a kitchen attached, serving home cooked vegetarian food with produce picked from the garden. Abiding by Rastafarian tradition, Life Yard is a chilled out space to explore and, if you happen to stop by on a kitchen day, to try the food.
Professional photographs: included in the price of your tour is a local photographer who will capture the day for you so you don't have to worry about getting the perfect shot. This comes with advantage of having photographs within the Institute of Jamaica where tourist photos are not allowed.
16. Be impressed by the power of Paint Jamaica
Paint Jamaica is a phenomenal local project that has involved street artists from around the world and received Kickstarter funding. The artists have transformed a derelict outdoor space in an impoverished part of downtown Kingston into a space where locals now gather and kids go to play sport.
17. Get down at Rockers International Record Shop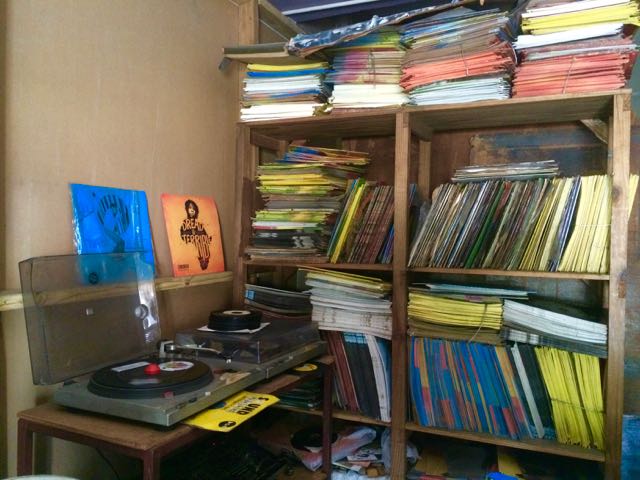 Also part of the day-long tour with Amil is a trip to Rockers International Record Shop, one of the few remaining record shops on Orange Street, a.k.a "beat street" where many reggae and ska bands were born. From the 1960s to today, listen to records throughout the decades through amps that have the street shaking even to this day.
18. Pay your respects at National Heroes Park
As the burial-place of many of Jamaica's national heroes and prime ministers, you can take a walk through the country's history at the National Heroes Park. Peaceful and dotted with several impressive monuments, make sure you time your visit for the changing of the guards. You can read more about Jamaica's buried heroes here.
19. Experience China in Hope Botanical Garden
It's hard to imagine a small corner of China tucked away in Kingston, but the Hope Botanical Garden features exactly that. From a small-scale replica of parts of the Forbidden City in Beijing to tree types from all over the world, the highlight of a visit to the gardens is the guide (included in your entry price) who will happily regale you with an impressive number of facts and details about the gardens.
20. Hit the beach in Montego Bay
Located on the north coast of Jamaica, Montego Bay is a huge tourist draw with a major cruise port, beautiful sandy beaches and mega resorts. I spent a couple of days chilling out in Mo'Bay and, honestly, could easily have spent two weeks here. But I'm glad I didn't because there is so much more to Jamaica than what lies behind the manicured gated areas of the hotel resorts.
Where to stay in Kingston
I stayed at Altamont Court Hotel in New Kingston and if you're looking for a bite of tranquility in an otherwise frenetic city, Altamont Court is a great choice. Tucked away in the new business district, the rooms are large and clean and the on-site restaurant offers a well-priced fixed-course dinner each night. Oh, and super helpful staff, which always pleases me.
How to get there:
From Port Antonio and driving via the Blue Mountains, a private driver arranged by Hotel Mockingbord Hill took me to Kingston. It is possible to take the Knutsford Express but you would need to return to Ocho Rios and, worst of all, you'd miss the beauty of the Blue Mountains.
My time in Jamaica didn't feel long enough though it was sufficient time to give me a hankering to return. Outside the resorts and exploring independently, I was able to take time to explore the local side of Jamaica and I know one day I'll be back to explore some more.
Is Jamaica Safe?
This feels like a good juncture to discuss safety in Jamaica generally and Kingston specifically (Kingston is featured in the top 50 of cities with the highest murder rate per capita).
Despite being a five foot tall solo female traveler, I've visited several places featured on the above list and I've also written about the safety of several destinations that many people are nervous about visiting (Mexico, Naples, Colombia and Detroit to name a few).
What I've found in 99% of cases is that the media hype and the safety reality are often different matters. With sufficient street smarts (don't walk down that dark alley alone at night, kids), you're highly unlikely to meet any of the trouble that the statistics suggest.
Why? Because for the most part, crime is gang-related and mostly affects the local people. So, unless you're unlucky enough to be in the wrong place at the wrong time or get yourself embroiled in a gang-related problem, your stay is going to be trouble-free.
Jamaica, looking at the crime statistics, seems to be no different.
Did you know?
Most of the crime in Jamaica is gang related. Therefore, if you stay within the tourist areas and don't try to do anything stupid like making friends (or trying to buy drugs) from gang members or new local friends, you'll most likely be fine.
Most crime is Jamaican on Jamaican. Whether it is gang violence or domestic violence (which is, sadly, prevalent in the country), tourists are unlikely to get caught up in the fray.
One of the biggest risks to tourists is petty theft and pick-pocketing so leave your Rolex at home and don't flash your cash. But you didn't need me to tell you that, did you?
And, as always, make sure you have good travel insurance (see my related article: Travel Insurance – Don't Get Screwed by the Small Print).
For recent crime statistics and details, see here.
Verdict on safety: Most of the time while I was in Kingston I was either part of a tour or accompanied by a guide so I didn't spend much time alone. However, I travelled throughout Jamaica by public transport and never once felt unsafe. Even heading into the more impoverished parts of Kingston, I felt comfortable using my iPhone in public and a big smile went a long way in breaking down inquisitive looks.
In short, I have no hesitation recommending an independent visit to Jamaica.
Have you been to Jamaica? Is it on your travel wish list? Let me know in the comments below.
If you liked this, you might also like:
Hiking in Toppes de Collantes, Cuba
10 Essential Things to Know About Cuba Before You Go
La Boca: One of the Best Beaches in Cuba
A Rave in a Cave: Disco Ayala, Cuba
Varadero Resorts: the Good, the Bad and the Ugly
Cuba's Hershey Train: The Slow Way to Varadero
Photo Credits: Fern Gully: Derek Hatfield; Dunn's River Falls: Jim Amorin. My trip to Jamaica was arranged by Hotel Mockingbird Hill.