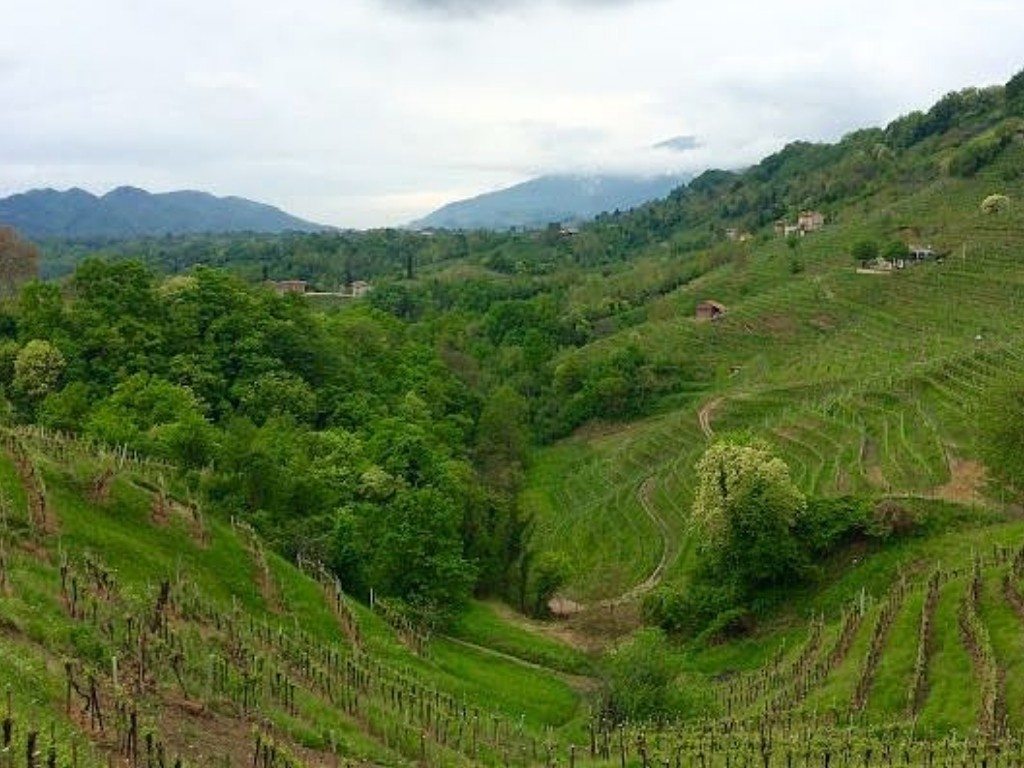 It was quite by accident that I found myself searching for a Prosecco tour in Italy. I planned to visit Venice, but I hadn't really made the connection that this northern part of Italy is where Prosecco is from. Duh!
It was just a few weeks before I flew to Venice when an email fell into my inbox – a regular round-up of what was going on in Italy and, most tantalisingly, a full run-down of Primavera (Spring) in Prosecco.
As bad timing would have it, my trip was a few days shy of the spring festival in Prosecco, but a grape seed was planted and I decided to take a trip to Prosecco anyway.
Where is the Prosecco Wine Region?
Map from www.prosecco.it
Prosecco is a region in northern Italy and it's in that region where you'll find all the magic that produces that delicious sparking Italian wine that we all know and love.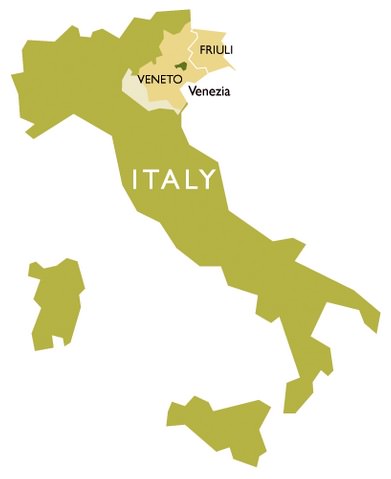 Map from www.prosecco.it
The region is just 50 kilometres (30 miles) from Venice in the Treviso province and covers over 20,000 hectares. That's pretty impressive given the land is wedged between the Dolomites and the Adriatic and is perilously hilly, with the grapes growing at 50-500 metres above sea level.
In fact, of all the wine regions in the all the world (and I've been to a few of them), I've never seen anything as dramatic as the vineyards of Prosecco – the region makes the Champagne region in France look like child's play to cultivate – and with it's fierce topography it's no surprise to find that the Prosecco region has gained UNESCO World Heritage status.
The problem with many Prosecco tours in Italy
I've tried various approaches to wine tasting in the past. I've been on a self-drive trip with a group of friends (Beaujolais, France); I've pitched up for a formal tasting at big brands (Veuve Cliquot, Champagne); I've headed straight for the restaurant for lunch and a flight of wines on a big estate (Concha y Torro, Chile), I've taken a formal tour (Napa and Sonoma, California), I've even arranged my own tasting through research and buying a bunch of local bottles (Cremant, Loire Valley).
For Prosecco I decided I wanted to take a tour – I wanted to see the region as much as taste the wine and although I've seen enough vines that I didn't feel the need to see any more, I didn't know the producers and brands well enough – I wanted someone to show me around and explain what was what.
However, I stumbled across a few problems when I was hunting for a tour:
there were relatively few tours on offer, which cut down choice and competition pretty dramatically;
most of the tours were days trips from Venice – I didn't want to spend my time and money being chauffeured for a couple of hours. I wanted to spend it drinking Prosecco in Prosecco!
I also wanted at least one night's stop over – I don't feel like I've haven't really experienced a place unless I've seen the sun rise and sun set on its soil;
a number of the tours combined a sightseeing package and I'm at that point where I've seen enough churches in Italy to last me all of my lifetimes;
many of the tour companies didn't include clear pricing on their websites so I had to email for more information – some wanted me to sign up for their newsletter to access prices (er, no thanks), others didn't reply and the rest were priced way north of what I wanted to pay.
Which brings me to price – the tours were all coming in far too expensive – ranging from €150 per person up to as much as €600. You'd have thought I was trying to buy sparkling diamonds not sparkling wine. Of the tours I looked at, most offered two or three wineries, a spot of lunch, transport and guide. That was the same format even for the higher priced tours. I'd have expected a small plot of land at those prices. I was one of 3 people. There was no way we were throwing down €550 to €1800 to sip some bubbles. Have you any idea how many bottles of Prosecco that could buy me? does maths – a lot!
So, I decided to take another route. I decided to plan my own tour of Prosecco…at a sip of the cost.
And the first rule of planning your own tour is doing your research. For a self-guided trip, that meant figuring out my DOCGs from my DOCs and ITGs because if I was going tasting, I wanted to taste the best Prosecco…
How to book a tour of Prosecco
Since my first visit, I've been back to the Prosecco region several more times and decided to set up my own Prosecco tours. It's been years in the making but its the kind of tour I wish I'd been able to book when I first visited. You can check out the tours and book here – Visit Prosecco Italy. I work with local drivers. Prices start at €250 for your group (not per person).
You can find a video of a typical Prosecco tour. Since setting up the site nearly 1,000 people have made bookings. You can read Prosecco Tour reviews here.
How to plan your own tour – choose good wineries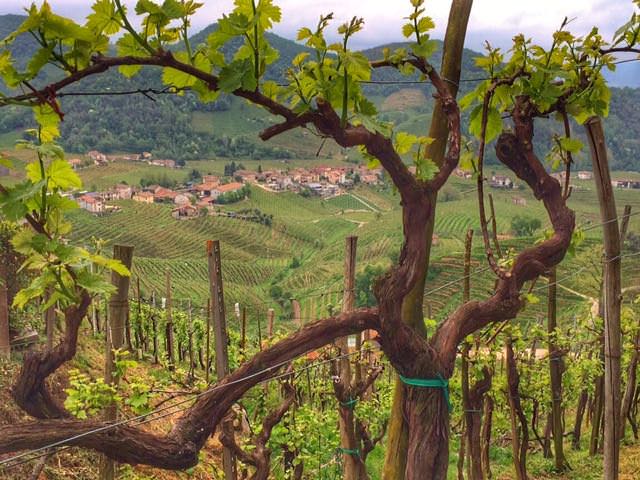 When someone takes you on a winery tour, you trust that they're taking you to the best selection of wineries on offer (though you should always check that's the case).
When you're planning your own tour, the onus is on you to find out where to go and at which wineries to do a tasting. Which led me very directly to the question – what is the best Prosecco (because I ain't going all that way to sip on the stuff from the discount bin)?
A quick bit of research told me that despite the region being reasonably small, there are still a lot of producers in Prosecco and choosing between them can be hard.
The terroir, methods used by the producer (tank method versus traditional method, small tanks versus large tanks), the grapes used and climate during a particular year are just some of the factors that can affect the taste of a Prosecco. But if you're not an expert and just want to taste the best Prosecco, an excellent starting point is to look for a Prosecco that has DOCG status.
If you didn't know already, Italy has a formal wine classification system that attaches DOCG, DOC or ITG status to the best wines in a region. The system tests wine according to a strict set of rules related to quality, authenticity and production, type of grapes, alcohol content and ageing. The DOC system follows the AOC system in France and is also used for designating the quality of cheese (seems sensible given wine and cheese are an inseparable pair…at least in my life). Of course, other wines exist beyond these designations but they don't merit the status of 'best'.
In order of drinking priority, you should look for:
DOCG (Denominazione di Origine Controllata e Garantita) -DOCG wines have conformed to the strictest standards and therefore have the highest denomination in Italy. This is the best Prosecco. (Actually, Superiore di Cartizze is the best Prosecco but that (cartizze) is a very tiny area located within DOCG)
DOC (Denominazione di Origine Controllata) – Although DOC wines also have to comply with strict standards, the standards are less strict than for DOCG wines. As a result, DOC wines are much more commonly found.
ITG (Indicazione Geografica Tipica): this third category is reserved for wines that may not meet all of the standards of a DOC wine but are nevertheless considered to be very good.
Of course, searching for DOCG, DOC and ITG isn't the definitive solution to finding the best wine in Italy. Some producers get better, some get worse and some just don't fall within the right region. However, it's a pretty fine starting point if you're visiting Prosecco.
You might be interested in my Cheat's Guide to Sparkling Wine.
Finding DOCG in Prosecco: The Prosecco Road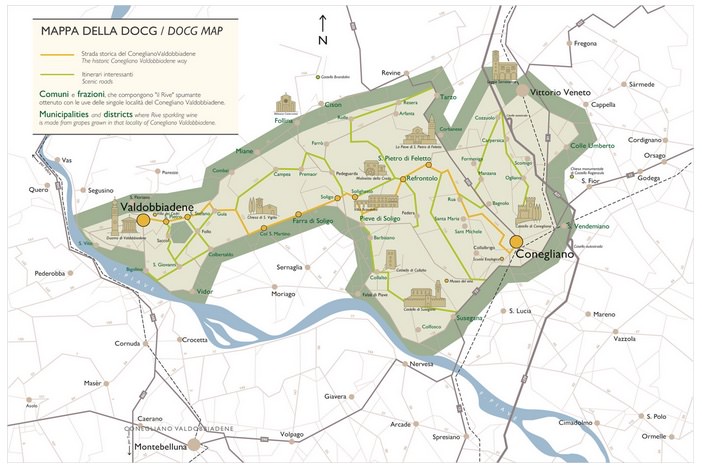 Map from www.prosecco.it
There are only 73 DOCG wines in the whole of Italy (you can see the full list here) and classification of Prosecco's wines has been a bit controversial. In fact, it wasn't until 2009 that Prosecco could claim any DOCG wines at all – they were all DOC or ITG.
However, thanks to some lobbying by the top-tier producers, a distinction was made between those wine makers who harvested their grapes on the slopes in the finest conditions and those who grew their grapes on the flat of the Treviso valley or didn't comply with the strict production requirements to merit DOCG status (the technical name is Prosecco Superiore DOCG and you'll also see it referred to as Conegliano Valdobbiadene Superiore but we'll stick with DOCG).
Did you know: When I last checked, around 70 million bottles of DOCG Prosecco were produced compared to 230 million Prosecco DOC bottles that year. Looking at these numbers you can start to understand why DOCG's the best Prosecco.
The upshot: there are now three regions in Prosecco that have DOCG status.
The regions are:
Conegliano
Valdobiaddene
Asolo
Out of the three regions, a wonderful low-key tourism route has arisen between the towns of Conegliano and Valdobiaddene and the road between the two has been named the Prosecco Road. Yes, that's right: Strada del Vino di Prosecco, and it's the perfect place to visit if you're taking yourself without a guided tour. (Asolo prosecco is a little further west so isn't included on the route).
Don't confuse the grape (Glera) with the region (Prosecco)
There is no such thing as the 'Prosecco grape', in the same way as there is no such thing as a 'Champagne grape'. Prosecco wine is made from Glera grapes. I hadn't heard of them either (you don't ever hear Prosecco being called Glera), until I started doing my research on Prosecco. (Champagne, by the way, is mainly produced from three grapes – Chardonnay, Pinot Noir and Pinot Meunier).
Despite there being no grape called Prosecco, it's not uncommon for certain producers to play with consumers' naivety. By using the phrase Prosecco grape it's easy to confuse an inexperienced wine buyer into thinking they are getting Prosecco from the Prosecco region when, in fact, the bottle contains sparkling wine made using Glera grapes that have never been planted in soil within the Prosecco region and might come from a different region altogether. For example, the Friuli-Venezia Giulia region to the east of Vento has recently started producing sparkling wine from the Glera grape.
So, when you're buying Prosecco hat home, look for the place where the Prosecco is from not the grape it's made from.
Interested in knowing more about Prosecco and how to choose good Prosecco, you can read my blog post here which will tell you the difference between extra dry and dry Prosecco (which is actually sweeter than Brut) and what to look for when you're buying Prosecco to drink at home.
With a survival-level knowledge of the region, the Prosecco designations, the grape and the Prosecco road, it was time to plan my own trip. Here's what I did (and how much it cost me).
How to get to the Prosecco region by train
The biggest conundrum I had about my self-guided tour of Prosecco was whether or not to hire a car – to get to Prosecco and then to get around.
As a general rule, I'd rather not hire a car if there is a reasonable public transport option (better for the environment and all that) and in this case the public transport option to get me to the Prosecco region from Venice promised to be both quicker and cheaper.
From Venezia Santa Lucia train station you can take a direct train to Conegliano (you cannot get to Valdobieddene by train). Trains run approximately every hour with more in the morning and fewer throughout the day. The journey takes around 50 minutes (depending whether you take a fast or slow train) and costs around €6 for a single ticket. You can book online in advance on the GoEuro website. As this is a short distance train, you're currently unable to buy tickets in advance with Tren Italia but you can buy them on the day at the train station.
Venezia Santa Lucia is located on Venice Island (the tourist part) and can be reached by public water bus (known as the Vaporetto). Get off at the Ferrovia stop. You can find a free Vaporetto route map here.
Cost: €12 for a return ticket to Conegliano from Venice.
You might also like my list of things to do in Venice as well as my guide to the best restaurants in Venice.
Pro travel tip: Be careful that you don't accidentally buy a ticket from Venice Mestere – you'd need to take another train from Venice island to Mestere to make your connection!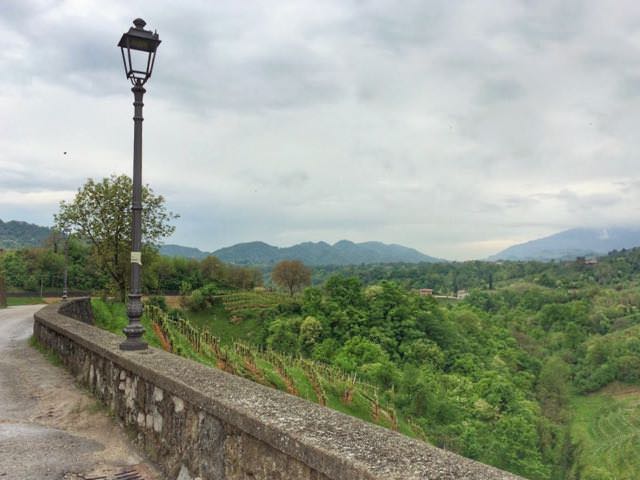 Getting to the Prosecco region from Venice was easy enough but how to get around without a tour wasn't quite so clear from my internet research.
How to get around the Prosecco region – car hire or guide?
I knew that there were a Hertz car hire in Conegliano but I didn't want to hire a car – I won't take even a sip of wine and get behind a wheel and, let's face it, I wasn't going to Prosecco just to see the scenery (as beautiful as it was).
I researched public transport in the area and fast came up with zilch, which left me in the turn-up-and-see-what-happens camp. It's not ideal, especially when you're visiting a place for just one night, but fortunately it paid of.
For just €50 an hour, I could hire a taxi through my hotel. It felt like a high price at the time and I tried to haggle with zero results but with no other options I went for it and despite my initial reservations it turned out to be the perfect choice -"Taxi" was a misnomer, I realised when the dapperly dressed driver pulled up in his top-end Mercedes. He wasn't just a taxi driver – he was a full -on guide offering a luxury ride.
How long do you need to explore Prosecco?
By the time I arrived in Conegliano, explored the town a little, checked into the hotel and did some decision making about car hire versus taxis, the mid-day siesta had arrived (yeah, I thought only the Spaniards could claim that but it's a thing in parts of Italy too). With time dripping away faster than an upended Prosecco bottle, I started to get antsy. But I needn't have. The driver arrived at 3 p.m, when the wineries were re-opening for afternoon business, and I was assured that 3 hours was enough time to drive the entire Prosecco Road (it takes about 50 minutes each way), taste some Prosecco and have a bite to eat.
The the road is Prosecco road is 60 km (37 miles).
Cost: the taxi hire worked out at €150 for the 3 hour rental including guide. That broke down to €50 each in my case because there were three of us travelling. If I could do it again, with a bit more planning and better decision-making, I'd have taken an extra hour to fit in one more winery, so the cost would have been €200.
Where to taste Prosecco: Col Vetoraz
In case you didn't see it above, I have other, smaller, less busy, more exclusive wineries to recommend for you. I'm keeping Col Vetoraz here because they will always have a special place in my heart, being the first Prosecco winery I visited, but they have expanded dramatically and the experience is no longer the same. If you want to find out more about the other Prosecco wineries I love, they're on my Visit Prosecco Italy website.
Due to my short time frame, indecision and late start, I only had time to visit one winery, but I was completely fine with that – because the guide on my food tour in Venice had given me the low-down on the best place to taste Prosecco in the region. And, yes, it was a DOCG winery: Col Vetorazz.
Col Vetoraz is located closer to Valdobiaddene than Conegliano which had the significant advantage of requiring a drive along almost the entire Prosecco Road to get there. And even though I was conscious of the clock, I still had time to get out at vantage points along the way for some pictures. (This is where the guide came into his own – explaining the history of the region and pointing out the best spots for panoramas).
At Col Vetoraz, I was welcomed in by an English speaking lady who proceeded to pop open bottles of fizz at my whim. Did I want to try a brut? A rose? An extra brut? A Superior? A red? Yes, yes, yes and what, a red, hell why not – yes!
Between myself and my two travel companions, we planned to buy just a few bottles between us…maybe take some back to England. However, realising that the winery prefers to sell bottles by the case, it didn't take long for us to upgrade from a few bottles to a couple of cases! (I can highly recommend that you try the red wine in the Prosecco region – it was excellent enough at Col Vetoraz to merit buying a case of the stuff).
Do you have to pay for tasting the Prosecco?
Wineries and vineyards differ the world over on whether you have to pay for the wine that you taste. In France it's common to pay a euro or two per glass, but that charge usually evaporates the second you buy a bottle. In bigger wineries (like the big Champagne houses), there's usually a tourist board showing a list of fees that often include a tour and a tasting costing up to €50. In Prosecco there was no mention of price per glass and I didn't pay a single cent for the wine I tasted. If you're unsure, ask before you start tasting!
Update: there is now a tasting fee from around €7 to €20. It sounds like a lot but you get up to 7 different Prosecco to try (impressive size pourings), a walk through the different types of Prosecco and, if you opt for the full tasting, local meat and cheese so you can do a proper Prosecco and food pairing. Yes, that's right. I said wine and cheese pairing.
After my tasting at Col Vetoraz I did have enough time to squeeze in another winery, but with two cases of wine already in the car, I had other plans in mind. Here's my guide to the best wineries.
Cost for the tasting: €0 (what you buy beyond the tasting is entirely up to you! The bottles I bought were priced around €9 per bottle).
Where to eat lunch: Osteria Senz'Oste
Ok, so at 4 p.m. I was a little on the late side for lunch, but this is Italy – where time has more flexibility. Plus, after the wine tasting my stomach required some sustenance.
The second place recommended to me by my food tour guide in Venice was Osteria Senz'Oste but I already knew about the place from my pre-trip research. Senze'Oste meaning without host, this Osteria was conveniently located adjacent to Col Vetoraz and has quirky written all over it. A simple stone house, this osteria offered weary (read: tipsy) travellers a place to stop and refuel. The fridge contained packs of cheese, cured meats, bread, water, juice and, of course, wine.
'Without host' is an accurate description because the Osteria runs on an honour system. You tap into the till your purchases and it rings up your bill. After you pay (by credit card or cash), you have the choice of the wooden tables inside or, on a nice day, the views and tables outside.
Except our driver had other plans for me and my travel chums. Put the Prosecco back in the car, he instructed me (I'm sure I heard somewhere it's a criminal offence to eat cheese in the Prosecco region without washing it down with bubbles). I wasn't too quick to comply with the instruction but the driver smiled and said follow me. Always game for an adventure, I finally did as I was told and followed him uphill…
Cost: around €12 for bread, salami and cheese for 3 people.
Update: I've eaten in a lot of places in Prosecco since I wrote this: post: Where to Eat in The Prosecco region and I'm regularly adding more as I go. Better yet, I've found the best gelateria in all of Italy.
How to vend Prosecco in Prosecco
So, this goes down as one of my best discoveries in ALL of my travels – at the top of a steep winding hill in the Prosecco region there is a lone machine where you can vend perfectly chilled Prosecco. Of course, you can vend glasses too (for just €2.50 each) and someone has thoughtfully places some rudimentary tables near the machine where you can enjoy your tipple. Complete with the picnic purchased from the osteria at the bottom of the hill, I can't remember if I've ever had such a picturesque lunch.
You can read more about visiting the Prosecco vending machine in my blog post here.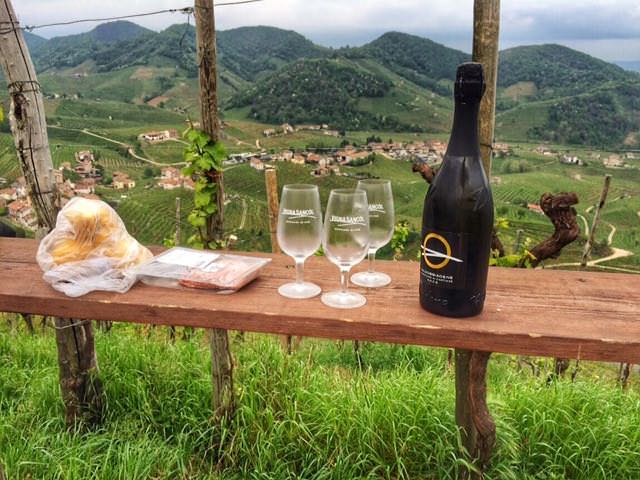 Note: in order to vend from the machine you need an Italian ID – my driver had his at the ready complete with a recommendation for which Prosecco to choose.
Cost: around €25 for a bottle of chilled Prosecco plus three glasses.
Where to stay in Conegliano
Conegliano is a small town and there isn't much to see or do there so, in hindsight and having figured out how to hire a Prosecco driver myself, I wouldn't recommend staying there. For a town that is at the tail end of the Prosecco Road I would have expected countless restaurants and bars offering flights of Prosecco and other tasting opportunities that capitalise on the town's location but there was nothing. Nothing at all.
There are a few places to stay in Conegliano. I paid just under €100 a night which felt like a fair deal at the time (compared to Venice) but having now stayed elsewhere, the value for money doesn't add up. If you're hiring a car or a driver, there are much better locations to stay.
You can read more about where to stay in the Prosecco region on my 'sister' site: Visit Prosecco Italy.
Cost of my self-guided tour to Prosecco
Train ticket (return): €12
Taxi hire (3 hours): €150
Tasting: free
Lunch at Osteria: £12
Prosecco Vending: €25
Note: I haven't included the cost of the hotel as accommodation was not included in the tours I looked at.
Total Cost: €199 – based on three people sharing, the cost was just €66 each!
It may have been a short excursion to Prosecco, but it turned out to be a definitely highlight of my trip to Italy.
How to book your Prosecco wine trip
I've taken my itinerary above and working with several local drivers, we have put together a choice of itineraries that will take you to the best wineries, restaurants and sightseeing spots in the Prosecco region. You can even book online. You can find out more here: Prosecco tours.
Not ready to book yet? You can sign up to the Visit Prosecco Italy newsletter for updates as well as special offers.
Have you been to Prosecco? Any other tips for taking a self-guided tour? Let me know in the comments below.
If this has sparked your interest, you can find out more about wine grapes with a look at 20 of the most popular varieties thanks to this guide from Wine Turtle.
Related Articles: