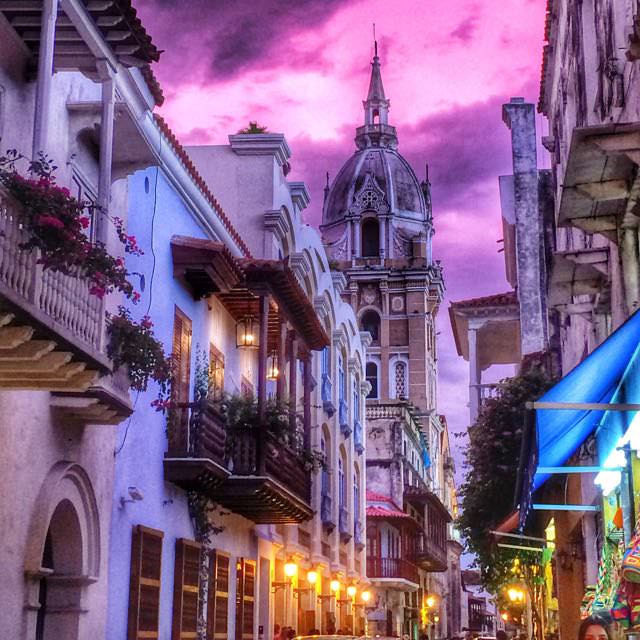 After spending two months of (slow) travel in Colombia, here's my list of the best places to visit in Colombia and what to see and do when you're there.
Note: these places listed below are in broad geographic sequence from north to south – they are not ordered by preference!
Cartagena
A beautiful Spanish Colonial walled city with high-end restaurants and plenty of sights, make sure you have enough days to explore Cartagena. It was the starting point for my trip to Colombia, and not only did it turned out to be a great and easy introduction to the country, it was one of my favourite spots overall. In fact, I liked it so much, that when I got a chance to pop in for a second stay, I jumped at the opportunity.
Things To Do In Cartagena
Wander the old town
Cartagena is not short on sights and getting lost in the old town is perhaps one of the best ways to explore. That said, Plaza Bolivar, the Spanish Inquisition museum and the Convent of San Pedro Claver were three of my favourite sights in Cartagena.
Did you know: there were only three locations in all of Latin America where the Spanish Inquisition Tribunal took place – Lima in Peru, Mexico City in Mexico and Cartagena in Colombia.
Pro Travel Tip: if you're in the city on the last Sunday of the month, entry to the museums is free.
Related: Mitad Del Mundo – How To Cross The Equator, Quito
Eat – a lot
I'll be honest, after two months in Colombia, I developed food depression – some sort of protein served with dry rice, solid beans and slimy salad doesn't sate my appetite, particularly when you face the same stuff day after day. But the food in Cartagena is a different story. From glorious local food to high-end bistro options to delicious street food, Cartagena is a world apart when it comes to Colombian dining.
My favourite places:
Carmen: reputed to be one of the best restaurants in the city (and currently rated #1 restaurant in Cartagena on TripAdvisor)
La Mulata: if all Colombian food tasted this good, surely it would go global.
The street food – arepas stuffed with cheese and the ceviche and seafood cocktails are particularly good.
Visit Playa Blanca
The beaches in Cartagena are sadly a disappointing shade of dull brown. Despite fronting the Caribbean, Cartagena's beaches are lacking…Playa Blanca (translation: white beach) is a different matter and can be reached by day trip from Cartagena.
Where to stay in Cartagena
On a budget: I stayed at El Viajero which was clean and well located within the old town – though if you're not a party person, take ear plugs!
For hotels: Here's a list of the 10 best hotels in Cartagena (according to Trip Advisor). On my bucket list is the Santa Clara Hotel which is one of the most luxurious options – a Sofitel hotel located inside a former convent complete with 17th Century architecture. Unsurprisingly, the Santa Clara Hotel is one of the Travelers' Choice Winners for Cartagena on Trip Advisor with Radisson Cartagena Ocean Pavillion Hotel being the other winner.
Location, location, location
But, perhaps more importantly than which hotel is where (within Cartagena) to stay.
Cartagena's old town is my recommendation. Your other alternative – Bocagrande – may feature a lot of the big brand hotels and may front the beach, but the surroundings, complete with exhaust-fume filled roads and fast-food chains galore is very, very ugly. For a much more beautiful experience, make sure you stay within the walled city.
Best tours in Cartagena:
Guided City Tour of Cartagena – this tour includes famous La Popa and San Felipe Castle
Catamaran to Rosario Islands, including lunch, snorkelling and a white sand beach.
Segway Tour of Cartagena Once upon a time I thought Segways were for lazy people..and then I tried one and have since decided it's one of the most fun ways your can get around. Wheeeeeeeeeeee.
Pro Travel Tip: Humidity in Cartagena runs at about 80% and can be brutal. Build in some slow-moving days as you acclimatise and if you're not good sleeping in the heat, make sure your room has air-conditioning for the evening.
Santa Marta
First: the bald truth – Santa Marta doesn't hold much charm itself and the beaches are no more beautiful than those that skirt Cartagena, but Santa Marta does serve as a great "jumping-off" point for other locations. That said, before you cruise on through, it's worth spending a night or two to explore.
Things To Do In Santa Marta
Dine Al Fresco in Parque Los Novios
Although not especially grand or vast, the old town of Santa Marta is very pleasant at night and is the best place for great food. Spend an evening dining al fresco without the rip-roaring noise of cars and motorbikes that burden many other locations in Colombia.
I can particularly recommend Ouzo for great Mediterranean food when the chicken and rice options get too much.
Day (or night) trip to Taganga
The second I lay eyes on Taganga, complete with rubbish strewn all over the beach, motorbikes pumping fumes into the atmosphere and music screeching into what little air that wasn't already filled, I knew it wasn't a place I wanted to say. However, Taganga has a kicking nightlife and is well-know for it's scuba diving opportunities. Only 10 minutes by taxi from Santa Marta, you can satisfy your curiosity without having to bunk down there.
El Mirador – a club overlooking the bay – is a favourite party spot.
Where to stay in Santa Marta
On a budget: I stayed atThe Dreamer Hostel which not only includes a pool, hammocks, bar, restaurant, a kitchen and TV room, this place had some of the friendliest staff I met in Colombia. On the downside, the hostel is in a quiet, residential location but there are regular, cheap taxis camped outside and the hostel is within walking distance of a large supermarket and mall.
For hotels: Here's a list of the 10 best hotels in Santa Marta (according to Trip Advisor) and the three winners of the Travelers' Choice Awards go to: Zuana Beach Resort (that pool would win me over), Casa de Isabelle and Irotama Resort.
Tayrona National Park
If you only make it to one beach on the mainland of Colombia, make it one of the beaches dotting the coast of Tayrona National Park. Trust me: you won't regret it.
Things To Do In Tayrona National Park
Hike through the park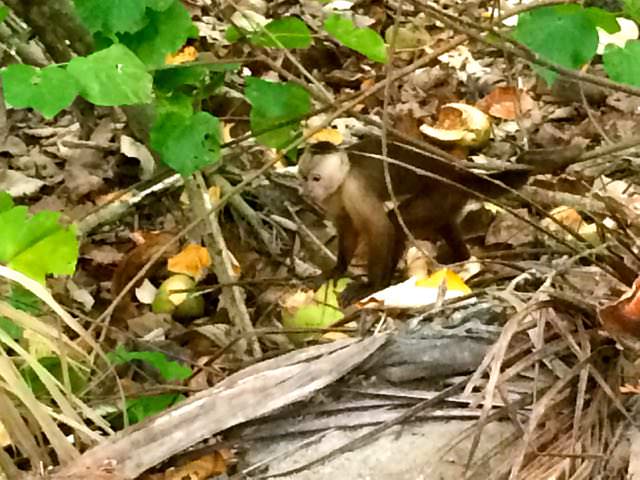 One of the best thing about Tayrona National Park is that the beaches contained within it require a bit of effort to get to. That keeps tourist numbers relatively low and makes the trails feel a bit like you're wandering through the wilderness.
Sleep in a hammock on top of the rock at Cabo San Juan
There's a small handful of accommodation within Tayrona National Park and sleeping in one of the hammocks on the rock at Cabo San Juan beach provides some of the best morning views you'll ever see.
Where to stay in Tayrona National Park
Pro Travel Tip: Hammock space on top of the rock is limited and popular. As you can't book online or in advance, start your trip to the park early to make sure you secure a spot.
If you prefer to book in advance: there are three options on Trip Advisor: Villa Maria Tayrona, Tayrona Tented Lodge, and Posadas Ecoturisticas Seineken.
Head inland to explore the nearby beaches
The double-bay at Cabo San Juan is beautiful but if you're looking for a bit more seclusion, head inland and continue around the bay. Within around 10 minutes you'll pop out at a beach that is much less crowded.
In the interests of full-disclosure (literally for some people), this is where the bold come to sunbathe nude. So long as that doesn't embarrass you too much, you'll find the nudist beach a much more placid space to spend the day. (Good news: despite it being a nudist beach, you won't get heckled for keeping your bathers on!)
Take a speed boat back to Taganga
Hiking into Tayrona was fun, but just as exciting was the speed boat back to Taganga. It saves a long trek over already-trodden ground, effectively buys you an extra day at the beach (boast leave late afternoon) and will get you back much quicker.
How to get to Tayrona National Park
From Santa Marta you can take a local bus to Tayrona National Park. Once there, you enter the park, pay an entry fee ($38,000 pesos – around £12/$19). For a couple more dollars, you can catch a collectivo (minibus) to the start of the park trails. To walk would take 15 minutes.
From the park trail, take the route towards Areciffe – a pleasant walk of around 2.5 hours through woodland. Once you reach Arrecife you can choose to rent one of the lodges, tents or hammocks. Alternatively you can continue on for a further 30 minutes to reach Cabo San Juan, where you can also rent a tent or hammock.
If you're really anti-camping, there is a four-bed room ($200,000 pesos – around £60/$100) available at the top of the rock at Cabo San Juan complete with one double bed and a bunk bed. There are also some lodges within the park.
Pro Travel Tips
The accommodation at Arrecife is superior but the beach and views at Cabo San Juan are better.
In a choice between renting a tent or a hammock, choose a hammock – with the day's sun on them, the tents get super hot.
Beware: swimming is dangerous at Arrecife. It's very safe at Cabo San Juan.
Take all the money that you'll need because there are no ATMs and you can't pay by card.
To budget, consider that hammocks are $20,000 to $25,000 per night. Breakfast costs around $10,000 and main meals cost $15,000 to $30,000. All drinks (water, beer, soft-drinks) are $4,000.
Do not go without mosquito repellant and a torch.
The showers are very "rustic" and there aren't many of them so be prepared.
Just take a day-pack – hiking into the park complete with its humidity will be punishing with anything more than 5kg on your back. Pack light.
Palomino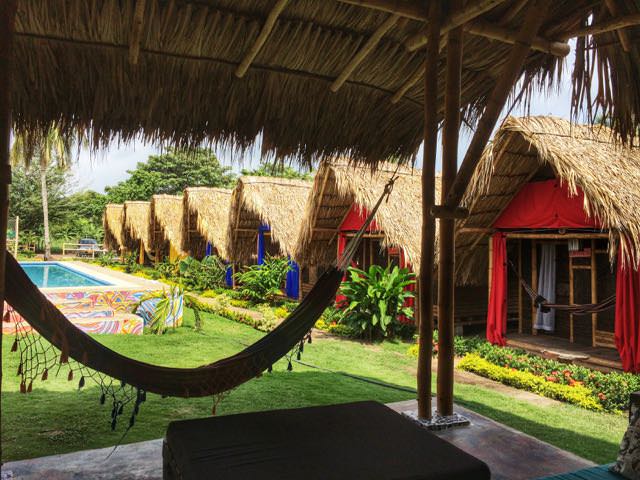 Things To Do In Palomino
I confess that I only lasted one night in Palomino courtesy of the mosquitos that were so determined to feast on my blood that they managed to bite me through my clothes and despite my repellant. Add a serious bout of rain and dampness hanging in the air, and you'll understand why I bailed the day after I got there.
However, assuming you don't turn up in the middle of October (during the rainy season), Palomino is a pretty, coastal escape. Not as humid or densely populated as Cartagena or Santa Marta, it's a perfect beach spot if you're looking to get away from it all.
Dwell in a tiki hut
The Tiki huts in Palomino added a real beach feel to Palomino. With hammocks hanging outside and an on-site restaurant and bar, you can certainly lose a day swinging in the breeze. (Dorms and private rooms available).
Visit the beach
It still might not be the golden sands of the nearby Caribbean islands, but the beach at Palomino was broader, longer and had water you could swim in safely.
Enjoy the local bus from Santa Marta
I didn't see any actual chickens on the local bus from Santa Marta to Palomino but there was plenty of Reggaeton music and food vendors. At one point I was sat on a 20kg bag of dog biscuits while holding a collection of mops for a man who was hanging out of the door (no other space to stand). If you're looking for a local Colombian experience, the bus to Palomino (complete with views of the jungle interior and sprawling coast) will tick the box.
Where to stay in Palomino
On a budget: I stayed at Tiki huts in Palomino which had been recommended to me and after a reasonably long stay at the Dreamer Hostel in Santa Marta (and it's regular party nights), I was ready for a bit of quiet time. However, if you do want somewhere a bit more lively or thoroughly enjoyed The Dreamer Hostel in Santa Marta, you'll be pleased to know there is a sister The Dreamer Hostel in Palomino.
For hotels: Palomino is tiny so there are only a few hotel choices. Here are the most popular options (according to Trip Advisor) with Hotel Playa Mandala (and it's beautiful netted beds) winning the the Travelers' Choice Awards. If you're interested in a hotel's green credentials, eco boutique hotel Aite has achieved Platinum Level as a Green Leader.
Medellin
Things To Do In Medellin
I really had to pull myself away from Medellin, which surprised me because at first sight (on Google images) it looked like nothing more than another over-populated, over-polluted South American City. And it is those things. But it's also so much more. There's an intangible vibe in Medellin that kept me there week after week and I'm sure will pull you in too.
Take language classes
I spent two weeks in Medellin picking up more Spanish in Colombia, which was extremely useful given, out of all the Latin American countries I've visited, the Colombian people speak the least English.
If you're interested in learning some (or more) Spanish while you're in Colombia, check out my article:
Why Medellin is the Best Place to Learn Spanish In Colombia
Hit a basement salsa club in Laureles
While 90% of the Medellin's tourists wander around the western bars that fill El Poblado, you're actually much better off exploring the basement salsa clubs of Laureles. 100% local and guaranteed to have you sweating in seconds, if you want to get down and salsa, this area is a good (and safe) place to do it.
Pro travel tip: skip the accommodation in El Poblado and get a more local experience by staying in Laureles. I stayed in both areas and by far preferred the latter. I can highly recommend the Wandering Paisa complete with a weekly cultural exchange (local Colombians will come and practice their English while you get to chat some Spanish), monthly open-mic nights and free salsa classes.
Dorms and private rooms available.
Don't miss the free City Walking Tour
Want to understand the complex history of Colombia and its warring factions? Want to understand how Medellin, which was once home to drug lord Pablo Escobar and possessed the title of murder capital of the world, has turned itself around? Take the free City Walking Tour.
Pro travel tips
you need to book the City Walking Tour in advance online. You can book here.
although the tour is free, the guide works on tips. $30,000 (around £10/$15) is the recommended amount and I can assure you that the tip price is worth it.
If you prefer a private tour, this is a very popular and well-priced option – Medellín: Private City Tour with Metrocable and Comuna 13
Visit Parque Arvi
Located high about the city and reached by two cable cars (one connects to the other), enjoy the peace that finds you as you sail above the city and then over the dense forest of Parque Arvi.
If you're in the mood, hire a guide and go exploring at the top. If you're feeling lazy or frugal, stay on as the cable car and wind back down to the bottom.
Take a Pablo Escobar Tour
Admit it, you're fascinated! If you want to know more about the infamous Medellin drug lord, hop on this best-selling guided tour: Medellin The Real Pablo Escobar Tour.
Where to stay in Medellin
On a budget: I checked out a good bunch of hostels when I was in Medellin and by far my favourite place was The Wandering Paisa. Continually attracting a good bunch of people and with a fantastic series of events from open mic nights to language exchange nights (involving the Medellin Couchsurfing crowd), you'll be hard pushed to find a more social place. Don't be put off by the fact that this hostel is away from the others – it's in a more local area that, IMO, is more a more fun (plenty of bars and restaurants) and interesting place to be.
If you do want to stay in Poblado (the main tourist area), then check out Saman Hostel. Small but perfectly formed and, most importantly, just across the road from Parque Lleras where all the bars and restaurants are scattered, Saman is a great option. And if you're looking to take language classes at Toucan Spanish (where I took lessons), you're just a few minutes' walk away.
For hotels: You won't be short on choice when it comes to hotels in Medellin – here are the 10 best hotels in Medellin (according to Trip Advisor) and, if you're enjoying a favourable exchange rate against the Colombian peso, you'd do well to upgrade to one of the more luxurious options in the city. You can find the 10 best luxury hotels in Medellin here. Although The Charlee isn't top of the luxury list, it's one of the most iconic buildings in the city and if nothing else, you should at least take a trip for a cocktail and views from the bar at the top.
Apartment rental – If you're staying longer than a few days, check out Snapstays – started by a couple of guys who were frustrated at the lack of reliable rentals (and wi-fi) when they wanted to rent for longer term stays, Snapstays has only a few locations at the moment but thankfully one of them is Medellin.
Guatape
Things To Do In Guatape
If I had a vision of what Colombia might look like, it was probably Guatape. Bright, bold and beautiful, don't miss this tiny town just a few hours outside of Medellin.
Hike up El Peñon
Before you reach Guatape (if you're coming on the bus from Medellin), you'll be tossed off the bus at El Peñon, a huge rock that screams "climb me".
Even if you're not into (or are over) climbing, take the 625+ steps to the top for some of the best views you'll get in all of Colombia. Promise.
Pro travel tip: book your return bus ticket as soon as you get to Guatape. Although the buses leave regularly, seats, particularly towards the end of the day, fill up fast.
Try Bandeja Paisa
If you eat only one Bandeja Paisa in Colombia, make it the Bandeja Paisa at the small restaurant on your left as you exit the steps of El Peñon. I shared a plate and was still stuffed but I definitely could have consumed more of the views (over the lakes) as I ate.
Photograph the colourful streets of Guatape
Make sure you've got plenty of space on your memory card before you get to Guatape because you're going to need it. There's no real suggested itinerary for the town other than to wander around and find what you find.
Day trip to Guatape from Medellin
You can take the bus to Guatape but it is slow. If you want an easy option, this day trip includes Guatape, El Penon and a boat trip – From Medellín: Guatape & El Peñol Rock Trip with Boat Tour
Where to stay in Guatape
On a budget: Sadly, I didn't take the time to spend a night in Guatape, which is one of my regrets from my time in Colombia. However, if I was going to return, I'd check out Lake View Hostel.
For hotels: Guatape is another tiny place so once again there are only a few hotel choices. Here are the most popular options (according to Trip Advisor).
Bogota
Things To Do In Bogota
A lot of people write-off Bogota and I admit there is a slightly sketchy feel to the place, particularly around La Canderlaria after 9pm, but it's still worth a couple of nights stay so you can see the main attractions.
Visit the gold museum
If you're only going to visit one museum in Colombia, make it the gold museum in Bogota. Comprising the largest collection of Pre-Hispanic gold work in the world, not only do you get to see lots of gold (what else?), it's a great insight into the lifestyle of Colombia's ancestors.
Day trip to the Salt Cathedral
Don't laugh, but I didn't really grasp the concept until I was nearly 200 metres underground that the salt cathedral was actually a cathedral (and not just a cave with light streaming into giving the vision of a cathedra)! As you pass the Stations of the Cross and round the corner into the bigger caverns, the "wow"s just keep on coming.
The light-show that's included in the entry price is mediocre at best but the video explaining the history and facts about salt mining in the region is not to be missed.
Pro travel tip: Start out early. The cathedral is a fair trek from the centre of Bogota. Or, even better, hop on a Salt Cathedral Tour and have all the transport sorted for you.
Head up Montserrat
I ran out of time in Bogota so didn't get the chance to head up the mountain side to Montserrat, but it's supposedly one of the highlights of the city and I can only imagine the views you might get over the basin of the city, particularly around sunset.
You can get there by cable car, or, if you're game, take the 1,500 steps (it makes El Peñon look like child's play).
Explore Bogota on a guided tour
If you're a bit unsure about getting yourself around the city, hop on a tour. This Private Candelaria Walking Tour includes the Gold Museum
Where to stay in Bogota
On a budget: Most of Bogota's hostels are located in the Candelaria district of the city, which I found to be pretty safe (though anywhere in Bogota I'd want a chum with me after dark). It's also within walking distance of places like the Gold Museum as well as plenty of bars and restaurants. I stayed at The Cranky Croc which I enjoyed so much I booked for a second stay after a brief jaunt to San Andres (see below).
For hotels: With everything from the Four Seasons to the Ramada, you'll have the full international hotel scene at your disposal in Bogota as well as a good selection of local hotels. Here are the 10 Best Hotels in Bogota (according to Trip Advisor) many of which have acquired Travelers' Choice status including Morrison 114 Hotel, Bogota Marriott Hotel and the Orchids Hotel.
Salento
Things To Do In Salento
Salento was by far one of my favourite places in Colombia…and not just because it's in the coffee region (though that certainly helped). Surrounded by rolling green hills and stretching countryside, it was nice to take a deep breath of (thin, altitude) air in Salento.
Go hiking in Cocora Valley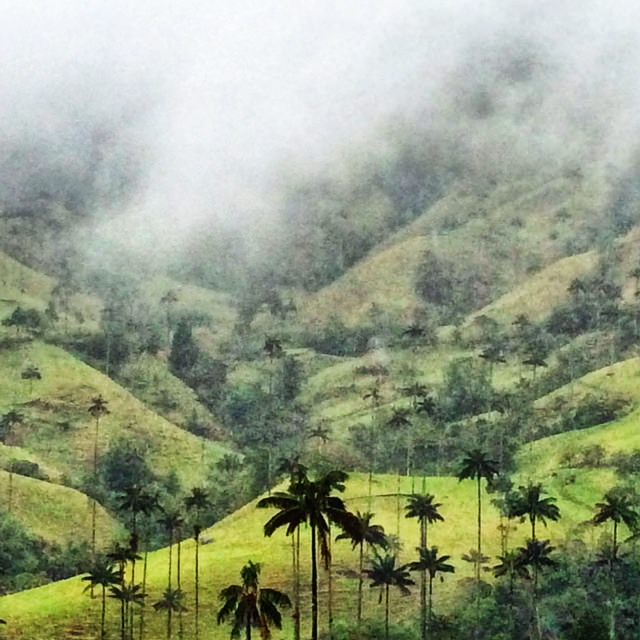 Regardless of the fact that the weather was miserable (I was beyond my ankles in mud at some spots) and the wax palm trees, which are one of the highlights of the trek, were obscured in mist most of the time, the Cocora Valley hike was one of the most fun days I had in Colombia. Playing Tarzan as you cross precarious wooden bridges hanging on by threads of rope and hiking up to a curious humming bird hut for a watery hot chocolate and chunk of too-salty cheese, the hike was like no other I'd done before.
The hike takes around 5 hours (if you take the route up to the humming bird hut and loop back to the start) and involves around 30 minutes of painful up-hill trekking, but it's well worth the jaunt.
Pro travel tip: to get to the start of the trail, take one of the shared jeeps from the centre of Salento.
Stay at a Finca
I don't usually consider a place to stay" a "thing to do" but I'm making an exception for the fincas around Salento. A chance to enjoy the mountain location. Swing in a hammock, stroll around the grounds or just sit and sip some wine at night, staying in a farmhouse is the antidote to overstuffed hostels or soul-less hotels you might frequent elsewhere in Colombia.
Visit a coffee plantation
You're in coffee country, so why not take a stroll around a coffee plantation to found out how the beans make it from the plant to your cup. If you stay at La Serrana, turn left at the entrance and with a 4-kilometre downhill walk, you'll find yourself at Don Elias. The tour is simple but the free coffee at the end is a much more complex and tasty affair.
Play Tejo
What's tejo you might ask? Well, imagine Boules (you know, where you throw balls as close as possible to the target ball – the jack), but instead of throwing balls at a jack, you're lobbing metal weights at gunpowder. That's tejo. Hold a beer in hand and imagine you're competing in the Colombia championships (yes, they exist) and you'll do a lot better.
Pro travel trip: if you join the coffee tour from Don Elias, a local guy will take you to his teko restaurant. Eat the food (it's excellent and very affordable) and you get to play Tejo for free!
Go horse riding
I personally haven't gotten back in the saddle since a horse tried to decapitate me with a tree branch in the Pantanal in Brazil, but still, horse riding is a very popular activity in Salento. Good luck with that.
Where to stay in Salento
For hotels/more central location: If you are looking for a hotel that is located in the centre, here are the 5 best hotels in Salento (according to Trip Advisor). For location, price and cuteness, I'd choose Hotel Salento Real.
Cali
Things To Do In Cali
Gritty and groovy, Cali draws in foreigners for its famous salsa nightlife.
Take salsa classes
If you don't want to turn up to Cali's nightclubs with wooden hips, get some practice first. Salsa classes are as endemic in Cali as plantain but before you book, make sure there aren't free classes on offer at your hostel or hotel.
Wander the old town (San Antonio) (by day)
Some call San Antonio Cali's hipster area. I wouldn't go quite that far, but this enclave of winding streets is worth half a day's exploration.
Be careful
In all honestly, it wasn't until I was researching the crime statistics for an article about Safety in Mexico that I realised that Cali is currently number 4 on the list of the 50 most dangerous cities in the world (by homicide rates). Shoot-outs between gangs still happen at the malls and even wandering the streets during the day things felt more than a little sketchy – be careful while you're in Cali and if a local says "don't go there"…don't go there.
Take a city tour
As with many of the major cities in Colombia, especially the ones that have higher crime statistics, you might feel more comfortable exploring under the expertise of a local tour guide. For Cali, check out the Grand City Tour.
Where to stay in Cali
On a budget: I tried two locations in Cali – first in San Antonio and later in a residential area (Santa Monica) and out of the two I felt much safer in the latter, especially after dark. In San Antonio, I was turned away from El Viajero by very rude staff who refused to honour my booking because I hadn't made it through HostelWorld. They'd sold all their beds on that site and hadn't bothered to check bookings made elsewhere. I ended up staying in a sweet (but empty) place a few doors down the street – sorry, can't recall the name. I wouldn't stay at El Viajero now if they paid me…though that's a good example of cutting my nose off to spite my face because the hostel did sound fun inside. Sigh.
For hotels: As you might expect for a thriving city, there are a large number of business hotels including many of the big brands on offer in Cali. The 10 best Cali hotels (according to Trip Advisor) are here. The Travelers' Choice Award Winners include small but perfectly formed OfiHotel and Jardin Azul.
San Andres
The second I saw an image of San Andres island in Colombia, I knew I wanted to go. Just off the coast of Nicaragua, some 2 hours by air north of the mainland, San Andres promised a real Caribbean vibe.
The problem was flight prices. Bordering on prohibitive (close to £300/$500 round-trip for what would only be a 3 or 4 night jaunt), I almost resigned myself to the fact that I wasn't going to make it on this trip.
But, with one last push, and a dedicated 2 hours of searching, employing every travel trick I know (you can read about my travel tricks here), I pulled it off – a return flight for £150/$240.
As the last place I visited in Colombia, I did little more than lie on the beach by day and sip beer at night. And that was quite enough. And it was also the perfect ending to my two months in Colombia. Here's a more detailed guide to San Andres.
Go Scuba Diving
The big draw of San Andres is all that Caribbean Ocean surrounding it and one of the best things to do in San Andreas is get off the island to go scuba diving. If you want to research and book ahead, this Scuba Diving Experience includes hotel pick up.
Where to stay in San Andres
On a budget: It didn't take me long to get over my hatred of El Viajero, because I tried out their San Andres hostel and I didn't regret it (helped that the staff were superbly friendly). Within a short walk of the beach, bars and restaurants, and with views of the ocean from the bar (image above), you can't beat El Viajero for value for money.
For hotels: You won't find any big, familiar chain brands on San Andres, which is a large part of the island's charm. Instead, there's a nice range of local/independent hotels and smaller guesthouses. Here are the 10 best hotels in San Andres (according to Trip Advisor). Hosteria Mar y Sol and Royal Decameron Isleno are two of the Travelers' Awards Winners.
Other places in Colombia
Despite spending a long time in the country, my slow pace of travel (damn work getting in the way) meant I didn't make it to all the top spots. Other popular places I would have like to have visited include:
Popayan: a colonial town known as the white city thanks to it's chalk white buildings. A great stop particularly if you're en-route to Ecuador.
San Gil: it may surprise you that I didn't make it to the adventure capital of Colombia but with British winter awaiting me in a few weeks, I opted for San Andres' beaches over a few days in San Gil and I don't regret it.
Baricahara: red-roof buildings (above) and a colonial town, Barichara is another place (close to San Gil) that's going to fill up your camera.
Minca: a popular place to visit from Santa Marta, this alternative coffee country is a good option if you don't get the chance to visit Salento.
Prefer a tour of Colombia?
I get a lot of messages from people who want to visit Colombia but are a bit unsure about safety. My advice – hop on a guided tour. Whether you add a week or so at the beginning of your trip to get you immersed and confident or you take your whole trip this way, it can be a comforting feeling knowing a local has your back.
My favourite tour company is Intrepid travel – small groups, great prices and itineraries that will help you get closer to the local culture, often giving you those photo moments you won't get on other tours. You can see Intrepid's Colombia tours here.
Planning your trip: I used the Colombia Lonely Plane Guidebook. Although it's not filled with pictures, it's got all the details you need including train and bus routes and times as well as city maps.
Have you been to Colombia? Any other highlights, recommendations or insider tips to share? Feel free to add them into the comments below.
Related Articles:
Like this? Share it on Pinterest.