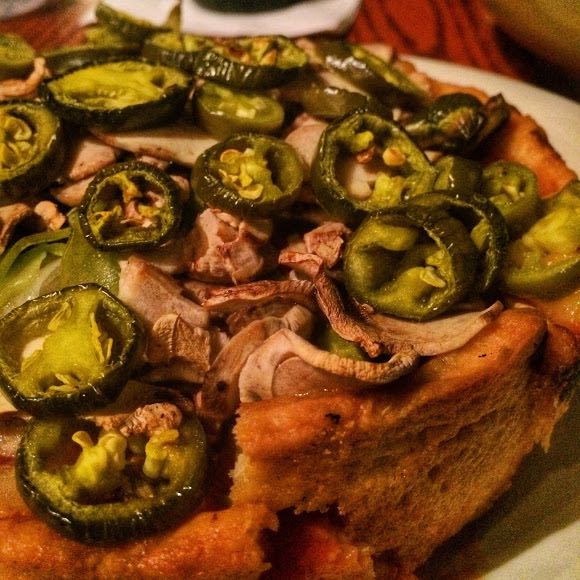 Pizza is a big deal in Chicago. So big that the windy city even has its own Chicago style pizza. What is it? Deep pan, with a pie-like bottomed crust, stuffed with layers of cheese and crushed tomato sauce, with a thick layer of mozzarella cheese on top. It's an institution in the city. And the competition for the best deep dish pizza in Chicago is utterly fierce. From age-old family rivalries to new pizzerias popping up, the Chicago pizza scene deserves its own Netflix show. But what is the best deep dish pizza restaurant? I did a detailed comparison of two of the best deep dish pizza when I was in Chicago. In this post I'll share the 15 most popular pan pizza restaurants in Chicago.
1. Unos
Uno's is where the original Chicago' deep dish pizza was invented. Established in 1943, the brand has exploded into a staggering-sized chain with over 100 restaurants around the world. However, the original restaurant still stands in its original spot in Chicago and is my favourite deep dish pizza place in Chicago.
2. Giordanos
Established in 1974, Efren and Joseph Boglio, brother bought their 200 year-old family recipe to Chicago from their home near Turin in Italy because they wanted to compete with the Chicago classic pizza. Based on the family's well-loved 'Easter pie', scarciedda. Since opening, Giordano's has been named the best deep dish pizza in Chicago so many times, I could write a separate post just listing the award.
3. Lou Malnati's
With over 70 locations in Chicago, Lou Malnati's is definitely a popular deep dish option. Having the oldest family name in the Chicago pizza business helps but likely it's the traditional recipe. Lou Malnati's was a husband and wife venture that opened on St Patrick's day in 1971 and has been thriving ever since.
4. Gino's East
With 'legendary cheese pulls' since 1966, Gino's East sticks to a 50-year old recipe. If you're looking for a Chicago pizza fix outside Chicago, you'll be pleased to know that Gino's East ships internationally. It also regularly comes up as one of the best places to eat deep dish in Chicago.
5. Pequod's
Another firm favourite, Pequod's, opened in 1970 but had a change of ownership and rebirth in 1986. Quickly becoming the pizzeria of choice in the Northwest Chicago suburbs. It's believed people still take a pilgrimage to Pequod's long after they leave Chicago. Now, that's the sign of a good pizza.
6. Nancy's pizza
Born in 1971, Nancy's pizza has 'The Original Stuffed Pizza' slapped across the website home page. Not sure if they can claim that but Nancy's does offer 2 and 1/2 inches in pizza height with two layers of crust plus a spiced sauce, for those (like me) who like a hint of spice.
7. Pizano's
Run by Rudy Malnati Jr., i.e. son of Rudy Malnati of Pizzeria Uno's fame, Pizano's carries on the family deep dish tradition. A relative newcomer (opened in 1991) with a thick and rich family history.
8. Burt's Place
Burt Katz launched three successful restaurants before opening Burt's Place in 1971 (a big year for pizza in Chicago, it seems). Apparently Anthony Bourdain once said, "Burt's was the only deep dish pizza I ever loved." Now with a patio for enjoying your pie al fresco – great for when you get the pie sweats.
9. Labriola
A little different to the other original-style deep dish pizzerias, Labriola is the brainchild of Rich Labriola. His culinary expertise in focused on baking rather than just pizza but where there is good flour and dough, there is good pizza. At Labriola you have a great choice of Chicago thin crust, skinny deep dish and Chicago deep dish.
10. Chicago Pizza and Oven Grinder
Calling itself CPOG for short, Chicago Pizza and Oven Grinder is located in a brownstone building that seems to have more history than Chicago deep pan itself. Today, the building has seen much renovation but has retained the charm and wooden booths that makes you feel like you're eating deep dish some time in the distant past.
11. Bacino's
Claiming to be America's first heart healthy pizza, Bacino tries to add a slice of vegetables into its recipes (think spinach and broccoli). But don't worry, the stuffed crust and cheese have not been sacrificed. Go forth and eat pizza guilt-free.
12. My Pi Pizza
As My Pi Pizza say, 'Bakers do crust better', which is a fair enough claim. Made fresh daily with three perfect rises, you can expect a crust that won't go soggy or saggy under the weight of chunky tomatoes while you try to devour it. Vegan menu available.
13. Chicago's Pizza
Established in 1991, Chicago's Pizza is a North Side favourite. You can choose between stuffed pizza with its classic chunky tomatoes, deep dish, gourmet pizza (more contemporary) and thin crust. Or, go-large, and try them all.
14. Eduardo's Enoteca
Strictly speaking, Eduardo's Enoteca is an Italian restaurant and wine bar. In fact, Eduardo's proudly focuses on modern recipes and only serves thin crust pizza. I know that makes it an outlier on this list but it's popular enough for its pizza, it deserves a spot on the list.
15. The Art of Pizza
The Art of Pizza takes its flavours seriously. I especially like that there is no substitution on specialty pizzas – the chef has crafted their menu and they won't mess with the blend because they know what tastes best. Opt for the stuffed pizza in either the meaty or veggie variety. There's even a special thin-crust pie if you can't handle a deep dish.
So, that's my guide to the 15 best pizzerias in Chicago. Where's your favourite? Leave a comment below.