As the sun (almost) sets on another year I'm so happy to be sitting here writing these words: "I've had an amazing year of travel". They're the kind of words that can make people want to push your smug little face into the dirt, but I hope you'll forgive my boasting because my amazing year of travel came directly off the back of my worst travel year yet, and as the sun rose on a new year I was terrified that my travel curse would follow me into the New Year.
So much so, that when I boarded my first flight of the year to Andalucia, all I could think was, "What am I doing?" and "I don't want to be here." What I've not mentioned in any of my posts this year is that it took me a solid 3 weeks before I got into my travel stride and for every one of those 21 days I fought daily with indecision, loneliness and self-doubt. But then, somehow (perhaps with a sprinkling of the year's first sunshine) things finally clicked and my year just got better and better.
From Andalucia to Berlin to Amsterdam to a coast to coast journey across Mexico…and back the opposite way across the USA (interspersed with a couple of months in Colombia), I'm happy to say that this year has been one of my best travel years yet. Largely it was down to the people I met. New friends I made, old travel friends I miraculously bumped into along the way (the world really is smaller than we might imagine some times) and, of course, the dependable, amazing friends and family at home who still manage to encourage me despite my curious way of life.
Why am I showing you my year in terms of sunsets? The simple answer is that I love sunsets (who doesn't). But, more than that, whether I'm suffering travel burn out or even when I'm high on life, sunsets are nature's one sight that stun me every time. So, here's how I spent my year – told in pictures of sunsets
Sunset at Malaga Airport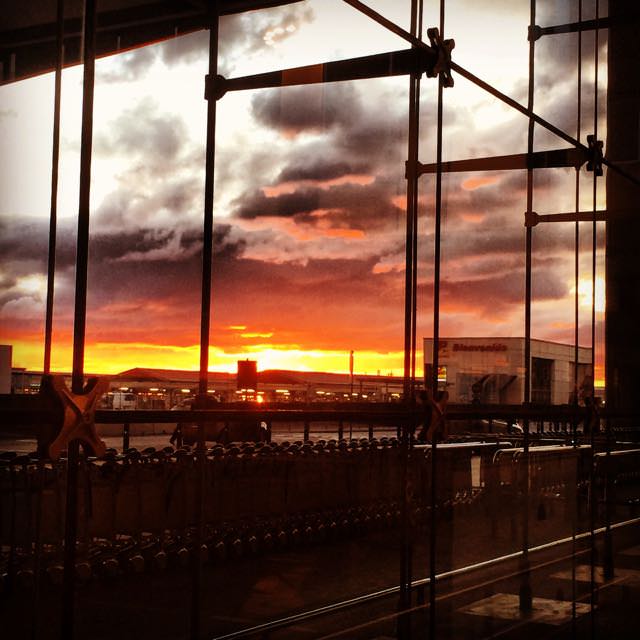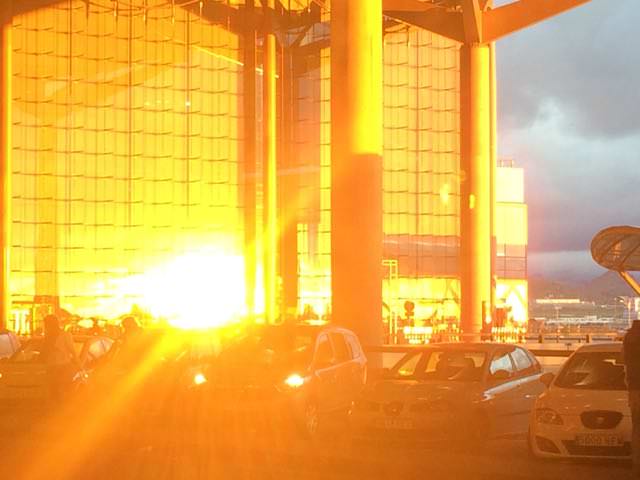 Malaga was my first stop of the year and was the entry point to Spain for my month-long trip through Andalucia. Although I didn't hit my travel stride until the final week of this part of my trip, this stunning sunset as I flew to Berlin felt like it symbolised the start of a new chapter of travel for me.
Sunset in Havana, Cuba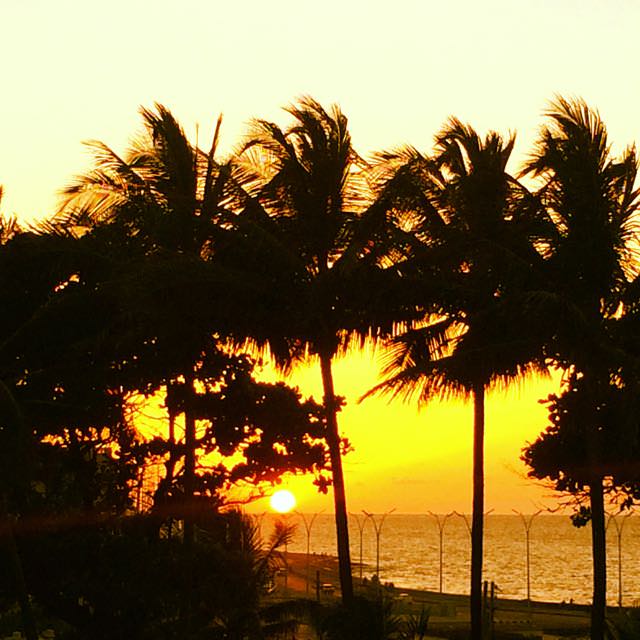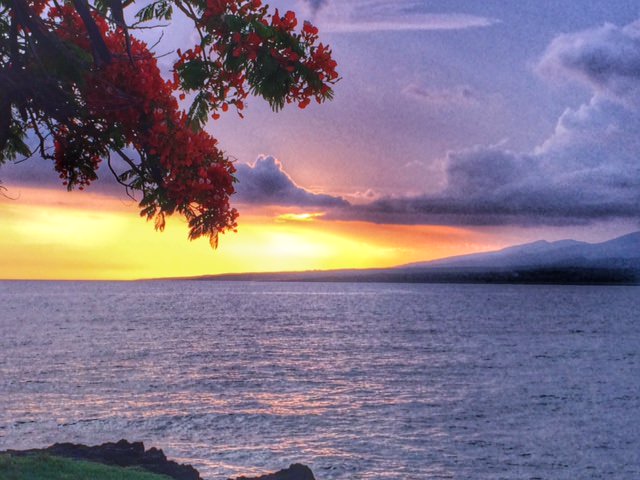 After spending the first quarter of the year in Europe, I set off on my main adventure of the year in May. At the time I planned to spend 6 months living as an ex-pat in Mexico (oh, how plans change) but first up was a much needed holiday (I hadn't taken a proper break since 2010). I opted for two weeks exploring Cuba with my Travel Amiga Karen and with zero access to the internet, it was the first time in four years I'd fully switched off. Bliss!
The first picture was taken while I was having sunset cocktails on the terrace at Hotel Nacional in Havana. And with recent news that relations between the United States and Cuba are thawing, I'm excited to finally be able to say to my US readers – when you visit Cuba, you absolutely should try the cocktails there!
Articles from my adventures in Cuba
Sunset in the Copper Canyon, Mexico
From Cuba, I returned to Mexico. I'd found an apartment, got myself a Mexican phone number and was on the brink of signing up for a gym subscription but I couldn't shake my urge to be on the move. So, after just a few weeks in the Yucatan peninsula, I scrapped my original plan to stay in one spot for 6 months in Mexico and instead in June I embarked on an epic coast to coast journey across Mexico that took me from the east peninsula to the western Baja coast. Caribbean and Atlantic waters as well as the spectacular Sea of Cortez presented some superlative sunsets.
It was my first time this far north in Mexico and the scenery changed dramatically compared to what I'd seen elsewhere…as did the prevalence of cowboy boots and hats! The above picture is the sunset over Chihuahua, coming into land by plane.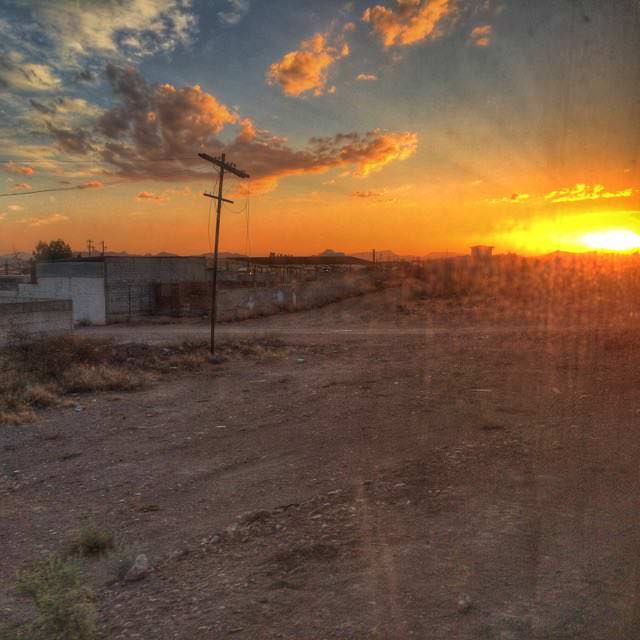 Finally, I got to fulfil my travel dream of riding the train through Copper Canyon.
Sunset in La Paz, Mexico
From the Copper Canyon, I took the Ferry to La Paz in Baja California. Above is one of the stunning sunset in La Paz. I became obsessed with the sunsets in La Paz and they kept me in this beautiful seaside town for way longer than I'd intended.
Articles from my adventures in Mexico
Sunset in Nashville
Having crossed Mexico from coast-to-coast (east to west), completing the same journey in the opposite direction (west to east) across the USA seemed to have a wonderful synergy. When this travel idea hit me I was ideally situated a short hop from San Diego and thus my US coast-to-coast journey began in August.
It was a journey that would take me across 11 states from the height of summer to the thick of winter (with a 2-month pause in between when I flitted off to Colombia to escape Arizona's summer heat).
Washington Monument Sunset
Sunset at the Washington Monument, Washington DC. Winter sunsets can be just as beautiful as summer sunsets at the beach.
Winter sunset in Richmond, Virginia
A speck of colour after an otherwise grey day in Richmond, Virginia.
I pressed un-pause on my US trip in late October when I returned to complete my journey. (All the pictures above are from the second part of my US trip when the sun set earlier against the backdrop of fall and then winter.)
Articles from my adventures in the USA
Cartagena Sunset in Colombia
Sunset in Cartagena. Although I've edited the picture to enhance the colours and details, there are no colour filters on this picture. It really was that pink and beautiful.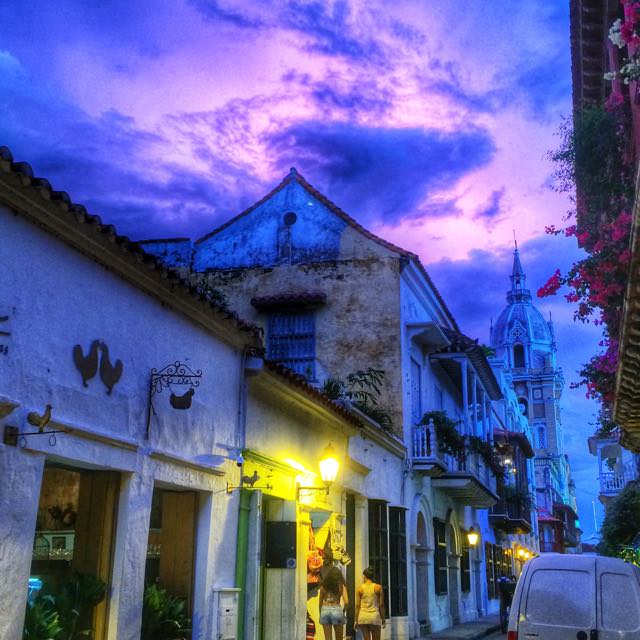 Sunset in Cartagena. This picture was taken the same evening as the previous shot, just a bit later. Again, there is no colour filter on this image.
Colombia had been on my travel wish list since I skipped the country during my Around the World Adventure. Finally, I made good on my promise to get to Colombia and some stunning sunsets – and two of my favourite sunset pictures of the year – ensued.
Articles from my adventures in Colombia
How was your year travel? Did you see any beautiful sunsets or are you more of a sunrise person? Let me know about your adventures in the comments below.
Related Articles: