Want to find out how to spend on day in Warsaw? Read on…
I'd respectfully like to disagree….
No, not just for the sake of it (though I am prone to bouts of that from time to time).
I specifically want to disagree with all those articles about Poland that recklessly tell people to skip Warsaw.
I've fallen into that travel trap before – almost missing Pisa (not worth it they said…it is, I beg to differ) and trying to skip through Malaga without a blink (full of Brits abroad they said…full of Spanish culture you mean?).
If you've read your fair share of articles and forum posts from Warsaw naysayers, pay them no mind. In my dual destination trip to Poland, it was Warsaw, not Krakow, that I enjoyed the most. Don't get me wrong, I had an amazing 3 days in Krakow (for just £100, including flights). But, when it comes to comparing the two cities, as we inevitably do, Warsaw held the most charm, Warsaw offered more culture, Warsaw fed me well and, by the ultimate test (cakes and coffee), Warsaw won. Hands down.
One Day in Warsaw
Like many visitors, Warsaw wasn't on my visit list because of all the glowing reviews. It was on there because the airport had the cheapest flights in. So, if you find yourself heading to the city, whether for business, because you got your hands on cheap flights (high five, you flight booking ninja), or you're just intrigued, don't skip through too quickly. Here's how to spend one day in Warsaw.
Places to Wander Past
There are two things to know about Warsaw on the sights front: 1) there are LOTS of things to see (a.k.a. get an early start on your day); and b) they can all be seen by foot (yay).
As you only have one day in Warsaw, you'll probably only have time to enter one of the museums so do your research before you go.
A word on the Royal Way: you'll come across this name more than once in Warsaw. It's a thoroughfare along which many of the city's sights can be found. Confusingly for visitors, it's not usually marked on a map. For simplicity's sake, the Royal Way comprises two streets:

Krakowskie Przedmiescie (yeah – try saying that after a few Polish vodkas)

and

Nowy Swiat (literal meaning: New World).

My room was just off Nowy Swiat when I was in Warsaw so my sightseeing started there and I'd recommend it as a good starting point for your sightseeing, too.
Nowy Swiat

Starting your exploration of Warsaw on Nowy Swiat might flummox your plans for a full-speed-ahead kind of day. The street is littered with cutesy cafe that scream out for a quick coffee stop.
Recommendation: Although not Polish in cuisine, Croque Monsieur served up a decent enough…well, crock Monsieur, in very pretty surroundings. And the coffee was damn good, too.
Nicolas Copernicus Monument
Slap bang in front of the Staszic Palace, home to Poland's Academy of Science, is a large and impressive monument dedicated to Nicolas Copernicus.
Who? What? Ok, for you non-science geeks, he's the astronomer who is credited as having stopped the sun and moved the Earth – in other words, he realised that the sun was the centre of our Universe and we moved around it, not the other way around.
Interesting fact: Copernicus wasn't actually from Warsaw, he was from Toruń. However, plans for a statue in his home town were rejected because it was under the rule of Prussia at the time. Warsaw was the alternative location and the monument was completed in 1830. Decades later, in 1853, a monument was also finally erected in Toruń.
Church of the Holy Cross
There are over two dozen places of worship in Warsaw. If you love nothing more than bouncing from one church to another, Warsaw is an excellent place to do it. If you can just about manage one, make it the Church of the Holy Cross. The draw for many is the Chopin pillar. It features an urn that, quite morbidly, contains his heart.
Castle Square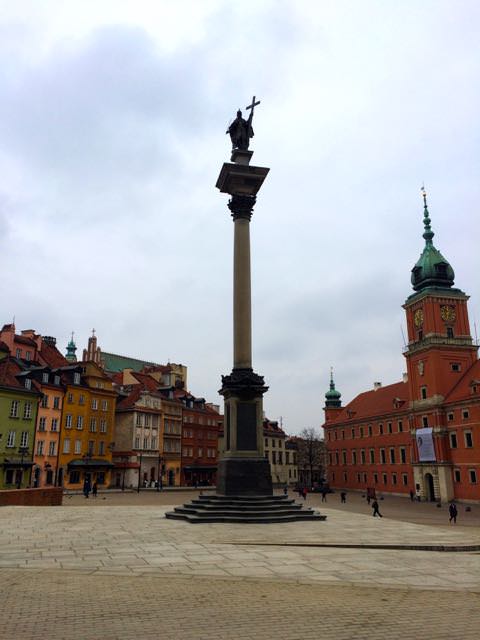 Walking the Royal Way from Nowy Swiat, it's not long before you hit the first beautiful square in the Old Town, Castle Square (plac Zamkowy w Warszawie). So named because of its location in front of the Royal Castle, don't forget to look up and wave at King Sigismund teetering at the top of a 22 metre column. Sigismund made Warsaw capital of Poland.
Interesting fact: the original column (just 8.5 metres) was ruined during the Warsaw Uprising but the pieces can still be seen around the Royal Castle.
A word on the Warsaw Uprising and the razing of the city: How does one summaries an epic and tragic battle in a few sentences? Here's how the Warsaw Uprising website describes it:

"a heroic and tragic 63-day struggle to liberate World War 2 Warsaw from Nazi/German occupation."

Over 200,000 people died during the uprising, which came during Poland's fifth year of occupation and was ultimately unsuccessful.

Over 85% of Warsaw was razed during the war, something that's near impossible to tell when you stand in the Old Town and look at the historic buildings. Impressively recreated in the late 1940s and 1950s, there is very little of Warsaw that dates beyond a few decades. To me, that made Warsaw all the more endearing.
Old Town Market Place (Rynek Stare Miastro)
One thing I liked the most about Warsaw Old Town was how one square meandered into another by a winding series of connecting alleyways. Old Town Market Place was once the heart of the city and the main square. As with most of Warsaw, the square is a clever recreation of its 17th century former self.
Old Town Market Place seemed more intimate and colourful than Castle Square and there is a good number of cafes and restaurants around the perimeter. In the summer, tables and chairs are positioned for al fresco dining. When I visited (February), there was a forlorn looking ice-skating rink that was probably a lot more popular a couple of months previous.
Planning your trip

I use the Berlitz Pocket Guide to Poland to plan my trip. I'm usually a fan of the Lonely Planet Guides and if you're on a longer trip to Poland, I'd check it out. However, as I was just there for a weekend – with one day in Warsaw and a couple of nights in Krakow, I didn't want a big chunky guidebook in my bag.
The Barbican
Part of the fortifications that once used to protect Warsaw, the Barbican is the gateway between the Old Town and the New Town. Did it survive the Warsaw Rising? Did it hell. But that doesn't make it less impressive. The Barbican is a short walk just on from Old Town Market Place.
Tomb of the Unknown Soldier
Tombs of the Unknown Soldier can be found around the world, but the one in Warsaw struck me as particularly poignant given Poland's history.
The tomb was laid in 1925 at Saxon Palace, dedicated to unknown soldiers who gave their lives for Poland during World War I. However, Saxon Palace was annihilated during after the Warsaw Uprising and the only part of the palace remained was the part that sheltered the tomb. It was also the only part of the palace that was later restored and soil from World War II battlegrounds were added to the existing urns.
Today, an eternal flame burns and guards stand over the tomb 24-hours a day.
Palace of Culture and Science (a.k.a. Stalin's Penis)
How do I say this…I kind of liked the Palace of Culture and Science.
Known locally as Stalin's Penis, the tallest building on Warsaw's skyline was a somewhat unwanted gift from Stalin to the city. Many consider the monolith a blot on the horizon. Frankly, I think there are much uglier buildings in Warsaw, namely anything built during communist rule (Stalin's Penis excepted). But never mind, the best thing about the Palace of Culture and science – you can ride the lift (elevator) to the top for some outstanding views of the city.
Places to Visit (pick one…or two…or even three if you don't need sleep)
The Royal Castle
Once upon a time, the Royal Castle was exactly that – home to the Polish Monarchs. Of course, it was razed during the Warsaw Uprising and rebuilt, but sympathetically so. The castle is a UNESCO World Heritage Site that contains stately rooms and an abundance of art.
You can find more visitor information here.
Historical Museum of Warsaw
Located in the Old Town Market Place, the Historical Museum of Warsaw is, as you might expect, a collection of artefacts that walk you through the history of the city. There are four floors to explore and a whole heap of rooms (the building expands across several adjacent houses), but don't expect much by way of English language information. That said, the historical movie and museum generally get good reviews.
You can find more visitor information here (in Polish!).
Chopin Museum
Dedicated to the Polish composer and pianist, the museum includes a history and display of the works of Chopin. There are 5 levels to explore where you can see manuscripts, photographs and listen to recordings. The museum was renovated in 2010 to celebrate Chopin's 200th birthday and it now a high-tech, whizz-bang 21st century display of this classic musician's work.
You can find more visitor information here.
The National Museum
Warsaw's largest museum, the National Museum is a great place to escape to when the city's tough history overwhelms. Egyptian, Greek, Italian and Polish art fill the space and there are over 10,000 pieces to work your way around – perhaps a good option for walking off a heavy Polish lunch.
You can find more visitor information here.
Warsaw Uprising Museum
Opened on the 60th anniversary of the start of the uprising, this is one of the newest museums in the city. There are over 1,500 photographs, films and sound recordings of the uprising and if you're interested to know more about this dark period in Warsaw's history, you won't find a better place to learn.
You can find more visitor information here.
Marie Curie Museum
Ahhh, Marie Curie brings out the feminist in me. Apart from discovering polonium, radium and creating the theory of radioactivity, Marie Curie was the first woman to win a Nobel Prize and, later, the first and only woman to win a second one. She was also the first female professor at the University of Paris.
Born in Warsaw, it's no surprise the city has a museum in her honour featuring letters, photographs and personal effects. Just swing by on the day you want to visit to check its opening hours – it closed without warning for an extended lunch the day I was there.
You can find more visitor information here.
Lazienki Palace and Park
Lying at the end of the Royal Way is Lazienki Palace and park. The grand palace in Baroque style once belonged to a Count and is known as the Palace on the Water. Located in Warsaw's largest park (76 acres of large), the palace and park are particularly popular in summer, where you catch Chopin concerts each Sunday. As I visited in the frigid depths of winter, I didn't make it to the, so let me know what it's like if you do.
You can find more visitor information here.
Prefer a tour?

If you'd rather take a tour than plan your own trip, there are many tours on offer in Warsaw.

One of my favourite activities is to take the free walking tour that many cities offer – you can see the one in Warsaw here. However, if you prefer your own guide, a small fee will get you a private walking tour of Warsaw.

I've also recently become a huge fan of the City Sightseeing Bus Tours on offer, which allow you to explore independently while providing a good dose of history. You can book tickets in Warsaw here.

If you have a little more time, you can take a Polish cooking class, which includes vodka tasting. And for those who are after something a little quirky, there is a tour of Warsaw's communist history which takes place in a Nysa 522 van.
If you have an extra day…
Here are the areas I would have explored if I had an extra day…
Nozyk Synagogue, the only surviving Synagogue in the city.
Okopowa Street Jewish Cemetery which has over 200,000 gravestones as well as mass graves. The cemetery is largely overgrown and abandoned, a sad reflection of the lack of family in Warsaw around to care for the graves of their ancestors.
Powazkowski cemetery – I promise I'm not a morbid, serial cemetery goer, but this is the most famous in Warsaw as well as one of the grandest and oldest.
Where to stay in Warsaw

On a budget: I stayed at New World Street Hostel which had a fantastic location just a short walk to the Old Town. The hostel was clean and at £7/around $10 a night for a dorm bed, the price was perfect. Private rooms are also available.

For hotels: If you've only got one day in Warsaw, then location becomes important. If you're after some luxury and old-world charm to go with a top location just on the tip of the Old Town, then Le Royal Méridian Bristol is the one for you. If that doesn't take your fancy, here's a list of the 10 best hotels in Warsaw (according to Trip Advisor) with the Intercontinental and Mamaison Hotel La Regina two of the hotels winning the Travellers' Choice Awards.
Where to eat
Given I only had one day in Warsaw, I only ate one evening meal. Thankfully, it was good enough to recommend! Based on Nowy Swiat, Specially Regionalne, as you can probably guess, specialises in Polish cuisine. Not only that, the menu covers dishes from various Polish regions.
You need to be fully committed to trying Polish food if you dine here as there is no pizza or steak option as a fall back. However, I don't think you need to worry. I was impressed with everything I ate from the smoked cheese (to start) to a local stew called Bigos.
All produce was regionally sourced and the waiters knew their stuff, explaining a bit about everything I ordered. I was tempted into an excellent Polish wine and by the time the apple pie came (which was not very sweet, just in case you are a sugar hound), I was too stuffed to fit it all in.
The restaurant's website is mainly in Polish but the menu section has some translations. And photos are, as always, multi-lingual!
And that pretty much concluded my one day in Warsaw.
Have you been to Warsaw? And extra tips? Let me know in the comments below.
Want more travel inspiration? You might like my other posts…
Venice: 10 Things NOT To Do (And 10 To Do Instead)
Porto: 10 Things NOT To Do (And 10 To Do Instead)
30 Best Things To Do In Malaga
40 Things To Do In Milan (That Aren't Churches)
Seeing the Tulips in Amsterdam at Keukenhof Gardens
7 Secret Spots in Amsterdam Noord
Where To Eat and Drink In Brussels
3 Days In Florence – The Itinerary I give My Friends
Like this guide to things to do in Warsaw? Share it on Pinterest…