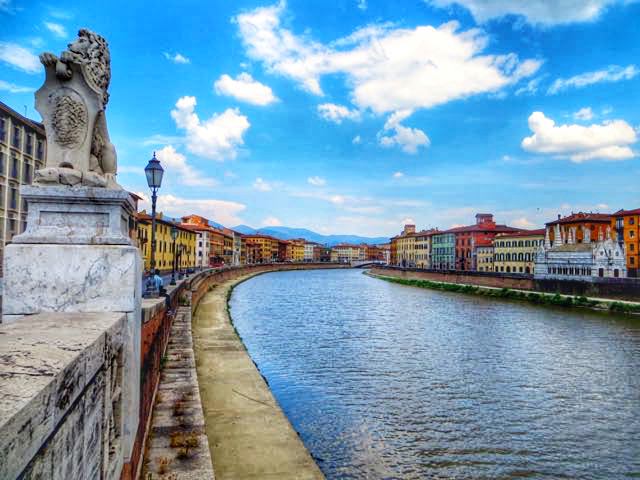 In 1372, work was completed on a tower in Pisa that would later come to be one of the biggest tourist attractions in the world. That tower was the Leaning Tower of Pisa. Located in the beautiful Tuscany region of Italy, Pisa is a popular stop on most Italian itineraries. But what else is there to see besides the tower? Plenty! In this guide I'll share the best sights to see in the city.
1. Pisa's Walking Street (Corso Italia)
Wait, what – you expected me to mention the Leaning Tower of Pisa first? Of course, you did – and don't worry, I'll get to that, but I've mentioned Walking Street as it's likely to be the first 'landmark' that you hit after leaving the train station.
Pisa (for tourists) comprises a very small area and the Walking Street (its tourist name) provides a pedestrianised backbone from the train station to the tower. Strolling down Walking Street you'll find the usual bunch of shops and some impressive street performers. If you can figure out this trick, please share!
Pisa is a pretty decent shopping destination and although it doesn't hold nearly as many designer shops as Florence, there are also far fewer people to cut through, making Pisa a much more relaxed shopping destination. Leather bag anyone?
And if you're looking for a supermarket, head to PAM. No, not your mum's friend, PAM is a pretty decent-sized supermarket just off Walking Street. It's not obvious unless you know it is there – with the station behind you, go right at Tezenis (underwear shop) and PAM is less than a minute down that side street on your left. There is a fresh bakery, delicatessen, pre-packed meats, and cheese as well as fruit, vegetables, olives, and general supermarket goods. Perfect for a day-trip picnic. I bought bread, cheese, ham, avocado, fruit, and yogurt for under 10 euros which lasted for multiple meals. Yum!
2. The leaning tower of Pisa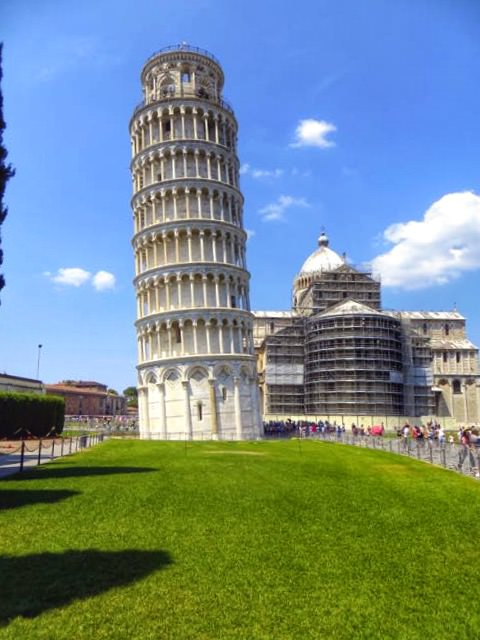 See – told you I'd get to it!
Obviously, the main sight in the city is the leaning tower of Pisa. It really is the most peculiar and impressive structure – how it is still standing is beyond me. You can climb to the top (€18) if you want the best views.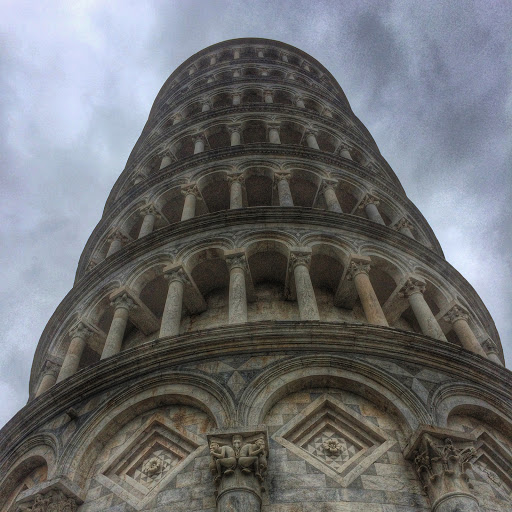 Unlike most people, I didn't do the funny 'pretend you're pushing against the tower pose', which looks like this without the tower in the background.
If you've not seen this video before, it is hilarious – the Troll high-fiving photo posers in front of the Leaning Tower of Pisa.
Buying tickets: You can book tickets to the Leaning Tower (including the cathedral). You need to choose the date of the visit and you can book up to 30 days in advance. You can even book the day, but I wouldn't recommend it as there is a limit to how many people can climb each day. You can also buy tickets on arrival at the tower but expect a queue/tickets to sell out, especially in summer.
Only 40 people at a time are allowed inside the tower and you need to be prepared to climb 300 (old) stairs. You also need to leave your bag, including small handbags, in the left luggage before you can climb (it's free).
Fun fact: Did you know the Leaning Tower has tilted an extra millimetre every year since construction and is currently 4.47 metres off where it should be (more than 5 degrees)?
3. Piazza del Duomo and around the Tower
Pisa isn't just about the Leaning Tower. Like most Italian cities there is also a Duomo (Cathedral) and Piazza del Duomo. And there lay the highlights of Pisa for me – a chance to sit on the grass (I'd not seen any for a while after so much time at the beaches of the Philippines), graze my Italian phrase book, and nap like a nanna.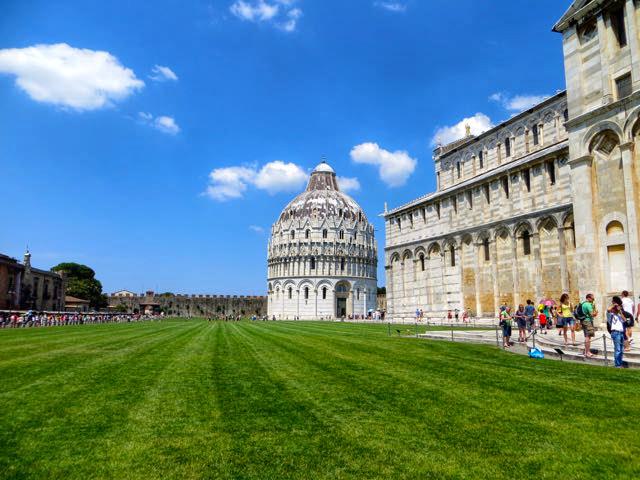 Lying on the grass behind the Duomo is the perfect way to spend an afternoon whether you're a local or a visitor.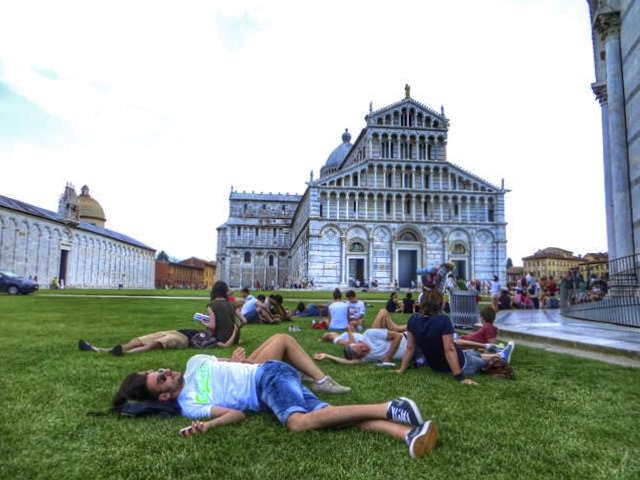 4. Pisa Duomo
If you're not all cathedral-ed out (it can happen pretty quickly in Europe), the Duomo is substantial and stunning – it was the biggest in Europe at the time when it was built. Entry into the Cathedral is free.
5. The Baptistry
As well as being very photogenic from the outside, stand inside and you'll stand in the place where Galileo Galilei was baptised.
6. Camposanto
Camposanto is a monumental cemetery in Pisa. This long building was constructed around a field of soil that was bought back from the Crusades and serves as a burial ground. Legend has it that a body will rot within the soil within 24 hours. My advice: not the kind of place to fall over and take a long, deep nap.
7. Museo dele Sinópe
The Museo dele sinópe is special because within lies the preserved art and drawings of the early art Masters. Having survived the Middle Ages, the works of art in this museum are a rare find. Here lie the preserved original sketches of the Camposanto if you have already visited the cemetery.
8. Art at Museo dell'Opera del Duomo
Museo dell'Opera del Duomo – you know what it's like – you decide to have a make-over, but where do you put your old pictures and what-not? You and I sell them or give them to charity…or put them in the attic. In Pisa, all the old decor of the cathedral and baptistry make it into the Museo dell'Opera. Good stuff. There is a combined ticket for the above sights. For €5, €7, €8 or €9 you can visit any 1, 2 or 3 of the monuments.
Fun fact: The elliptical dome of the Duomo was the first of its kind in Europe – clearly it became a popular style.
9. Italian food market
The Italians do many things well but food markets is something they excel at. This one, around Piazza delle Vettovaglie is a great stop if you're considering a picnic lunch or just to pretend for the briefest moment that you're living the Italian way of life.
10. Piazza Dei Cavalieri
Just a few streets west of the main route from the station to the tower, many tourists miss this Piazza, which is a real freakin' shame. Were it not for the tower, this would most likely be the highlight of the city.
11. Knights Square
Known as the Knights' Square, this piazza has served life as a political centre and has been home to a bunch of Knights (St Stephen's). These days the students have taken over the main building (Palace of the Caravan) is part of the city's university.
12. Statue of Cosmio
Located in Knights' Square, the statue of Cosimo I de' Medici is every bit as impressive as you would expect from a work of Italian art. Who was Cosimo I de' Medici? He was the first member of the Medici family that went on to rule Florence for nearly 100 years between 1434 and 1537.
13. The River Arno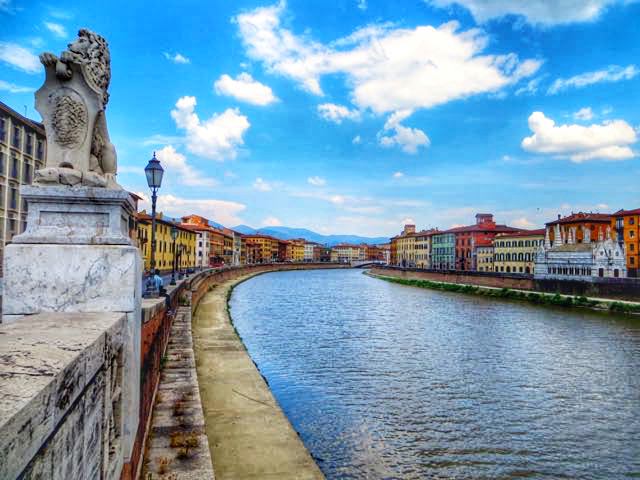 There's something magical about the Arno, especially on a sunny day. I love how it carves up the historic part of the city, how colourful the buildings are, and how the locals use it as an everyday part of their city.
The river is a beautiful view to watch over while you're on the phone.
14. The church of Santa Maria della Spina
On the opposite side of the river from the Leaning Tower is Santa Maria Della Spina, a Gothic Church that is quite the dramatic picture cast against the river, the buildings, and the mountains. Sadly, it's closed to us common folk.
15. The River Arno lit up at night
But nothing can really compete with the view of the river at night, which is arguably the best way to end your time in Pisa.
---
Tours of Pisa
Tours are the ideal option if you're short on time, want to know a bit of history and local insight or simply can't be bothered to get around on your own steam and multi-city tours are a great way to see more than one of Tuscany's highlights in one go.
Pisa, Siena, and San Gimignano from Florence – day trip to the Tuscan trio that should be on your must-see list. Includes Chianti tasting.
Pisa and the Leaning Tower of Pisa from Florence – want to visit Pisa from Florence and get the chance to climb the tower, this tour is for you.
Pisa and Cinque Terre – see the sights of Pisa and go hiking in Italy's most Cinque Terre on this epic 13-hour tour. Includes wine tasting and local produce.
Livorno Cruise Port to Pisa and Florence – coming off a cruise and want to cram in two cities? This tour packs both into one trip and will get you back to the cruise terminal.
I did a day trip to Lucca by train, which is an often overlooked part of Tuscany.
Italy's Prosecco wine region: did you know its only 1hr from Venice? Perfect if you're travelling around Italy. Find out more: How to Go Prosecco Tasting in Italy or you can visit my Prosecco website, Visit Prosecco Italy, to book a Prosecco tour.
Where to Eat in Pisa
Mushroom focaccia may not your average breakfast but in my defense I was still on Asian time when I indulged. There are plenty of cafes serving snacks like this along the Walking Street (I say snack, but it was huge). For a better price compared to the tourist-focused eateries, I took a short detour down a side street and picked this up for 3.50 euros including coffee.
At night I again wandered the side streets (this time around Piazza Cairoli) and found a nice restaurant. The pasta looked too unimpressive to photograph, and I'm disappointed I didn't take a snap because when I took my first bite of the perfectly al dente penne I realised that looks aren't everything. By the time I was able to stop, there was little left to photograph, which was a great reminder that I was back in Italy.
My greatest find, however, was the perfect lunch spot – Osteria La Toscana. Within a short walk of the tower but far enough to avoid the set price tourist menus, loosen your belt and prepare for a wait…that will be absolutely worth it.
For the first time in a long time, I was in Italy with travel friends so I was able to finally split a Florentine Beefsteak. Yeah, yeah, I know, it's Pisa, not Florence, but it didn't taste any the less divine for it. If you know anything about me, you'll know that beef is a big part of my world and this mammoth piece got top marks. If you're the kind of person who demands five-star service, you might want to sip some camomile tea first: the service wasn't great in the Osteria because the poor waitress was rushed off her feet. However, that was a sign of the popularity of the place, which was filled with locals (always a good sign). There is a cute patio at the front but good luck getting a table there. We were squeezed into a corner and couldn't care less because the food was that good.
Where to stay in Pisa
Pisa is not short on accommodation so do your research before you book as not all rooms are created equally. I landed at 10 pm and after travelling the short distance from the airport to the centre (5 minutes by train), I checked into a hostel called 50 Metres From the Station, which I chose for its location. Despite the pretty room, which was a nice welcome to Tuscany, and the nice (though very absent) owner, I wouldn't recommend this hostel. Mainly because I was woken at 2.30 am by my least favourite friends – bed bugs (5th time this year and counting). Here are some much nice options to consider.
Luxury: Hotel Rellais dell'Orologio For old-school charm (complete with limousine service and doorman), the Hotel Rellais dell'Orologio will leave you in no doubt that you're laying your head down in one of the most romantic countries in the world.
Mid-range: NH Pisa If you fancy a 21st-century Italian twist, check out NH Pisa. A bit further from the tower, but still only a 10 minute walk, this hotel seems to have pulled off contemporary but with enough of a nod to the beautiful Italian traditional style that many people flock to Italy for.
Mid-range: Grand Hotel Duomo Feeling upscale and chasing views? Check out Grand Hotel Duomo. For a 4-star hotel, it's very reasonably priced (around $125 a night), it's almost on top of the Duomo, and has the best views from the roof terrace that you'll probably get in all of Pisa.
Budget: Hostel Pisa A short walk from the central station and a short walk to the Leaning Tower, this hostel is large, bright and has great social areas (a cafe as well as outdoor space), which is probably what makes it one of the most popular choices in the city. Both dorm and private rooms are available.
How to get from Pisa to Florence
If you're taking advantage of a much cheaper flight price by landing in Pisa instead of Florence, don't worry, it's very simple to get between the two locations.
From Pisa Airport to Central Pisa: Pisa airport is incredibly close to the centre of Pisa. By taxi you're looking at a 5-10 minute ride because the airport is only 2.5 km from the airport. If you prefer to take public transport, you can make the same journey for just €1,20 with Tren Italia. The train takes about 5 minutes and drops you off at Pisa Centrale, the central station in Pisa which is about a 15-20 minute walk to the tower.
Note: the train to the airport wasn't running when I was there in 2015. I believe that might have been a temporary hitch because Tren Italia is showing the service on its website but do check. If there is no train, don't worry – there is a bus – it just takes a bit longer.
From Pisa Airport and Central Pisa to Florence: Tren Italia offers fast service from Pisa Airport, stopping at Pisa Central (where you'll need to change train) and then on to Florence. The journey takes one hour, costs €9,30 and there are about 2 trains per hour depending on the time of day you travel.
Don't forget, if you're searching for trains on the Tren Italia website, you're looking for the destinations in Italian. The stations you need are:
Pisa Airport: Pisa Fermata Aeroporto
Central Pisa: Pisa Centrale
Central Florence: Firenze S.M. Novella
You can find more information about trains between Pisa and Florence on the Tren Italia website (English version available).
How long do you need in Pisa?
Most visitors stay just long enough to see the tower, which is long enough if you are on a rush through Tuscany. However, since many of Europe's low cost airlines land in Pisa rather than Florence (or at least offer cheaper flights to Pisa), it's worth adding Pisa to your itinerary.
For the average tourist one day in Pisa is often enough. And, in its own way that is the nice thing about Pisa because most trips there are usually followed by a couple of days trying to cram in the sights of Florence, which can leave you desperately gasping for Tuscan air.
The reality is that apart from the tower, there is very little to see in Pisa (when compared to nearby Florence) and the main tourist area can be trodden on foot in under an hour. However, don't let that confuse you into thinking that there's nothing to see or do in Pisa – there really is. And, without the coach loads that hit Florence, spending a day here eating, drinking Italian espresso, and wandering the streets will help you acclimatize to the Italian way of life.
On my most recent trip, I literally had one day having arrived from Florence in the morning and with a flight out that evening. I was showing my brother around and I managed to squeeze in all of these activities.
Related Articles:
Planning a longer trip to Italy? You might be interested some of my other posts:
Like this article? Share it on Pinterest…