If you're planning a trip to Tuscany, then you should visit Lucca.
A small city that sits just north of Pisa (and is incredibly easy to reach by train), Lucca lacks the crowds that throng the leaning tower, the coach and cruise loads that plague Florence, and offers an all-round gentler pace for enjoying Tuscan life.
The historic part of the city is contained within impressively intact city walls which stretch for kilometres providing a thick skirt around Lucca's centre. Down below, a small but perfectly formed criss-cross of streets sprawl out to the four corners of the city walls connecting one picturesque piazza to another by way of cobbled streets that are the very stereotype of Italian life.
In Lucca a chilled-out café culture by day folds itself nicely into the restaurant and bar scene by night, but, most impressive of all, and as you might expect from the place where world-famous opera composer Puccini was born, world-class musical events await.
Here are the best things to do in Lucca.
Walk or Bike Lucca's Citadel Walls
There are so many good reasons to take a trip around Lucca's city walls. Not only are they one of the most intact in Italy, they are quite unlike any other city walls I've ever walked. The walls are wide, well-kept and filled with green spaces, parks, picnic benches, bike paths and locals playing board games in the shade of the trees while the Apuane Alps provide a beautiful backdrop.
The sum of these parts make Lucca's city walls a destination in their own right. Built in the 16th and 17th centuries, they hold history, yet today remain an integral part of the city's modern, daily life. Relax, take a stroll (or enjoy an elevated bike ride – there are plenty of bike hire shops in the city below) and simply let Tuscan tranquility take hold.
To get to the ancient part of the city from the train station you will need to pass the walls, so it makes good sense to walk the walls first, not least to get an overview of the layout of the main sights below.
A complete circuit of the wall is 4km and at a leisurely walking pace takes about 1 hr.
A bike trip will obviously take less time, though I saw many cyclists whizzing past many of the finer sights, so if you do go on wheels, take some time to stop to really enjoy the beauty that surrounds the walls.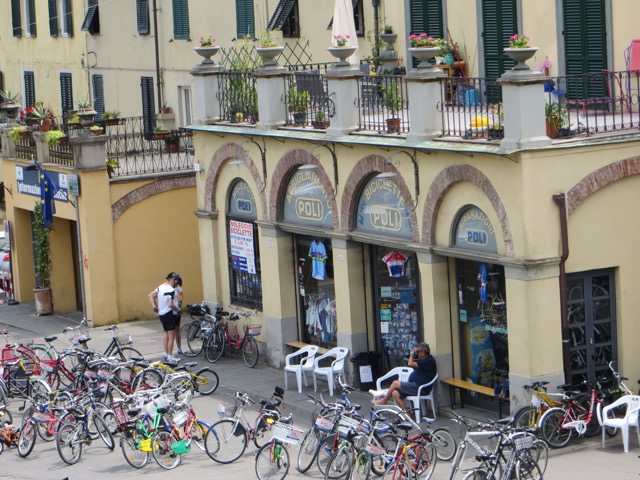 Take water and a picnic. There are not too many spots to buy food or drink on the walls. There is a Spa shop in the city but is at the opposite side from where you land on the wall from the station. As I took a day trip from Pisa, I brought my picnic with me.
Cattedrale de San Marino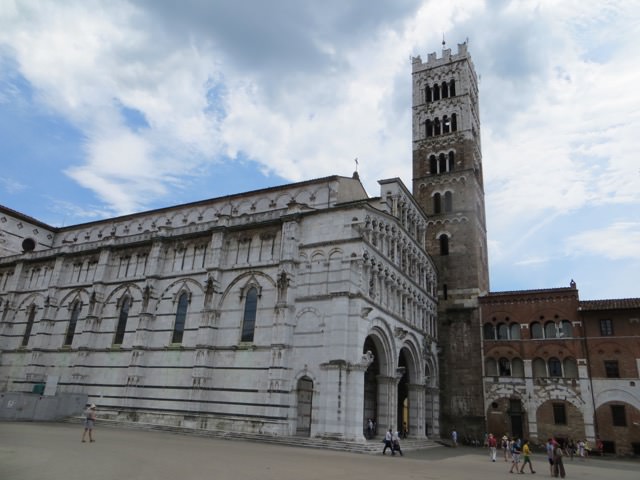 I know, I know, another Italian church in another Italian city, but seeing as you're already here, this (free entry) church is both old (11th century) and has a stunning fascia, but the main highlights lies inside.
The Volto Santo (meaning Holy Countenance) is a life-size wooden carving of Jesus on the cross and it was once thought this piece was crafted by Nicodemus, a witness to the crucifixion. Modern science has dated the piece centuries later, but staring into the dark of the wood carving, I could see why so many thought it came from visions of an earlier time. Sorry, I have no image of the carving as photographs are not permitted.
Church of San Michele in Foro
While San Marino Cathedral may be the first sight you stumble on after a complete circuit of the walls (or if you're coming straight from the station), the Church of San Michele seemed to me to be the much more stunning vision. Tiered, grand and showing-off in every way, this church was apparently designed to look good from every angle.
The interior is disappointing by comparison but free and cooler than the outside air so therefore worth a stop.
Listen to Puccini performed at Puccini e la sua Lucca
One of the purposes of my trip to Lucca was to listen to some opera in the city where Puccini was born and I fulfilled that wish.
Puccini e la sua Lucca is the only festival dedicated to Giacomo Puccini in the place of his birth and also claims the title as the only permanent festival in the world. As such, there are tickets available most of the time (especially during summer, when concerts are held nightly).
Located in one of the city's churches, there is a different program each night performed by top shelf operatic singers. When I visited, there was an evening of Mozart and Puccini, which included performances from La Boheme, Madam Butterfly and Tosca (Puccini) and Le Nozze di Figardo (Mozart) amongst others.
I'm no opera buff, but for 20 euros, it was a wonderful way to enjoy the musical spirit of the city of Lucca.
The church where the recital took place was small and intimate (no more than 70 people) with ear shattering acoustics (in a good way). During my visit the church was different from the usual home due to the Summer Festival that was going on.
The performers were impressive, particularly the male singer, who received a standing ovation from the audience more than once (including from myself, and I'm not prone to such over excitement).
Although it started on Italian time (late), it lasted just over an hour and was a great experience even if you are not familiar with the detail of Puccini's work. I did overhear one man complain that he 'didn't understand a word' – obviously the performances are in Italian, but the singers do a great job of conveying the drama and emotion of the pieces so it doesn't matter that you don't understand the words. I once attended the opera in Verona, which cost much, much more than this recital and I'd say I found this experience much more enjoyable.
Lucca Travel Tips:
Getting there from Pisa: Take the train from Pisa Centrale to Lucca (direct). Cost 3.20 euros one-way.
Unless you stay in Lucca, note that the last train back to Pisa departs just after 9pm.
There is plenty of accommodation in Lucca including a hostel, but as I didn't stay there, I can't comment directly.
If you book the opera online (you can do this on the day you want to go), you save 10% of the ticket price.
More information and to book: Puccini e La Sua Lucca.
Related Articles:
Planning a longer trip to Italy? You might be interested some of my other posts:
Like this article? Share it on Pinterest…