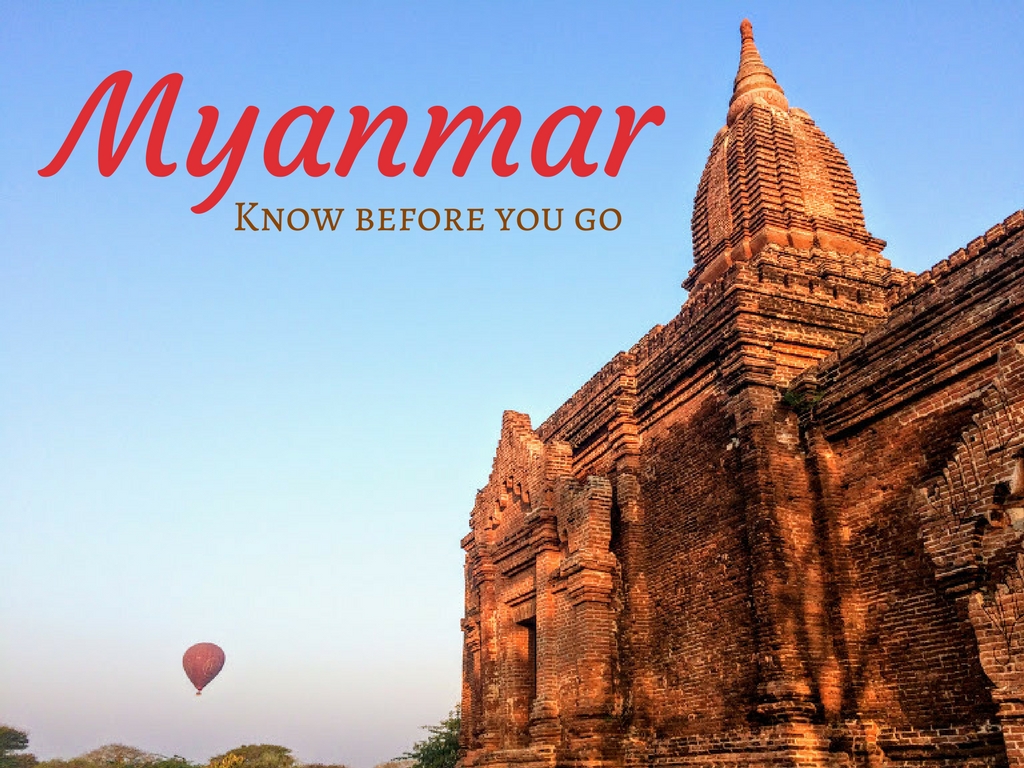 Times change: Since writing this guide, the political situation has changed in Myanmar. Some adventurous travellers are still visiting, so I'm keeping these guides online. Also, in the hope Myanmar will open once more. If you do visit, check your government's travel advice (it can impact your travel insurance) as well as local advice.
Myanmar is unlike any other country in Southeast Asia. Having only opened up to tourism in recent years, infrastructure can be lacking and travel can be challenging but this won't be the first guide to tell you that travelling through Myanmar is totally worth it.
And now is the time to go.
Spend anytime in Southeast Asia and you'll come across a fair number of old-school travellers who will be only too happy to tell you that Southeast Asia isn't what it used to be. It's an unhelpful comment, given you can't turn back time. Or can you?
Myanmar is regularly touted as 'what Southeast Asia used to be', and now is your chance to get a feel for what backpackers on the original banana pancake trail  experienced 'back in the day'. If you take just one thing from this guide, it's to go now. Before everybody else does. And they will.
In the meantime, after spending 3 weeks in the country, here's my guide. You might also like my guide to The Best Places to Visit in Myanmar (with itineraries).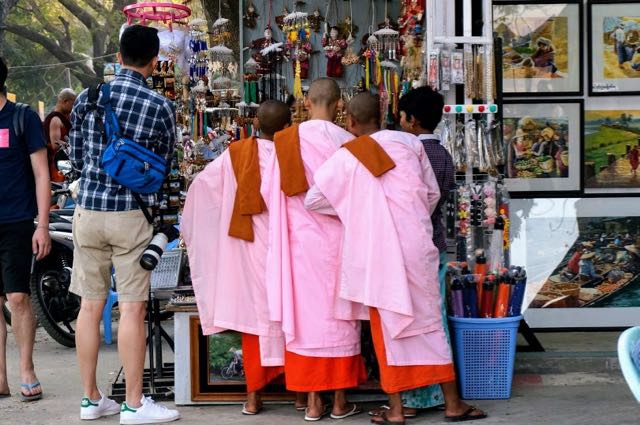 Visas
You'll need a visa…and it's simple to get online – Myanmar may be behind on the travel circuit but its ahead on visas. To get one, go to the official e-Visa website. You'll need to upload a passport photo and pay a fee of $50.
It takes under 10 minutes to apply and you should get approval within 3 working days. However, my approval came through in just 6 hours.
Print out your e-Visa letter, show it when you arrive and you're in.
Your e-Visa letter is valid for 90- days from the date of issue and allows you a 28 day stay in Myanmar.
The e-Visa is available to travellers from 100 countries. Check on the eVisa website for the up to date list.
Getting a visa from your local embassy may be cheaper – if you want to save some money, applying for a visa via your local Myanmar embassy may be cheaper. For example, the cost is just £14 in the UK but $40 in the USA, so do your maths and don't forget to factor in mailing costs.
Getting to Myanmar
You have 6 points of entry in Myanmar – they are:
By air – Yangon International Airport, Mandalay International Airport and Nay Pyi Taw International Airport.
By land Tachileik land border crossing, Myawaddy land border crossing, Kawthaung land border crossing.
All of the land crossings border with Thailand.
You'll need to name your intended entry point on your e-Visa application and although you can then enter from a different point, it might take longer to process your visa on arrival.
Flying into Myanmar from Southeast Asia is very affordable – I found flights from Bangkok for as low as $30 and flying into Myanmar from Southeast Asia usually costs under $50 (if you don't book the day before). I use Skyscanner to search for cheap flights and almost aways manage to find a deal, though do be aware of dynamic pricing (sudden price hikes) when searching for flights.
Flying in and out of Yangon is cheaper and has more connections than Mandalay – I flew in and out of Yangon from Bangkok and completed a circuit around Myanmar. I'll be sharing my itinerary in a future post.
Getting around Myanmar – Long Distance
Myanmar's local transport options may be frustrating (more below) but the long distance propositions are much more appealing.
Distances are far, road travel is slow and flying is affordable so it may be your better choice – I only realised towards the end of my trip that you can generally get between locations for under $50 one-way. So, if you're short on time, fly.
You can still book flights the old-school way by wandering into a travel agent (although I still used Skyscanner to book all my flights).
There are many airlines in Myanmar and although I'd not heard of any of them, none of them killed me. I tried Air KBZ and Mann Yandarpon. Both included free checked luggage and a snack box.
Flying within Myanmar is a bit like flying in the 1970's (I imagine) – check-in involves ticking people off a list of printed names, baggage claim can mean leaving the airport and grabbing your bag off a trolley by the plane and flight announcements are made by a person holding up a sign and calling your flight (in incomprehensible English). It really is an experience. And a lot of fun if you don't let it get you stressed.
Buses in Myanmar are affordable with competing companies and a range of luxury levels. I took JJ Express, the VIP bus, more than once and would recommend it.
Most buses travel overnight which is great for not losing a day of sightseeing, but isn't so great for sleep. Also, you'll tend to arrive at stupid o'clock in the morning and won't be able to check into your hostel or hotel until 2 p.m. That's a lot of hours waiting for a 'top-up' nap.
Consider if it will be cheaper to fly: getting to Inle Lake, I'd booked a room for the night of my bus journey, so I could check in and nap straight away (around 5 a.m.). In hindsight, combined with my bus cost, it would have been about the same price to fly. And I wouldn't have lost a night's sleep.
Buses are colder than hell frozen over – the luxury buses will give you a blanket but wear your warm layers. All of them.
Even the VIP bus doesn't have a toilet onboard so expect to stop every few hours for a food and toilet break – a bit frustrating if you're trying to sleep through the night.
You will mainly booking buses through your hotel, hostel or guesthouse – they will usually charge a fee but be aware that the fee can vary dramatically – my hostel in Yangon charged almost $10 for a $20 bus ticket. Not cool, Little Yangon Hostel. Not cool.
Check your ticket with a second local person – bus and boat can sound quite similar to the untrained, local ear and had I not checked, I'd have been sat on a day bus instead of sailing up the river on my way to Mandalay. By checking after I bought the ticket, I was able to get it swapped to the right one.
Here's a video of my trip from Bagan to Mandalay by boat:
Check whether pickup is included in your ticket price – this really does vary depending on destination, mode of travel and company. Try to find a company that does include pickup as taxis are extortionate (see below).
Booking buses online is more difficult – There isn't one handy online booking portal and the ones that do exist have a limited number of tickets. If you're told they're sold out, it doesn't necessarily mean the bus is full. Try booking elsewhere.
If the company had a Facebook page, message to book without fees.
There are more interesting options than taking the bus or a flight – I took the slow boat (12 hours) from Bagan to Mandaly, which was a highlight of my trip. I wish I'd had the time to take the train, too. Just don't expect any modern, fast or air-conditioned.
Local Transport
Myanmar is still developing and this is most frustratingly evident in the local transport.
With limited public transport, taxis will be your main way of getting around particularly for getting to and from airports and within cities like Yangon and Mandalay.
Taxi prices are beyond extortionate – prices are set on the spot (after a quick 'how much can I get away with' calculation) and you're going to have to negotiate. Hard. It's not uncommon to hear rates of $1-$2 per kilometre. Often the taxi to and from the airport/bus will be more than you paid for your flight or intercity bus.
Package travel tourists aren't helping with prices – on a short two-week holiday, many package tourists don't think twice about handing over $10 for a 5 minute ride, setting the base price higher for everyone. If you're a package tourist reading this, please haggle.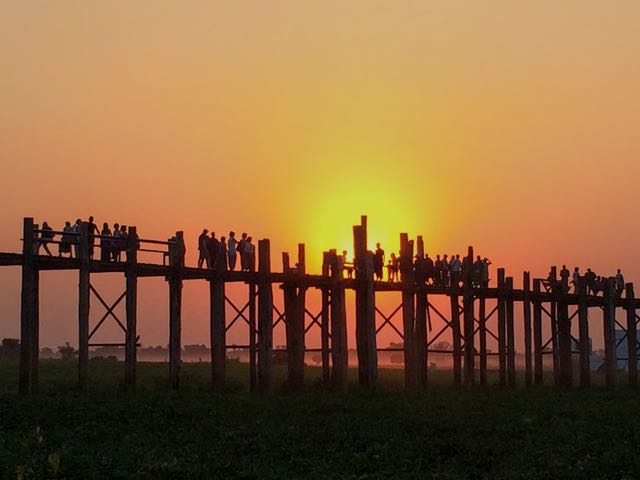 Taxis for the day may be your better bet – I paid $35 for a day of sightseeing in Bagan and $28 for a few hours in Mandalay.
Hiring bikes and e-Bikes (electric motorbikes) outside the cities is much cheapest but beware of the dust – Myanmar is by far one of the dustiest places I've visited and after a while, almost all tourists develop a dust cough. Pack sunglasses and something to cover your mouth.
Don't take an e-Bike if you can't handle it – otherwise you'll be one of the many tourists walking around toting head to foot road rash and bandages.
The big cities are gridlocked so walking may be quicker – Yangon has some of the worse traffic I've ever experienced. 1.5 hours to cover 15 km should give you an idea of what I'm talking about. The time recommended for getting to the bus station (22km away from the centre) is 2.5 hours. I ended up seeing all of the sights (over a distance of 16 km) by foot because, side by side, I was walking quicker than the cars were moving.
Car quality is hit and miss so don't count on air-conditioning and leather seats –  that 1.5 hour trip in Yangon? All done in 38 degree heat with nothing more than the heat of the engine fan to 'cool' me down,
Tuk tuks aren't really a thing but there are shared jeeps in some spots like Ngapali beach.
Money and ATMs
You can use 2 currencies in Myanmar – dollars and the local money, kyat (pronounced 'chat').
If you're going to use dollars, they must be pristine – despite the fact that the local currency looks (and feels) like it's been pulled out of a butt-crack (sorry for the visual), you can't use anything other than brand new dollars. What's pristine/brand new – unfolded, uncreased and newer than 2006. You might also have trouble changing bank notes with the AB CB serial numbers (I've no idea why).
Using kyat is likely to be cheaper because the USD exchange rate is casual – somewhere between 1,300 to 1,400 kyat, the exchange rate is usually applied on the spot, probably depending on how rich you look.
There are ATMs and they mostly work but make sure you have money before turning up at more remote spots like the beach. The ATM was broken for 2 days when I was there and everyone ran out of cash. Fortunately, local businesses were trusting enough to chalk up tabs. Good job or people would have starved.
You'll pay an ATM fee of about $4 for every withdrawal which is in addition to any fees your bank might charge. Don't waste time traipsing around to find a bank with lower fees. They're all the same.
And you probably won't be able to withdraw more than $150 at a time.
ATMs dispense kyat only. There are plenty of exchange places around, but mostly the transactions are to change pristine dollars into local money.
Wait for the big cities or international airport to change money back to dollars – I tried to change $100 of kyat into dollars at Heho airport. The lady opened her cash drawer, showed me $3 and shrugged.
Cost of travel in Myanmar
Bad news – Myanmar is a lot more expensive than the rest of Southeast Asia – infrastructure is still being built. That includes guesthouses and restaurants. Businesses are recovering their costs. What does that look like?
Accommodation costs: A dorm bed will set you back around $20-$30 a night. You can get a basic private room with en-suite from around $35 for a single bed. I paid $50 a night in a modern hotel in Mandalay, but I made a last minute booking. $75 is a more realistic price. Popular 'package tourist' destinations like Ngapali beach can cost as much as $100 a night for a 2-star hotel (though there are a couple of hostels there too). On the plus side, you usually get a free breakfast with your accommodation.
Food costs – street food is most affordable – around $1-$2 for a plate of something basic. Local restaurants costs around $2-$4 a meal. Anything remotely westerns (air-conditioning or featuring something like pizza) and you're into the $7-$12 bracket.
Drinks – bottled water is well priced, under 50 cents a litre. Beer is also cheap at a couple of dollars per bottle. And I quite enjoyed the gin and tonics at around $3 per drink.
Transport – I've already covered above.
Generally prices are going up in Myanmar (with the exception of hostels, which have bought the cost of accommodation down for solo travellers) so you're better going sooner rather than later if you want to visit on a budget.
Tipping is not common practice in Myanmar, and it's only ever foreigners who tip…usually North Americans. If you do tip, don't go overboard (did you know it increases the chance of inflation for other travellers as well as the locals). Gifts like pens and western clothes can be great alternatives.
Planning a route and sightseeing
Just because it's on the map, doesn't mean you can go there – there are still parts of Myanmar that are 'closed' i.e. tourists can't go there; and other places you'll need a guide to chaperone you. Check before you make plans. The availability of tourist buses is usually an indicator of whether an area is closed or not.
Getting off the beaten path is difficult – even within the 'open' parts, Myanmar's developing infrastructure means that there are set routes you can travel and you'll struggle to go any other way. I found this out after spending 2.5 hours trying to plan a route between two major tourist towns that should have been feasible but wasn't because the transport links didn't work that way. I had to go via Mandalay first, like all the other tourists. Of course, you can do go off route but be prepared to throw down +$100 for a private taxi.
Work your sightseeing around the heat – Myanmar is famous for its sunrises and sunsets, which also corresponds nicely with staying indoors (perhaps for a nap or pool dip if you have one) during the mid-day heat.
Pack some 'temple clothes' – as a very minimum have knee covering and shoulder covering clothes (and not just a scarf) for visiting temples, of which Myanmar has many.
Speaking of temples, expect to go barefoot a lot…on seriously grubby floors. In temples where birds are nesting or monkeys and dogs hangout, you can expect to step in a lot of animal faeces while you're exploring Myanmar's temples. Socks aren't permitted either so you just have to get used to it. I'd recommend some wash-down shoes (not Birkenstocks, like I wore) and a foot file will help you grate away the dirt at the end of each day.
Be a considerate temple visitor – most of Myanmar's temples are places of worship, not just sights for tourists. Respect 'do not climb/do not enter' signs and keep your voice down – people will be praying. They don't want to hear you have a discussion about where you're going to eat dinner.
Expect to pay a tourist tax…ahem… 'entry fee' for Bagan and Inle Lake – this fee is charged to all foreigners and there's no getting around it. The fees are: Bagan – $20; Inle Lake – $10.
Here's what my day on Inle Lake looked like:
Adjust your expectations for Yangon and Mandalay authors and poets have created an expectation of languishing colonial charm in the cities of Yangon and Mandalay. While it can be found (moreso in Yangon than Mandalay), it's hidden beneath several layers of dirt and you the sights are carved up by several lanes of fume-filled roads.
Don't expect to be able to walk on the pavement in Myanmar – they are reserved for parking motorbikes or pallets of deliveries. Obviously. You're just going to have to get used to walking on the side of the road, getting beeped every few seconds 'for awareness'.
And speaking of roads, you're going to have to cross by stepping out into a stream of traffic because official crossing points aren't really a thing in Myanmar. The bad news is, you're stepping out in front of cars, which can be more scary than the mass of bikes you'll find in somewhere like Vietnam. The good news is, where the traffic is most dense, it is also at its slowest. Just be alert, step out and maintain a slow, steady pace. Or, as I once ready in a travel guide – look both ways and run like hell.
Accommodation in Myanmar
Hostels are slowly opening up meaning you can sleep cheap(er) than you could a few years ago. When I looked at going to Myanmar in 2011, prices were just too high. No hostels existed and my RTW travel budget simply didn't stretch to +$50 a night. Things are slowly getting better for solo travellers, though costs are still way north of what you'll pay elsewhere in Southeast Asia.
Western hotels can be a little soulless and strange as I experienced in Mandalay. Often empty, you might find there's more staff than other visitors, which can be pretty awkward when you have 5 staff fighting with you to put your bread in the toaster at breakfast (I didn't win that one).
Guesthouses are rustic but charming – I enjoyed my guesthouse stays more than hostels and hotels in Myanmar. The accommodation gave a feel for what a local house might be like (basic but beautifully decorated in teak) and the breakfast was usually superior. Once or twice, I even got to toast my own bread. Plus, it's nice to put money into the hands of the locals, not some big brand chain.
Most hostels, hotels and guesthouses provide a towel but you might have to offer up a refundable $10 deposit on check-in. Hotels will also supply some form of toiletries. Some hostels and guesthouses do too, but it can't be counted on.
Beware the curfew – some guesthouses may lock the door at night, leaving you on the wrong side of access to your bed. Check before you go out for the evening.
Food and Drink
The food sucks (IMO). Actually, not just in my opinion. I didn't meet any travellers who raved about the food in Myanmar. Just like the food in the Philippines, which I attributed as having the worst food in the world…until I visited Myanmar.
The food is largely flavoured with fat, salt, sugar and little more. Whilst I personally won't stop complaining about the food in Myanmar (as this fellow blogger suggests), you can get some tips here for improving your food ordering in Myanmar.
There's so much sugar in the food and drinks, you need to be careful your teeth don't fall out. If you aren't a sugar fan and there's an option to skip the sugar (tea, coffee, freshly blended fruit juices), make sure you ask for 'no sugar'.
Salads feature heavily on menus but don't expect a fresh crunch – most salads are marinated and seasoned in oil, salt and lime juice and don't usually feature salad leaves.
You'll probably get sick at least once. I don't want to cause undue fear but hygiene standards are low in Myanmar and almost everyone I spoke to got sick at least once. Sadly, I got struck twice.
Street food isn't as prolific as other places in Southeast Asia but you can find it and it's good. Street food will tend to be about 1,000-1,700 kyat a meal (under $2).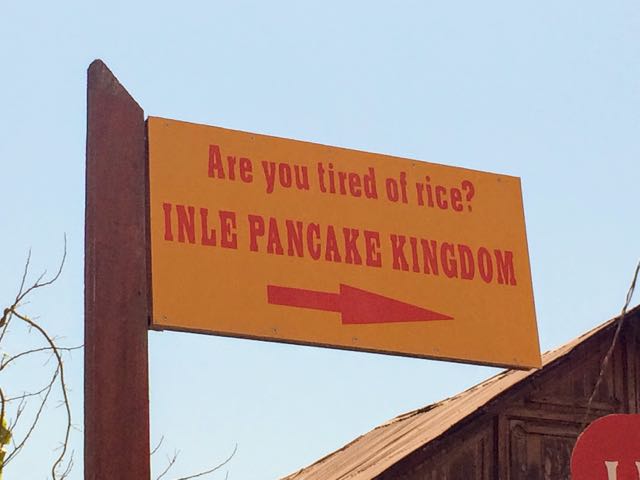 You can't drink the water but most hotels, hostels and guesthouses supply free water either in bottles in your room or via a large water dispenser at reception. Otherwise, bottled water is very cheap.
Alcohol is widely available with beer, rum and whiskey being popular options.
Beer stations are easy to find and fun places to get a drink with the locals if you don't want to sit in a restaurant. I went to a few as a solo female and didn't have a bit of bother.
Be aware that there isn't a late night culture in Myanmar – most restaurants close by 9 p.m. and bars follow suit around 10 – 11 p.m. This is a country where meditation at sunrise is more popular than late night drinking.
Big chains can't be found and brands are in short supply. Myanmar isn't a country of fast-food chains (I saw one KFC at Yangon airport – that was it) and beyond drink brands like Coke and Schwepps Tonic, you're going to be buying local brands and eating from local restaurants.
Stores are small, family owned affairs – you won't find a 7-Eleven. There are a few equivalent 'Grab 'n' Go' stores dotted around, but mostly you're going to buy snacks and drinks from small, local businesses. They can look a bit intimidating, like you're intruding by walking in. Don't worry. Just step inside. They want your business.
Cigars are a thing in Myanmar and they can be very organic compared to what you'd find elsewhere – I visited one cheroot factory where even the glue was made from rice.
You'll also find people smoking indoors – this can be a surprise if you come from a country where smoking in public places has long been banned.
Health and Safety
Myanmar is an incredibly safe county – most of the population is Buddhist and with a belief in karma, crime levels are exceptionally low.
It's one of the safest places I've felt as a solo female traveller and I often walked down dark, quiet streets late at night with zero worries. The kind of places I would avoid everywhere else in the world.
Speaking of solo travellers, there are lots of them in Myanmar so you're bound to meet other people in case you're worried about feeling lonely travelling alone.
I've already mentioned the food risk in Myanmar. I wish I had some tips for avoiding stomach troubles but it's so difficult to pinpoint exactly what it is that makes you ill – both times I got sick, the food and restaurants looked fine.
Do take hand sanitiser – the money is filthy and there isn't always soap in bathrooms so use your sanitiser before you touch anything that will go near your mouth.
Use straws – as a rule, I'm not a fan of using straws (I have an inbuilt system for drinking – called lips) but I made an exception in Myanmar when drinking canned drinks, which commonly have a lot of dirt around the rim.
Watch out for the dust –  I've already mentioned how dusty Myanmar is and I met a lot of travellers who developed a dust cough. I was lucky enough to avoid this one but do carry something to cover your mouth and nose when biking around. These neck gaiters can be useful.
Also take care with your air conditioning – Myanmar can be as hot as Hell (not that I've been to Hell, but people tell me it's beyond warm). Consequently, many travellers take refuge in the a/c in their room but sleeping in low temperatures can make you sick.
Healthy eating can be hard in Myanmar – with so much oil, salt and sugar in the cooking (even in the salads), it can be hard to eat well in Myanmar. Consider taking some vitamin pills.
Fruit is easy to come by so top up your immune system with nutrients that way. However, as it's often pre-cut, look for a seller that has kept the flies away and if it's sluiced with water, make sure it's filtered water.
Keep your water intake up – it's an obvious point but between the heat and dust, feed your body much more liquid than you would normally.
If you do get dehydrated, drink a local rehydration drink like 100 Plus or Pocari Sweat and no, I didn't make that last name up.
You're unlikely to need malaria pills while in Myanmar but check on this malaria map because there is a risk in the very north and south.
Do use repellent to avoid dengue fever – you can read my tips on which is the best mosquito repellent.
Culture
Myanmar feels more similar to India than the rest of Southeast Asia without the safety concerns some solo female travellers may have visiting India…but also without the great food you can get in India.
The local people are exceptionally genteel and not used to confrontation so pack your best manners and also your patience. Travel can be frustrating, hot and slow but remember: you chose to visit Myanmar and that it's not the same as being at home is no good reason to take it out on the locals. Exception: taxi drivers. They're as bolshy as you'll find the whole world over. Haggle. Hard.
You're going to get stopped a lot by locals who want to chat and it's going to be amazing. Tourists are no longer a novelty in most of Southeast Asia but Myanmar is different. Several times a day you might get stopped by a big smile and a 'where are you from?' Have trust: 9 out of 10 times, you're going to get a genuine interaction rather than a request for money, which is more likely at the major tourist sites.
You're also going to get stared at a lot which is usually best dealt with by offering a smile and a mingalabar (hello in Burmese). In a family restaurant, I gathered an entire family of eight onlookers who watched me eat my lunch. A touch intimidating given I have the eating skills of a four-year old.
Burmese English can be hard to understand be patient, listen hard and if you're paying for a guide, make sure they have good clear English before you book.
Myanmar or Burma? What's the deal? Read this article by The Economist to find out.
Everyone wears skirts – men and women alike – the longyi, a long skirt, is the popular traditional dress in Myanmar for both men and women. Many tourists pick one up as they're breezy in the heat and tick the 'conservative wear' box. I didn't get one (I'm too inelegant at getting into tuk-tuks/boats and up and down temple steps for a skirt) but Jodi from Legal Nomads loved hers.
Myanmar is a conservative country so you'll blend better if you dress conservatively (covering your knees and shoulders). I'm sad to say, this is mainly advice for women but, when in Myanmar, do as the locals. You will find people in shorts and strappy tops in the cities and at the beach but elsewhere it's less common.
You won't find a friendlier bunch of monks – in Laos I was 'shooed' onto the other side of the road because, being a woman, I dared to walk on the same pavement as a monk. I've been weary of the purple and orange robed people ever since. Myanmar refreshed my view. I talked with several monks, who were friendly, smiley and more than happy to pose for photos with tourists.
Expect to see a lot of red spit on the floor – the locals love their betel nut. What is it? A local nut that's usually wrapped in a leaf, seasoned with flavours such as lime and then chewed. It's probably popular because it delivers a hit that's equivalent to six cups of coffee. But, as well as being dangerous when chewed long term, the by-product is bright-red saliva…which is spat out. Sometimes into bins. Most times onto the ground.
And with red spit comes red teeth – the people aren't bleeding to death, but it's a pretty gruesome sight if you haven't witnessed it before.
There is some begging by children in Myanmar and as heartbreaking as it is, you shouldn't give to the children. Why not? Read this brilliant article by Uncornered Market.
Other practicalities
Laundry is usually done by hand and is charged per item rather than kilo so try to turn up with your clothes laundered and unless you want to hand over $20 for a load of washing, select the items you really need washing and wash your smaller items yourself as you go.
Toiletries are easy to come by but tampons are not so bring what you need with you.
You can't flush toilet paper or sanitary products – this is very common in developing countries where the plumbing system can't cope with anything other than bodily fluids. If you're the kind of person who thinks, it's ok and can't be that bad if just one person (you) does it, consider the fact that you're not the only 'one person' doing it. If you can't deal with putting paper in the bin, stay home. Seriously.
Myanmar has that weird half-hour difference to its time zone so it's 6 and a half hours ahead of GMT.
The plug sockets of Myanmar should be the gold standard – you'll find most sockets have multiple adaptors for European and North American 2-pin plugs as well as my very own British three-pin. I travel with the Apple World Travel adaptor pack or this Skross International Travel Adaptor), which makes life even easier.
Wi-fi sucks in Myanmar so you either have to get over it or, better still, buy a local SIM. You can get one at most airports when you land or in one of the shops in the street and the shop staff will have you set up in about 5 minutes. I chose Ooredoo, which gave great coverage and speed. You can read more about your Myanmar network choices. Still, with 1 mbps considered to be a 'fast' connection, don't expect to be downloading video any time soon. At times I could barely refresh my Instagram feed.
You'll be better with a backpack than a suitcase – thanks to having just had ACL repair surgery, I travelled through Myanmar with a suitcase, which wasn't ideal on dusty, sandy, uneven roads. Getting in and out of myriad forms of transport and hefting it up many steep staircases wasn't much better. You can find my review of the best luggage for travel.
You may have reached the end of this guide and be left thinking that this hot, developing, dusty country with bad food and frustrating travel is a whole heap of hard, expensive work. And you're right. Things aren't the same in Myanmar as they are in the western world – or the rest of Southeast Asia, for that matter. And therein lies the charm. Tourism levels are low and the sights are superlative (check out my article about Inle Lake if you want proof).
I can't tell you whether Myanmar is the Asia of yesteryear (I'm not old enough to have travelled in the 1960s) but with the right patience, positive attitude and urge for adventure, I can tell you that you're going to explore a very different side to Southeast Asia. And you're probably going to love it.
Related Articles:
Like this? Share it on Pinterest...