Vietnam is an incredible country and a popular tourist destination for a reason. The rich culture, good food, and lush nature are perfect for any traveler. Each city in Vietnam is unique, with different sights to see and food to taste. It might be hard to decide where to go. Here are ten must-visit cities in Vietnam that I recommend.
1. Hanoi
Hanoi is the capital city of Vietnam, and definitely, a place that I recommend every tourist to visit. Just like Ho Chi Minh City (below), ordering at least one bowl of pho is a must. Once you're set, there's no limit to the number of sights to see. The Imperial Citadel of Thang Long is a popular tourist destination and a UNESCO World Heritage Site. The Perfume Pagoda is also another incredible work of architecture believed to be built back in the 15th century.
2. Ho Chi Minh
You can't go wrong with visiting Vietnam's largest city, Ho Chi Minh City. The city is sprawling with culture and life. Make sure you eat a bowl of pho before adventuring to the many city landmarks. There are numerous museums dedicated to preserving the history of Vietnam. The Golden Dragon Water Puppet Theater is a great place to enjoy the ancient art of water puppetry. When you get hungry again, the Bến Thành Market is the place to go if you're looking for fresh fruits and vegetables.
3. Hội An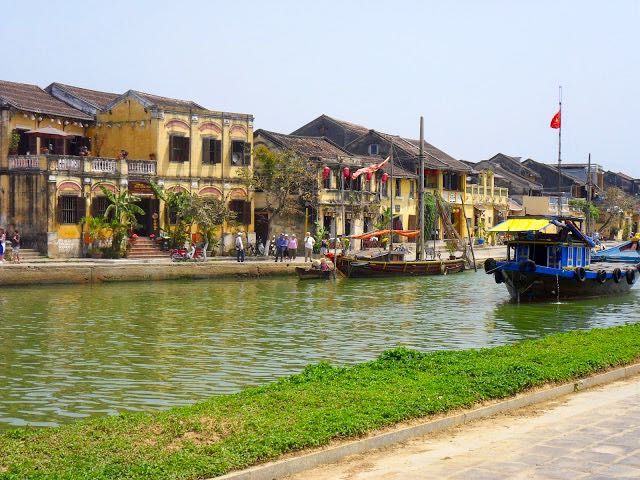 Hội An is a well-known city in the Quảng Nam Province. It's also known as the bánh mì capital of Vietnam, so make sure to grab an iconic sandwich while you're there. If you want to get a tan, there are many beaches nearby for you to relax. The city itself is also filled with wonderful architecture. Another spot you should not miss is Hội An Silk Village, a little villa where you can learn about the weaving techniques of Vietnam and purchase beautiful souvenirs.
4. Huế
Huế is the capital of Thừa Thiên Huế Province. I absolutely recommend you try Bún bò Huế, a rice noodle dish that originates from Huế. The city has a cuisine that stems from the formal royal court, so you know you're in for a culinary masterpiece. You can tour the city's Imperial Citadel, which gave the city its mastery in cuisine. Once you're tuckered out, you can head outside the city to relax in the Alba Thanh Tan Hot Springs.
5. Cao Bằng
Cao Bằng is a city in the northeastern region of Vietnam. It may seem like a city with not much for tourists, but it has temperate weather with lush, mountainous greenery all around. An easy way to experience local culture is by visiting some of the quieter cities in the country. It is a great starting point to explore the beautiful waterfalls, caves, and villages of the Cao Bằng province.
Try out some of the street food while you are there. Bánh áp chao is a popular street food in Cao Bằng made of rice flour batter and filled with duck meat. If you are feeling adventurous, try out the Bánh trứng kiến, a kind of ant-egg cake.
6. Tây Ninh
Tây Ninh City is in the southeastern region of Vietnam. The city and province are well-known for Cao Đài, an indigenous Vietnamese religion. I highly recommend visiting the Holy See Temple when you visit the city. It's the main Cadaoist church with gorgeous architecture. One of the great things about traveling is experiencing the local culture, and learning more about the Cao Dai is a great way to do it in Vietnam.
7. Da Lat
Da Lat is one of the most popular tourist destinations in Vietnam. French colonial architecture is prominent in the city. One of the many works of architecture to see is the Da Lat Railway Station. It was built in 1938 by Moncet and Reveron, two French architects that added traditional designs of Cao Nguyen buildings in Vietnam. If you want to experience some nature near the temperate city, the Pongour Falls and Datanla Falls are there for you. Da Lat is also well-known for its flower festivals.
8. Buôn Ma Thuột
Buôn Ma Thuột is the largest city in Vietnam's Central Highlands. If you love coffee (and I sure do), make sure to add the coffee capital to your travel list. Coffee lovers can spend forever here trying out the many local brews. The city is also home to The World Coffee Museum, perfect for any bean lover to enrich their knowledge of coffee. With cafes around every corner, it is easy to find coffee and impossible to find a bad cup. Pair it with the delicious local street foods, and you are in for a culinary treat.
9. Da Nang
Da Nang is the perfect city to visit for a great beach day. My Khe Beach is a beautiful, sandy coastline that can get crowded. If it gets too busy there, the white sands of the Non-Nuoc Beach are only a 20-minute drive away. The Fifth Military Division Museum of Da Nang houses tanks and aircraft used in the past. The Da Nang Cathedral is also something unique to see. You will never see a beautifully designed cathedral so pink. Once the sun starts to set, visit the dragon bridge for a breathtaking view of the city and water.
10. Cần Thơ
Cần Thơ is the largest city in the Mekong Delta. The floating markets of Cần Thơ are perhaps one of the most intriguing places to go shopping. It is a perfect place to buy fresh fruits and vegetables, with the experience of shopping on boats alone making it worth the cost. Even on land, the markets in Cần Thơ are a must-see. The Tay Do Night Market is a great place to go at night for some souvenirs, clothes, or street food. I suggest trying sugar cane drinks, a popular refreshment in Cần Thơ.
11. Bến Tre
Bến Tre is another city in the Mekong Delta. It is famous for being the coconut capital of Vietnam, with the Bến Tre Province having over 44% of the coconut area in the country. Those with a sweet tooth would want to visit the coconut candy factories in town. The Bến Tre floating restaurant, a massive three-story dragon boat restaurant, is quite an experience in this city. Bến Tre is also a great starting city to explore the Mekong Delta.
12. Cà Mau
Cà Mau is the southernmost city of mainland Vietnam. The hustle and bustle of tourist areas can make one weary, and Cà Mau is a great place to unwind and recover. There are a few beaches near the city that do not get so crowded. One of the main tourist attractions here is the Ngoc Hien bird sanctuary. The 130-hectare park contains many different birds and vegetation in the mangroves. From August to November, the bird sanctuary gets flooded. You will experience touring the lush greenery and wildlife on a boat.
13. Điện Biên Phủ
Điện Biên Phủ is a city for those who want to learn more about the history of Vietnam. While the town is small, it is a great place to experience the local life of Vietnam. There are many historical landmarks to visit while you are there. The A1 Hill is the place of the final victory of the Viet Minh, a critical point in the battle of Điện Biên Phủ. Victory Monument, War Cemetery, and French War Memorial commemorating the event are also erected in this city. The Điện Biên Phủ Museum is there to see the wartime equipment, weaponry, and paraphernalia during the 1954 battle.
14. Mũi Né
Mũi Né is a coastal fishing town known for its beautiful white-sand beaches, sand dunes, and fresh seafood. I can't emphasize seafood enough. Those who love seafood should visit. Many restaurants will cook fresh seafood straight from the sea to your plate. The fishing village is perhaps the perfect place if you are a fishing enthusiast and would want to be inspired by the enthusiasm of locals in hauling large catches of fish.
15. Kon Tum
Kon Tum is a city near the borders of Laos and Cambodia. It's a perfect highland city to unwind and relax in after a tiring journey across Vietnam. It's not a popular tourist destination, so the rush of more popular cities fades to a quieter local culture. The wooden church is an interesting sight to see. In the Kon Tum province, the main religion is Roman Catholicism. It's also a great place to grab some signature Vietnamese coffee.
Vietnam is an incredible country to backpack through, filled with rich culture and nature. No matter where you go, I am sure you will come out satisfied. Each city is a new adventure, and hopefully, this guide helps you decide where to go.
That's my guide to the best cities in Vietnam. Got any questions or suggestions, let me know in the comments below.
Related Articles: