I knew within seconds of arriving at the airport that I'd missed my flight, which was funny because I turned up two hours before I was due to fly.
Nevertheless, as I searched the departure-board looking for my flight from Milan to Manchester it rapidly dawned on me – I may have been ahead of time but that's little use when you're at the wrong airport.
However, all is not lost. For every flight I miss and every bus connection I get wrong, I learn. Here are 12 tips for what to do when you miss your flight.
But first…
How I missed my flight
There really is no good reason why a person who travels as much as me should do something so painfully stupid, but the reality is that sometimes it happens – in the same way that people who regularly drive can run out of fuel, commuters can miss trains – frequent flyers can miss flights.
I arrived into Milan by air, flying with Ryanair (for cheapness, not pleasure). I also planned to return to the UK by reverse identical process. That meant catching a bus to the low-cost airport, Bergamo, which sits 1 hour outside the city.
Yet, the night before my flight I was enticed by the promise of an alternative means of getting to the airport. For just €11 instead of €5, there was an airport express train that took 30 minutes instead of 1 hour. That meant an extra half an hour in bed. Even better, the train station was walking distance (to catch the bus I needed to take a metro).
Sold, I went to sleep with my new plan in place.
I've missed flights before, often by a cat's whisker, so these days I try to give myself plenty of time to get to the airport (previous lesson learned). So, three and a half-hours before my flight was due to leave at 1.30pm, I set off for the Airport Express. I missed the first train by seconds courtesy of a man who seemed to have never used a train ticket machine before. But, I quashed my impatience. I had time and although it was 30 minutes to the next train, it was a good opportunity to have a second cappuccino.
The train journey passed quick enough and I strolled into the terminal with the casual saunter of someone who has time to play with. I didn't need to check-in – I had my boarding card pre-printed in my bag (a requirement when you fly with Ryanair unless you want to get stung with a €70 fee for Ryanair to issue it at the airport). And that's when I realised. There was no flight to Manchester at 1.30pm. I checked again, this time looking for airline and destination. There were no Ryanair flights at all.
I sighed heavily with 100% confidence that I knew the source of my problem. I looked at my train ticket – I had taken the Malpensa Express, which surely meant I was at Malpensa Airport, not Bergamo where my flight was departing from. Turns out there are two low-cost airports in Milan.
And that's when I went into 'disaster recovery' mode.
1. Don't panic
Keeping calm can be hard when you miss a flight or are about to, but freaking out: Will. Not. Help.
Whether you've been stuck in traffic, were working on the wrong time-zone (happened to my dad once), get stuck by Thanks-Giving traveller volumes getting through security in the USA (happened to me once), or turn up on the wrong day (also happened to me, though I was thankfully a day early), no amount of panicking is going to improve the situation.
What the circumstances really require is logical problem solving, a frame of mind best achieved when you're calm and can direct all of your bright brain cells towards fixing the situation.
2. Have a reality check – are you really doomed?
Clearly, if you're a day late or the flight has left the tarmac there is very little you can do to catch your scheduled flight – skip ahead to point 3.
But sometimes a situation is recoverable. In my case, turning up at the wrong airport but with some time to spare, it was possible in theory that I could perform a quick inter-airport transfer or take a taxi and still catch my flight.
With that in mind, you need to shift quickly into information gathering mode. Inside 5-minutes try to establish.
Where you are: In my case, Malpensa.
Where you need to be: For me, Bergamo.
How far you need to travel: 70km – hey, when I screw up, I do it properly!
Can the distance be covered in the time available? With the skilled tuk-tuk drivers in India – perhaps. In mid-morning city traffic in Milan – unlikely.
And, vitally, what's the cost of fixing the error by transport? When taxi drivers hear the delightful news that you're a) in the wrong place and b) need to get somewhere else fast, angels sing in their wallets. I had to be in Bergamo within 1 hour to stand a chance of catching my flight, which was pushing it with 70km of city traffic to cover. The driver started with a price of €160. There was room for negotiation but I knew I would blow 10 minutes quibbling only to pay €100 or more to maybe catch the flight…it was clear enough to me. I really was doomed.
3. Early acceptance is the best tool
Because my flight from Bergamo had not actually left, I had to fight my natural instinct to focus all energy (and money) on rectifying that problem i.e. getting to Bergamo at any cost. The plus point was that even if travel hasn't taught me to check my airport before travelling, I'm better at accepting a bad situation when it has happened. As much as I would have liked to have raced against the clock, the chance of making the flight was so unlikely I needed to accept the situation, recriminations and self-loathing parked until a more productive time, and I set to work on Plan B.
Likewise, if your flight has gone, it has gone. Even though anger may boil to the surface, taking your frustration out on the ground staff or spending half an hour pleading with them to do the impossible (even more tempting if the gate has closed but your flight hasn't left), just burns time and energy. Move on.
4. Ask the ground staff about your options
I once missed a flight from New York to London (on that occasion, not my fault) and the lovely ground staff at Virgin Atlantic smiled, checked availability of the next flight and simply popped me on it, no harm done, no cost incurred. If you have a flexible ticket, simply catching the next flight can be your best option, so do ask.
When I turned up a day early for my flight from Japan to Malaysia, the ground staff would have been happy to put me on that day's flight instead, except frugal me had saved $100 by booking a restrictive ticket, which meant I couldn't change my flight.
With low-cost airlines, there is little to no likelihood of you being able to transfer your ticket. By all means, ask, just don't be alarmed when they laugh out loud at your request.
5. See it as an opportunity
When you suddenly find yourself in a country with no flight-out, it can induce panic, but the reality is that you suddenly have more options than you did when you thought you were going to catch your scheduled flight.
Booking a new flight, a train, car-hire, a hotel, an adventure somewhere completely unrelated sprawl out before you and unless you have a strict itinerary (to be home for work, the kids or an event), it's worth considering your options more broadly.
In my case, I had plans back in England for my sister's 30th birthday party, so the next flight out to Thailand wasn't a real option for me, which meant I was in the market for a new airline ticket for Manchester. But if I didn't have plans, the late evening flight out to Asia excited me.
6. Check the departure boards
Although I found myself unwittingly in Malpensa without a ticket, I did have one thing going for me – I was at an airport, and rather than screeching out of arrivals at pace, it made sense to see what travel options were available to me without having to head across the city, incurring expense and chewing threw time as I did so. Malpensa may not be home to Europe's biggest low-cost carrier, Ryanair, but judging from the departure boards, low-cost carriers Easyjet, Whizz and Fly Be use Malpensa…and, as luck would have it, there were two flights that day to Manchester – the next one leaving at 3.15pm.
The departure boards may not give you the news you want, but you should still stay-put until you complete the next two steps…
7. Find Wi-Fi
I wrote some time ago about how to turn up at the airport and take the next flight out and I was pleased I'd done that research because I suddenly (and unintentionally) found myself if that situation.
I already knew (from research and experience) that on-the-day tickets booked at the airport can be expensive. It can also be time-consuming dashing from airline counter to counter seeking quotes. That's where the Internet proves it's true value as your travel emergency friend.
The problem is that airport Wi-Fi often sucks (my experience booking a last-minute flight out of the Philippines taught me that). When my third attempt at registering for the airport's 15-minutes of free Wi-Fi failed, I gave up and switched on my data roaming.
It is a rare exception that I use the world's most expensive method for surfing the web, but I had long strayed into the territory of "This is going to be one of those expensive travel days" and adding some data costs to the event was unlikely to make much difference. Conversely, burning an hour of time finding good, free Wi-Fi could have had a big impact on the availability and price of the next flight out.
And, if you're no longer looking for a flight, the internet is the best source for comparing car hire, train routes, nearby hotel costs and accessing maps.
8. The search for a new ticket…or route…or hotel
Even thought I was at the wrong airport, there were two other airports in Milan (Bergamo and Linate) and I set myself the task of finding the next cheapest flight out of the city, with one-eye on the handily located and timed Fly Be flight to Manchester I'd already spied.
Using Skyscanner (my favourite online flight checker), I searched for flights leaving that day from any airport in Milan to Manchester. And: Bingo. The Fly Be flight to Manchester was available. Of course, the price, at €175 for a one-way ticket was painful compared to the €100 return-flight I'd already booked, but it was the best deal I was going to get on the day (the Skyscanner list of alternative flights starting at €250 one-way told me that). Desperate to secure the (non-deal) deal, I worked away on my tiny iPhone keyboard booking the next flight out.
It may be that the next available ticket is way over-priced or not affordable for your budget – I once had to buy an emergency flight from Toulouse airport in France returning to London, which cost €550 (no, I hadn't missed a flight, the car I was travelling in had broken down and I had a flight to catch from the UK). In that case, check alternative means of transport and even alternative routes. A missed flight opens up options, which can come with different prices attached to them, so it's worth exploring. Staying in the location for a few extra days until you can find a cheaper flight combined with a late-room deal can be cheaper (if your schedule permits – no starving cats or kids at home).
About budget: everybody travels with different budgets and while one person might book an extra ticket with little to no thought to the cost, for some, a couple of hundred euros can leave a significant dent in your funds. However, try not to let it cloud your decision-making. While the expenditure may pinch in the short run, a couple of weeks of more cautious spending (eating ramen!) can get you back on track soon enough. For example, a €200 unexpected spend translates to €6 that you need to save per day for a month to keep to your original budget. Within months the outlay should feel little more than an annoyance in the past.
9. Taking the flight – do everything early
These days, the differences between airlines can be quite vast from what you need to do pre-boarding (print your boarding pass with Ryanair to luggage allowance (1 bag only on some airlines and 2 on others)). So, with that in mind, it's best to check-in for your new flight early, to give you time to resolve any baggage or boarding card issues. Thankfully, Fly Be (a One-World partner) is an upgrade from Ryanair, so things were fine in my case.
10. Relax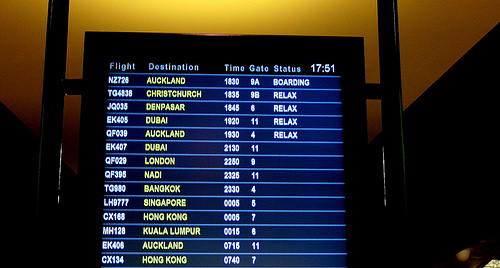 It's easy to let one error cloud the rest of your day, but what is done is done. My extra flight was a cost I could have lived without, but ultimately it was a necessary expense to fix my mistake. With my new boarding card firmly clutched in my hand, and a seat in direct view of the departure screens (nobody wants to miss two flights in one day), I sat down for my final pasta lunch in Italy, determined to enjoy what remained of my day.
11. Check your insurance policy
Sadly, my insurance policy does not include a clause for "Flights missed owing to stupidity" but if you missed your flight and it wasn't your fault, you may be able to recoup some of your expenses. I met a fellow traveller when I was in Japan who missed his flight due to a person jumping in front of his train bound for the airport. With a note confirming the incident from the train company, he was able to use his travel insurance for financial assistance.
12. Learn from your mistake
This is perhaps the hardest part for me. While I don't miss flight regularly (relative to how many I take!), it has happened a handful of times. This was the first occasion when it was 100% my fault and I hope for the benefit of my travel budget that I learn my lesson…time will tell. In the meantime, I at least to get to add some new airmiles to my One World account!
---
Useful Resources
If you need to fix the problem of your missed flight, here are some of my favourite tried (and over tested at airports) travel booking sites.
Planes, Trains and Automobiles
Skyscanner – my all time favourite flight search site.
TripAdvisor Flight Search – if you're not in the mood for getting to grips with a new travel research website (why would you be – this day is already stressful enough), get onto TripAdvisor where you can search across hundreds of airlines through several flight search companies. All in one click.
GoEuro – because sometimes going by land might be cheaper or quicker. Flight search also available.
RentalCars.com – my go-to car rental site because it's a price comparison site. Don't add to your stress by doing a price check on each car rental brand's website. Just check once, here.
Amtrak – for the US, but beware as last minute tickets can be as pricey as a flight.
Rome2Rio – if you're trying to figure out any route and it's associated transport links, this has got to be the best website around
Sleeping
Priceline – great for their Express Deals for excellent last minute deals.
Booking.com is my favourite hotel booking site.
Booking.com – also has apartment rentals if you want something a bit more homey than a hotel.
Trip Advisor (in case you want to check the quality of your hotel before you book – you know, not wanting to make a bad day worse and all that).
Have you ever missed a flight? Share your horror story or tips below.
Related Articles:
Main image: Kitty Terwolbeck