Welcome
Hi, I'm Jo Fitzsimons, the founder of IndianaJo.com.
I started my travel blog on a balmy British summer's day in 2010. I know, it's hard to believe that it was sunny in England, but it was and it felt like a sign that exciting times lay ahead.
Back then, I was a lawyer running a midnight sideline in fiction writing. Killing people, mainly. But it wasn't my only infatuation. While I was typing away, I was staring at the map that occupied an entire wall in my house. Within 2 months of starting this site, I was due to sell my home and take a 12 month sabbatical around the world. Little did I know, I wouldn't make it back. Not into law, at least.
About Indiana Jo
Indiana Jo is a solo female travel blog with a focus on independent travel and adventure travel.
On Independent Travel – as well as helping solo female travellers, Indiana Jo is used by couples, families and friends to plan non-package trips around the world.
On Adventure Travel – adventure means different things to different people. For some, it's skydiving and volcano boarding. For others, it's that first trip overseas. For me, I want my site to help anyone who is stepping out of their comfort zone to explore the world.
On budget versus luxury – I'm no stranger to luxury but I know how to budget too. The trick is knowing when to sleep in a tree-house so you can splurge on a Michelin-starred restaurant.
As of 2019, I've visited over 60 countries across 6 continents.
---
My Readers
Monthly Page Views
+ 275,000 page views
+ 150,000 unique visitors
July 2019
Newsletter Subscribers
+ 4,500 newsletter subscribers
Reader location
USA – 42% | UK – 12%
Canada – 6% | Italy – 4%
Reader Demographics
Female – 65% | Male – 35%
25-34 years – 25% | 35-44 years – 20%
Graduate School | + 150k household income​
Social Media Followers
+ 10,000 followers across Facebook, Twitter, Pinterest and Instagram
Updated
July 2019
---
(Limited) Ways to work with me
After nearly 10 years of experimenting with different ways of working with brands and generating income from this site, I've found a formula that works for me – advertising and affiliate sales. In effect, my readers by giving me eyes on the page and through booking hotels and experiences I genuinely recommend, are paying my travel bill. That allows me to remain independent and able to only recommend travel sites and experiences I personally love and trust.
I appreciate this doesn't give much scope for working with me…unless you're a brand I happen to love. So, if you think your brand aligns with my site – reach out. I'm especially open to:
Destination & Brand Marketing
For me it's all about the travel – if you have a fantastic destination that you want to promote and that I want to visit, we're a good combination.
Affiliate marketing
If you've got a travel product or experience you think my readers and I would love, message me and we can talk about a possible affiliate marketing arrangement.
Freelance writing
I've been out of the freelance travel writing game (by choice) for a few years but if you have a good brand with a good audience and would like me to share my solo female travel experience with your readers, get in touch.
What I don't do
Sponsored posts or sponsored links on my site
Direct advertising – I'm with the wonderful ad network Mediavine and won't be leaving any time soon
Influencer Marketing (the Emperor's New Clothes, IMO)
---
Who I've Worked With & Press Features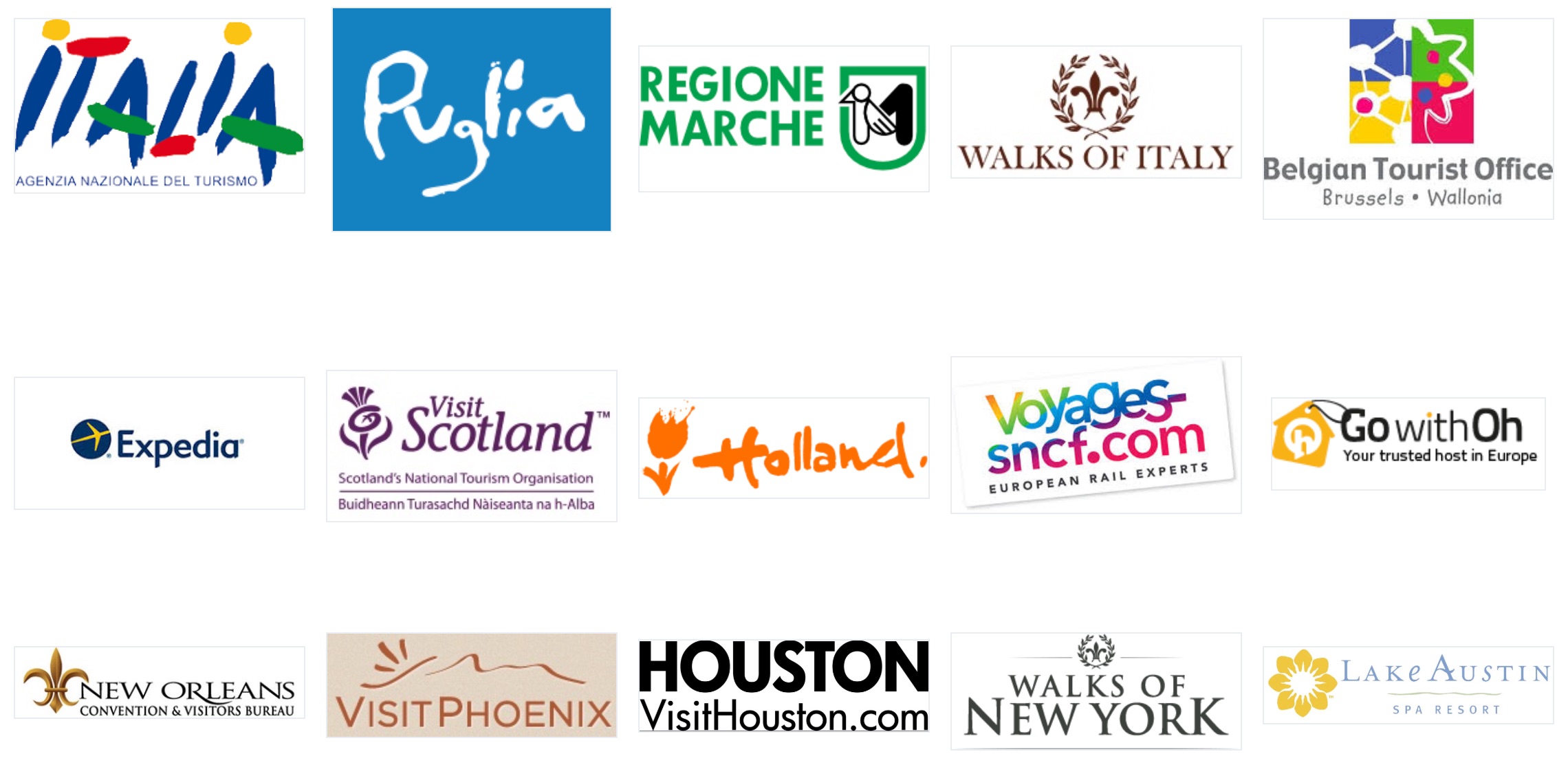 ---
Indiana Jo was named 25th Best Solo Travel Blog in 2017
---
My posts are very pin-able