Welcome
Hi, I'm Jo Fitzsimons, the founder of IndianaJo.com.
I started my travel blog on a balmy British summer's day in 2010. I know, it's hard to believe that it was sunny in England, but it was and it felt like a sign that exciting times lay ahead.
Back then, I was a lawyer running a midnight sideline in fiction writing. Killing people, mainly. But it wasn't my only infatuation. While I was typing away, I was staring at the map that occupied an entire wall in my house. Within 2 months of starting this site, I was due to sell my home and take a 12 month sabbatical around the world. Little did I know, I wouldn't make it back. Not into law, at least.
About Indiana Jo
Indiana Jo is a solo female travel blog with a focus on independent travel and adventure travel.
On Independent Travel – as well as helping solo female travellers, Indiana Jo is used by couples, families and friends to plan non-package trips around the world.
On Adventure Travel – adventure means different things to different people. For some, it's skydiving and volcano boarding. For others, it's that first trip overseas. For me, I want my site to help anyone who is stepping out of their comfort zone to explore the world.
On budget versus luxury – I'm no stranger to luxury but I know how to budget too. The trick is knowing when to sleep in a tree-house so you can splurge on a Michelin-starred restaurant.
As of 2021, I've visited over 60 countries across 6 continents.
---
My Readers
Monthly Page Views
+ 275,000 page views
+ 150,000 unique visitors
Updated: July 2019
Newsletter Subscribers
+ 4,500 newsletter subscribers
Reader location
USA – 58% | UK – 10%
Canada – 6% | Australia – 4%
Reader Demographics
Female – 48% | Male – 52%
25-34 years – 26% | 35-44 years – 20%
Graduate School | + 150k household income​
Device – 76% mobile | 22% desktop | 2% tablet
Social Media Followers
+ 10,000 followers across Facebook, Twitter, Pinterest and Instagram
Updated: August 2021
Covid update: not unsurprisingly, my pageviews have dropped a lot since the global pandemic shut borders and throttled travel. I'm happy to share my current pageviews with you if you want to work together. For now, I've kept my pre-covid pageviews for you to have an idea of my website reach during 'normal' times.
---
Ways to work with me
My areas of expertise are SEO (search engine optimisation) and Pinterest. My aim with all brand promotion is to write evergreen content that ranks highly in Google (and is pinned by pinners for future reference). This means you'll be getting eyes on the page for years after my article is published. Although I have active social media accounts, social media promotion is a secondary focus.
I don't artificially inflate my numbers, 'buy' followers/readers and I'll only suggest we work together if I genuinely think I can help promote your brand. I'm reliable and hit deadlines. I'll also ensure my content is kept up to date long after it's published.
Destination & Brand Marketing
I've worked with major travel brands, PR agencies, tourism boards and destination marketing organisations. If you have a fantastic destination, accommodation, tour, transport, product or restaurant that you want to promote get in contact.
Affiliate marketing
If you've got a travel affiliate you think my readers and I would love, message me and we can talk about a possible affiliate marketing arrangement.
Freelance writing
If would like me to share my travel experience with your readers, get in touch.
What I don't do
Sponsored posts or sponsored links on my site.
Direct advertising – I'm with the wonderful ad network Mediavine and won't be leaving any time soon
---
Who I've Worked With & Press Features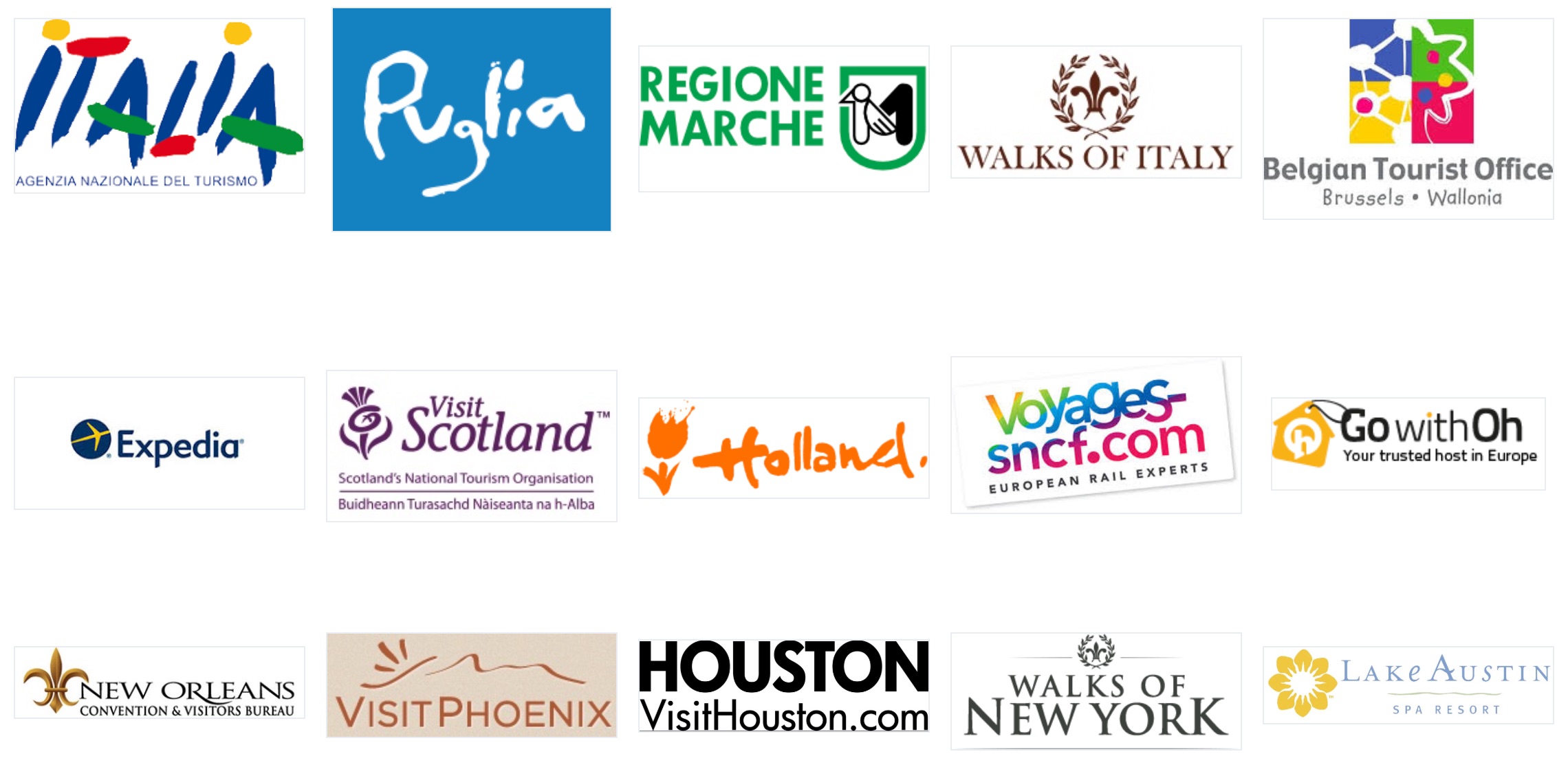 ---
Indiana Jo was named 25th Best Solo Travel Blog
---
My posts are very pin-able