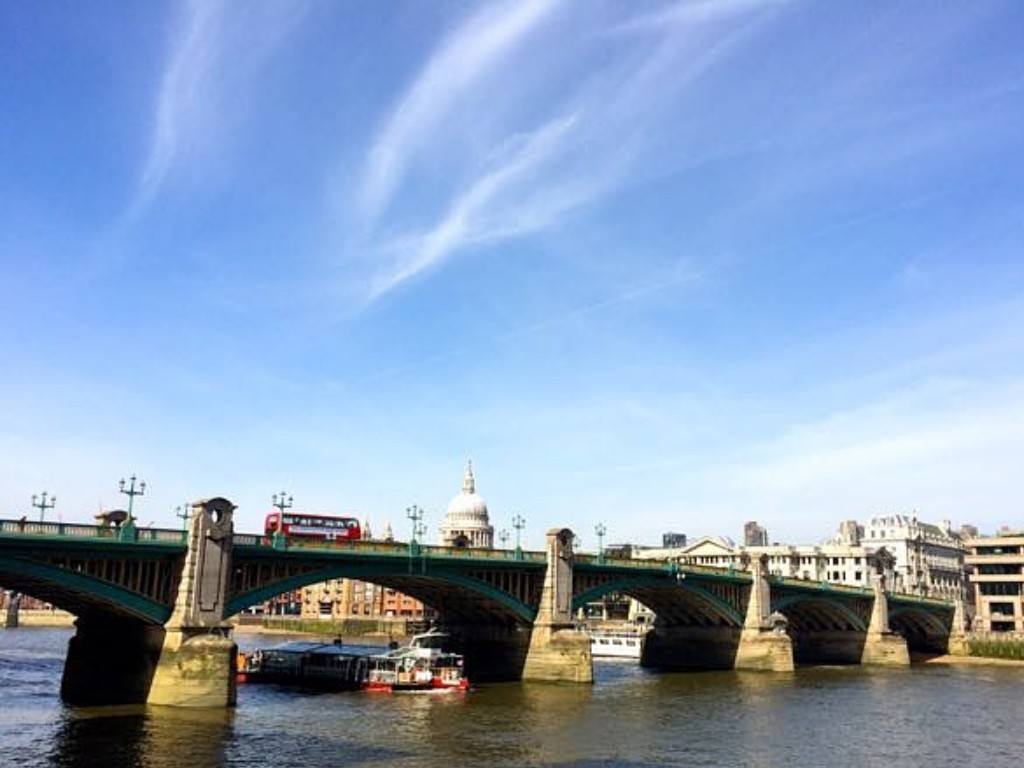 Once upon a time, South London wasn't a very desirable place. It was the part of London that was the home of asylums, prisons and taverns of ill repute. Little did our medieval ancestors know that with these 'features' they were laying the foundations for one of London's most exciting tourist enclaves.
Think of London's attractions and the South Bank is unlikely to show up on your list. Sure, you might mention the London Eye, but beyond that, most newcomers to London don't go South of the River on a first visitor. Which, is why you should.
A lot less hyper than picking you way through the M&M World visitors in Leicester Square, a day spent on London's South Bank walk is not only much more peaceful, it's a chance to get to know London of old. And isn't that part of the reason you're in the city?
With plenty of food stops, more culture than you can consume in a day, the beauty of the River Thames and a few of those taverns of ill repute thrown in for good measure, here's my guide to…
But what do I know about London South Bank? For several years I worked on the South Bank and I walked past the sights, ate in the restaurants and drank in the bars of this part of London. Sure, I'm loving East London's hipster vibe ride now (not least because of the pop-ups – read: more food), but I always gravitate towards South Bank and being there somehow feels like home…probably because of my long lawyer hours, but that's another story.
Walking Note: These sights are in geographical order staring from Borough High Street. The closet Tube stop is London Bridge.
If you're visiting London, you might like my guide to the 50 Best Things To Do in London
1. The George Inn
It's purely because this walk starts on Borough High Street that the first stop is a pub. Promise.
That said, if you're starting your walk first thing in the morning it's going to be too early to visit The George Inn, but you can still pop your head in and get a look at London's last galleried coaching inn. Dating back to 1676 Shakespeare used to stop by for a pint and Charles Dickens immortalised the Inn in his book Littler Dorrit. If you like the look of the pub enough, you can always double back for some liquid refreshment later.
Did you know: the George Inn is of such historical interest, it's a National Trust protected property. So, be careful with the fixtures and fittings, please!
You can find more information here.
2. Borough Market
I was stunned at how much Borough Market has developed in the past 5 or so years since I last visited. Previously, you had to dig around amongst the sprout peelings to find a place to grab a pie or a burger. That's all changed thanks to the new glass-fronted section that you can access from Borough High Street. And, I have to say, I think this change is a good one.
The market has really opened up to its potential with food vendors hawking steaming bowls of food that seem to come from every continent. And all alongside the good old fashioned market traders who'll cleave you up half a kilo of beef if that's what you're after.
Sure, the prices have risen like steam in recent years and you'll want to stab yourself in the eye with a kebab skewer if you visit on a Saturday (assuming someone else in the crowd doesn't do it for you), but it's worth assuming a scrum position and getting stuck in.
Did you know: Borough Market is over 100 years old! Fortunately, the food is much fresher than the market stall pitches.
Local tip: Don't try to visit on Sunday – the market is closed. I visited around 11:30am on a Thursday and the crowds were fine. I went back the next day (oink-oink). It was a Friday and a little later and it was jam-packed.
You can find more information here.
3. Southwark Cathedral
I get the appeal of Westminster Abbey (Royal weddings and all that), but there's something about Southwark Cathedral that makes it one of favourite spaces in London…perhaps it's the proximity to Borough Market. Squeeze through one of the narrow openings between the food stalls of the market and you'll happen upon the cathedral courtyard. There's nothing nicer than taking your freshly bought lunch from the market and sitting under the rare British sunshine having a bite.
Don't worry – chowing down in front of a church isn't going to offend anyone in these parts. All the locals and office workers come here and it makes for a great al fresco lunch space.
After lunch, have a closer look at the cathedral. The location has been a place of worship since 606. And that tall pointy building in the background: that will be that famous Shard. (The same Shard that had caused a £3 per glass price rise in my favourite local because you can now see if from the pub – still shaking my first about that, years later.)
Local Tip: Although you won't go past the Shard on this route, it's omnipresent on the skyline. If you do decide to visit the building during your stay in London, skip the expensive viewing platform, which will set you back £33, even if you do get a glass of Champers as part of your ticket. Instead, head up to GONG, the cocktail bar on the 52nd floor, where you can get TWO glasses of Champers for the price of the viewing platform, and no reservation is required.
You can find more information here.
4. The Southwark Tavern
Before leaving Borough Market for the waterfront, you might want to do a quick double back through the older part of the market and onto to find the Southwark Tavern (on Southwark Street, as you might have guessed).
Whether you stop in to wet your whistle (I promise I'm not being rude), or just pop in to see the cellar, it's a worthwhile pitstop; not only is the pub 150 years old, the basement contains the old debtor's cells once used to keep people who were…well, in debt. These days, you'll be asked to settle your bill at the bar when you order but you can still bundle into a cell to enjoy your drink – with the cell door left unlocked, of course.
Local tip: if you want a cell space, try the pub during the day time. It gets horribly busy with office workers after 5pm and they won't share a cell with anyone. Criminal, really.
You can find more information here.
5. Bridget Jones' flat – above the Globe Pub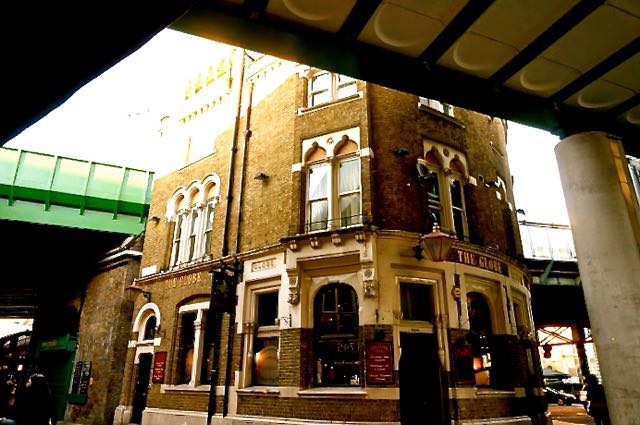 It's pretty rare in London to find huge groups of people huddling outside a pub, starting. Usually, they're climbing all over each other to be first at the bar. What's different with the Globe Pub, which you'll find just outside the old part of Borough Market (at 8 Beadle Street), is that it has Bridget Jone's house above it.
Ok, so I accept that Bridget Jones isn't real and the change of her being able to afford that flat on her publishing wage even if she were real… but, anyway, if you want to indulge your inner Bridget Jones movie nerd, go stand outside the Globe Pub, stare up, take a quick pic of the door…and, if you do want to pull pull away from the crowds, why not pop inside and actually visit the bar!
You can find more information here.
6. The Golden Hinde
Meandering back through the market and on towards the river front, brace yourself for the sight of the Golden Hinde, which has a tendency to slap you in the face (though not quite literally) as you round the corner.
Although it's only a replica of Sir Frances Drake's 16th century Tudor galleon that he used to circumnavigate the globe, you'd be hard pushed to find a more impressive replica (and would you believe there is more than one replica!)
I confess, I've never taken the time to queue up and go on board but I've stared up at the sails (wondering what life on the open ocean might have been like) more times than I can remember.
You can find more information here. And you can watch a video of the Golden Hinde ship tour here.
7. Winchester Palace Ruins
Shame on me – I've walked past these quirky ruins, which comprise a foundation and a lone stone wall complete with a beautiful rose window, so many times, I kind of stopped seeing it…until I did this walk again recently. It wasn't until my inner nosiness made me stop and see what everyone else was looking at that I really stopped and saw the significance of this spot.
Formerly Winchester Palace, the ruins are medieval (13th century) and used to form part of the rich bishop's home. The palace was destroyed by fire in 1814 (yeah, there's a lot of that in London's history) but the ruins remain.
You can find more information here.
8. The Clink Prison and Museum
Lauding itself as the prison that gave its name to all others, the clink is London's original prison that dates back to 1144.
It once housed debtors, heretics, harlots, drunkards (hardly a surprise given the number of nearby brew houses) and religious adversaries. Today, the museum will take you through the prison's history, get you up close and personal with some torture devices (a bit more medieval than you'll have read about in the 50 Shades series) and if you're really up for a scream, there are paranormal events…presumably when the other-side gets in touch to schedule it.
You can find more information here.
9. Wine tasting at Bedales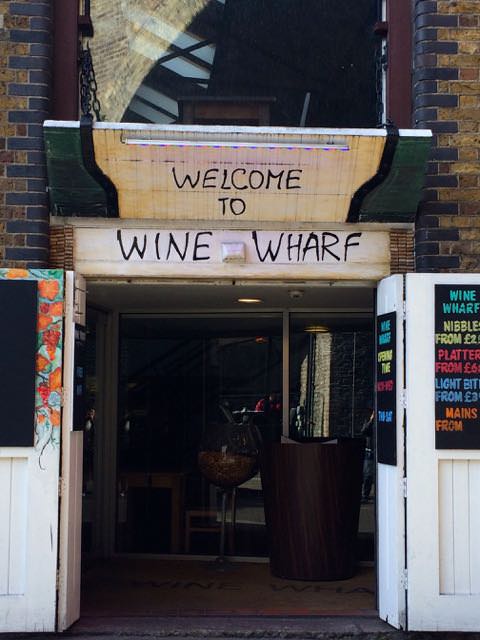 Once upon a time there was a great wine tasting experience in South Bank called Vinopolis, but it sadly closed after 16 years in business. Such is life on South Bank. But don't despair, the wonderful Bedales has an extensive wine menu and shop so you can do all the wine tasting you want just next to Borogh Market.
You can find more information here.
10. The Anchor Pub Bankside
Bumping into bars is definitely an occupational hazard if you're sightseeing in this part of London but at least most of the bars have historical or literary merit, so you're practically obliged to visit, right?
Well, just around the corner from Vinopolis is another beer stop – the Anchor Bankside. The Anchor's records only go back to 1822 making it comparatively millennial in this parts of London, but dig deeper and you'll find a longer history belonging to this venue that includes bull and baiting pits and plague pits (presumably at different periods of time).
All of that gruesomeness aside, the Anchor is most famously reputed to be the place where Samuel Pepys watched the Great Fire of London when he wrote in that diary of his that he took refuge in a "little alehouse on bankside …and there watched the fire grow."
Local tip: the Anchor is not the most remarkable pub in the area but it has a great terrace if the weather is working for you, with lovely views of St Paul's Cathedral. It's been a few years since I ate here but that was because the food was average at best. Check to see if your fellow diners look content (clean plates) before you order.
11. The Thames (and a St Paul's Cathedral photo opp)
From the Anchor, the rest of the walk is Thames-side, and I'm sure you'll agree it's quite the walk – even if it is pissing down with rain (about 364 days a year).
Perhaps the nicest part about this route isn't the attractions along the way, through there are many, it's the views of the city spreading out east to the city (including the Shard, the Gherkin and St Paul's Cathedral, best seen from the first part of the walk) and west to Westminster (including Big Ben, the London Eye and the Houses of Parliament best seen as you get close to Waterloo Bridge and the London Eye).
Visiting St Paul's Cathedral: If you want to visit St Paul's Cathedral, it's just a short walk over the Millennium Bridge, opposite the Tate Modern a little further down the route. You can re-cross the river to continue your South Bank walk after you're done.
Millennium Bridge fun fact: the bridge opened in 2000, hence the name, but it had a serious problem – it wobbled when people walked on it. Kind of an issue for a bridge. £5million and 2 years later, the problem was fixed and now it's wobble-free!
I took a photography class with City Academy which is a great option if you want to get great pictures of South Bank.
12. Shakespeare's Globe Theatre
"Is it real?"
Yep, I've heard those words uttered by more than one set of tourists ogling the beautiful Shakespeare's Globe Theatre through a camera lens.
The answer is yes, of course it's real…and you can touch it as proof. But it's not original.
The original Globe Theatre, of which Shakespeare was a part owner, burned to the ground in 1644 (and still no-one learned – the Great Fire of London that demolished most of the city happened just over 20 years later).
It wasn't until June 1997 that the replica Globe was opened. Using all the historical information that was available, the rebuilt Globe is situated a few hundred yards from the original playhouse and looks as close to its predecessor as it was possible to estimate. For that reason, you'd be forgiven for being confused about its 'realness'.
The theatre isn't just open for tours, it runs a full programme of plays (Shakespeare, of course). And there's a great video exploring Shakespeare's globe here.
Local tip: if you take the cheaper standing seat during summer, make sure you pack plenty of water, a sun hat and sunglasses. The open air space is a sun trap (yep, even in England we have one or two) and I've watched a few people put on a dramatic fainting performance.
Interested in Shakespeare? Check out my guide to visiting Shakespeare's Birthplace: 17 Best Things To Do In Stratford-upon-Avon – England
13. The Tate Modern
The South Bank is riddled with opportunities to throw yourself face first into some culture and the Tate Modern is probably the best of them. Featuring contemporary art from the 1900s onwards, the Tate is a real bargain being both huge and free (apart from special exhibitions).
The building used to be the old Bankside Power Station, hence the shape of the building,
My favourite space in the Tate has got to be the Turbine Hall, which is where the old generators for the power station lived. These days, the hall is a huge social space that has featured all sorts of projects from representations of the weather (giving some amazing indoor sunsets) to a huge slide (sadly no longer there). Check out the hall to see what's on when you visit.
You can find more information here.
Culture Club: If you're looking for more arts and culture on the South Bank, check out the National Theatre, Southbank Centre (for the Royal Festival Hall and the Hayward Gallery), and also nearby, towards Waterloo Station, is BFI Imax,
14. London Eye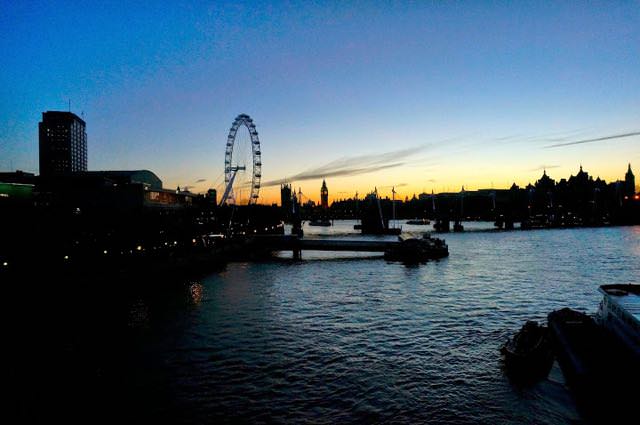 Keep following the bend of the river and after a little while you'll reach the London Eye. Another millennium contribution to London's skyline, this big wheel (which doesn't spin nearly fast enough for my adrenaline cravings) always has a long line of visitors come rain, hail or shine.
Starting at just under £20 for a 30 minute (slow) spin and with queues to steal a good chunk of your day, you might want to think hard about how much you crave taking a turn in the sky.
For me, the image of the London Eye itself is more spectacular than the ride itself. However, if you do decide to stroll into a capsule, book online beforehand to save 10% off your ticket price.
You can find more information here.
And that concludes your walk. From here I'd highly recommend stepping up onto Waterloo Bridge for the best views in the city (in my humble opinion). You can then walk north to Covent Garden or, if you're anything like me, double back – there much have been at least one tavern of ill repute that caught your eye?
---
Where to Stay
You can find my full list of Where to Stay in London.
Whether you're looking for a dorm or a private room on a budget, Safestay Hostel has one of the best locations for exploring London and the South Bank.
Just a few minute's walk from Elephant & Castle tube station, it wasn't so long ago that this part of London wasn't on most tourist maps. But, as regeneration projects expand south, this part of London has been given a very fancy face lift and when I visited I couldn't help thinking: watch out Hackney, the Hipsters might be about to find a new home!
The hostel itself has a fabulously glam and funky interior, which is a great contrast to the beautiful 18th century Georgian building. It was also one of the cleanest hostels I've ever stayed in. Hands down. My private room was huge and included free water, coffee, tea and an en-suite bathroom. Plus, the breakfast stood out – think croissants, yoghurt, juice, fresh coffee and cereal instead of a the usual cheap, manky white bread you get in most hostels.
The only downside was the squealing French kids who got up at 7 a.m. and seemed to take 2 hours getting ready banging doors. But, hey, I'm neither a morning person or a kid person and although the hostel does take in a fair few school groups, if you're an early riser who's looking for clean, well-located digs to use as an amazing base for sightseeing, you can't beat this place. Otherwise, just take ear-plugs!
You can find more information and book online here.
Where to Eat: Taz Pide
If you manage to escape Borough Market with any space left in your stomach then try Taz Pide an Anatolian Turkish Restaurant. There are way too many big chains in London these days and this restaurant is not only independently owned, it serves great food in a Turkish inspired setting. Taz has expanded from its original restaurant in The Cut (towards Waterloo) but my favourite is Tas Pide, tucked away behind the Shakespeare Globe Theatre. I'm a carnivore but this place gets good reviews from vegetarians, too.
Address: 20-22 New Globe Walk. Menus and online booking here.
Map of Things to do in London's South Bank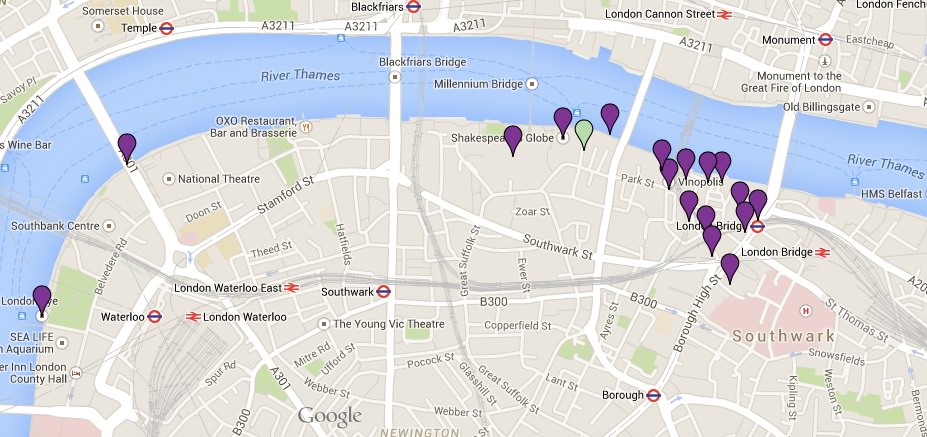 You can find a fully interactive version of this map in my Google maps.
That's my guide to the best things to do in London's South Bank. Got any questions? Leave a comment below.
Related Articles:
Like this? Share it on Pinterest…
My accommodation was courtesy of Safestay Hostels.