As usual, I didn't do much research about Colombia before landing in the country, but I did know that I was in desperate need of some more Spanish classes.
My first stop in Colombia was Cartagena and a quick search on Google images did a fine job of helping me fall for the city even before I boarded the plane. Picturesque, colourful and colonial, Cartagena seemed like the perfect place for a couple of weeks of language classes…at least on-screen.
But the second I landed in the city I changed my mind.
There is one word for Cartagena's humidity, and that's punishing.
Running at around 80%, I spend 5 days in Cartagena drained, dripping in sweat and completely incapable of concentrating.
There was no way I'd be able to study Spanish there.
From Cartagena to Medellin
I'll be honest, I wasn't sure about studying Spanish in Medellin. It was a sprawling city, densely packed and, let's not overlook the fact that it was once the stronghold of native resident and drug overlord Pablo Escobar.
As I contemplated moving to the city for two weeks for school, I did what I do best – I offered the decision up to my blog readers and travel friends: "Thoughts: I can study Spanish for 2 weeks in Medellin. Good idea? Bad idea? Safe? Unsafe?"
I was expecting a mixed reaction, but the replies surprised me – they were overwhelmingly positive and came with just one warning: "Your biggest risk in Medellin is that you won't want to leave". Intrigued to find out more, I closed my Google search and booked the next flight out.
For two weeks I took classes at Toucan Spanish School and after three weeks in the city, my friends' predictions were right. I had to force myself to leave the city. Here's why Medellin is the best city to study Spanish in Colombia.
1. The city sights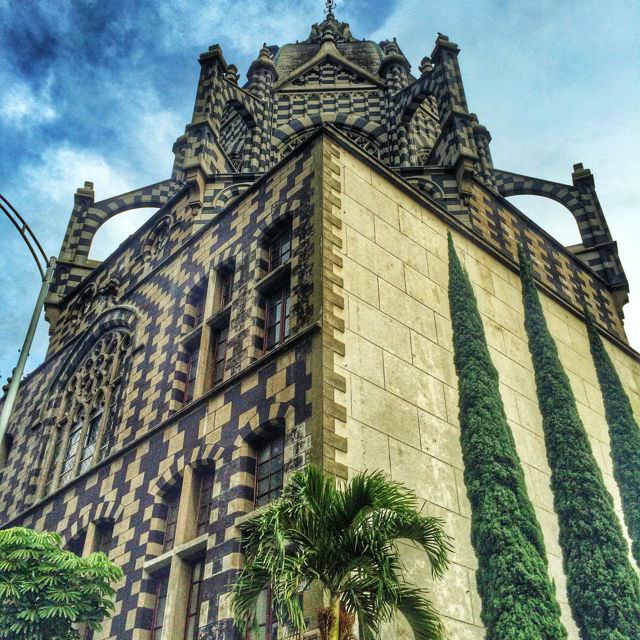 I landed in Medellin after dark and got to appreciate the topography. Situated in a basin, the city sprawls up the sides of the surrounding mountains and sparkles with lights at night. Medellin wasn't the concrete jungle I'd expected.
When you don't have Spanish classes and after you've done all of your homework (good student that I'm sure you'll be), one of the things I liked most about Medellin was the manageable number of city sights to keep you occupied. I won't list them all here – instead, head over to Medellin Living for the lowdown.
However, if I had to pick two favourites, I'd recommend taking the metro cable to the top of Parque Arvi where you really get to see the sprawl of the city. And my absolute top recommendation is to take the Real City Walking Tour – it's not so much the sights that you see on the tour that makes this the best thing to do in the city, but the honest and balanced history that the guides give about Medellin, it's hard clamber out of difficult times and the key players in Colombia's current war on drugs.
2. Medellin is a cosmopolitan Colombian city
In the same way that Buenos Aires seems to have more in common with Europe than its Latin American counterparts, Medellin shares a similar vibe. Progressive and contemporary, Paisas (the name for people from Medellin) proudly set themselves apart from the rest of their fellow Colombians.
If you're looking for the full Colombian contrast, explore the Caribbean beaches in the north, spend time in Colombia's mountains and add Medellin to the list to complete your sights.
A word on progressive Medellin: As a base for a couple of weeks of language school, Medellin is more than adequately developed. Supermarkets stock everything you might need from food to toiletries, the tap water is drinkable (such a rarity in South America), and you'll find a host of restaurants from Sushi to Subway (ok, maybe I'm not recommending Subway, but everyone needs a break from the chicken rice and beans from time to time) and all the services you might need are readily available.
3. Colombian is clear Spanish
So many people have told me that Colombian Spanish is the clearest Spanish.
Honestly? I find Colombian Spanish harder than most other Latin American countries…but that's probably just me and my non-existent linguistic skills.
Either way, you win. If your cloth ears are like mine and have the ability to turn Colombia Spanish into something that sounds more similar to Arabic, your Spanish will develop exponentially as you learn to tune in to the rapid speed. Conversely, if Colombian Spanish is, indeed, the clearest Spanish spoken (as everybody so regularly tells me), then there's no better place to learn the language.
Colombian Spanish – Essential Reading – If you're also after a Spanish textbook that isn't too hideous to carry, I love the Collins 3-in-1 Grammar, Verbs and Vocabulary.
4. Medellin is well-located for day trips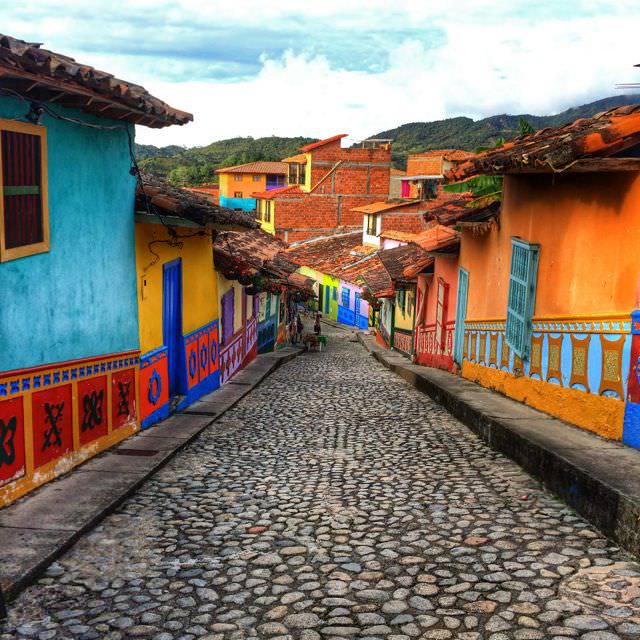 All study and no exploration can make for a dull trip – and, let's face it, you don't want all your Facebook photos to be of the inside of a classroom.
If you only manage one side trip from Medellin while you're taking language classes, make it to El Peñon a big rock you can climb up to get views of the nearby lake and Guatape a gloriously colourful Colombian town (El Peñon and Guatape are 10 minutes apart by taxi).
If you have a bit more time, take the 6-hour journey to Salento (Colombia's coffee region) for a stay in a hacienda.
Related: Best Things to Do in Canaima National Park
5. Medellin is very well-connected (transport-wise)
Not only does Medellin have a great metro system that will take you around the city (don't miss the stadium complete with free gym at the "Estadio" metro stop), Medellin has great buses and flight options that can connect you with most of the country.
Travel tip: it can often be as cheap (or nearly as cheap) to fly within Colombia compared to taking the bus.
6. Medellin is the City of Eternal Spring
As much as I loved Cartagena, it fried my brain and when you're so hot you can barely remember how to brush your hair (or beard for you guys), the chance of you being able to concentrate well enough to learn a language is fairly low.
Enter: Medellin.
Around 5,000 feet above the sea, Medellin's mountain location makes for perfectly sunny and warm days followed by comfortably cool nights. Known as the City of Eternal Spring, Medellin has the perfect climate for study.
Related: Mitad Del Mundo – How To Cross The Equator, Quito
7. Safety
Home to infamous drug lord Pablo Escobar, I'd be lying if I said safety didn't cross my mind when I was looking at where to study. And I was a little nervous turning up in Medellin. After all, Medellin once held the title of Murder Capital of the World.
However, the murder rate has decreased by more than two-thirds since the 90s and I'm happy to report that I didn't feel unsafe once during my three-week stay in the city (that includes walking alone at night for dinner in El Poblado and Laureles). Just stick to the tourist areas and your chances of wandering into trouble should be low. (Note: by comparison, I recently spent 5 days in Cali and I felt like I was looking over my shoulder the entire time in that city).
A word on safety
During the Real City Walking Tour I was told the following about Medellin:
As Medellin is clearly not a poor city, many tourists assume that the city's wealth was built off the back of drug money. That's apparently not true – gold and industrialisation are what helped Medellin prosper, way before drugs appeared on the scene.
Back in the 1980s, it was considered safer to be in Beirut than Medellin but the city has worked hellishly hard to pull itself out of the danger and fear that shrouded Medellin for so long. Once-feared spaces have been regenerated and the streets have become safe to wonder once again.
A word on drugs in Medellin
I can't write this section on safety without mentioning drugs and prostitution. Sure, cocaine and other drugs are available within the city (as they are in most cities around the world) and a fair number of tourists go to Colombia for drug tourism.
All I can say is don't be one of them – not only do you amplify the problem that the Colombian people are working so hard to stamp out, you give decent tourists (like me!) a bad name…and that pisses me off.
If you are worried about drugs in the city, don't be – it's very easy to steer clear of the drug scene, and if you are offered drugs (which will probably happen at least once because of your tourist status), a simple "no gracias" will more than do the job.
A word on prostitution
Read "A word on drugs" and replace the word drugs with prostitutes. Same issue, different subject.
Related: The Safest Places in Mexico For Tourists To Visit | Is Mexico Safe? The Main Risks & How To Avoid Them
8. The nightlife rocks
Ok, don't tell my teacher, but I partied a lot in Medellin. There's just something about those hot, sweaty basement salsa bars that throw me back to my time in Havana.
Travel tip: most tourists hit the nightclubs and bars in El Poblado. If you're looking for more of a local vibe that's also safe for tourists, head out to Carrera 70 in Laureles.
9. Great places to stay
Medellin is absolutely on the tourist map meaning there are plenty of accommodation options in the city from high-end hotels to hostels and – if you really want to commit to learning Spanish – local homestays.
Where to stay in Medellin
Toucan Spanish can arrange a homestay if you really want to immerse yourself in your Spanish study but it's not for everyone. Here are some alternative accommodation suggestions.
On a budget: I checked out a good number of hostels when I was in Medellin and by far my favourite place was The Wandering Paisa. Continually attracting a good bunch of people and with a fantastic series of events from open mic nights to language exchange nights (involving the Medellin Couchsurfing crowd), you'll be hard-pushed to find a more social place. Don't be put off by the fact that this hostel is away from the others – it's in a more local area that, IMO, is a more fun (plenty of bars and restaurants) and interesting place to be.
If you do want to stay in Poblado (the main tourist area), then check out Saman Hostel. Small but perfectly formed and, most importantly, just across the road from Parque Lleras where all the bars and restaurants are scattered, Saman is a great option. And if you're looking to take language classes at Toucan Spanish (where I took lessons), you're just a few minutes walk away.
Other popular hostel options in Poblado are: Black Sheep Hostel Medellin, Casa Kiwi and Tiger Hostel
But book early as these three tend to book up before all the rest.
For hotels: Although The Charlee isn't top of the luxury list, it's one of the most iconic buildings in the city and if nothing else, you should at least take a trip for a cocktail and views from the bar at the top.
10. Medellin has been crowned "Most Innovative City"
Medellin was named "Most Innovate City" beating both Tel Aviv and New York to the top spot. The city may have a shady past but those days seem far behind it. Development, growth and "one of the most remarkable urban turnarounds in modern history", Medellin these days is receiving a lot of praise.
And I can absolutely see why. After two weeks of studying Spanish in Medellin and a further week of play, I really did have to tear myself away.
Have you studied Spanish in Medellin? Any other top reasons to choose the city as your language learning home?
Related Articles:
How to Speak to Someone Who Doesn't Speak Your Language
Best Things to Do in Canaima National Park
Guide To Tortuguero National Park Costa Rica
The Best Places to Visit in Colombia
Your Ultimate Costa Rica Travel Guide
Your Ultimate Baja California Road Trip Itinerary
My Spanish classes in Medellin were courtesy of Toucan Spanish School. My opinions on Medellin are my own.