Looking to kickstart fitness in the New Year…or any time of year? After decades of having 'get fit' on my New Year's Resolution List, I've finally found a way to kickstart a new fitness regime without sacrificing happiness.
I can't recall which of my 38 years was the first year that 'get fit' made it onto my New Year's Resolutions list, but it's been on my list every year since.
It was definitely there the year I changed job to a more sedentary post where the omnipresent box of biscuits would sneer at me from the top of the communal food cupboard – a place where the office overeaters went to whinge about their ineffective diets.
It was even on my list for each of the years I was a regular gym bunny.
And again that year I decided that running 10k several times a week was a good idea (for those of you considering it, it's not).
But most recently 'get fit' has been high on my agenda since I quit my job to become a freelance travel writer, which, for the avoidance of doubt, involves eating deep-fried street food and glugging booze on a professional basis, because no-one ever wants to read an article about undressed salad and tap water. It was a career transformation that has seen me browsing the stretchy waist-band department more often than I'd like.
I've even taken this get fit lark so far as to quit alcohol for a while.
(Yep, that's me eating…errrr…professionally. If you want to see the full extent of my professional eating, check out my Facebook or Instagram foods..ahem, feeds.)
Getting fit and staying fit feels like a ubiquitous obsession in developed nations and there's no better time to stare at our ever-expansing navels than January.
If you ask me how I feel about New Year's resolutions, I'd wholeheartedly tell you that I love them…for the first three days. But by the 4th of January the prospect of eating kale, contemplating Cross-Fit and banishing the Christmas chocolates to the back of a dusty drawer makes surviving the remaining 362 days of the year seem tantamount to doing hard time. Prison Break style, not the wishy-washy low-security kind of women's prison from that Netflix show.
Consequently, by the 5th of January, I'm pulling at the flaxseeds that are coming out of my ears, screaming "Surely there has to be a better, easier…dare I say more fun…way."
Finally, after years of searching, I've discovered that there is. It's called: Lake Austin Spa Resort. And my inner ex-lawyer and luxury lover couldn't have been more delighted at the revelation.
Introducing Lake Austin Spa Resort
As an intro I was going to warble on for a while about how wonderful Lake Austin Spa Resort is but they've been recognised as one of the world's leading spas long before I skipped through the impressive, electronically-controlled-for-exclusivity front gates. So, I'll let their accolades speak for themselves.
Lake Austin Spa Resort, which is located in Austin, Texas (in case that wasn't clear) has been voted:
#1 Fitness and Wellness Resort in the US, Fodor's Travel, 2014
#4 Destination Spa in the World, Travel + Leisure Magazine World's Best Spa Awards, 2014 (#4 in the WORLD, I tell you!!)
…and there are many more awards where those came from (you can check them out here).
Benefits of using a spa resort to kickstart fitness
For all of the years that I've started – and rapidly discontinued – a serious fitness regime, I've gone about it the same way. I've cleared out cupboards, set my alarm that bit earlier to exercise (despite the sinister lack of sunshine at 6am in England), downloaded apps and tried new sports but my regime has always ended the same way. Usually on the first weekend of the New Year where you'll commonly find me digging around at the back of that dusty draw, dragging out handfuls of Cadbury's mini sweets while simultaneously throwing the last remnants of the Christmas sherry down my throat. Someone's got to finish it. And I'm one of those people who just hates waste.
But I realised that my decade-long cycle of fitness failure could be broken when I visited Lake Austin Spa Resort. I visited there a bit ahead of the New Year rush for fitness (October to be exact) but it very quickly occurred to me that an extended stay in a spa resort presented a very different and much better way to embark on a new fitness regime. Laid out across acres of prime real estate fronting Lake Austin in Texas, this award winning spa really was the ideal environment to kickstart fitness. Why? I'll give you 10 reasons:
Because…
to start a new regime, it's good to get a complete break from your old regime – and a week or two away at Lake Austin Spa Resort is the kind of break you're going to be happy to take;
you're surrounded by like-minded people with similar goals – no snarky Sandras (who, frankly, could do with losing a few pounds herself) trying to sabotage your fitness attempts;
all your food is included during your stay removing the temptation of supermarket shopping – because you know you risk buying a large tub of Nutella and eating it out of the jar from a spoon (I was going to say finger, but I'll give you the benefit of the doubt);
the food is calorie controlled but is prepared by magical chefs who prove that health food doesn't need to equal dull, tasteless food;
there's a fun fitness schedule that means you don't need to fling kettle balls around and run miles to work-off calories…though those options are available if you choose;
the grounds are so spectacular that you want to spend your free time strolling around them (and adding to your 10,000 steps a day in the process);
it's Texas – no grey mornings to challenge your willpower and keep you in bed when you could be up and active;
you're dedicating time to the important matter of your fitness. Instead of sitting in work worrying about your waistline (while dipping biscuits in your tea), you're actually doing something about it;
you have expert staff on hand to help you with all of your queries, concerns and to offer that extra push of encouragement if you need it;
it's not a bootcamp – the spa, hammocks and evening activities make the Lake Austin Spa Resort a positive environment you can enjoy and go back to time and again (like a number of the guests who I met who were on their third and fourth visits) rather than something you fear.
At Lake Austin Spa Resort you can start to form healthy habits that you can take home with you, thus breaking the cycle of the perpetual failure of New Year fitness promises.
What to expect: A spa that feels like (your super rich friend's) home
Some spa resorts, as luxurious as they are, can feel quite clinical. You check in a bit more rotund than you'd like, you work hard on your diet and fitness under careful supervision and you, hopefully, leave feeling more svelt, the whole experience somewhat functional served with a portion of luxury furnishings and spa scents on the side.
Lake Austin Spa and Resort didn't feel like that. Not at all.
From the Blue Rue with its crochet blankets that reminded me of the ones my nan used to knit to the Garden Library's bursting bookcases to the friendship table in the Aster Café (in case you're visiting solo and want a dinner companion) to the Lake Kitchen, one word comes to mind:
Homey.
(Which is no surprise given the spa was set up and is still owned by two friends.)
It's a feeling that penetrates the entire spa. The staff at the front desk were chatty enough to be as approachable as friends, the waiters interacted rather that just took instructions and the fitness staff smiled at me…even when I decided to skip a class and luxuriate in my Luxury Garden Room for an extra hour in the morning (I say room, clearly I mean bed).
I didn't feel intimidated once at Lake Austin, which can often be the case with upscale spas.
The luxury I expected (did I mention the accolades?) and the facilities were top-notch, but it is the homeyness that gives Lake Austin the edge. In how many other spa resorts do you feel like you're the guest at the lake house of a good friend who happens to be the best host in modern history; and as you plonk your posterior on the comfy sofas around the place you know that day by day you're getting closer to fitter and thinner?
Fitness facilities and extra curricular activities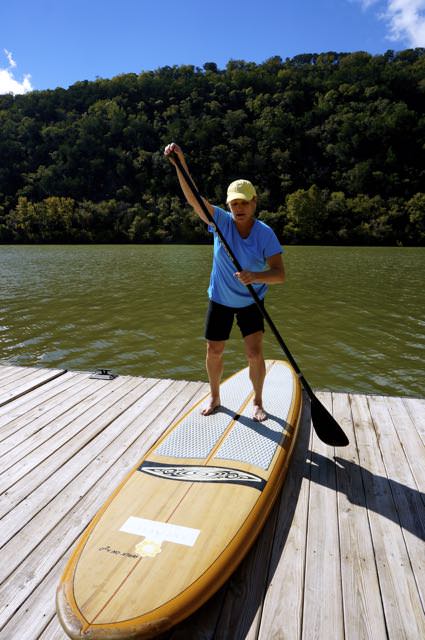 Of course, all this fitness and thinness doesn't come without a bit of effort on your part – if you want to just sit still and get thinner, you're after a different kind of retreat…the kind with scalpels. Shudder.
However, if you have to endure the effort of calorie burning, I can't think of a better place or way to get fit.
Upon check-in you're presented with the resort's schedule for the duration of your stay. I looked at mine through a wincing eye expecting fear to set in, but it didn't. I hadn't been handed a workout schedule. I'd been given a full and balanced activity list that ranged from exercise classes that were definitely going to have an impact to cookery demonstrations.
Fat Burner, Pedal and Push, Ballet Body, Pilates and Zumba, there was a class for everyone. And, of course, because of the location, lake based activities like stand up paddle boarding (and yoga on a paddle board if you're up for it), a lake cruise and hike and kayaking were all on offer.
A gym, running track and a choice of pools are on tap too.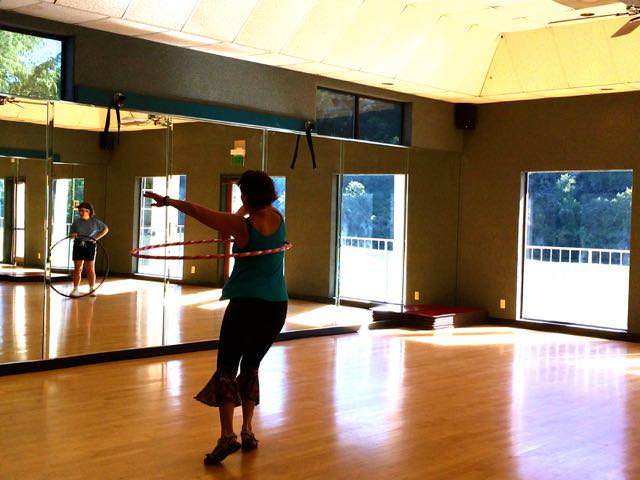 When I wasn't tossing hula hoops around the workout studio (good job they're plastic and bounce given my lack of co-ordination), there was an impressive selection of what I'll call extra curricular activities. I learned how to make sausages (shhhh, I stole the recipe and you can find it in my related post: How to Make Sausages from Scratch).
The resort also offers a night of astronomy, an introduction to Ayurveda, fun with water colours and health classes like how to master your metabolism and transform stress. But perhaps best of all for me as an aspiring fiction writer, a book evening by Deborah Crombie, New York Times Best Selling Author who was hosted by the resort to talk about her latest book, To Dwell in Darkness . As I lingered at the end of the session, sipping on wine and nibbling on cheese, I got to extract tips from a writing superstar.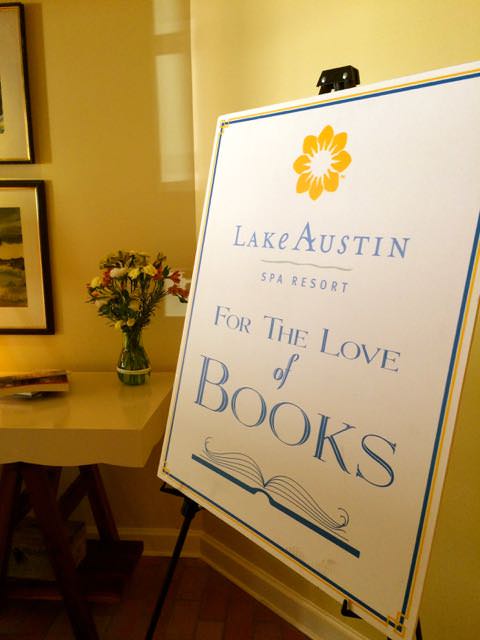 …but wait, what, was that cheese and wine I mentioned…okay, if you insist, let's talk about one of my favourite topics and the cause of my constant need to detox: food.
The food…oh, the food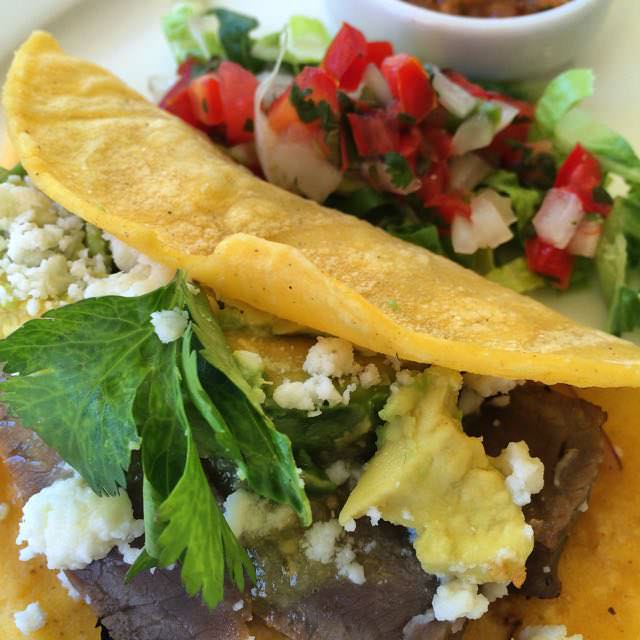 One of the most unsustainable parts of most New Year diets is the extreme's that we force ourselves to exist under. No chocolate. Low fat. Constant calorie counting. A ban on coffee. And then there are the fads. Maple syrup and lemon in hot water for breakfast, protein shakes for lunch and a superfood salad that tastes of floor sweepings and sawdust for supper. It's no wonder we fall so ungracefully from our elevated state of abstinence. It's a bald fact that a person cannot live on sprouts alone. Even if they are served with bacon and sprinkled with cheese.
What impressed me most about the food at Lake Austin Spa Resort is that nothing was off the menu. Quiche, curry, carbs and a raft of desserts were served, but all in controlled portion sizes and with every calorie already counted for you (and thoughtfully added to the menu for your ordering reference). I ate beef tacos, home-cured bacon and had my first try of smores (verdict: divine and why don't we have these in England already?).
The food portions tended towards the small size, as you would hope from a resort that has wellness in mind, but each bite packed a flavourful punch, and with no food group or taste off the menu, you were never left craving anything. However, if you did get hungry between meals, there were plenty of substantive snacks around the place throughout the day from fruit to bowls of homemade hummus.
A fresh salad and fruit bar met you at the entrance of the restaurant at every meal but the place wasn't fanatical. If you were in the mood for a tipple, you could add a glass of wine to your meal (a choice that every adult should have when they dine) and the occasional treat event was put on, like the book signing that I attended, which came with an optional serving of cheese and wine. Sure, this lack of strict supervision of what you consume might test your purist resolve, but when you've attended three classes, had a walk around the ground and lapped the pool 12 times, why not treat yourself? Life and fitness – at least on a sustainable basis – is about balance, not abstinence, right?
The Spa and Relaxation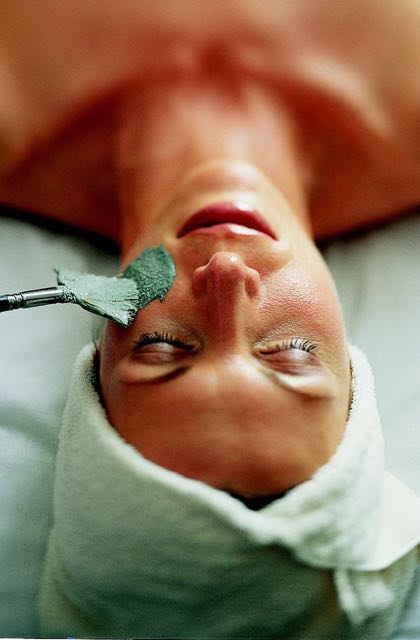 In between meals, yoga classes and drinking the endless supply of coffee (for which I have zero self-control despite the resort offering an extensive selection of much healthier options), I spent the rest of my time relaxing in my room or on meditative walks around the ground. And in a way it was this time on my own that was the most restorative.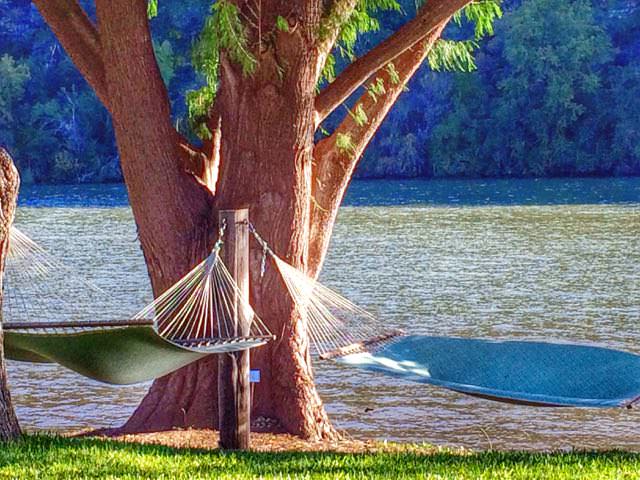 It's hard to describe the overwhelming sensation of peace that takes hold when the resort's gates quietly buzz closed behind you. Perhaps it was the scent of luxury spa oils that permeate the air (I'm convinced that if paradise has a scent, it's been bulk supplied from the gift shop at Lake Austin Spa Resort). Perhaps it was the small but perfectly formed private garden, complete with comfy chairs and water feature at the back of my Luxury Garden Room where I spent hours writing. Perhaps it was the oversized hammock lending views over the lake. Perhaps it was the herb garden I wandered through sniffing rosemary, basil, mint and thyme just before it was plucked for dinner. Perhaps it was the late afternoon light casting long shadows across the library room where I lost myself in a book for hours.
I hindsight, I suspect it was all of these things.
And that was all before I had my chakras re-aligned.
I'm lucky enough to have experienced more massages than most. From my lawyer days where trying out new spas was a bit of an informal hobby to the quirky massage experiences I've had on my travels around the world (winner for most weird: that time I had a massage from an inmate in a women's prison. For the record, I was a guest, not a fellow inmate).
With all of this experience to hand, I have no hesitation handing out the "Best Massage Ever" award to Lake Austin Spa Resort.
The treatment list at the spa is extensive and I confess to spending half a day practically licking the pages of the menu as I tried to decide. I ultimately opted for the "Seven Centres of Life Chakra Massage". Despite not really knowing what chakra's are (and regretting not paying more attention when I did that 10 day meditation retreat in India), I suspected that having them un-aligned wasn't a good thing, so I set about putting that right.
Fortunately, my masseuse did a great job of educating as well as massaging and for 180 minutes I existed in a pure state of bliss as I had a head to toe massage using several different scented oils, each one chosen to correspond to the different colours of my chakras.
In all honesty, I can't say I felt any different spiritually after my massage (maybe my chakras weren't as out of sync as I thought). However, as I rinsed away the oils, I couldn't help noticing the slight increase in tone of my my muscles, and the perceptible flattening of my stomach, probably courtesy of my moratorium on alcohol, and at the end of my stay at Lake Austin Spa Resort, I felt like I floated out of resort both lighter physically and happier mentally.
But, who am I kidding, I didn't float out at all – they practically had to force me off the premises while I inelegantly clamped my hands and feet across with side of the gate in protest at having to leave. I still maintain it was one last attempt at toning my abs and strengthening my calves. Regardless, I'd definitely kickstarted my fitness regime. And I'd bagged a whole heap of luxurious relaxation (and a superb sausage recipe) in the process.
Useful Information
Lake Austin Spa Resort is located in Austin Texas and can be easily accessed from Austin-Bergstrom International Airport.
British Airways flies direct from London Heathrow to Austin-Bergstrom International Airport.
Flight time: just over 10 hours.
For more information, booking and enquiries, see the Lake Austin Spa Resort Website.
Do you try and kickstart a fitness regime each year? How do you do? Any other tips for the rest of us?
If you liked this, you might also like:
Should You Give Up Alcohol for 30 Days (or more)?
How to Make Sausages from Scratch
10 Day Vipassana Meditation Retreat, India
Guide to Swimming with Whale Sharks in Mexico
Main image courtesy of Lake Austin Spa Resort. Text added by me.
My stay was courtesy of Lake Austin Spa and Resort.