We've all heard the saying, "When in Rome do as the Romans do." But considering the amazing food available there, it could be said that, "When in Rome, gain 10 pounds."
I did a touristy trip to Rome as part of my round-the-world adventure (you can read my guide to the best things to do in Rome) but, when I visited the Eternal City this time round, I had a very singular agenda – to do one of the things I love most…eat!
What many people gloss over is that fact that Italian cuisine is really regional and the food served up in Rome has its roots in both history, culture, and, best of all, is always centered on fresh ingredients.
If you desire more authenticity than your local "pasta and garlic bread" chain can offer, check out these dishes that present the true spirit of Roman food!
1. Bucatini all' Amatriciana
First up is Bucatini all' Amatriciana. Showcasing the truly Italian sentiment that the best dishes are made with the fewest ingredients, this pasta dish is made with Bucatini, a pasta similar to spaghetti, only hollow. In Roma, guanciale, a cured pork jowl, adds a wonderfully robust flavor; but if want to try it at home and you have trouble finding this Roman specialty in your butcher shops, you can substitute with pancetta. More flavor is added with white wine, crushed tomatoes, chopped onions, chili pepper and a generous helping of freshly grated Pecorino cheese (an Italian cheese popular in the Italian Regions of Lazio and Sardinia). This dish doesn't need too much sauce – in Rome it is often served in the Jewish Ghetto with the sauce almost dry on the pasta. The seasoning and serving style make this dish a favorite, and it is found on most menus in Rome. It's certainly one of my most loved Italian dishes.
2. Pasta Cacio e Pepe
Another pasta dish that ranks high on flavour and wins points for simplicity is Pasta Cacio e Pepe. Translating to "Pasta with cheese and pepper," the name is spot on – the only ingredients in this dish are spaghetti, cheese, butter, and pepper. What more do you need in life? The fabulous string of Pecorino cheese balances perfectly with the bite of black pepper and this dish allows the flavors in the pasta to really shine.
3. Carciofi alla Giudìa
But the Romans eat more than just pasta! Next on the list is Carciofi alla Giudìa. The literal translation is "Jewish style artichokes," a reference to the Jewish Ghetto where it is served most frequently in Jewish restaurants in the spring time. Italian artichokes are in a league of their own, and this dish serves them up deep fried after a long soaking in lemon juice and seasonings. In the American South, you will find everything under the sun deep fried – fried Twinkies anyone, while in England, sausages are commonly given a battering before being dunked in oil. But nothing compares to the fabulous outer crunch and inner softness of Carciofi alla Giudìa.
4. Scaloppine
The first meat based dish on the list – Scaloppine make an entrance with a punch of flavor. The name is deceptive as many people (myself included) assume it is a seafood dish containing scallops. Wrong! The name comes from the shape of the meat, usually veal, which is thinly sliced before it is coated in wheat flour, sautéed and served with a wine based sauce. Meat, fat and wine? Yes, please.
5. Minestrone soup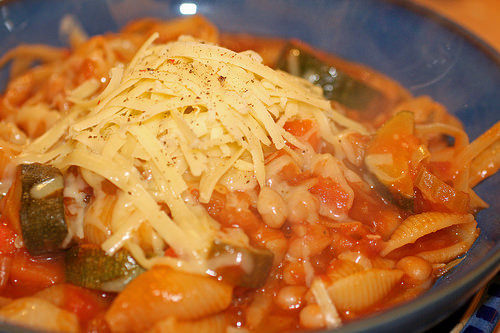 Next up is an Italian classic, often imitated but never truly recreated, Minestrone soup. Unfortunately, it is very hard to "do as the Romans do" when it comes to this stock-based soup, which is often served with rice or pasta. This soup is rarely ever made the same way. When in Rome you could eat it every day, each time at a different restaurant and each one would have its own distinct flavor and ingredients based on what vegetables were in season or in stock in the pantry that day. I personally have an irrational fear of courgettes (zucchini) – hey, I said it was irrational, so Minestrone is often a dish that comes with some preparatory work for me (fishing the evil green parts out first), but it's usually worth the effort.
6. Pizza
Ok, so Naples is home to pizza in Italy, but there is no ignoring the fact that it is available throughout the country as one of the best Italian street food you can get. A world apart from the pizza served in The States and deep pan pizza in Chicago, this is made fresh with special dough and gorgonzola cheese. Unlike the American tradition of piling any and everything onto a pizza, the Italians keep with their trademark simplicity and instead, let the fresh tomato sauce and cheeses speak for themselves. Occasionally pancetta or spinach is added as a topping but even the addition of those two is questionable in some Roman circles, earning it the nickname of the "garbage pizza" among locals. I can see where they're coming from.
6. Struffoli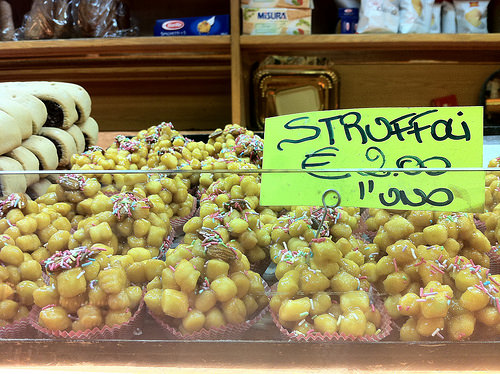 Finishing off the list is the often overlooked Italian dessert Struffoli. This dish is a pile of marble sized balls of sweet dough, fried to a perfect crunch on the outside while remaining soft and warm inside. These delicious nuggets are then dipped in a mixture of honey, cinnamon and ground orange rind for a dessert that is equal parts sweet and hearty. Just make sure you leave space in your tummy for them because Struffoli is no light ending to an otherwise robust cuisine.
Rome obviously sees a lot of tourists and the restaurants around the main sights can be hit and miss. When I went for lunch after a long morning at the Vatican, I crossed the river to put some distance between me and the major attraction before sitting down to dine, and it worked well. If you have time, take a trip out to the Trastevere area. It honestly feels like a different city both in terms of crowds (none, even in summer), lower restaurant prices and higher quality.
Buon Appetito!
Related Articles:
Canva Image Credit: Cacio e Pepe