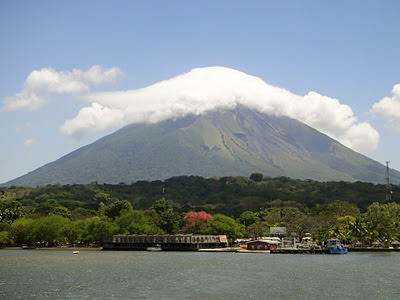 Isla de Ometepe is very simply an island comprised of two conical volcanos looming out of Lake Nicaragua. What else was there to do on the island but to climb them (or at least one of them)? It was a decision that would bring me the closest to a near death situation on my trip and, indeed, my life.
But before getting to Isla de Ometepe we spent a few days in San Juan del Sur. After smiling nicely at a local in the surf shop, he slung us in the back of his truck and took us down the dusty dirt tracks to the beach. A beautiful but dangerous place. No, not because of the locals, gun crime, drugs etc. I was injured by a taco. Yep, a brittle, crispy, vicious taco that tore into one of my front teeth sheering half of it away. The honesty on the German Girl's face when she saw the damage told me it wasn't good. I looked like I'd been on the bad end of a bar fight. It was as injury that ultimately wouldn't get fixed for nearly two months and has seen me wince once more back in England – cost of taco: $1.50. Cost of dental repair work: $2,000. Financially painful but preferrable to the alternative – extracciones: pulling it out in the midst of Rivas market town with a rusty pair of Nicaraguan pliers.
But enough of my dental disaster…We decided to leave San Juan on the second day of our stay because of a power cut which had no predicted end in sight. No lights, no water, no chilled beer, we were off. Next stop, Isla de Ometepe.
Getting to Isla de Ometepe
The junk boat that took us the hour long journey was like the arc (full of animals) but without the same level of water tightness. As the water started to seep in, encroaching on my toes, then up to my ankles, for the first time on my trip I turned my eyes skywards and started to hope and pray there might be someone up there who was a better swimmer than me and might claw me out of this impending drowning situation. As I watched a man heft his dog in a potato sack above his head to keep him dry my panic increased. But it was thanks to the man next to me and his kind efforts to understand my bad Spanish in a distracting conversation that got me through. It turned out he was a local guide and for a mere $5 each would take us up the smaller, inactive one of Isla de Ometepe's volcanoes, Maderas.
7am the next day me, the German Girl, the two Californian's and another American guy who was a friend of the guide convened in the hotel restaurant (think outdoor rustic space with gobsmacking views, not Ramada with fruit bowl paintings on the wall). An hour of faffing later and we set off.
Having send my sturdy Inca Trail trekking footwear back home my options for the volcano walk were flipflops or what I considered to be a robust set of Merrell walking sandals. Yes, they would be fine our guide determined as we started out, with packed lunch and water bottles at the ready.
Climbing Maderas
The stroll started well. Beautiful greenery (we were in coffee plantation country) and amazing sounds – birds and howler monkeys galore. Hmmm, this promised to be a wonderfully relaxing day.
Lifting your foot to a place higher than your waist and heaving yourself up unimaginably steep rocks is not my idea of relaxing! But within thirty minutes of setting off the slightly gravelly terrain had changed quite dramatically. And it was due to get worse.
Add mud. Lots and lots of knee-high mud. As we ascended the volcano we quickly found ourselves in cloud forest. And with cloud comes precipitation and, mixed with soft soil, produces…mud. The German Girl landed on her backside first and within minutes I felt like I was in the midst of a mud wrap except I was fully clothed and not lounging on a bed in The Covent Garden Sanctuary Spa. We kept trekking.
And that is when my shoes started to fail me. The open nature of my cursed shoes meant that the insole became saturated and with the slippiness of the mud each step became treacherous as my foot headed in one direction and the sole of my tethered sandle the other. The hike was hard enough without my previously pretty pink shoes betraying me.
Slowly by slowly I got slower and slower as my footwear situation deteriorated. Quitting would have been the sensible option but I'm a stubborn thing and after hours of hiking and with a final mad scramble up and then down several metres we found ourselves in the volcano's crater. Mission accomplished, or so I thought.
The downward descent – barefoot
The people who gave Lake Erie its name had clearly never been to the crater lake inside Maderas volcano. A vast expanse of still, greenish water, with cloud whispering across it, I had the heebie-jeebies and after a rest, some lunch and a failed attempt to dry out my traitorous footwear, we started the descent. Surely this was going to be easier?
Within five minutes and a particularly squelchy foot landing, my sandal tore away from my foot. Damn. And a short time later, my other evil shoe abandoned me too. And so it began, the start of my barefoot trek down the volcano.
Now, for all extreme sports fanatics out there, I can highly recommend not doing a barefoot volcano walk. With mud blinding you from what you are stepping on, a foundation of volcanic shale-like rock and a tendency for your feet to slip when it hits the floor and dangerously steep steps, you have a sure-fire recipe for feet laceration.
The first toenail chip was nothing compared to the small toenail being ripped off and my soles getting slashed by rock. As blood burst its way through my inch thick muddy feet like jam squeezing out of a chocolate sponge I could do nothing but laugh. How did I get myself into these situations? At least I'd had all my jabs before I came away.
But it wasn't illness that was concerning me. It was death. This truly was how stupid people died on volcanoes and between requiring the assistance of the guide for every step and the painfully slow pace that followed, the sound of the howler monkeys pierced the air indicating that night was fast drawing in. And we still had a three hour downward trek to go.
Patience was shot, my feet were in ribbons of pain and darkness had taken hold. The Californian's, practised in all manner of sports, headed off at pace to locate a new pair of shoes, anything that could speed up the process while the rest of us continued, worry following us all the way down and with only two torches between four, our steps were more treacherous and slower than ever as we stumbled every few steps.
It was 9pm before we finally saw the promise of light and the hotel up ahead. I was limping like a maniac and for the millionth time that day had taken an interest in the man (or woman) upstairs who, it seemed, had deigned to save me from what would otherwise be considered to be suicide by stupidity. And a certain place in the Darwin Awards.
Reunited with the Californians who had taken a wrong turn, much to our concern, but who had also managed to return safely I was overcome with gratitude.
Back at the hotel there was no more than a dribble of water to wash or cleanse my feet  but there was a bucket of ice to numb them and a cold beer for my nerves. I truly had survived another day on the road.
Volcano conquered (oh how confident I sound now that enough time has passed for my feet to reform), the last stop in our whirlwind tour of Nicaragua was Granada, a beautiful Spanish colonial town with a layout of streets that could find you lost if you merely stopped to tie a shoe lace. In Granada we wondered around, indulged in a cheap massage, took a boat onto lake Managua, witnessed a funeral and went to a jazz festival in neighbouring Masaya. It was the perfect volcano antidote.
Next stop: Gautemala
On from Granada, Antigua, Guatemala was my next stop where surely more adventure lay in wait. I said goodbye to my latest travel friends and the lovely German Girl. Sad at the departure but excited for the next chapter of my trip I once more slung on my backpack and, with half a missing tooth, two missing toe nails and lacerated feet, I hobbled out of Nicaragua. I'd had the time of my life.
Related Articles:
This is the start of a series of posts about my time in Costa Rica and further afield. I'll link below as I post more or you can sign up to my newsletter here. Until then, here are some of my older posts from my first trip to Central America.
20 Best Things To Do In Monteverde Costa Rica
Guide To Tortuguero National Park Costa Rica
10 Essential Things To Do In Manuel Antonio
Things To Do In Puerto Viejo and Cahuita
12 Quick Things To Do In San Jose Costa Rica
Banged Up In A Panama Prison (True Story)
From Semuc Champey to Flores by Chicken Bus
How NOT To Visit Semuc Champey
You can find all of my Central America posts here
And South America here if you're on a longer trip
The Only Packing List You'll Ever Need (with printable checklist)
15 Long Haul Flight Essentials: What to Take Onboard
Travel Insurance: Don't get Screwed by the Small Print