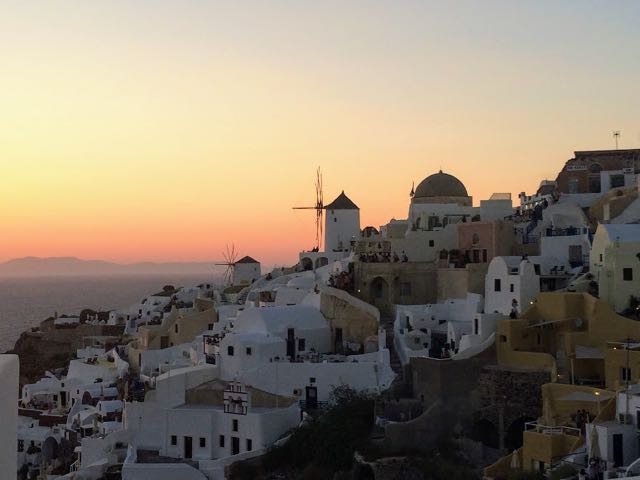 Place a glossy travel mag in my hands and I'm as happy as the proverbial pig in sh!t. Page after page, I love pouring over pictures of cerulean seas and cloudless skies.
But here's the thing – those pictures of those destinations are no more real than the images of celebs in Vogue.
Airbrushed and enhanced to not within a mile of what they actually look like, our dream destinations are presented to us in a way that will make us buy, buy, buy; the magazines not caring one jot that our dreams are quickly shattered the second we turn up to the scene of the photoshopped crime and find out it's nothing like we were promised.
That's why I like blogs. For the most part, blogs don't do that.
And in this blog I'm going to tackle what must be one of the most mis-sold destinations within the travel industry: Santorini in Greece.
And I'm going to help you figure out whether it's worth visiting Santorini.
UPDATE: I revisited Santorini and this time I did it differently. Find out my tips on how to enjoy Santorini in my articles:
Like volcanic islands but don't like the crowds? Get to Milos. Here's Your Complete Travel Guide to Milos, Greece
Santorini – What draws us in?
We've all seen the pictures – gleaming white churches holding up sea-blue domed roofs, teetering on the edge of a volcanic rim. Who, having seen those pictures, hasn't put Santorini on their bucket list? Those images made me pop it on mine. And all this is without mention of what we're led to believe is one of the world's most romantic sunset spots. Add private villas with infinity pools and you have a honeymoon haven, with 'once in a lifetime' price tags to prove it.
But here's the thing. Santorini – that version of it, all blue and white and screaming romance – it doesn't exist. Not the way the magazines and travel agents lead you to believe.
How do I know this?
Well, I went.
Part of me is sorry for writing this post and shattering the illusion, but if you spend every day dragging yourself out of a warm bed, through the cold mornings and into an job you can't even be bothered to loathe, I don't want you to spend your hard won cash and too infrequent holiday time on a dream that doesn't exist. And you would be spending ALL of your hard won cash, because if one thing Santorini doesn't do, it's come cheap.
The good news is, I have an alternative to Santorini for you in the form of a neighbouring island. It will deliver what you've been promised. I promise.
But before we get to that, let me present to you the truth about Santorini. I think it's best done in pictures, seeing as that's how we've all been mis-sold in the first place.
Santorini's blue domes – not as many as you think
I suggest we start with 'that image'. You know the one – a blue roofed church overlooking the sea. An image that is Santorini in all of its glorious stereotypes.
It looks a little something like this, right…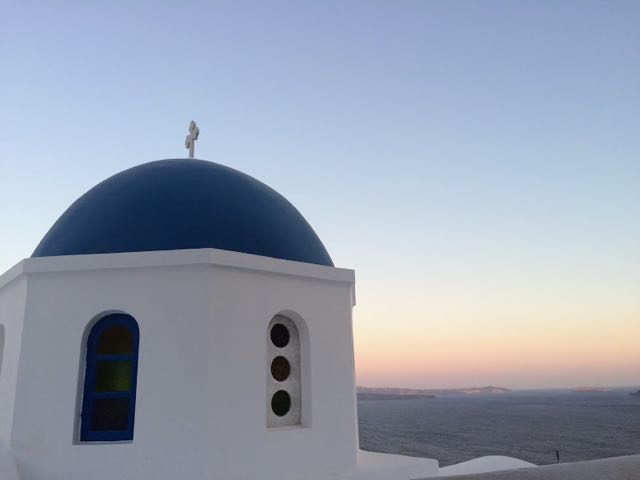 Or this…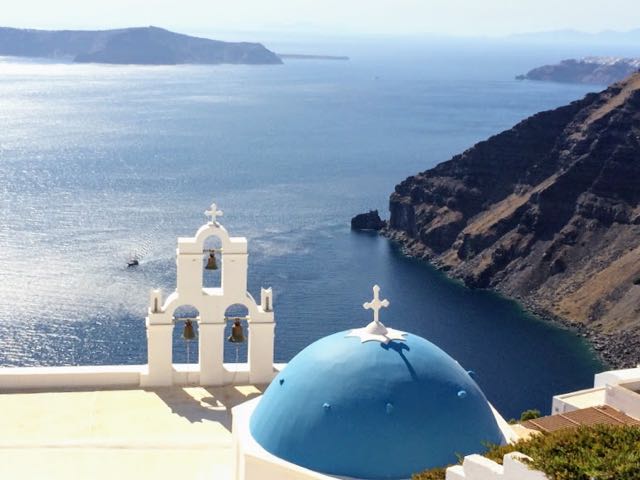 It's the kind of picture that leads you to believe that Santorini is top to tail blue and white.
The truth: it's not.
Sure, there are a few spots for blue shots. Here they are…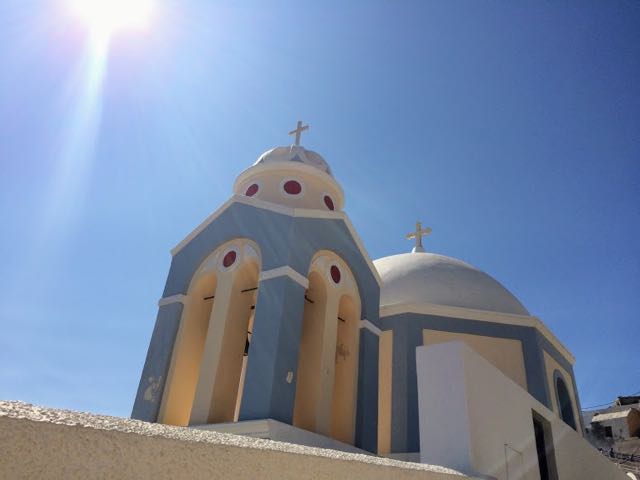 Complete with pink flowers…
Getting a little less blue…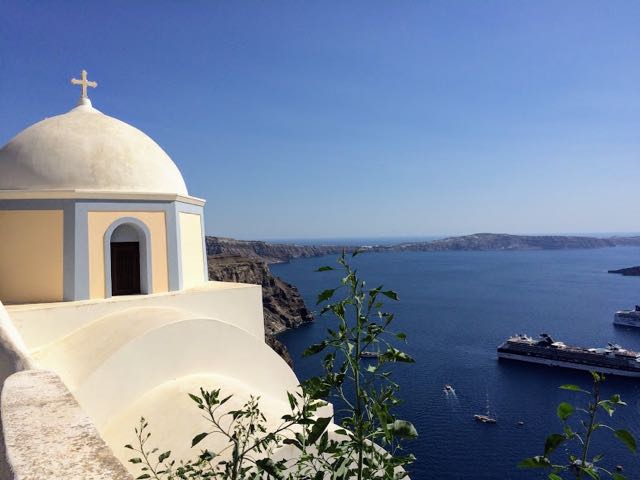 But all of those blue and white pictures in the glossy mags – they are all of the same few buildings, taken from the same few spots.
Do a Google image search for "Santorini" and this is what you get. See what I mean?

It's easy to be duped into thinking Santorini is an island with swathes of blue. Yet, in reality, Santorini is actually a patchwork of weathered white.
Here are the two main tourist towns – Fira and Oia.
Looking back over the town of Fira…
More white en route to Oia, which is also white and features in the far distance on the left of the picture.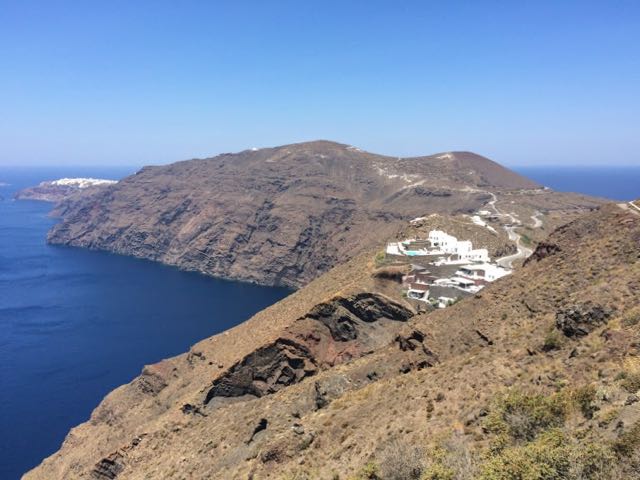 And a close up of Oia.
Point out the blue in this next one (apart from the sea and sky).
Pretty enough but where's all the blue I was promised?
Put simply: it doesn't exist. Not on Santorini, at least.
There are other places in the same set of Greek islands (the Cyclades) that offer more blue photo opportunities. More on that below.
Santorini's sunsets – stunning but crowded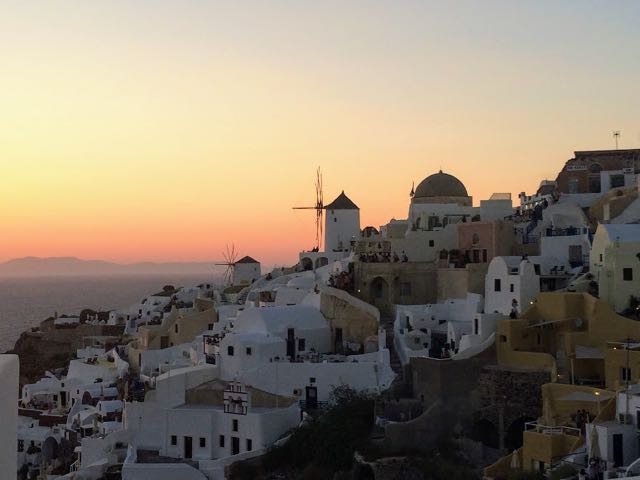 Yes
And no.
Of course, the sunsets are stunning. Sublime, even.
But that sunset view is only half of the picture. Literally.
Let's look at that photo of Oia again…
Look closer.
Notice the people? Notice how they're already blocking the narrow streets in anticipation and the sun isn't even close to setting yet?
After days of jostling elbow to elbow with Santorini's mass of tourists, I expected the sunset was going to be more manic than epic but, still, I persisted. Arriving over an hour before sundown, I planned to find a nice bar with a good view from which I could sip a glass of cold white wine and watch the hot ball of fire retire for the day.
Who was I kidding?
Not only was there not a single seat left in any of the bars or restaurants; there was barely standing room on the narrow stepped streets.
Sure, it's a wonderful sunset – if you don't mind also looking at the back of people's heads. And don't get me started on the number of selfie sticks that ruined my photos and, more than once, nearly ruined my face.
What a wonderfully romantic sunset spot – just you, your loved one and about 10,000 other people.
I lost my two travel friends for over an hour in that crowd. After I found them, we sat stock-still in traffic for a further hour trying to get out of the gridlocked town.
Whether Santorini is worth is for the sunsets is a hard one to call. Yes, they are stunning but the jostling could seriously test the patience of a saint.
Oia or Fira for Sunset?
That's ultimately a matter of personal preference – the sunset in Fira was far less crowded. I even managed to bag a gin and tonic spot in a bar. But the sunset in Fira (above) is also less spectacular.
Are Santorini's crowds really that bad?
Santorini is little over 75 square kilometres in size (under 45 square miles). Yet, hundreds of cruise ships visit the island each year and although that number is now capped at 8,000 cruise ship visitors a day, that's still a huge number, isn't it?
And this is without mentioning the people who are actually staying in one of the island's 800 or so hotels.
As for the locals – you know, just in case, you wanted to get an authentic travel experience where you get to meet some Greek people and learn about their culture – my advice is don't count on it.
Only around 13,000 Greek people reside on Santorini meaning that the number of native people is pretty much equalled by cruise ship visitors on any given day.
Santorini's beaches
I'd like to tell you that the beaches are beautiful. In fact, they are if you're after the rare(ish) experience of walking on volcanic shale. However, that is not how most people define a beautiful beach. They want sand as soft as icing sugar with a colour to match.
If that's you, I'm afraid you're not going to find those kinds of beaches on Santorini.
That picture above – that's the main beach within the town of Oia and it takes a 30/45 minute (downhill/uphill) trip down steep steps to reach it. The great part is that most people don't bother, which is a relief because it would only hold a few dozen people anyway. And none of them want to sit down on those sharp volcanic rocks. Not in a bikini, at least.
Like this? You might also be interested in my guide to : 45 Amazing Things To Do In Venice – Italy
Santorini – a volcanic caldera
Yes, Santorini is worth it for it's volcanic topography. Absolutely. Formed over 3,500 years ago from a volcanic eruption, Santorini is the remains of the rim of a volcanic crater, known as a caldera. As a lover of volcanoes, I found this aspect was worth a visit to Santorini all on its own.
Even if you couldn't give a flying stuff about volcanoes, you cannot deny the views that the island's distinct geography offers up.
Views like this, all the way across the Aegean sea.
And if you're feeling active, a walk between the main towns of Fira and Oia, which takes you on a path along the rim of the crater, is one of the highlights of the island.
The hike takes a few hours and not only is there some incredible views, there aren't many people viewing them.
Should you visit Santorini?
Over-crammed, over-priced and with infinity pools overlooking each other, Santorini is, by far, one of the most overrated spots in the Greek islands and, in my view, the world.
Does that mean you shouldn't go? Does that mean Santorini isn't worth it?
Of course not!
Parts of Santorini are beautiful and if it's on your bucket list, it's not for me to talk you out of pursuing your travel dreams. However, do go with open eyes, a suitcase full of patience and a very full wallet.
Tips for making the most of a trip to Santorini
go off-peak (November to March) – as well as avoiding the glut of the crowds, you'll help provide an income to local businesses at a time when they're experiencing an income low;
do your research to find local businesses you can support – hotels, restaurants, bars and tours;
check the cruise calendar and you might be lucky enough to find a time when the fewest cruises are rolling into town;
pick your infinity pool accommodation carefully – read reviews to make sure you're not overlooked or on the Fira to Oia hiking route – to read reviews about Santorini hotels on TripAdvisor, click here.
stay the night – most of the cruise passengers p!ss off after dark (free buffet is a powerful attraction, apparently), which is when you will be able to make the most of the island;
save your souvenir buying for other islands – I had a look at some local silver jewellery and the prices were higher than you'd pay at Harry Winston.
Is there an alternative to Santorini?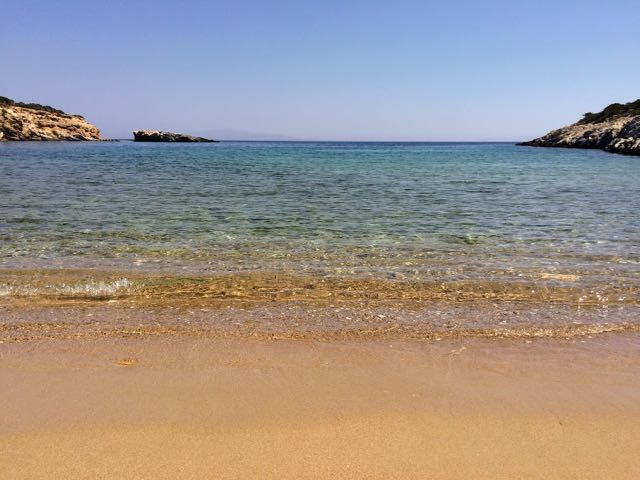 If having read this and probably other travel blogs about Santorini, you decide this island isn't for you, don't worry, there is a wonderful alternative to Santorini: Paros.
Sitting about 150 kilometres away but sharing the same patch of sea, Paros is everything you want from Santorini – blue buildings, beautiful sunsets and powdery beaches – without the crowds and designer price tags.
Better yet, you run the real risk of rubbing shoulders with some real Greek local life rather than chatting to people who are seeing Europe at the pace of one port a day.
So, that's my view on whether Santorini is worth it. Have you been? What did you think? Did you think it was worth it? Let me know in the comments below.
Like this? Share it on Pinterest…