Beyond stupid in Naples yet strangely safe
It was 3 a.m. and I was wandering the streets of Naples, lost, alone, under the influence of alcohol and with little choice but to check my location on my iPhone. I was breaking every rule on my travel safety list and a few besides. I was stupid beyond belief and yet I walked through the Saturday night streets without trouble.
If you believe the travel forums, it was statistically inevitable that I would come to harm in some way but look as I did, there were no thieves, no Mafia bosses and the dregs of society that apparently patrol the streets of Naples were either tucked up in bed or, more likely, nothing more than a figment of the average traveller's imagination.
I thought twice about sharing the opening of this post because it falls neatly into the Top 10 Most Stupid Things I've Ever Done (I should probably pen a post on that topic) and I'm in no way proud of my carelessness that got me into that situation.
I also don't want to use this example of stupidity to suggest that you can behave recklessly and all will be fine. I was lucky. I have no doubt. In most cities around the world, wandering the streets as I did puts you instantly into the category of prey and I counted my lucky stars as folded all of my intact limbs into bed that night.
However, my jaunt into stupidity hammered home a feeling I'd had in Naples since I arrived – the city does not present the feeling of danger that the scaremongers would have you believe.
Who says Naples is unsafe?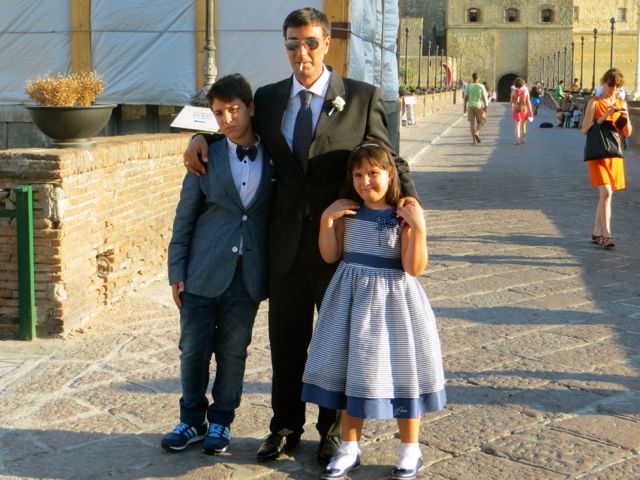 I paused longer than usual before booking a stay in the city that came with strong warnings for safety. Trawl the web and there are countless posts asking is Naples is safe or dangerous. Time and again the reply comes with a resounding yes. I received the same answer when I asked people during my month-long trip through Italy.
But the answer 'yes' bothered me in its flippancy. Perhaps it was years as a lawyer that trained me to dig deeper, but my questions were more detailed and no one seemed to have the answer.
Ok, if Naples is apparently unsafe, what does that mean – what does danger look like in Naples? I know in Rio it means I might get shot. I know in India it means I might get harassed by men. I know in Hawaii it means I might get bitten by a shark. So, advisers on Naples, what are the risks you're warning about? Am I likely to get raped, robbed and shot? And, if so, where in the city? Does this happen in high-end restaurants, in the train station in the small hours or at the castles near the port – they looked pretty safe to me? Am I likely to be recruited by the Mafia or drug dealers who will send me from Ibiza to Peru to smuggle drugs (I am English, after all!)? Will I wake up and find a horse's head in my bed? Or is the real risk that I'd fall in love with the famous pizza, gorge on Mozzarella and die of obesity?
No detail could be offered. It seemed people had an instinctive response that Naples was dangerous, but singularly failed to tell me why.
I tried a different approach, conscious that articulating thoughts isn't always easy –
"Does anyone know (directly or indirectly) someone who has been attacked, hurt, robbed…or recruited by the Mafia…in Naples? Anyone…[silence]….anyone at all? No horses heads? Nothing?"
I checked the Lonely Planet for Italy, my go-to guide for a good, honest overview on a destination's safety:
"Petty crime can be a problem in Naples but with a little common sense you shouldn't have a problem." Lonely Planet, Italy
Seriously, that was it? The risk I'd so often been warned about was one of petty crime? The same could be said for my hometown and most other place around the world. The solution simple – hand over possessions, walk away (ask a travel companion to wait 30 minutes and go buy it back).
With a an internet search, Lonely Planet guide and a straw poll of travellers and locals in my information toolbox, I assessed the advice – the naysayers told me to steer clear, but couldn't tell me why and the guide book I trusted seemed to think common sense would get me by (assuming I didn't do something like get drunk and walk the streets alone shakes head at self).
Meanwhile, I'd researched the city and was overwhelmed by the number of historic sights to see and divine foods to taste. There was no competition – to Naples I would go.
Safety in Naples – my overwhelming impression
I genuinely believe that if you're told enough times that a place is unsafe, it starts to affect your behaviour, and often for the worse. Conscious I didn't want to creep through Naples in the shadow of fear, attracting danger like a magnet, I decided to tackle the fear others had impressed on me head on.
Arriving in the city in daylight and with my most practiced (fake but outwardly confident) 'don't f*ck with me' face affixed, I did the 30-minute walk to my hostel.
It's fair to say that the train station is not the nicest area in the city. As well as a hangout for the homeless and beggars I was offered an iPad for sale – the previous owner's data still intact. Petty theft, it seems, is an issue in Naples. But isn't it the same in many large cities around the world? And aren't train stations usually in the seedier part of town – look at Termini in Rome?
As the train station grew further and further away, the city of Naples opened up presenting one grand building after another. Some crumbling, some gloriously restored. I didn't feel unsafe. In fact, I felt nothing, – I was simply another nobody blending into the streets of another large city while people went about their business. And it felt good – there was no tourist target on my back and I was grateful for it.
Backpack disposed of and new room-mate/sight-seeing companion acquired, we hit the port, saw the sights, wandered through the city and eventually collapsed into a café – due granitas limone, per favour!
As dusk fell and the ogres didn't show, we hit a bar for a beer and then some pizza before walking back to our hostel, entirely untroubled. It was a pattern we repeated – shopping, eating, drinking, sight-seeing, talking football with the locals (quick message back to my dad in Liverpool to ensure I wasn't betraying the country with my lack of knowledge).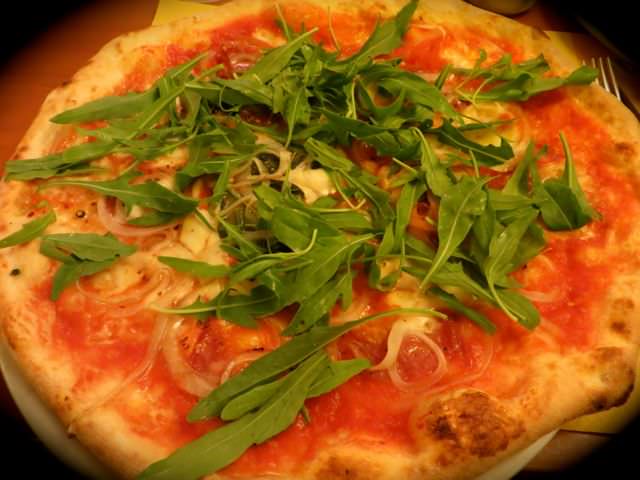 On the recommendation of an Italian foodie friend, we sought out two pizza places that were crammed in amongst the local's laundry down narrow streets a tourist might not venture were it not for the promise of the world's best pizza. And we were fine. In fact, when one pizza joint was closed (it was Monday), a homeless lady hobbled over to meet our disappointment with an alternative recommendation. It wasn't like Florence – she didn't ask for money. It wasn't like Rome – she didn't try to trick us into an unsafe location. She simply recognised our search for good food and helped us accordingly.
On the night I was silly, we drank wine in the street, the man in the store ready with cups and a corkscrew to facilitate our frugal choice of tipple. We spoke to doctors, laughed with waiters and had an all out good time (my end of night stupidity excepted).
The experience was friendly, the welcome warm, and my experience the exact opposite of what I'd be warned. I didn't wander out to the station area after dark and even at the hands of my own stupidity I felt safe the entire time in Naples. And that feeling of safety left me with a sadness.
Challenging the stereotypes
The city of Naples undoubtedly has a reputation, and not a good one, and for this reason many people pass her beauty by. The architecture as grand as Rome in places, the people real and unfussy and the food, oh the food!
The purpose of this post is not to sell you Naples (hopefully some of the images have already done that), but to help you stop and think. So many people accept the advice of others without question.
"Is Naples safe?"
"No.
"In that case, I won't go."
Who are these people giving this advice? People who have never been? People who rarely leave the comfort of their immediate environment? Concerned locals who underestimate the resilience of travellers who have already taken themselves halfway around the world? People who heard a story from someone who heard a story from someone who heard that Naples is unsafe?
I'd not suggesting you take a risk, but I'm recommending you make a challenge – to everyone who tells you Naples is unsafe. Ask them how it is unsafe (if it's petty theft by the station, this can be guarded against), ask them who they know who has been. Do your research and make an informed decision. And hopefully that decision will be yes, because the sights of Naples are worth it.
The Lonely Planet guide is right – with a little common sense you shouldn't have a problem in Naples….and even without it, you'll probably be fine, too.
Note: I kind of believe in karma so the night I walked home alone, I had €20 in my purse. It could easily have been taken from me, but it wasn't and I was so grateful to get back safe with all my possession and body parts intact that I paid my penance by depositing my last €20 note under the makeshift pillow of a homeless lady sleeping on cardboard boxes in a doorway. It seemed a fair trade with karma and served as a good reminder to keep my stupidity in check for future trips.
Where to Stay in Naples
On a budget: I stayed at Hostel of the Sun, which was in a great, safe location by the port (even if it's a bit tucked away). I walked there from the station, which took about 30 minutes, otherwise there is a metro station nearby. You're also within walking distance of the Alibus airport shuttle-bus stop at Molo Beverello Port.
Hotels: the best of the best: Here you'll find a list of the 10 best hotels in Naples (according to Trip Advisor). On my bucket list is La Ciligina Lifestyle Hotel, for a slice of Naples' modern and luxurious side (and also with a great location). If you're after views and don't mind taking taxis (you're not near a metro station), then Grand Hotel Vesuvio has views of the volcano itself.
Have you been to Naples – what was your experience? Did you find Naples safe or unsafe?
Related Articles:
Like this article? Share it on Pinterest…
Want to read more travel planning tips for Italy?