Ask most people "Is Mexico Safe to visit?" and you'll probably get a very quick and conclusive response: "No. Mexico's not safe."
Of course, most people proffering these opinions have never visited Mexico. Their opinions have been formed from stories on the news. Stories their second cousin's, cousin's friend heard from someone he once went to school with…in Hong Kong. But still, the confidence in their advice is unfettered. Don't go to Mexico. You'll get kidnapped, robbed, murdered or caught in the cross-fire of the drug wars. Ergo, nothing good can ever come from a trip to Mexico.
Sigh.
As someone who has spent almost a year in Mexico across three trips and having visited 11 out of Mexico's 31 states, I thought you might want to hear about safety from someone who has actually been.
In this article, I will look at some of the main fears people have about visiting Mexico and compare those fears to crime statistics in the country. I'm not going to serve you anything sugar-coated. If murder rates are high, I'll tell you (hint: they are). If there were risks in certain place, I'll tell you (hint: there were). In fact, I explain the worst thing that happened in each place while I was there.
Mexico has some very shady parts and crime is definitely a significant issue in some states. However, it's absolutely possible to have an amazing, low-risk trip to the country. I have written a separate article – The Safest Places in Mexico for Tourists to Visit.
Update: I have returned to Mexico every few years since first writing this article and although I haven't had time to fully update the crime stats, my suggested way of approaching safety in Mexico stands. I would however add one safety suggestion – while you're busy stressing over whether Mexico is safe, you might be overlooking other risks. On my last trip, I got dengue fever in Playa del Carmen in Yucatan Peninsula (you can read about that here). I'm not trying to give you another worry. I'm just suggesting that there are sneaky potential killers out there that aren't the ones you expect, looking at you Señor Mosquito.
Mexico safety: Introduction
Let's start with some demographics.
Mexico is HUGE.
Ok, that's not very statistical, so how about this: Mexico sprawls across 761,600 square miles (that's 1.973 million square kilometres).
If that still doesn't mean much to you, Mexico is:
the 14th biggest country in the world;
bigger than Alaska;
nearly three times the size of Texas; and
15 times – yes 15 times – bigger than my home country of England.
(See Wikipedia and Map Fight for details).
And it's not just the enormity of the land mass, Mexico is packing some people:
Mexico has a population of 119,713,203 million;
that's more than 3 times the population of the USA's most populated state, California, and more than twice the population of England; and
Mexico is the 11th most populated country in the world.
I'll stop with the size comparisons but I'm sure I've made my point – Mexico is HUGE.
But why am I so obsessed with Mexico's size?
Simple: because when it comes to crime statistics, size matters. A lot of diversity, including levels of safety for tourists, can (and does) exist in such a large space, and it's not reasonable to write off an entire country (or strike it off your travel map) just because some bad stuff happens in some areas sometimes.
Don't believe me? Even the US government doesn't advise against ALL travel to Mexico.
"The U.S. Department of State warns U.S. citizens about the risk of traveling to certain places in Mexico due to threats to safety and security posed by organized criminal groups in the country… For information on security conditions in specific regions of Mexico, which can vary, travelers should reference the state-by-state assessments."
Is Mexico Safe? The answer: it's a state-by-state matter
As the US Government said, in order to answer the question is Mexico safe? you need to drill drown and answer the question on a more local or state-by-state-basis.
A word on state lines
Of course trouble doesn't simply stop and start at the state lines so if one state comes with a warning and a neighbouring state doesn't, use your discretion and dig deeper to fully understand the safety of the specific city, town, streets and even highways you'll visit on your trip.
Don't know one state from another? Here's a handy map:
Map from: MapsOpenSource.
You'll see from the map that Mexico is made up of 31 states, and the reality is that each state represents a different level of risk for tourist with a range from "very-very-low" to "hell-no-don't-go" – as much as I love Mexico, there are certainly a bunch of states that even this adventure traveller wouldn't go to right now.
Still not sure where your holiday destination is located? Here's a broad overview of some of the main tourist destinations in Mexico and the states they sit in:
Baja Sur: Cabo San Lucas, San Juan del Cabo, La Paz (including taking the ferry from Topolobampo and a tour of Espiritu Santo). Full La Paz Guide here.
Campeche: Campeche
Chiapas: San Cristobal, Palenque
Chihuahua and Sinaloa: Copper Canyon
Guanajuato: Guanajuato
Guerrero: Acapulco
Jalisco: Guadalajara, Tequila
Mexico: Mexico City, Teotihuacan
Puebla: Puebla
Oaxaca: Oaxaca, Puerto Escondido
Quintana Roo and Yucatan Peninsula: Cancun, Playa del Carmen, Isla Mujeres, Cozumel, Tulum, Isla Holbox, Akumal
Yucatan State: Merida
Where have I been in Mexico?
Below, I share full details of my experience in each of the states that I've visited in Mexico. Out of the list above, I've been to all of the tourist-popular states listed apart from Campeche, Pueblo, Guanajuato and Guerrero.
---
Common tourist concerns when visiting Mexico – Overview
Kidnap, robbery, murder and the drug-wars are the topics that come up time and again when I ask people their concerns about visiting Mexico. Even within Medellin in Colombia, I've met a significant number of travellers who have expressed fears of travelling to Mexico.
With those worries in mind, let's look at the real risk of each of these things happening to your average tourist in Mexico.
A word on other crimes
Robbery, kidnapping, drug wars and murder are not the only risks in Mexico. Like all countries around the world, sexual assault, pickpocketing and scams also present risks for travellers. However, these risks aren't especially more prevalent in Mexico than elsewhere so it's a case of packing your usual street smarts.
A great starting point for putting Mexican crime in context is the website How safe is Mexico?
There you will see that:
Mexico is safer than many locations within the USA;
the Yucatan Peninsula is as safe as rural USA; and
Mexico is safer than many other popular vacation/holiday destinations in the Caribbean.
Further, OSAC (the United States Department of State Bureau of Diplomatic Security), which has produced this report on crime in Mexico, says:
"Millions of Americans safely live, work, and take vacations in Mexico every year. Security conditions vary significantly throughout the country, and for that reason the Department of State has gone to great lengths to craft and update regionally specific guidance for American citizens in Mexico. Crime varies widely in Mexico depending upon location."
And the US Bureau of Consular Affairs says:
"Millions of U.S. citizens safely visit Mexico each year for study, tourism, and business, including more than 150,000 who cross the border every day. The Mexican government dedicates substantial resources to protect visitors to major tourist destinations, and there is no evidence that organized criminal groups have targeted U.S. visitors or residents based on their nationality."
And, "Resort areas and tourist destinations in Mexico generally do not see the levels of drug-related violence and crime that are reported in the border region or in areas along major trafficking routes."
However, as reassuring as all of that might be, it's impossible to avoid the fact that crime levels are high and, as the UK Foreign Office succinctly puts it:
"Most victims are Mexicans, many of them believed to be involved in criminal activity, but the security situation also poses risks for foreigners."
So, let's look a bit closer at those main worries that foreigners have…
---
Risk: Am I going to get murdered in Mexico?
Murder seems to be a real concern for tourists in Mexico and it's no surprise given the flood of media coverage every time a body turns up.
But what's the likelihood that you, as a tourist, are going to get murdered in Mexico?
To try and figure this out, I looked at two pieces of information – Mexico's latest homicide/murder rates and the list that features the "Murder Capitals" of the world i.e. the cities with the highest number of homicides (per 100,000 people).
Leading with the not so great news, Mexico features 9 times on the list: Top 50 cities by murder rate.
Equally depressing, there were 16,736 "intentional" murders in Mexico in 2013 (not including negligent homicide/manslaughter). (Based on data from January to November 2013).
But WAIT – before you strike a line through Mexico, let's look at that data in a bit more detail.
Mexico's Murder Capitals
The 9 Mexican cities in order of highest murder rate, are:
Acapulco
Culiacán
Torreón
Chihuahua
Ciudad Victoria
Nuevo Laredo
Ciudad Juárez
Tijuana
Now, let's compare that to the states I listed above – the states where most tourists are likely to go:
Baja California: Tijuana
Baja Sur: Cabo San Lucas, San Juan de Cabo, La Paz
Campeche: Campeche
Chiapas: San Cristobal, Palenque
Chihuahua and Sinaloa: Copper Canyon
Guanajuato: Guanajuato
Guerrero: Acapulco
Jalisco: Guadalajara and the town of Tequila
Mexico: Mexico City and Teotihucan
Puebla: Puebla
Oaxaca: Oaxaca, Puerto Escondido
Quintana Roo: Cancun, Playa del Carmen, Isla Mujeres, Cozumel, Tulum, Isla Holbox, Akumal
Yucatan: Merida
With the exceptions of Acapulco (for its beaches), Chihuahua (for starting the Copper Canyon route) and Tijuana (for cheap thrills from the USA), the list of dangerous cities and the list of tourist spots are pretty different i.e. the places where the highest numbers of murders are taking place are not the places where most tourists go on holiday/vacation.
I've visited two of the "dangerous" cities (Chihuahua and Tijuana) and by following local advice and sticking to the tourist spots, I had trouble-free visits.
However, if you crawl with fear at the idea of visiting any place on a Top 50 cities by murder rate, the answer is very simple – don't go to those places. Mexico is big enough and beautiful enough that you can easily find another corner of the country that resents a much lower risk for tourists.
What are those lower risk places?
Baja California Sur (home of Los Cabos), Campeche and the Yucatan are Mexico's three states with the lowest homicide rate in the country. Meanwhile, Quintana Roo (for Cancun and Playa del Carmen) comes in as eight safest.
Mexico's Homicide Rate
As for the homicide rate, 16,736 intentional murders is way higher than most people would like to read about. Hell, it's way higher than I'd like to read about.
However, it's not all bad new once you start to add a bit of context to the number.
First, the homicide rate has decreased by 16% compared to the same period the year before.
Second, the homicide statistics don't differentiate between drug-cartel related homicides and indiscriminate killings – it's estimated that nearly 11,000 murders were attributed to drugs violence in 2013, which would makes up nearly 70% of the intentional murders in Mexico.
Finally:
"The number of U.S. citizens reported to the Department of State as murdered in Mexico was 71 in 2012 and 81 in 2013." (US Bureau of Consular Affairs).
Although that number has increased from 2012 to 2013, it represents a minuscule percentage of the Mexican homicide rate, and will undoubtedly include American citizens who were involved in criminal activities.
How to avoid getting murdered in Mexico?
Although initial data is scary, when you dig deeper, it becomes clearer that tourists are not direct targets in Mexico and the majority of murders are drug related. With that in mind, how do you reduce your risk of danger as a tourist in Mexico?
try to restrict your visit to the safer states;
if you visit a less safe state (and even in safer states), stick to the tourist areas;
stay alert during you entire time in Mexico – ask for local safety advice and keep up to date on the news;
make sure you have extensive travel insurance – the kind that will get you out of danger if you need it; and
don't go wandering into trouble – if you're trying to buy drugs or wandering off into local territory with new-found Mexican friends, you're putting yourself into the danger zone.
---
Risk: Am I going to get kidnapped and robbed in Mexico?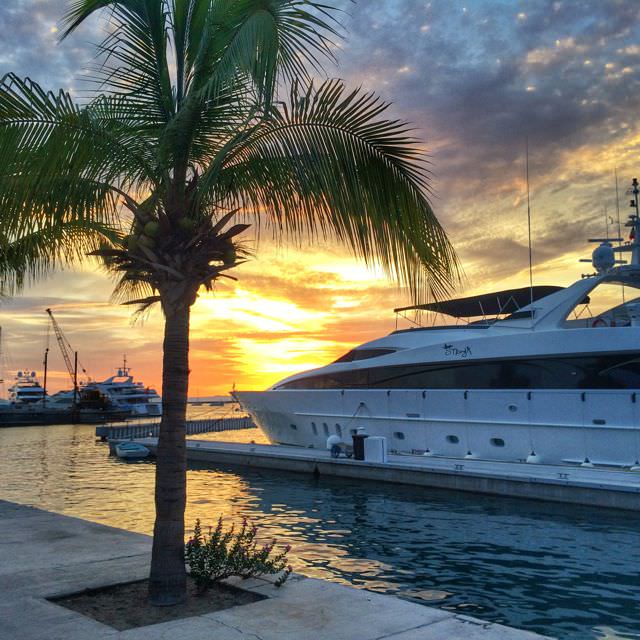 I've heard a few anecdotal stories of people being kidnapped in Mexico and it's true that kidnapping and, more specifically, express-kidnapping is a real issue in the country.
What is express kidnapping? It's where your friendly criminals "borrow" you for 24 to 48 hours while they systematically visit ATMs with your bankcard to empty as much money as they can out of your account.
Crime stats don't paint a pleasant picture when it comes to kidnapping in Mexico:
But, it's only when we start to fill in the details a bit more that the picture brightens for tourists.
First, let's look at the states with the highest kidnap rates. They are:
Guerrero
Michoacán
Mexico City
Tamaulipas
Morelos
With the exception of Mexico City and Guerrero for Acapulco (more on these places in a minute), these are once again states that most tourists are unlikely to visit.
Not only that, let's put that large kidnapping rate into some sort of context.
Remember at the beginning of this article where I droned on tirelessly about the size of Mexico, and where I mentioned that there are over 119 million people living in Mexico…well, comparing that population with the estimated kidnap rate (105,682), the risk of kidnap in Mexico is actually less than 0.1%.
Further, when you look at the risk to non-locals, the number of kidnappings gets dramatically smaller:
"Nearly 70 kidnappings of U.S. citizens were reported to the U.S. Embassy and consulates in Mexico between January and June of 2014." (the US Bureau of Consular Affairs)
Although the US Bureau of Consular Affairs doesn't break those numbers down by expats, business or tourists, this piece of guidance from the Bureau sheds some further light:
"Of particular safety concern are casinos, sportsbooks, or other gambling establishments and adult entertainment establishments. U.S. government personnel are specifically prohibited from patronizing these establishments in the states of Coahuila, Durango, Zacatecas, Aguascalientes, San Luis Potosi, Nuevo Leon, and Tamaulipas."
In short, the kidnap risk seems to be concentrated in locations and involve activities that your average tourist won't come into contact with.
Perhaps the best news of all if you want to reduce your kidnap risk – looking poor is your best defence. As OSAC says:
"Armed robberies, "express" kidnappings, car thefts, carjackings, credit card fraud, and various forms of residential and street crime are daily concerns. The low rate of convictions of criminals contributes to the high crime rate. Criminals select victims based on an appearance of prosperity, vulnerability, or a lack of awareness. Displays of wealth are magnets for thieves in Mexico City. Wearing expensive jewelry, watches, and displays of large amounts of cash draw unwanted attention. Jewelry and expensive watches and cellular phones can be sold easily in vast illegal markets. Although Mexico employs strict gun-control laws, criminals are usually armed with handguns (or knives) when carrying out street crime."
Tips for taking street taxis in Mexico
I said I'd come back to the subject of kidnappings in Mexico City. So, here we are…
I've travelled through Mexico city a handful of times and each time (after my first time, when I was pretty cautious), I felt very safe…until it came to the street taxi.
One of the safest ways to travel in most cities around the world is by hailing a cab. But sadly that's not the case in Mexico City. Commonly involved in gang crime and a significant means of procuring victims for express-kidnappings, the best advice I could offer for anyone visiting Mexico is to steer clear of the street taxis in Mexico City.
As OSAC says:
"One simple way to lessen one's chances of becoming a victim of street crime in Mexico City is to avoid the use of "Libre" taxi cabs. Due to the danger involved in utilizing "Libre" taxis, and the increased difficulty in determining the difference between the different types of taxis, the best practice is to avoid hailing taxis in the street entirely. Instead, call, or have the merchant you are visiting call a radio dispatched "Sitio" taxi."
What about car jacking and highway robberies in Mexico?
Highway robbery may sound like something out of a western movie but for motorists in Mexico it's a real risks.
As the US Bureau of Consular Affairs says:
"Carjacking and highway robbery are serious problems in many parts of the border region… There are indications that criminals target newer and larger vehicles, especially dark-colored SUVs. However, even drivers of old sedans and buses coming from the United States have been targeted."
The advice:
"To reduce risk when traveling by road, we strongly urge you to travel between cities throughout Mexico only during daylight hours, to avoid isolated roads, and to use toll roads."
Reducing your robbery and kidnap risk in Mexico
Kidnapping, although a concern for many, doesn't appear to present a significant risk (statistically) for tourists travelling to the main travel destinations. Still, to keep the risk low:
lend your Rolex to your friend at home while you travel to Mexico. I suspect one of the major reasons I've not run into trouble in Mexico is because I (intentionally) don't look like I'm worth robbing!
don't take the street taxis in Mexico City. I've already written about the problem of street taxis in my article My 20 Worst Travel Stories together with advice for dealing with taxis in Mexico;
avoid the states/activities that represent the highest kidnap risks;
a particularly good tip from the UK Foreign office: "Be discreet about discussing your financial or business affairs in places where you may be overheard by others.";
consider discussing your travel plans with your bank and insurance company if you're concerned or likely to engage in risky (kidnap-appealing) business in Mexico; and
if the worst happens – express kidnapping or car jacking – co-operate. There's no need to contribute to Mexico's murder stats!
also check out my tips: Are you ready to get robbed? 12 Travel Safety Tips
---
Risk Am I going to get caught in the cross-fire of the drug cartels?
Mexico is in an unfortunate position. As the last drug handover point between Latin America and the USA (around 90% of the USA's cocaine comes via Mexico), and with an industry that is estimated to be worth almost $50 billion, it's no great surprise that the USA-Mexico border areas are volatile and risky areas to visit.
There are a bunch of active drug cartels in Mexico (you can read about them here) and in 2013 it was estimated that nearly 11,000 people were killed due to Mexican drug warfare.
However, the good news is that you, as a tourist, are not the target.
"To date, criminal groups have not shown a pattern of targeting innocent civilians for political purposes or espousing political motivation for their actions." (OSAC)
And, the drug wars are largely restricted to a small handful of states. Here's a handy map highlighting where the main mafia cartels are at work (shown in red):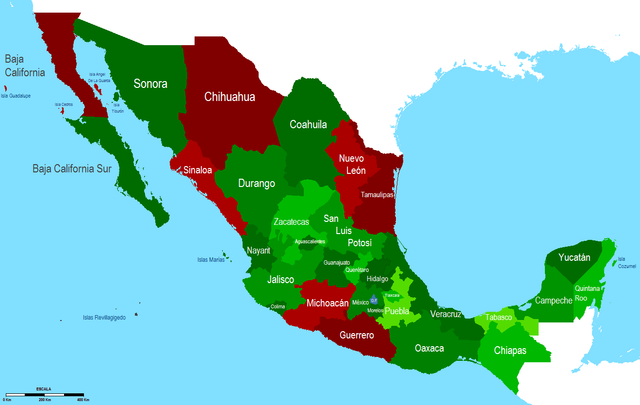 Source: Wikipedia.
The location-specific nature of Mexico's drug war is highlighted by the UK Foreign Office:
"Drug-related violence in Mexico has increased over recent years. The violence is concentrated in specific areas, and some regions are almost completely spared. Make sure you research your destination thoroughly." and
"Drug-related violence is a particular problem in the northern states of Sonora, Chihuahua, Coahuila, Nuevo Leon, Tamaulipas, Sinaloa and Durango, and also in Guerrero, Jalisco, Michoacán and Nayarit. Armed clashes between security forces and drug groups can occur at any time without warning. You should exercise extreme caution outside of tourist areas in all of these states."
Although this list of states is longer than the states highlighted on the map, the locations are still, largely, places where tourists don't tend to go (with the exception of Chihuahua and Sinaloa (for the start and end of Copper Canyon), Tijuana and Guadalajara.
Reducing your risk of getting caught in cartel cross-fire
For the reasons above, I'm pretty confident saying that, unless you're mucking around in cartel territory, the chance of you as a tourist getting caught up in the cross-fire of the drug wars is pretty low. Still, to keep your risk low:
don't visit the states of the cartel strongholds;
if you do visit, like I did when I went to Chihuahua, Sinaloa and Tijuana, stick to the tourist spots, minimise the length of time you spend there and adhere to the local safety advice;
don't go looking for trouble i.e. don't go making deals with the local drug kingpin just for the sake of some cheap(er than you'd get outside of Mexico) thrills.
---
A small disclaimer: Crime in Mexico is a complicated subject with a lot of data from myriad sources. I'm no expert on the topic. I've pulled together this article based on the best information and most reliable sources I've been able to find. My aim is to inform people about Mexico. If you have conflicting or more relevant information that I have missed, please send it to me and I'll happily update this article.
Mexico (or anywhere outside your home country), I highly recommend travel insurance.
Get a quote from World Nomads here
Not sure whether you need travel insurance? Check out my related posts:
10 Times You'll Realise the Importance of Travel Insurance
What Does Travel Insurance Cover (and What is Excluded)?
Related Articles