UPDATE: I returned to Florence, armed with another Firenze Card and I've updated this post accordingly: I've updated the comparison prices and I've updated the details on how easy it is to get into each sight.  I haven't, however, deleted the old information so you can see the difference in the card in two years – there's been some great progress.
Overall, my experience of using the card was much better this time. There was less bureaucracy and best of all, you can now use the card to queue jump the line for the climb to the top of the Duomo! It was insane to me that you couldn't do that last time I visited and one of the reasons I came out with a balanced 'Maybe' about whether it was worth getting the Firenze card.
Now, I'm going to go so far as to say that you should "almost definitely" get the card…but read on to get the full story.
The Firenze Card
The Firenze Card is a museum pass that allows entry to 72 museums and sights in Florence over a period of 72 hours at a cost of €72.
It sounds expensive but with three days of sight-seeing and more than the average number of sights to see in Italy's most famous Renaissance city, I decided to see if the card offered value for money.
For more information on the sights mentioned here, see my related post: 10 Best Sights in Florence.
Is it worth getting the Firenze Card – The Short Answer: Maybe
(Updated: The Short Answer: Almost definitely)
In my view, it is only worth getting the Firenze Card if:
you plan to see more than seven of the main sights in Florence

you're travelling in peak season and want to avoid the queues for the Uffizi Gallery and the Academy (where Michelangelo's David lives)
you have the full 72 hours to take advantage of the card (early mornings and late nights)
you have boundless energy
you want to push yourself to see more sights than the usual highlights – having 'free' museum access I found myself skipping into more museums than I would have with a ticket by ticket expense
you can consume a large amount of the same thing (the Renaissance) without wanting to poke dry spaghetti in your eyes.
It is not worth getting the card:
for less than 72 hours in the city (Update: queue jumping has become smoother so I now think you could still get value even for a 48-hour visit if you're on a time crunch, hate queues and want to fit a lot in).
in the hope of jumping the queue to climb up the top of the Duomo – the Firenze Card does not afford you any benefits here Update: you can now breeze straight to the front of the Duomo queue for the climb to the top. You cannot underestimate how valuable this – queues regularly snake around the building and, worse, the queue is commonly completely halted to allow people time to get up and down the stairs. As you can imagine, this can take some time, making the queue time even longer. Given there are no other options for booking for priority access short of getting Knighthood, the Firenze Card is the one and only priority pass into the Duomo. For me, on a limited time trip, that's worth the cost alone! Here's proof – Priority Line with NOBODY in it!
Further Update – you have to make a free reservation to use your Firenze Card to access the Duomo. According to the Firenze Card folks, "you have to collect the free ticket at the ticket office in piazza San Giovanni 7/r and then to make the reservation on the dedicated screen." As I haven't been back to Florence to try this out, I don't know how easy or difficult this is – if anyone has tried it, do let me know so I can update this section.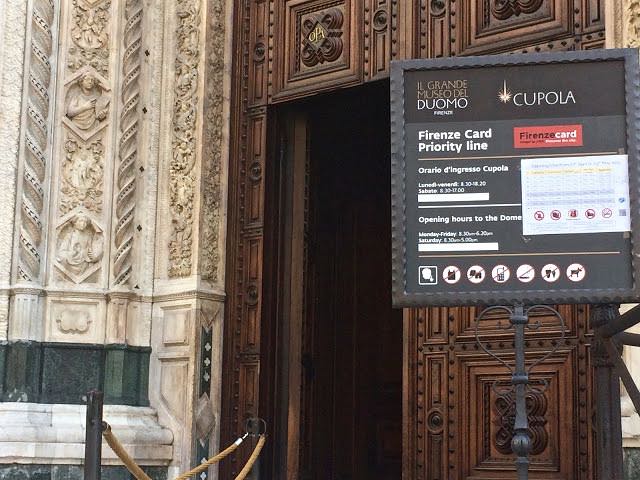 you only want to see the main sights (Academy, Uffizi, Duomo)
you are buying it for seamless entry into the sights (frustratingly there is more bureaucracy with the ticket than buying single entry tickets) (Update June 2015: As already mentioned – the system has gotten a lot smoother since 2013 and I didn't have a single problem getting access. You still have to swap your card for tickets at the Duomo sites, but otherwise the card seemed much better integrated/well recognised by the museum staff across Florence).
What the card includes: Museums and Sights
As mentioned, the Firenze Card includes access to 72 museums and sights.
This includes all of the city's top attractions like the Duomo (and the surrounding sights such as the Baptistry), Michelangelo's David and the Uffizi Gallery.
It also includes access to the main Basilicas (e.g. Santa Croce, where you can see the tombs of the city's most famous inhabitants including Michelangelo, Galileo and Machiavelli).
The Pitti Palace and Boboli Gardens are also accessible with the ticket and when the Renaissance gets too much (there is a limit to the number of Madonna and Child even the most ardent art buffs can stand, I'm sure) there are some alternative places to visit including the Galileo museum and Natural History museum.
For a full list of the attractions, see here.
Price Comparison
In Summary
I have set out below the museums I visited during my 72 hours. Had I bought individual entry tickets I would have spent €75.50 compared to €72 for the Firenze Cost.
That looks like a pathetic €3.50 saving!!
However, it's important to note that during most of Day 3 of using my card I unexpectedly had to work and therefore was unable to get maximum use out of my card. If I had been free for those hours, I no doubt would have increased my saving by at least €10 to €20.
In terms of getting easier entry into various sights, the Firenze Card offered mixed results. It was definitely more difficult to enter the Duomo and Baptistry than the standard entry ticket. However, being able to sail into the Uffizi like I was Royalty (red rope removed to grant access ahead of a long queue) and turn up at the Academy without a reservation was almost worth the cost of the ticket alone!
(Update June 2015: I didn't see exactly the same things this time around (though I had my brother and his partner cover some of the old ground for me – they were first-time visitors to the city and also had Firenze Cards). However, doing the same calculation as in 2013, the single ticket cost would have been €84, with a saving of €12.
With a €12 saving PLUS priority access into the main sights I'd recommend that almost all visitors would benefit from the card if you're able to make the most of it (i.e. race around the sights rather than soak up some sun and sip beer all day).
Here's my guide to the 10 Best Sights in Florence (and their less well-known alternatives).
The Firenze Card In Detail
In the following tables I show the entry price for each attraction and describe how easy (or not!) it was to access the sights with the Firenze Card.
In the overall price comparison total I have assumed people would buy combined (therefore reduced) tickets where available and 'queue jump' tickets would only be purchased for the two biggest queues – the Uffizi and the Academy.
Update June 2015: All of the prices in the table were completed in August 2013. Where prices have changed, I've note this underneath each table. I've done this rather than update the tables so you can see the increased value of the Firenze Card, which hasn't changed price (at €72) since 2013.
Update June 2015: You still need to show your card for entry tickets but you only need to do this once in one queue so it is now a swifter process. But more importantly, you can now get to the front of the Duomo queue (see above).
September 2016: The combined ticket is now €15.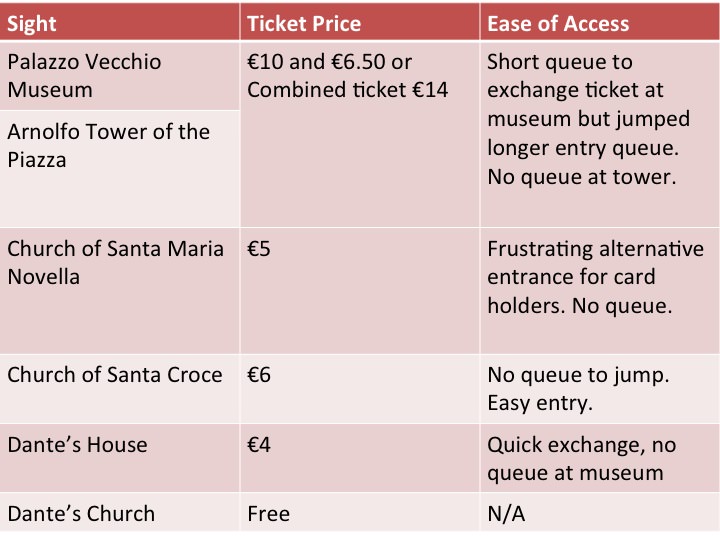 Update June 2015: Price changes:
Palazzo Vecchio Museum and Arnolfo Tower of the Piazza: €10 and €10 each or €18 for a combined ticket.
Church of Santa Maria Novella: No price change.
Church of Santa Croce: Pricing has become more complex. €6 gets your a fixed date ticket and an extra €1 buys you a fixed time. €9 buys you an any-day ticket, valid within 6 months of purchase. There are no details but I assume you're only able to enter once on the open ticket.
Dante's House: No price change.
June 2015: Price changes:
Uffizi Gallery: €8 entry plus €4 for online reservation
Academy Gallery: €8 entry plus €4 for online reservation
Pitti Palace and Boboli Gardens: €8.50 and €7 plus €3 booking fee. Combined ticket: €13
Bargello Museum: No price change.
Other benefits of the card
In addition to museum access, the pass comes with a couple of other listed benefits:
Firenze Card App
Since my last visit, there is now a free Firenze Card app which I'd highly recommend downloading. It contains:
a full list of the museums you can access with your card together with a description of what each museum contains and it's opening hours;
a map of where all the Firenze Card museums are in Florence;
I couldn't get the events page to load but I already have enough to occupy me that I didn't mind.
Free entry for under 18's (EU citizens only)
Not that I was travelling with any, but if you are, there is free entry for any under 18s of the same family accessing the sites at the same time as a cardholder. This is restricted to EU citizens and although I didn't test it, the pass states that ID is required.
More Information
72 Hour Validity
The card is valid for 72 hours from start to finish. So, if you first activate it at 2pm on Monday, it will be valid until 1.59pm on Thursday giving a full 72 hour access.
Multiple visits prohibited
Although the ticket is valid for 72 hours, you are only allowed to access each site only once, preventing a slip in and out approach to your site seeing.
Opening hours
You should pay close attention to opening hours and days to get the most out of your card:
The Academy and Uffizi are both closed on Monday. This doesn't need to be a deal breaker. I took the card on a Monday and just had to plan to see those sights another day.

Some of the sights like the Science Museum are open towards the weekends only (Wed-Sun), which was a disappointment for me as an early week visitor.
Some of the sights close early (before mid-day), so make sure you properly plan your time each day.
Update June 2015: This is probably a very specific complaint but I happened to visit Florence over the May 1st bank holiday. In Florence, that meant that around 95% of the museums (my guestimate) were closed for an entire day of my visit. My Firenze Card was provided on a complimentary basis for the purpose of updating this article but my brother and his partner bought their card (at my recommendation) and lost the value of an entire day's use. There was no mention from the counter staff at the point of purchase that the museums would be closed for a whole day. Our disappointment could have easily been managed with one tip – although the museums are closed for one day, they were open until midnight the night before. We could have completed our museum visits, just on a different schedule.
Lesson: check, check and check again the opening times before you buy your Firenze Card. You can check all of the opening times and closure dates via the free app or on the website. 
Lose it and it's gone forever
I lived my entire time in Japan in fear that I would lose my $500 Japan Rail Pass which is effectively treated like cash with no renewals, and while €72 doesn't come close in price, it's still enough to make you wince if you misplace your Firenze Card over a post-Renaissance-seeing Prosecco – if you lose your card, it won't be replaced.
Getting the Firenze Card
Oh how I love the Italians and oh how I loathe their bureaucracy, but the sad fact is that you can rarely have one without the other.
I bought my card online, as many people do. However, I didn't have easy access to a printer so turned up voucherless. (There are several points around the city where you can collect your card, I made my attempt at the tourist information of the Palazzo Vecchio). The result: the customer service lady's head spun several times before nearly falling off. She couldn't fathom what to do with my voucherless request.
Fortunately (?!), she managed to keep her head attached to her body with the motivation of scolding me, "How am I supposed to process this without a voucher?!" To which I replied, unhelpfully, "How am I supposed to print this without a printer." Stale Mate.
To my relief, her colleague stepped in with an eye roll (at his inflexible co-worker, not me!) and suggested ever so patiently that she check the system. A begrudging sigh later, I was given the card.
The most frustrating part is that you can buy the Firenze Card around the city without the bureaucracy and if I could do it again, I'd turn up, swipe my plastic or hand over euros and walk away, card in hand.
Update June 2015: Although no surly staff was encountered on this trip, my brother and his partner had a bit of a wait before they could buy their tickets. They arrived at opening time (after 9am) but were asked to come back. After a coffee and a bit more of a wait at the counter, they eventually got their cards…closer to 10 a.m. I'm not sure if there's any solution other than a bag of patience and revelling in the fact that you won't have to queue or wait once you get the card.
Ticket Information: Offical Sites
There are many entrepreneurial ticketing websites for Florence that invariably include fees. The following are the official sites, which provide the official entrance prices minus a mark-up.
For the Duomo, Cathedral, Opera Museum and Baptistry.
For the Uffizi and Academy tickets including reservations as well as the Pitti Palace, Boboli Gardens and Bargello Museum.
For the Palazzo Vecchio and Santa Maria Novella, and Church of Santa Croce
A further update November 2015: The Firenze Card offering was updated once again, in November 2015 whereby the number fo attractions was increased from 67 to 72 – hurrah! At the same time, free bus use and wi-fi access were removed. In my view, this doesn't detract from the card – Florence is highly walkable and the wi-fi offering was patchy and unreliable. Personally, I'd rather have more attractions. For that reason, my view of whether it is worth it didn't change following the November 2015 update.
Related Articles
If you liked this, you might also like:
One Day in Pisa: What to See and Do
Regional Food in Puglia: What and Where to Eat
Tavarnelle val di Pesa: A Place Worth Leaving Florence For
Urbino: Italy's Best Kept Secret
A Taste of Urbino: Discovering Passatelli and Crescia
Is Naples Safe? The Answer from Someone Who's Been
One Day in Lucca: What to See and Do in the Home of Puccini
How to Plan Your Own Prosecco Tour in Italy
45 Amazing Things To Do In Venice – Italy
And, when it comes to planning your trip to Italy…
How to Book Cheap Hotels with Priceline Express Deals
Travel Insurance: Don't get Screwed by the Small Print
Dynamic Pricing: Flight Pricing's Biggest Scam