Honestly, I didn't know what to expect from my visit to Detroit. I'd heard great things about the city from fellow travel bloggers Hecktic Travels and LLWorld Tour: Detroit is the comeback city, regeneration is happening… and there's an amazing BBQ joint. That last point is usually enough to take me to any city, regardless of scare stories.
And boy are there plenty of scare stories – mainly from the mainstream media and always highlighting that Detroit is the most dangerous city in the United States of America. It's not an unfounded claim – Detroit is number 23 on the world list of cities by murder rate; it tops the charts for being the most violent city in the USA and, of course, there are those stories that revel in the details of the city's financial downfall.
Hell, even Eminem cashed in on Detroit's bad reputation with the movie 8-Mile.
So, I'm not afraid to admit that I had more than the usual amount of butterflies in my stomach when my Amtrak train rolled into Detroit station.
First impressions of Detroit
Having travelled to many developing countries, I'm familiar with the signs of poverty and having visited a fair number of places with challenging crime problems, I'm no stranger to places that have below average safety.
Yet I didn't get a derelict, dangerous vibe from Detroit – not for a second.
Sure, the city, with weeds standing tall between the cracks in the pavement, was in desperate need of a date with a lawn mower, and the electricity poles were at angles that spoke volumes about the lack of money for repair, but given that Detroit has stared down the barrel of bankruptcy, it's doing pretty damn fine all things considered.
Is Detroit Safe? The hard, cold facts
Before I arrived in Detroit, I did some research and most of the advice fell into two camps.
There were, of course, the scaremongering, doomsday predicting naysayers – a bit like this:
There was even an article by a woman on a reasonably reputable website declaring that any woman visiting Detroit is destined to be drugged, kidnapped and enslaved into prostitution. I'm intentionally not linking to that story because it's the epitome of everything I hate about alarmist travel advice on the web.
Fortunately, there was also a sufficient stock of positive articles that took a more rounded view and had the same general theme: stick to the safer neighbourhoods and you'll be fine.
The problem was, most of those articles didn't list which neighbourhoods were safe.
Not helpful, particularly given it's the top question on potential visitor's lists.
I tried to do my own research on the subject, but I really struggled to get my hands on reliable statistics about Detroit on a neighbourhood by neighbourhood basis, which is a shame because, just like Mexico, Detroit's high crime levels are not representative of all parts of Detroit – some neighbourhoods are much safer for visitors than others. Likewise, simply quoting the overall crime statistics isn't helpful either because they're not representative across the city.
The best statistics I found are here, and to some extent include a breakdown on a place by place basis. But they are by no means definitive and complete.
In the end I did a lot of my trip planning based of my research on Wikitravel (not my usual go-to resource) and together with conversations with locals, I decided I would visit (and did visit):
Downtown
Greek Town
Mid Town
Corktown
Is Detroit safe? Don't listen to people like Robert
One thing Detroit's not short on is opinions about Detroit's safety and I happened to have the misfortune of bumping into one of the more emotional (rather than fact) based opinions when I arrived in the city.
Travelling without a car, I decided to play it safe and order a ride with Uber to take me from the Amtrak station to my hostel. Within seconds Uber confirmed that Robert (not his real name) was on his way. Phew.
Clutching my iPhone inside my jacket pocket and tap dancing against the cold I watched as locals were collected by loved ones. "Hi," one woman smiled. "Hi," I smiled back. "Enjoy your visit," said an older man, "Have a nice stay," said his wife. Stealing furtive 30-second glances at my phone, my inner suspicion wondered if it was a ploy – was this unanticipated niceness a prelude to a bag…or body snatch?
I waited impatiently – nervously – but nobody did anything but smile, welcome me to their city and go about their day.
And then Robert arrived.
I've recently written about the faces of Uber and the many wonderful stories I've heard from drivers. But Robert was different. Don't get me wrong, he was a charming man filled with good intent, who drove a fancy SUV and dropped me off at exactly the right spot, but he was just another example of the kind of person who shouldn't be giving travel advice.
"Take this mace," he said as we pulled up at my hostel.
"Why?" I asked, wondering if it was a joke. As we'd driven through the streets of Detroit from Downtown to Corktown, I'd not seen any carjackings, nobody had been murdered, there were no burning buildings, there wasn't a single gang hanging around – even Eminem had, apparently, had long left town.
"You'll need it," Robert replied and I looked at him with a slight frown. I've never carried Mace. To me it feels like carrying fear in your pocket. And I don't want to live like that. I certainly don't want to travel like that.
"Seriously?" I asked. I looked around the area and saw nothing that made we worry. In fact, had I been dropped into this part of Detroit without knowing the city I was in, I'd have described it as a 1/10 on the fear scale. It looked like a slightly overgrown version of suburbia.
"I wouldn't let my daughter walk alone during the day in this neighbourhood, let alone stay here," Robert said. He couldn't have been more serious and for a solid few seconds I considered taking the mace. But then I remembered a crucial fact: en-route to the hostel Robert had confessed he'd not been in this part of Detroit (Corktown) before.
If there's one thing I've learned during the past five years on the road, it's never to take travel and safety advice from someone who's never been to a place. Just because Corktown wasn't the safe suburb of Detroit where Robert had chosen to live didn't de facto make it unsafe.
"I'm sure I'll be fine." I reassured Robert as I got out of his car.
And, d'you know what. I absolutely was.
Real versus perceived danger
I'm not going to lie to you, there are still some very dangerous parts of Detroit. However, for the average visitor who is likely to place themselves in Downtown or Corktown (where a lot of creative types have chosen to base themselves) Detroit doesn't present a real risk of danger. Sure, don't flash your cash or wander drunk through the streets alone at night. And certainly don't go looking for trouble or go searching for the burned out, derelict neighbourhoods you see on the news. I wouldn't add 8-Mile to my list of sights either. But, visit with your sensible head on and you're going to be fine.
I've talked before about the differences between real and perceived danger (my article about visiting Naples is a good example) and the fact is that most instances of danger exist in our mind – in that moment when a man puts his hand in his jacket pocket and pulls out his phone, but we're expecting to see a knife; in that moment when we hear fast footsteps behind us and brace, ready to be mugged, when it's just a jogger trying to get past.
I had a couple of those moments in Detroit, where my imagination created a sense of danger that wasn't real but after a few hours in the city, my mind started to calm. Person after person, smile after smile, no matter how far Robert's worm of doubt had worked itself into my brain, it was hard pushed to compete with the friendliness, openness and welcoming vibe that came from the locals.
Surviving three nights in Detroit
Within an hour of being in Detroit and during my quest to find an open supermarket on a Sunday I manage to wander out of the safe neighbourhood where I was staying into the neighbouring area which, by the admittance of the local guy I was with, was somewhat sketchy. Maybe I was lucky; maybe I'd built up a whole stack of good travel karma. But, guess what – I survived.
The following a day, I wandered around Downtown, Mid-Town and Greek Town with a map in one hand and my iPhone in another, navigating the sights. And, guess what – I survived.
One evening, I walked a few block – in the dark – to a local bar with a travel buddy for a few beers with the locals and, guess what – I survived.
I took no special measures and I survived.
Higher than the crime rates: local friendliness rates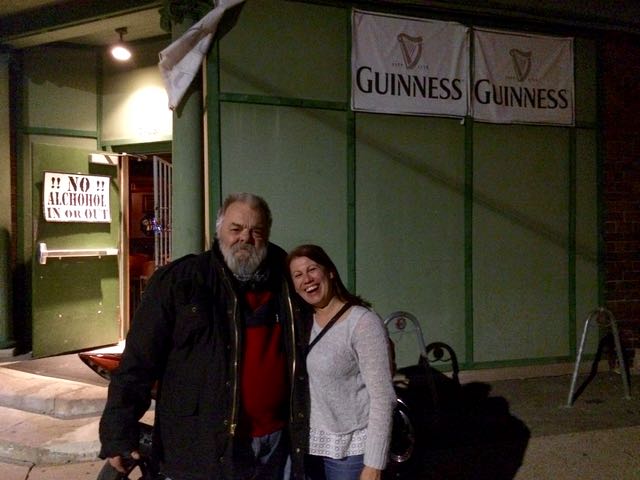 Crime statistics aren't the only thing that are high in Detroit – the friendliness of the local people is also performing way above the national and global average.
From the cops in the coffee shop who insisted that I go ahead of them in the line to the waiter who gave me the full truth, with a full smile, that it wasn't customary to add ketchup to my Coney Dog (I did ask), to the Vietnam vet on the monorail who shared a synopsis of his life story – it's been a very long time since I've been to a place where the people have been so warm and welcoming.
The bar I visited was no different – the barmaid, her daughter, a local firefighter, a yoga teacher, another Vietnam vet, a biker and a bunch of local business men one by one came over and introduced themselves. They each had a story – about Detroit, about their live and about their passion for their city. In turn, they wanted to know what I thought of Detroit.
I love it here, was my answer. Hand on heart, honest to God truth.
I've found throughout my travels that it's the people who have the least or have suffered the most who usually offer the friendliest smiles and most welcoming arms. And this was absolutely true in Detroit.
Not a single person tried to rob me, con me, scam me or cheat me – things that have all happened in other countries, some of which you've probably visited.
Nobody shouted at me, bumped into me, cursed me or sighed at me – things that have all happened in other countries, places where some of you live; places where I've lived.
Even Robert, my first Uber driver, as unfortunate and inaccurate as his advice had been, had my best interests at heart.
So, is Detroit safe?
I can't and won't promise that you'll have a safe and trouble-free trip to Detroit because crime rates are high and if you find yourself in the wrong place at the wrong time, things can go wrong.
However, although crime may be common in Detroit, the genuine warmth you'll find radiating from the people is rare. And for that reason above all, I'd return to Detroit and I'd encourage you to consider putting this down but certainly not out city on your travel wish list.
Tours of Detroit
If you're thinking of visiting Detroit and you'd prefer to have a local show you around, there are plenty of tours to choose from. Here are a few to check out:
Detroit Urban Adventures: visit the landmarks and find out about the city's rise, fall and renewal. Click here to read reviews on TripAdvisor
Detroit Segways: a sightseeing tour on two wheels. Taking a Segway is some of the most fun you can have anywhere IMO! Click here to read reviews on TripAdvisor.
Where to stay in Detroit
On a budget: Hostel Detroit: Detroit has one hostel but the fact it had any hostel at all was inspiring. I stayed here and as well as well as having all the wonderful facilities of a hostel (kitchen and cool people to chat to), the hostel is run by a group of people who love Detroit and know their city inside out.
If you're looking for the local scoop on where to get the best food, which bar has Mystery Monday (everything costs a dollar and you get whatever comes out the fridge) and where the go/don't go areas are, you're in the best place to find out.
Tip: the hostel is based in Corktown (a place where I felt safe) and it was within walking distance of local shops and restaurants.
Click here to read reviews and check prices on HostelWorld.
Hotels in the centre of downtown:
The following hotels are perfectly situated for Greektown and the Theatre District:
Have you been to Detroit? What did you think of the city? Let me know in the comments below.
Related Articles:
Like this? Share it on Pinterest…