Visiting the Statue of Liberty should be easy but for some reason it was more complicated that I expected. In this article, I'll give you my complete guide to how to visit including the different types of tickets and how to get to the Statue of Liberty by ferry.
I have written a related guide: Are Crown Access Tickets Worth It? Which includes what to see at the Statue of Liberty. As well as a guide to 12 Iconic Things To Do In New York For Tourists.
Quick Links for Statue of Liberty Tours & Tickets
Short on time and just want to book something? Here are the quick links:
---
The Tours
Taking a tour is the quickest and least stressful way of visiting the Statue of Liberty, not least because your won't have to work out the ferry and ticket times. A tour can also be a great option if you're booking last minute as the official tickets sell out quickly. Note, no guided tours offer Crown Access. If you want to go inside the crown, you'll need to book official tickets, details on how to do that below. Here are my suggested tour options in order of recommendation (prices might change so check before booking).
Statue of Liberty and Ellis Island Tour with Pedestal Access Option, price $49. There are a few options. I suggest booking the 9 a.m., 4-hour, priority line tour with Pedestal Access. All you need to do is turn up at the meeting point and your tickets, ferries and guided tour of Liberty Island and Ellis Island are all included and planned for you.
Statue of Liberty, Ellis Island and Pre-Ferry Tour, price $60. This tour is a little different. You don't get Pedestal Access but you do get a 30 minute history tour before you board the ferry. You can choose to take the audio guide around Liberty and Ellis Island or upgrade to a guided tour with the same tour guide. This is a good and popular option is you don't care about Pedestal Access and want to explore on your own but want someone to sort the tickets, ferries and timings for you.
Statue of Liberty, Ellis Island & 9/11 Memorial, price $115. Similar to the above tours, you get a guide who arranges your tickets, ferries and guides you around both islands. In addition, when you get off the ferry at the end of your tour, you get access to the 9/11 Memorial. I've been in the museum and it was harrowing but at the same time an essential part of New York history. As above, I recommend adding the Pedestal Access and taking the 9 a.m. tour.
---
The Best Sightseeing Passes for Statue of Liberty Tickets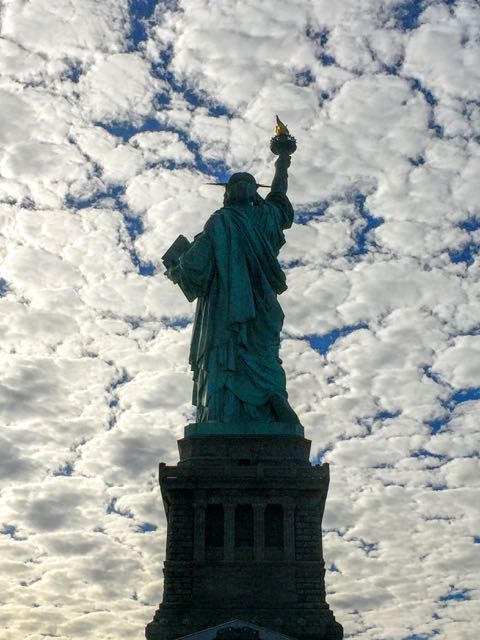 The good news is, most New York sightseeing passes include a visit to the Statue of Liberty. But be aware these tickets have some downsides:
You get a Reserve Ticket only. That means, you don't have a time slot – you just turn up on the day and line up at the ticket window to exchange/show your pass for a ticket. Go early otherwise you'll face long queues.
To get Pedestal Access, you'll need to see what's available on the day on a first come, first served basis.
Crown Access isn't included.
The upside – if you've already paid for your pass and don't care about going inside the Statue of Liberty, it's good enough. Just go early to beat the queues.
The main sightseeing passes that include Statue of Liberty tickets:
The passes can be great value if you plan to do a lot of sightseeing in New York. They typically give free entry to many of the big attractions like the Statue of Liberty and Empire State Building as well as discounts on other attractions and tours. I always find the passes encourage me to see more. There are usually also freebies or discounts at selected bars, restaurants and entertainment.
---
Seeing the Statue of Liberty by helicopter or cruise
None of these tours will land you on Liberty Island but if you prefer to sail past by boat or air, a cruise or helicopter tour is a great way to see the Statue of Liberty.
60-Minute Cruise Around The Statue of Liberty & Ellis Island, price $30. A brilliant compromise if you don't want (or can't get hold of tickets) to go to Liberty Island. This cruise will get you within 100 feet of the Statue of Liberty and also takes you under the Brooklyn Bridge. If you're torn between the Staten Island ferry (free but far away from the Statue of Liberty) and tickets to Liberty Island, book this cheap tour. It includes a guided history.
Statue of Liberty and Ellis Island Cruise, price $40. Pretty much the same 60-minute tour as above except you can listen to the sound of silence – there is no commentary on the boat, which might suit some people better.
Helicopter tour over NYC, price $194. If you're looking to see the Statue of Liberty from a different angle, take a helicopter tour. You'll also see the Brooklyn Bridge and Central Park. Great for a special occasion.
---
How to see the Statue of Liberty for Free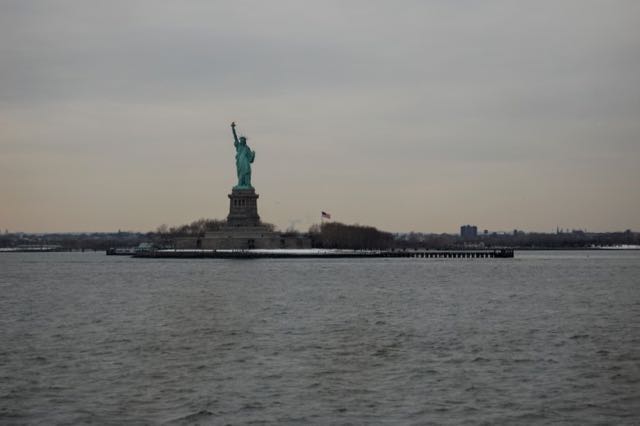 There are a couple of ways to see the Statue of Liberty for free. If you're short on time or on a budget, they're valid option. The main free options are:
From Battery Park – Battery Park is located in lower Manhattan and this will be your least-effort option if you're in New York. However, it's a very distant view and you'll want some binoculars (I bought this cheap, small set of travel binoculars).
Take the Staten Island Ferry – The most popular option is taking the Staten Island Ferry. All you have to do is sit on the 25 minute one-way/ 50 mins round trip ferry to Staten Island. I did this on my first trip to New York and I was satisfied with it. However, having since visited Liberty Island, I'd highly recommend the paid option. Why? The picture above was taken from the Staten Island Ferry. The picture below from Liberty Island. See this article for how to take the Staten Island Ferry.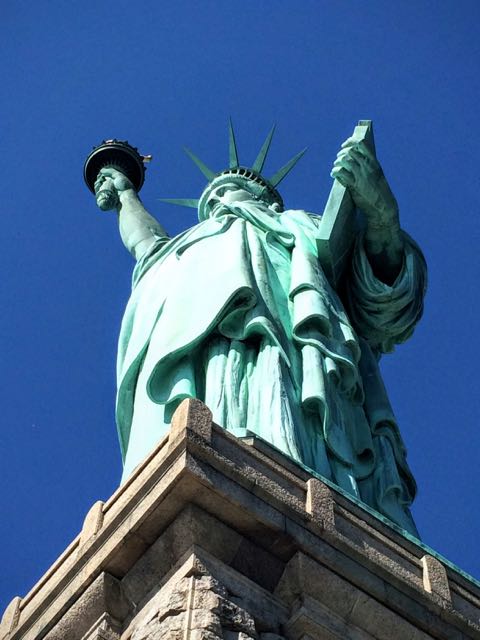 In summary, if you can get tickets, go to Liberty Island. If not, take a cruise (or helicopter tour). The Staten Island Ferry is your best free option but failing that, squint through some binoculars from Battery Park is better than nothing.
---
How To Buy Official Statue of Liberty Tickets
Liberty Island, where you will find the Statue of Liberty, and nearby historic Ellis Island are part of the US National Park Service and are technically free to enter. However, you still need to get to Liberty Island and for that you need a ferry ticket. There is only one official ferry company that can drop visitors at Liberty Island – Statue Cruises. Therefore, to visit Liberty Island, you need to buy ferry tickets from Statue Cruises and that effectively includes your ticket to see the Statue of Liberty. Here is the official Statue Cruises Website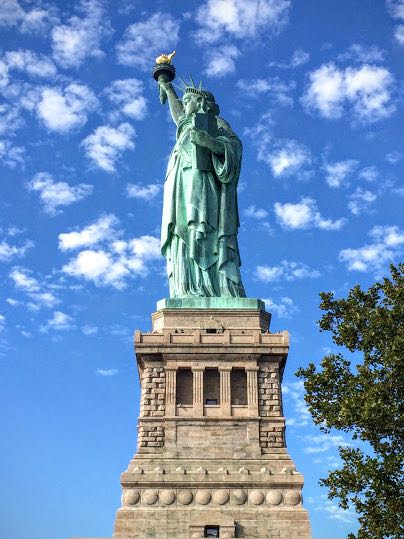 There are 3 types of tickets to choose from:
Reserve Ticket $19.25 – This ticket includes the ferry rides to Liberty Island and Ellis Island as well as access to the immigration museum on Ellis Island. You can walk around the grounds of the Statue of Liberty and get excellent photo opportunities but you cannot go inside the statue.
Reserve Ticket with Pedestal Access $19.25 – this ticket is the same as above except you are able to go inside the Statue of Liberty up to the top of the pedestal (the brown section). You'll notice the cost is the same as a reserve ticket so if this ticket option is available, go for it over the reserve ticket.
Reserve Ticket with Crown Access $22.25 – This is both the most popular and least available ticket because as well as the above, you get to go inside the Statue of Liberty all the way into the crown. However, you must, must, must have a stomach for heights and tight spaces as well as they fitness to climb lots of winding stairs .
See my article: Is Crown Access Worth It? You'll see pictures inside the Statue of Liberty, the stairs you need to climb, the elevator option in the pedestal and what you can do if you don't go inside.
All three tickets offer 'priority' boarding/access at the security clearance. With all tickets you get a free audio tour and/or Ranger tour.
Quick book official tickets: If you're struggling to get tickets on the official site, try booking them Get Your Guide – you can usually get Reserve Tickets last minute. In fact, many people go straight here to book because the ticketing and online booking is quick and easy. It will cost a bit more but I've reliably used Get Your Guide for city attractions and trust them.
Note: Crown Tickets have your name on them so you can't transfer them or sell them to somebody else.
What about Felx tickets? Flex tickets are tickets you can buy on the day that are valid at any time for 3 days. Sounds great but I would see Flex Tickets as a last resort because there is no guarantee any tickets will be available on the day. You basically need to stand in the general admission queue and cross your fingers. You also can't go inside the Statue of Liberty, which may be fine for some people but a lot of people don't realise this restriction.
Watch out for ticket touts!

There are some savvy tour companies ready to sell you a ticket at a higher price with no benefit to you. As an example, the above company charges $25 (Reserve and Pedestal) and $28 (Crown) for what should be $19.25 and $22.25 tickets. You don't even get a free postcard. Stick with the official provider: Statue Cruises.
---
How to Get to the Statue of Liberty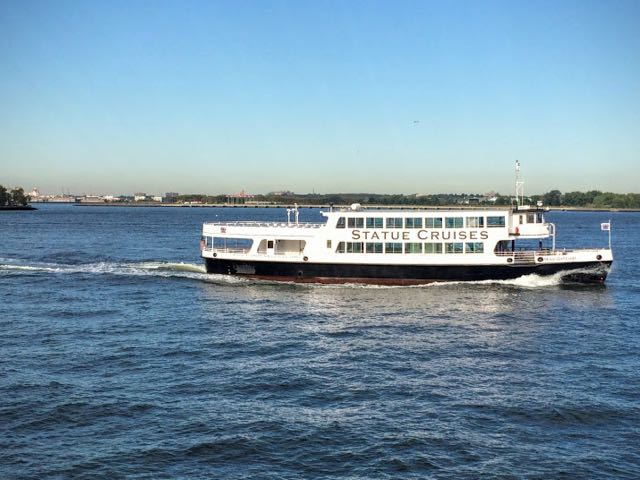 To get to the Statue of Liberty, you need to take the ferry operated by Statue of Liberty Ferries. If you've booked a guided tour, your tour guide will arrange all of this for you. Otherwise, all tickets that you book directly include the cost of your ferry to Liberty Island, Ellis Island and back to your departure point so you don't need to book ferries separately or pay any extra.
Where is the Statue of Liberty? The statue is located on Liberty Island, which is a few miles off shore to the south west of lower Manhattan, in the Upper Bay.
Where does the Statue of Liberty ferry leave from? When you buy tickets to visit, you're offered two departure points: New Jersey (Liberty State Park) and New York (Battery Park).
The ferries run to a schedule and basically run in a loop as follows:
Battery Park – Liberty Island – Ellis Island – Battery Park
Liberty State Park – Liberty Island – Ellis Island – Liberty State Park
Here is the full Statue of Liberty Ferry schedule. And here are the routes in pictures:
The key thing to check when you re-board the ferry at Ellis Island when you're done sightseeing is which departure point you're returning too – you don't want to end up in New Jersey if your hotel is in Manhattan.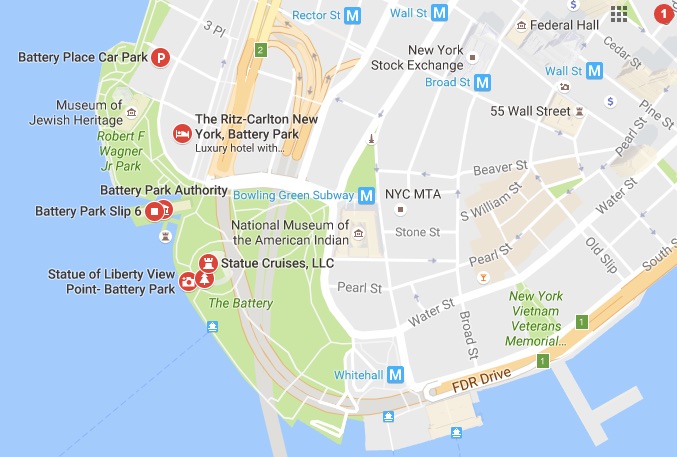 If you're departing from Battery Park (as most tourists will), head to Statue Cruises LLC as shown on the map above (this is also Clinton Castle on Google Maps, just to confuse you). It's a 5-minute walk from Bowling Green Subway or 10 minutes from Whitehall Subway. Broadstreet and Wall Street Subways are also close.
Statue of Liberty ferry timings:
The ferries start at 8:30 a.m. (first ferries leaving Battery Park and Liberty State Park) and run until around 5:45 p.m. (peak season)/ 5:00 p.m. (low season).

However, those later timing are the time you arrive back at your Departure Point. The last ferry leaves Liberty Island ferry at 4:00 p.m. (peak season) and 3:30 p.m. (low season).
The ferry service is also limited towards the end of the day with the last ferries offering access to Liberty Island only (from Battery Park) or a choice of Liberty Island or Ellis Island (New Jersey).
Unhelpfully, the ferry schedules differ between the National Parks Service website and the Statue Cruises website. If you expect to be there late in the day, check with the Statue of Liberty ferry operators or at the information centre on Liberty Island.
Liberty Island and Ellis Island are open 364 days a year – the exception is Christmas Day.
Top Tip: If you're after great 'approach' shots of the Statue of Liberty, on the Liberty Island ferry from Battery Park, go to the third level on the right .
---
Useful Information
In this section I'll answer some of the most frequently asked questions.
What is the best ticket time slot?
When you book your ticket you're required to book a time-slot of 9 am, 10 am, 11 am, 12 pm and 1 pm. Assuming you have the full choice of time-slots for the day you're looking at, I'd recommend the 9 a.m. slot for several reasons:
being on one of the first ferries to arrive on Liberty Island, you'll be able to explore in relative peace and quiet. As the day goes on and people linger, the crowds grow.
it gives you the best chance of seeing what you want to see without rushing. After visiting both islands, I was back in Manhattan by mid-afternoon.
even according to the official Statue Cruises website, booking the 1 p.m. slot will not give you enough time to visit both Liberty Island and Ellis Island.
What does your Statue of Liberty time-slot mean?
This bit really confused me. I had booked a ticket for the 9:00am but it wasn't in the slightest bit clear what that actually meant. Was it the time I needed to collect my ticket? Was it the time I needed to 'check-in' i.e. show my ticket and go through security? Was it my Liberty Island ferry time? Was it the time I needed to be on Liberty Island for my Crown Access slot?
Checking the ferry schedule only confused things further as none of the ferry times corresponded with the ticketed time-slots. Add the fact that the Statue Cruises website recommends that you turn up 30-minutes in advance of your slot and I was beyond confused. What's the deal?
In the end, I turned up at the Departure Point (in Battery Park) at 8:30am, which turned out to be the right guess. I collected my ticket, had it checked, skipped through security (just kidding – nobody ever skips through a USA security check) and then boarded the ferry. All in, there was little drama surrounding the timing of the ticket, which I came to realise was more indicative than strict. Still, I wouldn't over or undershoot your time-slot by too much. Plus, by turning up early, you can get a good spot on the ferry.
How long do you need to visit?
Visiting both Liberty Island and Ellis Island, climbing into the crown, a quick coffee and sandwich break to refuel and a relatively quick look around the immigration museum on Ellis Island took me about six hours from arrival at the departure point in Battery Park. From the research I've done online, that's about standard.
However, if you visit during peak season, add extra time (to the tune of hours) for security checks and ferry queues, which can add an extra 90 minutes per ferry ride in peak season (April to September).
If, on the other hand, you visit in low-season and are 'efficient' with your time and don't climb up to the crown, you could probably cut this down to half a day. In other words, don't dismiss a visit just because you're short on time while you're in New York.
The guided tours will have you done in about four hours (because the guides know the timetables and can navigate the queues like the experts they are) so if you only want to commit to a half-day, book a tour.
How far in advance should you book tickets?
Around 4 million people visit the Statue of Liberty each year, which is a good way of saying – book as far in advance as you can. It will also depend whether you want to go inside the Statue of Liberty for either Pedestal or Crown Access. For Crown Access, you generally need to book at least 3 to 4 months in advance.
Pedestal Access tickets tend to have more availability and can generally be booked a week ahead (excluding holidays and peak dates). That said, don't be put off – I booked in September and was able to get a Crown Access ticket for just 10 days later. This may have been a fluke and I was booking that rare ticket for one (cue: violins), but it's still worth checking.
Can you buy tickets on the day?
Crown Access tickets are not available on the day. You can in theory buy both the Reserve Ticket and Pedestal Access tickets on the day but Pedestal Access tickets are popular so it's not likely they'll be available on the day. If you do try, make sure you buy them at one of the departure points – you can't buy them on Liberty Island.
How do you collect your tickets?
How you get hold of your tickets depends on what you've booked:
Reserve Access and Pedestal Access: when you book online, you have a choice of receiving your tickets by email to print at home or picking them up either on the day or in advance from the ticket booth (known as Will Call for any non-US readers). There is no price difference for either option so I'd recommend printing the tickets yourself as it's hard to predict how long you may have to queue to collect them in person.
Crown Access Tickets: regardless of how you book, you must collected Crown tickets in person from the Will Call window at your departure point.
If you pick up tickets at the Will Call window, you'll need photo ID and the credit card you booked with.
Security Rules
The Statue Cruises website warns visitors that they'll need to go through 'airport grade' security but don't worry it's not nearly as rigorous as what you'll go through at the airport.
Security to board the Ferry: You do need to go through a scanner to get onto the ferry at your initial departure point but it seems like they're scanning for weapons rather than liquids and iPads. The list of prohibited items is: weapons, scissors, sharp implements or tools, luggage, packages and parcels and face masks or costumes that can conceal your identity (with great regret I put my Batwoman costume back in my suitcase for another day).
Security to enter the statue of liberty: If you have Pedestal or Crown Access Tickets you need to go through an additional security check which largely involved checking for ID (for Crown Access) and making sure you put your possessions in a locker before ascending into the statue (both Crown Access and Pedestal Access tickets).
Photo identification for Crown Tickets: For Crown tickets you'll need to bring photo identification. I used my driving license and passports would be acceptable, too. Beyond that, I can't find official information about what ID will or won't be accepted though the main thing that was checked on the day was whether the name on my ID matched my ticket. ID is required for every person with a ticket, not just the person who booked. However, 'minors without ID' apparently don't need to show ID.
Lockers for Pedestal and Crown Tickets: Beware that once again the Statue Cruises website and the National Park Service website give inconsistent details on what you will or won't be allowed to take inside the statue for Pedestal Access and Crown tickets. The Statue Cruises website says you have to put backpacks, strollers and large umbrellas in lockers. In practice (and according to the NPS website), you can't take anything inside the statue apart from one camera, drinking water and necessary medication. Fortunately, there are plenty of lockers right there at the entry to the Statue, large and small, costing $2 for 2 hours.
Food and Drink
Food is a big part of my travels and sadly the only good thing I have to say about the food situation during my visit was that there was food (the only thing worse than bad food is no food)…oh, and the serving lady on Ellis Island was lovely and cheerful.
On a more objective/factual note, food concessions are available on the ferry and at both islands. As you can imagine, the prices are higher than you'd pay if you were not at a major tourist attraction, but costs aren't prohibitive. The food on the ferries was largely snack-based – coffee, coke, chips, hotdogs. I only visited the Ellis Island cafe where a bunch of sandwiches, salads and other lunch food was on offer. It was ok but nothing to write home about.
In hindsight, I'd have packed a picnic of a nice deli sandwich from somewhere in Manhattan and I'd recommend you do the same. Oh, and pack plenty of snacks and water because it can be a long day that requires plenty of refuelling.
Official Statue of Liberty Websites: The two official sites for more information about how to visit the Statue of Liberty are the National Park Service website and Statue Cruises Website. Out of the two, the National Park Service site is much more informative, accurate and up to date.
Interested in a multi-destination trip? Did you know you can easily catch the train to Washington DC via Philadelphia. Find out more in my guide to How to Get from New York to Washington DC.
Related Articles: