For some reason (perhaps the fact that it's one of the biggest tourist attractions in the world?!) I thought it would be easy to figure out how to visit the Statue of Liberty in New York. But somehow the internet failed me. As did my guidebooks. So, I ended up stitching together the requisite details – Statue of Liberty reservations, where to get my Statue of Liberty tickets, the Statue of Liberty ferry route, Statue of Liberty timings and all the rest of it – from myriad websites and forums.
Having stitched it together, and since visited, I thought I'd share with you in one easy place all the information I wished I had in advance about how to visit the Statue of Liberty. First, I'll cover whether you should take a Statue of Liberty tour versus doing it yourself (including some recommended Statue of Liberty tours). Then I'll talk you through the detail of how to visit the Statue of Liberty without a tour. At the end, I've got more details for planning your trip to New York.
Is it better to take a tour of the Statue of Liberty?
A lot of travel bloggers will tell you that they never take tours, as though its somehow beneath them to travel in such a 'touristy' way.
Stuff that.
I've been on lots of tours and they very often give a more enhanced experience. However, that's not always the case and if you're able to go it alone (and save some dollars in the process), why not.
In the case of visiting the Statue of Liberty, I'd say that either way is fine. Here are the benefits of both.
Benefits of booking a Statue of Liberty tour
It's so much easier – you'll save yourself a lot of time and stress, especially working out the best timing – your tour guide will give you a meeting time, that's it.
You get an expert guide to share the history and fun facts about the Statue of Liberty.
Although it costs more than booking it yourself, it's still very affordable (most guided tours are around $60)
Tickets sell out fast – booking onto a tour can be a good last-minute option
Benefits of booking Statue of Liberty tickets yourself
It's cheaper.
You can wander at your own pace.
With my instructions below on how to get tickets and get around the islands, I have everything you need in this article to create your own Statue of Liberty tour.

When you get to Liberty Island there is a superb free Ranger tour you can join (details below) that gives even the nerdiest of visitors (puts hand up) the facts and figures they need.
However, for those who would prefer to keep their visit as easy as possible from the outset, there are also a number of highly-rated guided tours on offer.
Recommended Guided tours of the Statue of Liberty
If you're looking to take a paid tour, here are a few tours to check out – they have a similar itinerary and price so it comes down to which company you prefer.
If you're looking to see the Statue of Liberty from a different angle, there are plenty of helicopter tours on offer. Click here to check prices with Expedia or here for an amazing night time Helicopter tour of NYC with Get Your Guide.
You can also click here to check reviews and search tours recommended on TripAdvisor.
What's the difference between pedestal and crown access?
I was so lucky those arrows were flying past when I took this pic 🙂
All tickets and guided tours categorise tickets according to whether you get Pedastal or Crown access. Here I explain the difference to help you decide which Statue of Liberty tickets you want to reserve.
In short, the pedestal is the 'brown concrete' part of the Statue of Liberty structure and the crown is…well, the crown…but also the highest accessible point.
How accessible are the pedestal and crown?
To the top of the pedestal: There is an elevator that will take you to the top of the pedestal which you might want to consider taking given the alternative is climbing 215 steps. That said, if you're fit and able, the climb gives you access to a few viewing stages compared to the elevator, which spits you out at the top viewing platform.
To the crown: From the top of the pedestal to the crown there is NO ELEVATOR. Instead, you have to climb 162 steps, and they're not the most appealing steps either – you're in an enclosed spiral staircase the entire way. I'm not trying to put you off – I'm sure you'll be able to do it but just take a steady pace, hold on tight and don't let impatient idiots rush you. Oh, and if you're taking kids up there, they must be at least 4 ft tall (to be honest, at 5ft tall I only just fit the height requirement!) and be able to walk unaided.
This is a picture of the spiral staircase you need to climb from the pedestal to the crown – I'm looking at it from above (against all popular advice to 'don't look down!'.
If you're not feeling in peak fitness, taking the elevator to the top of the pedestal combined with the climb to the crown is a great compromise.
If you have accessibility questions, you can find out more here. For more general questions about Crown Access, see here.
Is Statue of Liberty Crown Access worth it?
Honestly? I'd say not really. Apart from the climb being exceptionally vertiginous, when you get to the top, the 'peep holes' for views over Manhattan were i) a lot smaller than I expected; ii) made out of perspex and therefore too scratchy for great visuals (or photos); iii) in hot demand, so there's a lot of pressure to have a look and kindly move on; iv) experienced whilst scrunched into hot, tight spot with a bunch of strangers.
These are the tiny 'peep holes' you get to look out of inside the crown of the Statue of Liberty – don't they look like they'd be bigger when you see pictures of them? Also, check out the etching on the perspex. Photo ruining vandals are the worst.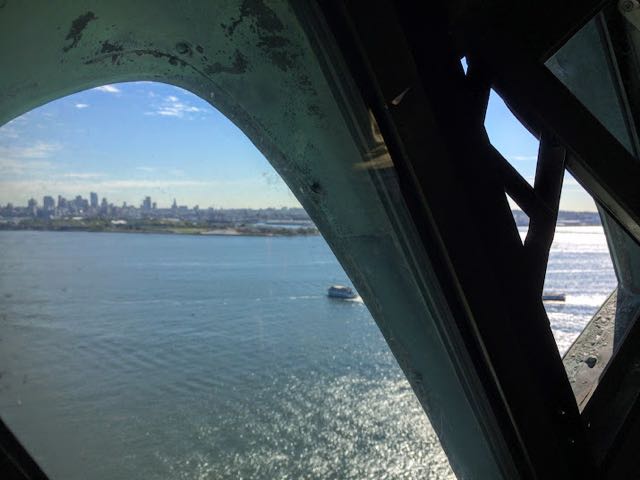 This is one of the views you get from inside the crown – not as impressive as I thought it would be and makes for 'meh' photos.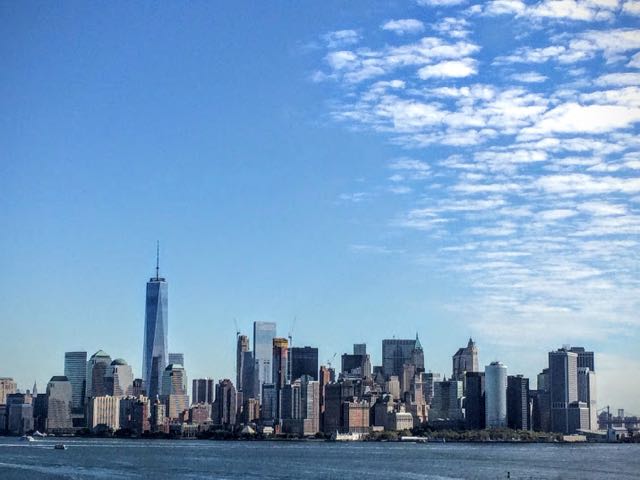 Now let's compare that Crown Access photo above to this photo that I took from outside on the pedestal.
All in, I'd say that pedestal access would have done me and I wouldn't be majorly disappointed if you can't bag one of the highly coveted Crown tickets for your trip.
How to Visit the Statue of Liberty Without A Tour – Reserving Tickets
Before I get started, it's worth noting that there is a free option by taking the Staten Island Ferry and also by going to Battery Park and I've got more details on how to do to see the Statue of Liberty for free below. However, having taken both the free ferry option and visited Liberty Island (the place the lady in green calls home), I'd highly recommend the paid-for option.
Why? Well, I'll let the photos answer that…
Here's a photo of the best view I got of the Statue of Liberty from the free Staten Island Ferry. This was taken a bunch of years ago on a standard point and shoot digital camera.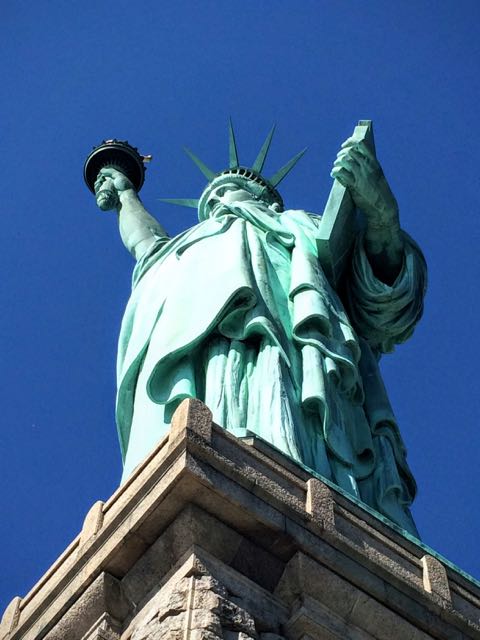 Compare that to this picture which I took from Liberty Island with my iPhone 5. Exactly.
So, let's get down to the details of how to visit the Statue of Liberty in New York by yourself i.e. how to get to Liberty Island – there's quite a lot of information in here but as you'll come to realise, getting to see Lady Liberty isn't quite as simple as turn up, buy ticket, take photo.
So stick with me. I'll try to make it as painless as possible.
How do I book Statue of Liberty tickets?
Liberty Island and nearby Ellis Island are part of the National Park Service and are therefore free to enter BUT you still need to get there by taking the Statue of Liberty ferry, which is basically what the ticket price covers. By the way – the Staten of Liberty Ferry and the Ellis Island Ferry are the same ferry. I show a map below.
There is only one official ferry company that's allowed to 'land' you on the islands – Statue Cruises.
The official Statue Cruises website is here.
A word of warning about ticket touts…
I'd highly recommend book directly with statue cruises. If you don't, you'll end up paying more dollars for..well, no reason other than the ticket company's profits. As an example, the above company charges $25 (Reserve and Pedestal) and $28 (Crown) for what should be $19.25 and $22.25 tickets. You don't even get a free bumper sticker thrown in.
Stick with the official provider: Statue Cruises.
Can I buy official Statue of Liberty tickets offline?
In addition to making Statue of Liberty reservations online, you can buy official tickets:
By calling 1-877-LADY-TIX (1-877-523-9849) or 201-604-2800;
At Castle Clinton (the Manhattan departure point) in Battery Park (open 7:45 AM to 5 PM).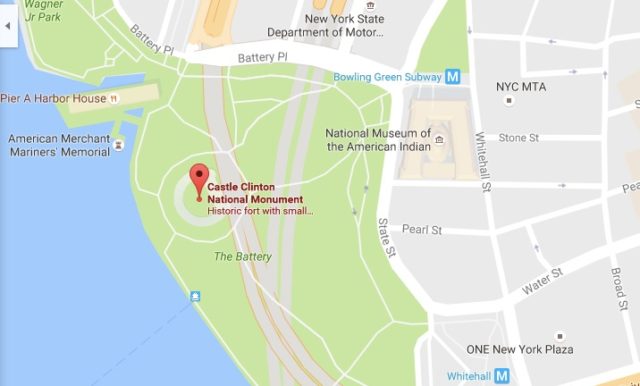 What type of Statue of Liberty tickets can I buy?
There are 3 ticket types to choose from for visiting the Statue of Liberty:
Reserve Ticket $19.25 – This ticket includes the ferry rides to Liberty Island and Ellis Island as well as access to the immigration museum on Ellis Island. You can walk around the grounds of the Statue of Liberty and get excellent photo opportunities but you cannot go inside the statue.
Reserve Ticket with Pedestal Access $19.25 – this ticket is the same as above except you are able to go inside the Statue of Liberty up to the top of the pedestal. You'll notice the cost is the same as a reserve ticket so if this ticket option is available, go for it over the reserve ticket.
Reserve Ticket with Crown Access $22.25 – there's some pun in here about this being the crowning glory of the ticket options…but we'll gloss over that. However, this is the most highly coveted ticket you can get because you get to ascend the Statue of Liberty all the way into the crown. However, you must, must, must have a stomach for heights, winding stairs and tight spaces. Also, see my thoughts below on whether Crown Access is all that great.
You're required to book a time-slot of 9 am, 10 am, 11 am, 12 pm and 1 pm (more on that below).
All three tickets offer 'priority' boarding/access at the security clearance – it's not clear, but I presume that this is priority compared to people who have a city sightseeing pass and didn't book their tickets direct.
With all tickets you get a free audio tour and/or Ranger tour.
A few practical points:
For Crown tickets
You can only buy 4 tickets per transaction so be prepared to 'checkout' more than once if your party is larger.
You can only buy tickets once every 6 months (I guess this is aimed at touts).
Tickets have your name on them so you can't transfer them/sell them if you can't go.
For all tickets:
Concession prices are available for students, elderly and children. Kids under 4 go free.
Anyone 17 or under must be accompanied by an adult.
What about Statue of Liberty Flex Tickets?
Honestly, I would see these as a last resort. What is a flex ticket? It's a ticket you can buy on the day that is valid at any time for 3 days. Sounds ideal. It's not. Here's why:
There's no guaranteeing these tickets will be available on the day, which means a ticket queue for nothing, burning through valuable time in New York.
Since you don't have a reserved time to see the Statue of Liberty, you have to join the general admission queue which is the longest line to board the ferry.
You cannot go inside the Statue of Liberty and can't upgrade your access in any way. Fine if you're not that fussed but a lot of people don't realise this restriction.
Statue of Liberty Timings – which slot should I book?
Assuming you have the full choice of time-slots for the day you're looking at, I'd recommend the 9 a.m. slot (and this from the girl who isn't a morning person). Why?
being on one of the first ferries to arrive on Liberty Island, you'll be able to explore in relative peace and quiet. As the day goes on and people linger, the crowds grow. I've got a section on the Statue of Liberty ferries below.
you'll also then be on one of the first Ellis Island ferries, again avoiding the masses.
it gives you the best chance of seeing what you want to see without rushing. After visiting both islands, I was back in Manhattan by mid-afternoon. Any later ticket and I'd have been pressed for time.
even according to the official Statue Cruises website, booking the 1 p.m. slot will not give you enough time to visit both Liberty Island and Ellis Island.
What does my Statue of Liberty time-slot mean?
View from the Statue of Liberty ferry looking back over Battery Park – that's the beautiful new World Trade Centre (with the antenna) if you haven't seen it before.
This bit really confused me. I had booked a ticket for the 9:00am but it wasn't in the slightest bit clear what that actually meant. Was it the time I needed to collect my ticket? Was it the time I needed to 'check-in' i.e. show my ticket and go through security? Was it my Liberty Island ferry time? Was it the time I needed to be on Liberty Island for my Crown Access slot?
Checking the ferry schedule only confused things further as none of the ferry times corresponded with ticketed time-slots.
Add the fact that the Statue Cruises website recommends that you turn up 30-minutes in advance of your slot and you can see why I was pulling my hair out.
So, what's the deal?
In the end, I turned up at the Departure Point (in Battery Park) at 8:30am, which turned out to be the right guess. I collected my ticket, had it checked, skipped through security (just kidding – like anyone ever skipped through a USA security check) and then boarded the ferry.
All in, there was little drama surrounding the timing of the ticket, which I came to realise was more indicative than strict. Still, I wouldn't over or undershoot your time-slot by too much. Plus, by turning up early, you can get a good spot on the ferry.
Top Tip: If you're after great 'approach' shots of the Statue of Liberty, on the Liberty Island ferry from Battery Park, go to the third level on the right .
How far in advance should I reserve Statue of Liberty tickets?
Around 4 million people visit the Statue of Liberty each year, which is a pretty good way of saying – book as far in advance as you can. In fact, at the time of writing, Crown tickets were sold out solidly for the following 3 months. So, booking 3 to 4 months in advance is recommended.
Pedestal tickets, on the other hand, tend to have more availability and can generally be booked for the following week (but don't count on that over holidays and popular dates).
All that said, don't let a 3-month 'sold out' status deter you. I booked in September and was able to get a Crown Access ticket for just 10 days later. This may have been a fluke and I was booking that rare ticket for one (cue: violins), but it's still worth checking.
Can I buy Statue of Liberty tickets on the day?
Crown Access tickets are not available on the day. You can buy both the Reserve Ticket and Pedestal Access tickets on the day but Pedestal Access tickets are highly likely to be unavailable on the day. If you do try, make sure you buy them at one of the departure points as they're not available from Liberty Island.
How do I collect my Statue of Liberty tickets?
How you get hold of your tickets depends on what you've booked:
Reserve Access and Pedestal Access: when you book online, you have a choice of receiving your tickets by email to print at home or picking them up either on the day or in advance from the ticket booth (known as Will Call). There is no price difference for either option so I'd recommend printing the tickets yourself as it's hard to predict how long you may have to queue to collect them in person.
Crown Access Tickets: regardless of how you book, you must collected Crown tickets in person from the Will Call window at your departure point.
Note: if you pick up tickets at the Will Call window, you'll need photo ID and the credit card you booked with.
Seeing the Statue of Liberty with a New York city sightseeing pass
She eventually used her big flame to burn away those thick clouds.
A number of sightseeing passes include a visit to the Statue of Liberty and they tend to work in the same way:
You get a Reserve Ticket only.
Unlike direct-purchase tickets, you don't have a time slot – you just turn up on the day and line up at the ticket window to exchange/show your pass for a ticket.
As you don't get priority access in the queues, I'd definitely recommend turning up early.
To get Pedestal Access, you'll need to see what's available on the day on a first come, first served basis, which doesn't present a great chance of success, especially not in peak season.
Crown Access isn't included so you'll need to buy a ticket like everyone else and you can't deduct the $19.25 Reserve Ticket that's included in your pass from the ticket price. Out of the passes, only CityPass seems to 'compensate' you for this – if you choose not to use the Statue of Liberty element of your pass, you can swap it for a 2-hour Circle Line Cruise. Yay CityPass!
Here are some of the main sightseeing passes offering a visit to the Statue of Liberty
New York City Pass (from $71)
New York Pass (from $109)
Big Bus New York Big Adventure Pass ($55)
Explorer Pass (from $77)
Statue of Liberty Ferries
To get to the Statue of Liberty, you need to take a ferry. If you've booked a guided tour, your tour guide will arrange all of this for you. If you book tickets direct, here's what you need to know.
Do I need to book the Statue of Liberty ferry separately?
All of the Statue of Liberty tickets include the cost of your ferry to Liberty Island, Ellis Island and back to your departure point so you don't need to book ferries separately or pay any extra.
What does the Statue of Liberty ferry leave from?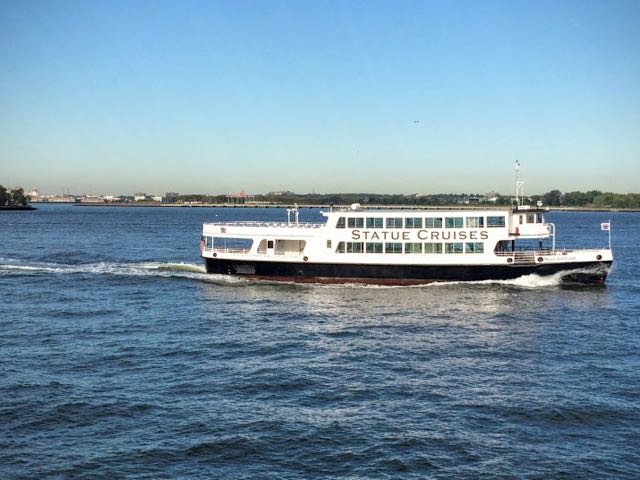 When you buy tickets to visit the Statue of Liberty, you're offered two departure points:
New Jersey (Liberty State Park)
New York (Battery Park)
The ferries run to a schedule and basically run in a loop as follows:
Battery Park – Liberty Island – Ellis Island – Battery Park
Liberty State Park – Liberty Island – Ellis Island – Liberty State Park
Here are the routes in graphic form: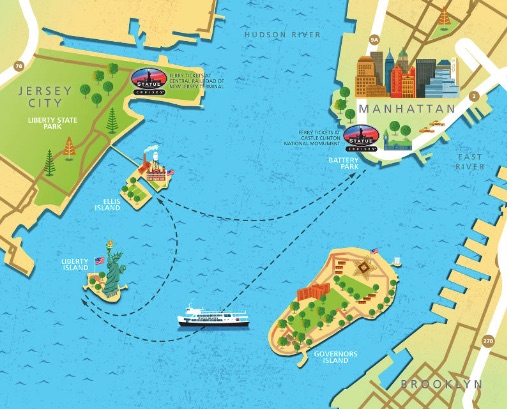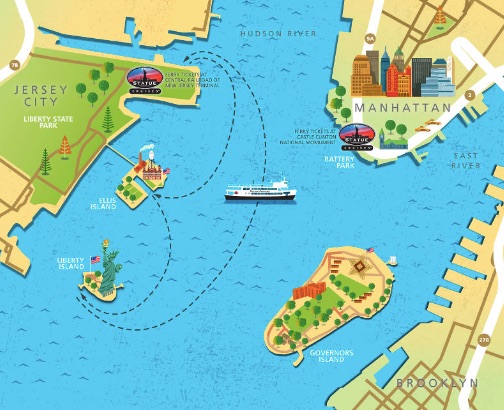 Credit: Statue Cruises
You can check out the full departure schedule here.
The key thing to check when you re-board the ferry at Ellis Island is which departure point you're returning too – you don't want to end up on the wrong side of the water.
If you're departing from Battery Park (as most tourists will), head to Statue Cruises LLC as shown on the map above (this is also Clinton Castle on Google Maps, just to confuse you)! It's a 5-minute walk from Bowling Green Subway or 10 minutes from Whitehall Subway. Broadstreet and Wall Street Subways are also close.
Top Tip: Free New York Subway Map App – You can find my all-time favourite subway map app here for Apple and here for Android. The apps is free, can be used offline and will plan routes for you.
Statue of Liberty ferry timings – things to note
The ferries start at 8:30 a.m. (first ferries leaving Battery Park and Liberty State Park) and run until around 5:45 p.m. (peak season)/ 5:00 p.m. (low season).
However, those later timing are for return to your Departure Point. The last Liberty Island ferry leaves at 4:00 p.m. (peak season) and 3:30 p.m. (low season).
The ferry service is also limited towards the end of the day with the last ferries offering access to Liberty Island (from Battery Park) or a choice of Liberty Island or Ellis Island (New Jersey).
Unhelpfully, the ferry schedules differ between the National Parks Service website and the Statue Cruises website. If you expect to be there late in the day, check with the Statue of Liberty ferry hours with the ferry operators or at the information centre on Liberty Island.
Liberty Island and Ellis Island are open 364 days a year – the exception is Christmas Day.
New York Travel Tip: If Niagara Falls is also on your bucket list, Consider going from Buffalo (in New York State) for only $5! See how to do it here.
Are Liberty Island and Ellis Island ferries both included in my ticket?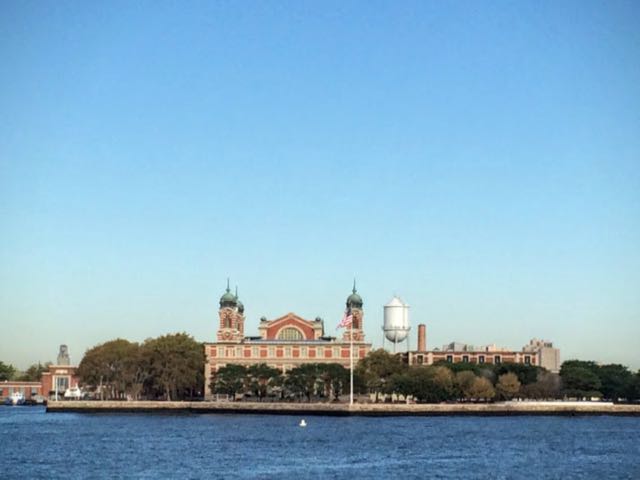 Ellis Island – the Island of Hope and Tears.
You've already picked up on this I'm sure but your ticket to visit the Statue of Liberty actually provides you with access to two islands:
Liberty Island – for the Statue of Liberty; and
Ellis Island – which, in the words of Statue cruises, "Ellis Island, 'known as the 'Island of Hope and Tears', was the largest gateway for millions of immigrants looking for a new beginning and a new life for their families in America."
Visiting Ellis Island is obviously as optional extra and if you don't want to visit, just head straight back to Battery Park or Liberty State Park after you're done seeing the Statue of Liberty. That said, I'd highly recommend taking the time to see both.
Security rules to visit the Statue of Liberty
The Statue Cruises website warns visitors that they'll need to go through 'airport grade' security but don't worry it's not nearly as rigorous as what you'll go through at the airport.
Security to board the Statue of Liberty Ferry
You do need to go through a scanner to get onto the ferry at your initial departure point but it seems like they're scanning for weapons rather than liquids and iPads. The list of prohibited items is: weapons, scissors, sharp implements or tools, luggage, packages and parcels and face masks or costumes that can conceal your identity (with great regret I put my Batwoman costume back in my suitcase for another day).
Security to enter the statue of liberty
If you have Pedestal or Crown Tickets you need to go through an additional security check which largely involved checking for ID (for Crown Access) and making sure you put your possessions in a locker before ascending into the statue (both Crown Access and Pedestal Access tickets).
Photo identification for Crown Tickets
For Crown tickets you'll need to bring photo identification. I used my driving license and passports would be acceptable, too. Beyond that, I can't find official information about what ID will or won't be accepted though the main thing that was checked on the day was whether the name on my ID matched my ticket. ID is required for every person with a ticket, not just the person who booked. However, 'minors without ID' apparently don't need to show ID but again there is no clarity on what 'minor' – I'd guess under 18s?
Lockers for Pedestal and Crown Tickets
beware that once again the Statue Cruises website and the National Park Service website give inconsistent details on what you will or won't be allowed to take inside the statue for Pedestal Access and Crown tickets. The Statue Cruises website says you have to put backpacks, strollers and large umbrellas in lockers. In practice (and according to the NPS website), you can't take anything inside the statue apart from one camera, drinking water and necessary medication. Fortunately, there are plenty of lockers right there at the entry to the Statue, large and small, costing $2 for 2 hours.
Highlights of a visit to the Statue of Liberty
Mr Ranger. Did a top job. And looks like every stereotype I have in my head for what a Ranger should look like, so extra points for that.
The ranger tour of Liberty Island was by far one of the biggest highlights of my visit, which surprised me. With just enough facts and figures and history to get you started, I'd opt for this human tour over listening to the audio guide (though both are included for free). Tours leave on the hour from the information office and take only 30 minutes. You can find out more about the ranger led Statue of Liberty tours here.
Standing underneath the Statue of Liberty and looking up – you're not going to get that view anywhere else.
Views across New York Harbor towards Manhattan on the Liberty Island ferry – the views across New York Harbor, taking in Manhattan are unlike any you'll get elsewhere.
The immigration museum on Ellis Island – for years and several trips to New York I didn't bother visiting the Statue of Liberty because I thought my time would be poorly used seeing nearby Ellis Island. Oh, how wrong I was. Even if you're not fascinated by immigration (as most people aren't), this is genuinely one fascinating island. Tell yourself you'll give it just an hour. I bet you end up giving it more. Also great for understanding a lot of US history.
How long does a Statue of Liberty tour take?
Visiting both Liberty Island and Ellis Island, climbing into the crown, a quick coffee and sandwich break to refuel and a relatively quick look around the immigration museum on Ellis Island took me about six hours from arrival at the departure point in Battery Park. From the research I've done online, that's about standard.
However, if you visit during peak season, add extra time (to the tune of hours) for security checks and ferry queues, which can add an extra 90 minutes per ferry ride in peak season (April to September).
If, on the other hand, you visit in low-season and are 'efficient' with your time and don't climb up to the crown, you could probably cut this down to half a day. In other words, don't dismiss a visit to the Statue of Liberty just because you're short on time while you're in New York.
Food and Drink when Visiting the Statue of Liberty
Food is a big part of my travels and sadly the only good thing I have to say about the food situation during my visit to the Statue of Liberty was that there was food (the only thing worse than bad food is no food)…oh, and the serving lady on Ellis Island was lovely and cheerful.
On a more objective/factual note, food concessions are available on the ferry and at both islands. As you can imagine, the prices are higher than you'd pay if you were not at a major tourist attraction, but costs aren't prohibitive.
The food on the ferries was largely snack-based – coffee, coke, chips, hotdogs. I only visited the Ellis Island cafe where a bunch of sandwiches, salads and other lunch food was on offer. It was ok but nothing to write home about.
In hindsight, I'd have packed a picnic of a nice deli sandwich from somewhere in Manhattan and I'd recommend you do the same. Oh, and pack plenty of snacks and water because it can be a long day that requires plenty of refuelling.
You might also like me guide to: Finding Good Italian Food in New York City
How To See the Statue of Liberty For Free
I mentioned at the beginning that there is an option to see (or more accurately, sail past at a distance) the Statue of Liberty for free. If you're short on time or on a budget, it's a valid option. And until around my sixth visit to New York, it's the only way I'd seen Lady Liberty. All you have to do is sit on the 25 minute (one-way) ferry to Staten Island. You can find full details for how to do that here.
The Staten Island Ferry – A free Statue of Liberty Cruise
A mid-way option between the free Staten Island ferry and stepping foot on the islands themselves is to take a paid cruise which sails within 100 feet of the Statue of Liberty and Ellis Island.
The 60-Minute cruise takes you past the Statue of Liberty, Ellis Island and under the Brooklyn Bridge while offering great views across the Lower Manhattan skyline from both the east and the west sides. There's also the option to take the cruise at sunset.
Seeing the Statue of Liberty from Battery Park
Some people also want to know: can you see the Statue of Liberty from Battery Park. The answer is yes but it's a very distant view and you'll want some binoculars (I have a small set of travel binoculars that are perfect for trips – check them out here). If you have time, the Staten Island Ferry will get you closer without having to pay anything. If you do have the time and are happy to pay a bit, definitely go to Liberty Island.
Official Statue of Liberty Websites
The two official sites for more information about how to visit the Statue of Liberty are the National Park Service website and Statue Cruises Website. Out of the two, the National Park Service site is much more informative, accurate and up to date.
Fun Statue of Liberty Facts
The Statue of Liberty was officially called Liberty Enlightening the World and was a joint endeavour by France and the USA to celebrate the 100th anniversary of the Declaration of Independence. Lady Liberty was a bit late (10 years) but was finally dedicated on October 28 1886.
Did you know that the man who designed the Eiffel Tower in Paris is also the man who helped design inside the statue of Liberty, Mr Alexandre-Gustave Eiffel. Meanwhile, Edouard Rene de Laboulaye is know as the father of the Statue of Liberty because he is the French politician who came up with the idea of this wonderful gift in the first place.
I know it's not polite to discuss a lady's measurements but the Statue of Liberty has a 35 ft waistline. Must be all that New York strip-steak. Makes me feel a bit better about my exanded waistline post New York.
Emma Lazarus is a New York poet who penned the sonnet that is etched into a bronze plaque that sits on the Statue of Liberty Pedestal. You may have heard the most famous part of her Statue of Liberty poem, which says:
Give me your tired, your poor,
Your huddled masses yearning to breathe free,
The wretched refuse of your teeming shore.
Send these, the homeless, tempest-tost to me,
I lift my lamp beside the golden door!"
Planning Your Trip to New York
Where to stay in New York
On a budget: HI NYC Hostel. Hostelling International hostels are as reliable as they come. As well as a great location and all the usual facilities, there's a great list of social activities to get you involved. Perfect if you're travelling solo. (If you're looking for an up and coming area, check out the Local NYC, a design hostel in Queens.
Want a central location: you can't get a more central spot that the New York Marriott Marquis. Don't miss the revolving roof top cocktail bar and restaurant. You'll find a list of alternative hotels in New York here.
My favourite New York Guide Books
Although my guidebooks failed me when I was trying to figure out how to visit the Statue of Liberty, I love the compact size and condensed information in the Lonely Planet Pocket New York City Guide. If you're looking for a more detailed guide, Lonely Planet has one.
This 36 Hours in New York guide by the New York Times is on my list for next time.
I hope that was useful but if you still have any questions (or extra information to share), drop me a line in the comments below…and have a great timing visiting the Statue of Liberty.
Want to reward the author?
I pay for 99% of my trips out of my own pocket. If you found this article helpful and want to make a small donation, it's appreciated. Even $1 can help me find a new coffee shop or street food stall to recommend. All funds will be poured back into my travels which will be fed back into this blog. Thanks!
Related Posts about visiting New York and the USA
21 Best Things To Do In Florida Keys
A Lower East Side Walking Tour
40 Cheap Things To Do in Miami
75 Things To Do In Key West Florida
Best Things To Do In The Everglades
3 Days in San Diego – What To See and Do
3 Days in Washington DC – What To See and Do
How To Spend One Day At The Grand Canyon
What and Where To Eat in New Orleans
From Buffalo to Niagara Falls for Only $5
How To Visit Pearl Harbour for only $5
Which Hawaiian Island To Visit
What To Do In Detroit – The City's Pretty Parts
Where Is The Best Chicago Deep Dish in Chicago?
Blog posts to help you plan your trip
The Only Packing List You'll Ever Need (with printable checklist)
15 Long Haul Flight Essentials: What to Take Onboard
Travel Insurance: Don't get Screwed by the Small Print
Like this? Share it on Pinterest…