After a lot of research and one failed attempt, I finally made it to one of the world's oldest and most iconic tourist spots in this guide I'll share the best things to see at the Grand Canyon.
Ahh, the Grand Canyon. Over 3 million years old, 277 (river) miles long and 18 miles across (at its widest point), it's no surprise this natural phenomenon attracts over 5 million visitors a year. It's equally no surprise that the Grand Canyon is on countless travel wish lists.
It was certainly on mine.
But let's be honest, unless you live close to the Grand Canyon, are a geologist or a serious hiker, you're probably only going to see the Grand Canyon once in your lifetime. And you're probably going to see it on a day trip from somewhere outside of the Grand Canyon village (unless you're one of those wonderful people who can plan ahead and grab an affordable room).
But that doesn't mean you need to make a hatchet job out of your visit (like Mr. Griswald and his infamous 2-second look at the canyon in the cult film National Lampoon's Vacation).
After a lot of research and speaking to a heap of others who had visited the Grand Canyon from different locations and using different tour options, I made my decision.
Visit the Grand Canyon from Flagstaff
One of the upsides to the Grand Canyon being so vast is that there is a choice of places you can visit from. However, if you only have one day to spend at the Grand Canyon, I'd highly recommend that you use Flagstaff as your base.
Why? Short of staying inside the park, Flagstaff is one of the closest cities to the Grand Canyon. It's only 80 miles away and has all of the facilities you need from a base location – good transport links, hotels, hostels, restaurants, cafes and outdoor gear stores. Plus, the town itself is damn cute.
As the night draws in and the cool mountain air sets in, Flagstaff's bars with their microbrews and mountain cuisine are the perfect host. I've got more info below on where to stay in Flagstaff, including some budget options.
Take a guided tour of the Grand Canyon
I'm only ever a fan of organised tours when they promise an enhanced experience compared to anything I can arrange on my own. And a day trip to the Grand Canyon was definitely one of those moments when I was glad I put myself under the instruction and supervision of a tour guide.
I opted for a tour with All-Star Grand Canyon Tours, the company that has received a Certificate of Excellence for the past 7 years and has more than 1,700 5-star reviews on TripAdvisor. You can book direct or, for the same price, book online at Project Expedition.
Why take a Grand Canyon tour versus visiting on your own
Why opt for a tour to the Grand Canyon versus a DIY trip?
Transport – a door to door service – I didn't have my own car in the USA and as a solo traveller, the cost of hiring a car can be expensive when you're footing the whole bill. My tour company picked me up at my hotel and dropped me back at the end of the day. Also, All-Star Grand Canyon Tours have a modified bus with luxury seats so you don't have to sit uncomfortably close to the dude who was already overdue a shower before he went hiking below the rim.
Fascinating facts – imagine having a wealth of facts and geological information fed to you at the right moment by an expert geologist. Many times I've visited places of historical and geological significance without the benefit of a guide and each time my experience was inferior because of it. What's the point in staring at rocks if you don't know anything about how the canyon got there, how big it is, the river's role in it's creation, pop culture and for those who love a bit of gore, the death stats (for example, more than one man has met his maker taking a wazz over the edge after a few too many beers).
Experienced backpackers for your hike – experienced hiker or not, it's nice to have an expert on hand if you plan to hike below the rim (you 100% should hike below the rim if you can), just in case you get into a tangle with one of the many mules that rule the roads there.
Access to an amazing telescope – one of the highlights of my tour was the supersonic (non-technical term) telescope that my guide, Molly, carried with us everywhere. Being able to spot rafters on the river or hikers who were a few days into their journey really added some context to the size of the canyon, especially when I wasn't able to spot the same things with my naked eye (even with my glasses on).
Someone to take your picture (if you're a solo traveller) – I recently wrote about some of the downsides of travelling solo, which can be lonely, especially when eating out alone. And that's before we get to horrible, too-many-chins selfies. It may seem silly out of context to promote the benefit of an on hand photographer as a reason for taking a tour to the Grand Canyon, but when get to the canyon and realise no matter how hard you try, an arm-length shot simply won't do, you'll agree with me on this one.
Parking, especially in summer, can be a nightmare – another highly practical point, but one not to overlook is that those 5 million visitors need to put their wheels somewhere. Take a tour and that worry goes away.
Source (and carry) your lunch! There's one thing that's guaranteed the world over – the expense and mediocrity of the food at famous sights. Instead of cramming crappy fried food in my mouth at one of the Grand Canyon eateries, I was treated to a delicious roast beef deli sandwich and gourmet picnic complete with pasta salad, fruit, pickles and crisps (chips) all laid out with proper plates, napkins and silverware. And the lazy-lump that I am, I was kinda glad I didn't have to carry it.
You might also like: How to Visit The Statue of Liberty – Tickets, Tours & Ferries | How To Visit Pearl Harbor – Tickets, Tours & Tips
Visit from the south rim and leave from the east rim
Sure, the Grand Canyon is going to be stunning whichever way you look at it, but the reality is that not all of the rims (or viewpoints) at the Grand Canyon were created equally. Visit from Las Vegas and you'll hit the west rim, which is nice enough, but visit from Flagstaff and you'll get the chance to explore both the south and east rims. And, when it comes to superiority, there is no denying that the south rim, which possesses the vistas that you see in TV, in movies and on postcards, is the best rim to visit.
By travelling back to Flagstaff via the East Rim, you get to take in more of the National Park, see a greater diversity of the canyon's surrounding terrain (think: pine forests), and you don't end up seeing the same thing twice. The drive time to the south rim from Flagstaff is around 1.5 hours compared to 5 hours from each of Las Vegas and Phoenix. The drive from Downtown Los Angeles is around 8hrs and therefore too long for a day trip, in case you were considering it.
You might also like: How To Get from Buffalo to Niagara Falls, New York | How to Get From New York To Washington DC
Start at Mather Point by Grand Canyon Visitor's Centre
Unfold the map of the Grand Canyon and you're likely to be overwhelmed with viewing opportunities. If you only have limited time in the Grand Canyon, Mather Point is one of the top sights at the Grand Canyon I recommend.
The closest viewpoint to Grand Canyon Village and with access to the visitor's centre, Mather Point makes for a perfect "gasp-worthy" first stop on your Grand Canyon trip. See the picture above – that's Mather Point. Stunning, right?
See the expanse of the Grand Canyon at Lipan Point
If you think Mather Point is the pinnacle of all views of the Grand Canyon, just wait until you get to Lipan Point where you'll promptly change your opinion. Offering the most expansive view of the canyon, Lipan Point is the the view that makes it onto most postcards and will probably take up the most space on your phone or camera.
Want to add more Canyon's to your bucket list? Check out: Things To Do In Mexico's Copper Canyon | How To Plan A Trip To The Copper Canyon | 16 Best Things To Do In Kauai For First Time Visitors
Volcano spot from the Desert View Watch Tower
The one thing I loved about the Grand Canyon is how it kept surprising me. Climb the steps up the Desert Watch Tower and you'll get a very visual reminder (courtesy of the perfect cone there) that you're standing firmly on volcanic terrain.
Love volcanoes? You might like: Must-See Sights in Hawaii Volcanoes National Park | 15 Things To Do In Hawaii Big Island For First Time Visitors | 21 Best Things To Do in Maui – Hawaii | Isla De Ometepe: My Barefoot Volcano Hike | Top 10 Things To Do In La Fortuna Costa Rica
Explore Native America culture at Tusayan Museum
The Grand Canyon isn't just about the natural sights, it's home to many Native American Indian tribes and the Tusayan Museum and ruins is a beautiful stop that provides insight into Indian pueblo life 800 years ago.
Note: if you're interested in finding out out more about American Indian history and art, I'd highly recommend the Heard Museum in Phoenix.
You might also like: The Best Things To Do In New York's Lower East Side | 50 Biggest Culture Shock Experiences | 30 Best Things To Do in Washington DC | 21 Best Things To Do In New Orleans
Go hiking in the Grand Canyon (a quick hike below the rim)
In our abundantly over-explored planet, it's getting harder and harder to engage in a travel activity that is only experienced by a minority. So, not only was I staggered to find that only three percent of visitors to the Grand Canyon step foot below the rim, I was overjoyed to find that I could become one of the minority and take a hike below the rim – even though I was only on a day trip.
If I could only give you one recommendation for your day at the Grand Canyon it would be this – make sure you take even the shortest hike below the rim.
Of course, in one day you're never going to reach the bottom and get back in time for your ride home, but it's still possible to descend deep enough that the canyon sides tower above you and you obtain a view that is quite unlike anything you (and the 97% of other visitors to the Grand Canyon) see from the top.
Did you know: for every step you take down into the canyon, you're stepping back 60,000 years in time. That fact was delivered to me by my guide, Molly, as I started my descent on the South Kaibab Trail. As someone who has always wanted to time travel, it completely blew my mind.
You might also like: Best Things to Do in Canaima National Park | 20 Best Things To Do In Monteverde Costa Rica | Best Kruger National Park Safari on a Budget
Hike to Ooh-Aah Point on the South Kaibab Trail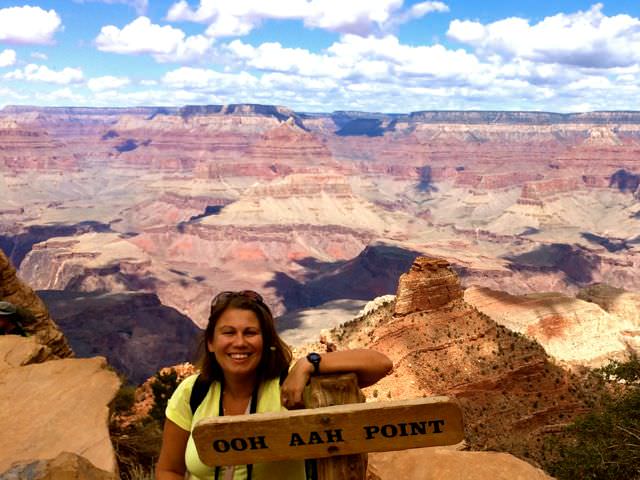 On my hike I travelled down the Kaibaba Trail to Ooh-Aah Point – a spot that is aptly named because visitors check out the views in one direction and declare "ooh" before turning to face the opposite direction and declaring "ahh". For the record, I did exactly that – it's practically instinctive with that view.
The trek to Ooh Ahh Point is just under 2 miles there and back and takes about 30 minutes to descent and 45 minutes to ascend. I wasn't in the best physical shape when I did the hike (too many burritos and tequilas in Mexico) but I was able to manage it.
The trek up can leave you puffing and panting a bit due to the incline and the altitude (think: sucking air through a straw). However, with occasional short stops and enough water, I'd say that all but the most unfit could handle it. Actually, I even saw some of the "most unfit" take on the hike and achieve it (though with apparent displeasure).
Usual trekking rules apply: Make sure you have good footwear, sunscreen, plenty of water and energy snacks to keep you going. Mmmm….snacks…You can find more good hiking tips and details about the South Kaibab Trail here.
Look for dinosaur footprints at The Cameron Trading Post
The reality is that most tours are going to take you to one of the Grand Canyon trading posts a.k.a centres set up to sell to tourists. As someone who has little to no interest in this kind of shopping (small bag, limited space and questionable authenticity of goods), I tend to zone out when a tour bus rolls into the car park of these kinds of joints. However, the Cameron Trading Post was different. While the shoppers loaded themselves up with souvenirs, I took myself dinosaur footprint spotting.
Hint: you'll find one on the floor by the door to one of the stores and another inside near the back on the right wall.
---
Planning Your Grand Canyon Trip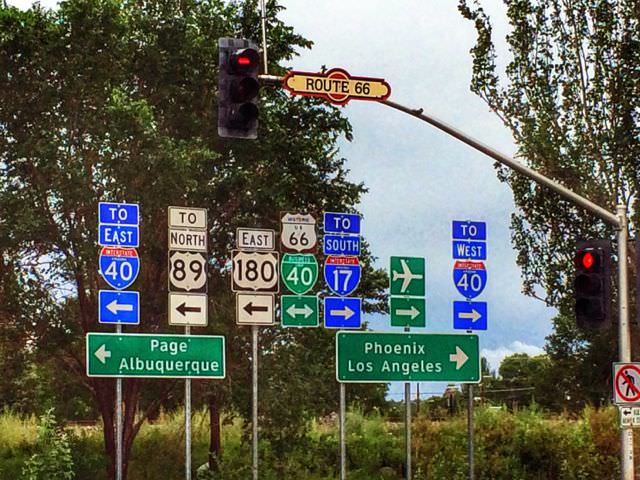 Booking with All Star Grand Canyon Tours
Where to stay in Flagstaff
The town of Flagstaff is quaintly compact so it shouldn't be difficult to get a spot right in the centre (or within a short drive) – which is a good idea because there are plenty of places you'll probably want to dine out.
I'd highly recommend staying a few extra days in Flagstaff. The mountain feel to the town calls you into a warm bar at night for a beer and bowl of chilli while the cafes serve up a warm brew during the day.
Flagstaff is accessible by both Amtrak and Greyhound and is located on Route 66 (I'm still excited that I unintentionally got to cruise along that famous road). The Greyhound station is a short ride out of town.
Map of How To Visit The Grand Canyon
Click here to view this map in Google Maps.
Best Grand Canyon Guidebooks
Want to reward the author?
I pay for 99% of my trips out of my own pocket. If you found this article helpful and want to make a small donation, it's appreciated. Even $1 can help me find a new coffee shop or street food stall to recommend. All funds will be poured back into my travels which will be fed back into this blog. Thanks!
---
Have you been to the Grand Canyon? Any other tips on How to spend one day at the Grand Canyon?
Want more? Here are some of my popular posts if you're planning a trip to the USA
Blog posts to help you plan your trip
Like this? Share it on Pinterest…
My tour of the Grand Canyon was courtesy of All-Star Grand Canyon Tours.