Step into any bar in Mexico and the drink of choice is overwhelmingly beer. Which may explain why Mexican wine is barely on the map. However, as the oldest wine producing region in the Americas – yes, that one surprised me too – and with vines that can be traced all the way back to 16th century Spain, its less of a surprise to find that Mexican wine tastes exceptionally good.
Before you throw a dart at the Mexican map, it's good to know where the wine producing regions are. Mainly they are located in the northwest and centre of the country. Specifically:
Baja California – Valle de Guadalupe, Valle de Calafia, Valle de San Vincente, and Valle de Santo Tomás
Sonora – in Hermosillo and Caborca
La Laguna – Valle de Paras which sits in both Durango and Coahuila
Central Mexico – in Zacatecas, Aguascalientes, Guanajuato and Querétaro
Although there are several regions to choose from, 90% of Mexico's wine is produced in Baja California. In fact, the wines from this region are so good, with premium production and boutique wineries, the Valle de Guadalupe in Baja California is often referred to as the Napa Valley of Mexico.
With such plaudits and statistics stacked behind it, that's the regions I decided to focus my wine tasting efforts.
You can read more about Mexican wine here.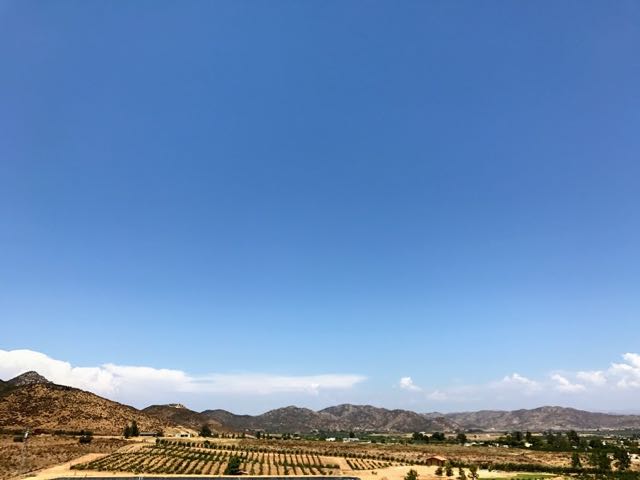 The town of Ensenada is your jumping off point for wine tasting in Baja California. Just 80 miles south of San Diego or an hour and a half drive from Tijuana, Ensenada is incredibly accessible for a weekend trip.
Related article: Visiting Tijuana from San Diego – Ultimate Guide | 20 Fun Things To Do In Tijuana Mexico
Taking a Wine Tour in Ensenada
As I usually do when I'm in a wine region, I find a local driver or a tour. That way I don't need to count my sips, run the risk of drink driving, or make a designated driver roll their eyes when I implore them to stay for 'just one more glass'.
After some research online (the night before, because I'm organised like that), I booked with Baja Wine & Sun Tours. What follows in a summary of my day wine tasting in Ensenada with that tour company.
Choosing Baja Wine & Sun Tours
I'm not a fan of overpriced wine tours that throw in plenty of 'extra's to justify that extra zero at the end of the bill. I prefer a simple tour with a focus on quality and that's what I found with Baja Wine & Sun. In particular, here's why I chose them above the other companies I looked at:
The price point is excellent. For $65 you get transport and four tastings at three wineries. The tour lasts about 6 hours – that's just over $10 per hour (some tours are in the $100 to $200 range).
Lunch isn't included so you get to choose from a full menu like a proper adult.
You just go to the wineries. No forced visits to out of date museums and glass factories (still waiting for my rug from Tunisia, BTW).
One of the most chilled out driver/guides I've met – he let us linger a long time after lunch (another bottle of wine's worth of time!)
Pick up and drop off at your hotel. Handy if you don't remember your name let alone your accommodation at the end of the tasting.
If you can get yourself to Ensenada, you don't need to pay a hefty uplift for having someone pick you up from San Diego.
Small group tour in a small minivan (not a 52-seater coach). We were 5 people the day I took my tour from Ensenada.
There is no minimum group size. As a solo female traveller, the 2 people minimum drives me insane. Some tour companies I looked at required a group of 4 people as a minimum. Cardboard cutouts apparently don't count.
Considering a Baja California Road trip? Here are my related guides:
The pick up
The day started at a respectable 11 a.m. which was enough time to grab coffee and breakfast before the guide arrived. In hindsight, I should have had something more substantial than a pastry. Not only did lunch turn out to be towards the end of the day, the size of the tasting pour in Mexico was very generous. Not that I was complaining (until the next day).
Of course, I should have learned my lesson from that time I went tequila tasting in the town of tequila in Mexico but it seems I have a limited capacity to learn.
Related article: How to Drink Tequila Like a Mexican
The wineries on the tour
There are plenty of wineries to choose from – too many if you don't know much about the Valle de Guadalupe. And that's where a tour came in handy. Under the guidance of an expert, we were taken to a great and varied selection of wineries without having to spend days online researching and comparing where to go.
Here's where we visited on the tour.
L.A Cetto
L.A. Cetto is one of the biggest wine producers in Mexico and the one Mexican brand I'd heard of before my visit to Ensenada. It's the wine you'll find on the shelves in every supermarket, on wine lists in restaurants and also on many tour itineraries.
I'm usually a bit reluctant to visit mass producing wineries (I wasn't a fan of Beringer in Napa) but L.A. Cetto didn't turn out to be nearly as bad as I thought.
It was the first stop of the day and our driver handed us over to the winery's tour guide. The walk around and tasting was pretty rushed and I got the impression that the L.A. Cetto guide has pushed past 1,000 times of giving the same spiel and was 1,000 times tired of doing so.
However, he did an excellent job of herding around 30 people through the facilities and a four glass tasting.
I also, against expectations, really enjoyed having a larger group to taste with – the Mexican tourists (the majority) were a nice crowd, happy to clink salud (cheers) and strike up a conversation. You're not going to get that in Reims in the Champagne region of France, let me tell you.
Overall: despite being mass produced, I found L.A. Cetto wine to be very drinkable. I was also pleasantly surprised how the winery had managed to achieve a relatively small, boutique feel that was pretty cute. I was less pleasantly surprised that the entire tour was conducted in Spanish with no English translation available. Fortunately, one of the ladies on my tour spoke both fluent Spanish and English and was able to fill in the gaps. During the tasting, the L.A. Cetto guide answered my questions in English so I could at least understand what I was trying.
Baron Balche
The vibe at Baron Balche, the second stop, was a world apart from L.A. Cetto. The tour was conducted in English (a language spoken by everybody on the tour) and only had 7 people tasting at the same time instead of the 30-odd people at L.A. Cetto.
The tour was pretty brief, but let's be honest, if you've seen one wine barrel, you've seen them all. The most interesting part was the wine tasting, which took place in the winery's subterranean cave and took me back to that time I decided to live in a troglodyte cave house in France one winter. But that's another story.
Overall: Baron Balche was my favourite winery in terms of the quality of the wine. In fact, I went straight from the tasting to the gift shop and picked up a bottle of their rosé wine. It's not a wine type I'd usually drink but under the heat of the Mexican sun, it was perfect.
My tour included a separate stop for lunch but had it not, I'd have tucked my teeth into this steak (above) in the blink of an eye. In fact, I still have lingering regrets about not tasting it.
Las Nubes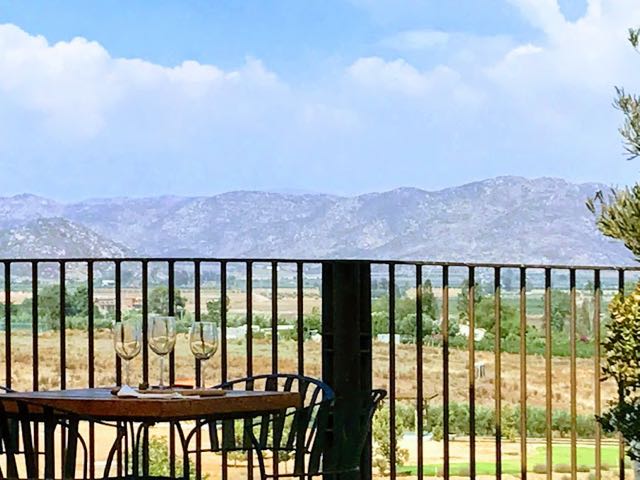 By the time I hit Las Nubes, the final winery, I was most certainly starting to feel the effects of the wine on top of an empty stomach. And yet, I had four more glasses of wine to go. Fortunately, we (the tour group) decided we would order some pre-lunch plates of cheese, meats and bread to share, which ultimately saved me from being face down in bed by 3 p.m.
The wine tasting at Las Nubes was different again. Obviously, the wines were different but the tasting experience was much more relaxed. Situated on a terrace overlooking the vineyards, each visitor was given a card denoting the four wines they could taste. At your own leisure, you can approach the bar to find out about each wine and then take your tasting glass back to your table where you could enjoy the view.
Overall: While Baron Balche won my tastebuds, Las Nubes came out top for experience. How could it not with these views (above)? They also served up a damn fine plate of snacks.
Rancho Los Amigos – for lunch
Lunch came a little too late for me because of my amateur-hour failure to have a solid breakfast. It also came off the back of two wineries that had offered extremely tantalising menus.
This goes some way to explaining my disappointment with the lunch I eventually ate. (Griddled or burned? I'd say the former.) Choosing tacos at a sit down restaurant in Mexico – that fault rests with me. Still, the views were once again exceptional, the company fantastic and, let's face it, I was so well oiled that I was on the brink of declaring my undying love to the strangers on the neighbouring table, so can I really, properly judge the quality of the food?
More wine was consumed (at extra cost) and we had time to wander around the grounds after lunch.
With no sense of urgency or rushing us, our driver eventually poured us back into the van and dropped us at a location of our request in the centre of Ensenada.
Hussongs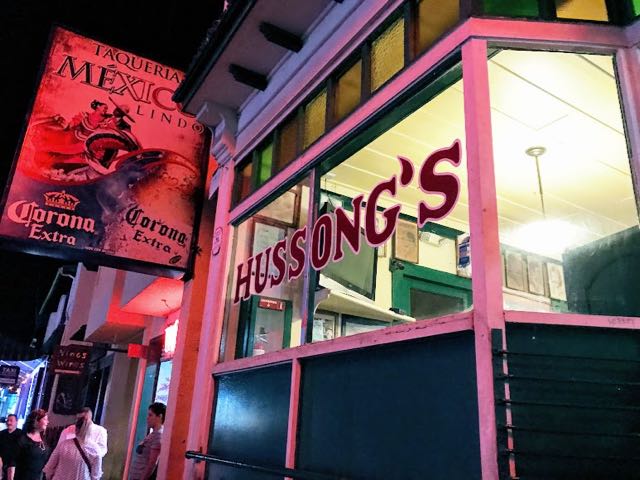 Feel free to judge me for what happened next and I will attribute some blame to the Mexican lady on our tour for recommending it – our group decided to continue bonding at Hussongs. It's the oldest bar in Ensenada and was having its popular Tuesday two-for-one beer night (just 20 pesos for two beers). It also came with a side serving of as much mariachi music as you could enjoy.
More tacos were consumed – this time from a street vendor – and although I was sufficiently inebriated that I needed a very long sleep the next day, it rounded out what had been an outstanding day.
Where to Stay in Ensenada
Encuentro Guadalupe – full luxury in the Guadalupe Valley, I believe Rhianna stayed here when she was knocking around Mexico's Napa Valley.
Check reviews and prices on Booking.com
Hotel Coral & Marina – one of the best hotels in Ensenada, you get the benefits of a pool and proximity to the centre.
Check reviews and prices on Booking.com
Estero Beach Hotel – perfect if you want a bit of beach and to avoid the tourists on First Street.
Check reviews and prices on TripAdvisor 
Hotels Sausalito – a clean and safe budget option (under $50) just off Route 1. Bonus: Agua mala is just opposite (see below) along with a great coffee spot.
Check reviews and prices on TripAdvisor 
Other Things To Do in Ensenada
I stayed in Ensenada for 3 nights and it felt like the right amount of time but you could compress or extend your time depending on your circumstances – there were certainly enough things to do to merit a 4-night stay. Here's a quick list of some additional activiti es to fill your time in Ensenada:
Visit la bufadora, a sea geyser that spurts water into the air. You can visit yourself. However, I was unable to find it and ended up chewing through time driving around. Instead, you might prefer to take a half day tour.
Explore First Street – sure, it's touristy and the souvenirs tacky and the tacos aimed at the US dollar but it's a fun place to spend an afternoon or evening.
Go Tequila Tasting – there are a few shops on First Street and you're going to be spoilt for choice if you're a tequila fan.
Try the craft beer at Agua Mala – yes, there's an alcohol theme here but Ensenada offers more than just wine with this funky craft brewery, bar with terrace.
Cultural Centre of Ensenada – perfect if you want to soak your brain with something more enhancing than wine.
Go ziplining over the canyons – Ensenada is mountainous and what better way to see it. Best not combine it with wine tasting, though. You can book ziplining here.
Related Articles:
Blog posts and packing lists for planning your trip
The Only Packing List You'll Ever Need (with printable checklist)
15 Long Haul Flight Essentials: What to Take Onboard
Travel Insurance: Don't get Screwed by the Small Print
Like this guide to wine tasting in Ensenada? Share it on Pinterest…