Verbier is a year-round destination in the Swiss Alps. Located in Swiss canton, Valais, and featuring the 4 Vallées ski area, it's one of Europe's premier ski resorts in winter. But Verbier is a summer destination, too – those alpine mountains are every bit as tempting for hiking and biking when the snow has gone.
The great news is Verbier is easy to reach. In this article, I'll share how to get to Verbier from Geneva by train, airport transfer, car and air. And if you want tips for the best things to do in Verbier, check out my seasonal guides:
The best way to get to Verbier from Geneva – Train
The quickest way to get to Verbier from Geneva is by train, with the journey taking around 2.5 hours. In comparison, driving will take about 2.5 to 3 hours. With the train time being broadly similar, I'd still recommend the train: as well as being the more sustainable option, the Swiss train system is excellent, and it's a very relaxing way to start your trip.
Still not convinced? Do it for the sake of the snow! Since skiing, hiking and mountain biking are low-carbon activities, most of the carbon emissions attributed to ski resorts come from travel to the region. While ditching the flight might not be the most straightforward option (who's up for swimming the Atlantic in January?), choosing public transport within Switzerland will bag you some carbon karma. When I visited Verbier this year, locals anecdotally reported to me that the snowfall was far better during the height of the pandemic when there were not nearly as many flights or cars chugging out fumes.
---
How to get to Verbier by Train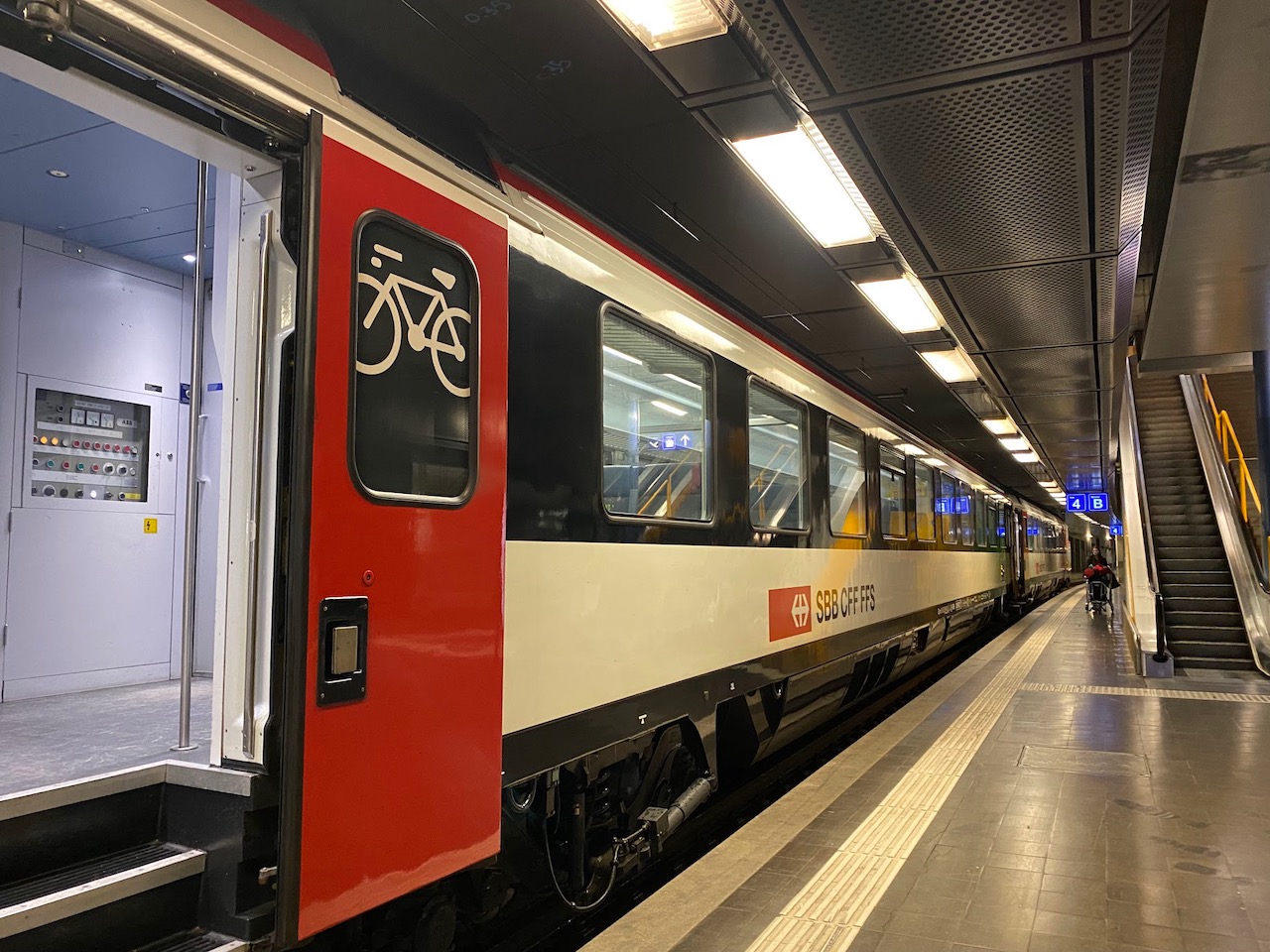 Although there isn't a direct train from Geneva to Verbier, the train journey is easy with three simple steps.
Intercity train from Geneva to Martigny: First, take the IR90 Interregio from Geneva, direction Brig, and change at Martigny. This leg takes 1hr 41 and has only 7 stops: Geneva Airport – Geneva – Lausanne – Vevay – Montreux – Aigle – St Maurice – Martigny.
Regional Alps train from Martigny to Le Châble VS: At Martigny, you will change to the Regional Alps train going to Le Châble VS. It's one of my favourite train journeys globally thanks to the ascent and the Alps scenery that passes by outside the window. The train takes 26 minutes with 6 stops: Martigny – Martigy Bourg – Martigny Croix – Bovernier – Sembrancher – Eliez – Le Châble VS.
When you change platform at Martigny, you might notice that you arrive on a low number platform, 2 while the Le Châble train leaves from Platform 50. Don't worry. It's quirky numbering, and the platform is usually just over the way – there are not 50 platforms to navigate in Martigny.
Telecabine from Le Châble to Verbier: The final stretch is a 13 minute trip on the gondola (telecabine) to Medran, a five-minute walk from Verbier Village centre. Nothing says you've arrived in the mountains like getting there by gondola.
In Le Châble, you can also follow signs to the Post Bus station for a 25 minutes bus ride from Le Chable (821m) up the mountain to Verbier (1,500m). However, since the Le Châble to Verbier telecabine got reclassified as public transport in December 2021, the hours and ticket options have been extended, and this will be the better, faster, more fun way to get to Verbier.
Have you got questions about taking the train? Here are some of the more frequently asked ones.
Do I need to travel from Geneva City or Geneva Airport?
You can travel from either. The train route starts at Geneva Airport, stopping at Geneva city just 10 minutes later.
How can I check the Geneva to Verbier timetable?
You can plan your route and buy tickets directly on the Swiss SBB CFF Train website. Search for Geneva (Airport or city) to Verbier (telecabine).
How much does the train to Verbier cost?
If you book in advance, you're likely to get a better deal with one-way tickets in second-class costing from around 30CHF (approximately £25/$35USD). If you buy your ticket on the day or the advance saver tickets are all sold out, tickets cost about 63CHF one way (approximately £50/$70USD). You don't get any savings for booking a return ticket unless you're able to grab a discounted advance ticket for part of the route.
You can book tickets directly on SBB CFF.
Is the train to Verbier reliable?
Yes. It's Switzerland – everything there is reliable. Every. Thing.
Can I take my skis on the train?
Yes. The Swiss trains have good storage space.
---
How to get to Verbier by air
As sustainable as the train might be, it will be necessary to take a flight to Switzerland for many people. I'm from the UK, so I've focused on that route but drop me a comment below if you need help route planning from your home location.
What is the closest airport to Verbier?
Geneva International Airport is the closest airport to Verbier at just 142 km (88 miles) away. The airport has had a significant upgrade with a new terminal, and I was delighted to see it has those lovely new scanners where you no longer need to separate liquids and laptops and whatnots. Just shove all your carry on into the tray and stroll on through.
If Geneva doesn't work for you, the next closest airports are:
Sion Airport – 60 km (ok, strictly closer than Geneva but with far fewer routes)
Bern Airport – 170km
Zurich Airport – 290km
Lyon Airport – 296km
Milan Malpensa – 265km
What is the best Airline for Geneva Airport
If you're travelling from the UK, I highly recommend Swiss Airlines. SWISS operates typically more than 170 weekly flights to Switzerland from London Heathrow, London City, Manchester, Birmingham, Edinburgh (seasonal during summer) and Dublin from as little as £55 oneway (Economy Light fare only includes hand luggage). The all-inclusive fares start from £71 oneway, including one piece of hold luggage and hand luggage. Best of all, you get a little Swiss chocolate on the plane. You won't get that with Easyjet (currently on my shit-list) or Ryanair! You can search for flights using Skyscanner here.
---
How to get to Verbier by Car
Are you feeling ultra sustainable with your new electric car? Or just dead-set on getting to Verbier by four-wheels? Here's how to do it.
Driving to Verbier
Long gone are the days where some travel website tells you the route for getting from A to B. Hop on to Google Maps; you know the drill. If you want the quick low-down, you're going to have two main route options from Geneva. The toll road is a longer (160km) but faster (2hr 20mins) route taking you over the top of Lake Geneva using the A1 and A9. The alternative is the shorter (140km) but slower (3hr) route that goes around the bottom of Lake Geneva on the D1005. Pick your route, and make sure you set your GPS to use toll roads if that's the way you want to go.
Airport transfer to Verbier
If you prefer to let someone else drive while you stare at the scenery, you can take a taxi or private transfer from Geneva airport. Here you can find a list of taxis and airport transfers. Otherwise, you can book a private transfer online (€200 one-way).
Hiring a car at Geneva airport
There are several car rental companies at Geneva airport, including many of the prominent brands like Hertz, Sixt, Europcar, Avis and Budget. While I've not hired a car at Geneva Airport, I prefer Sixt when I hire cars globally because they usually have a reasonable price, good service, and so far, I've not been stung with hidden charges (looking at you, Hertz). Either way, I always do a price comparison and book in advance using RentalCars.com.
Tips for hiring a car if you're visiting Verbier during the ski season:
hire the car as soon as you book your flight – ski-season is peak-season and cars book out quickly.
if you're taking your own skis or snowboard, check your car is big enough to fit your kit.
consider luggage space as well as people space – there might be only two of your in the car but can you get in your luggage and sports equipment?
also consider your suitcase size – don't just think of normal luggage. Snow kit can be bulky and you will probably take a bigger bag than usual.
will you need 4-wheel drive or snow chains? If you're sticking around Verbier and the nearby villages, you should be fine in a normal car as the roads are regularly ploughed. But many hire cars in snow areas come with 'free winterisation' e.g. snow tyres, which is a bonus. Check the details when you book.
---
Is there a bus from Geneva Airport to Verbier?
The safest answer is no. I've never tried to get to Verbier by bus since the train is so darn slick. I did have a quick search of the interwebs and saw rumours of a bus service – the N1157 run by Flixbus. However, the schedule suggested it was running only three times a week, which is unlikely to be helpful if you arrive on any of the other four days. And, even still, when I tried to find actual tickets on the Flixbus website, the service wasn't running for at least the next month (and I was checking during January & February, i.e. peak season). Things might change, but unless you're on a strict budget, I would stick with the very regular and ultra-reliable train.