This story started on the Great Wall of China.
Stick with me.
I was showing my dad around China in a whirlwind two week trip that involved moving location every other day. So, it's fair to say, we did several guided tours in China. And I planned to do the same thing in Chengdu. Because, with limited time and running out of steam, having someone pick you up, show you around, feed you and take you back at the end of the day can make sightseeing so much easier.
That's how I happened to be on the Great Wall of China. A booked tour.
But then, as these things happen, I got chatting to a Belgium couple as I wandered along the wall. We swapped trip routes, highlights and tips, and found out that they were doing a very similar itinerary but in reverse. That meant they'd already seen what I was hoping would be one of the highlights of my trip – the Chengdu Research Base of Giant Panda Breeding. (In person, we just called it the panda centre because life is way to short to spit that name out every time).
"When you get to Chengdu, whatever you do, don't take a tour," was their opening advice. They had also arrived at the Wall on a guided tour so I was intrigued by the tip.
"Why?"
"You won't see the pandas."
Wait. What? This was pretty big news.
"Well, you might. But the group tours usually get there too late. The pandas get up early, eat breakfast and then wander off for a sleep. At best you will see them lying down doing nothing. With 50 other people pushing you out the way to get a photo."
Why it's better to visit the Panda Centre without a tour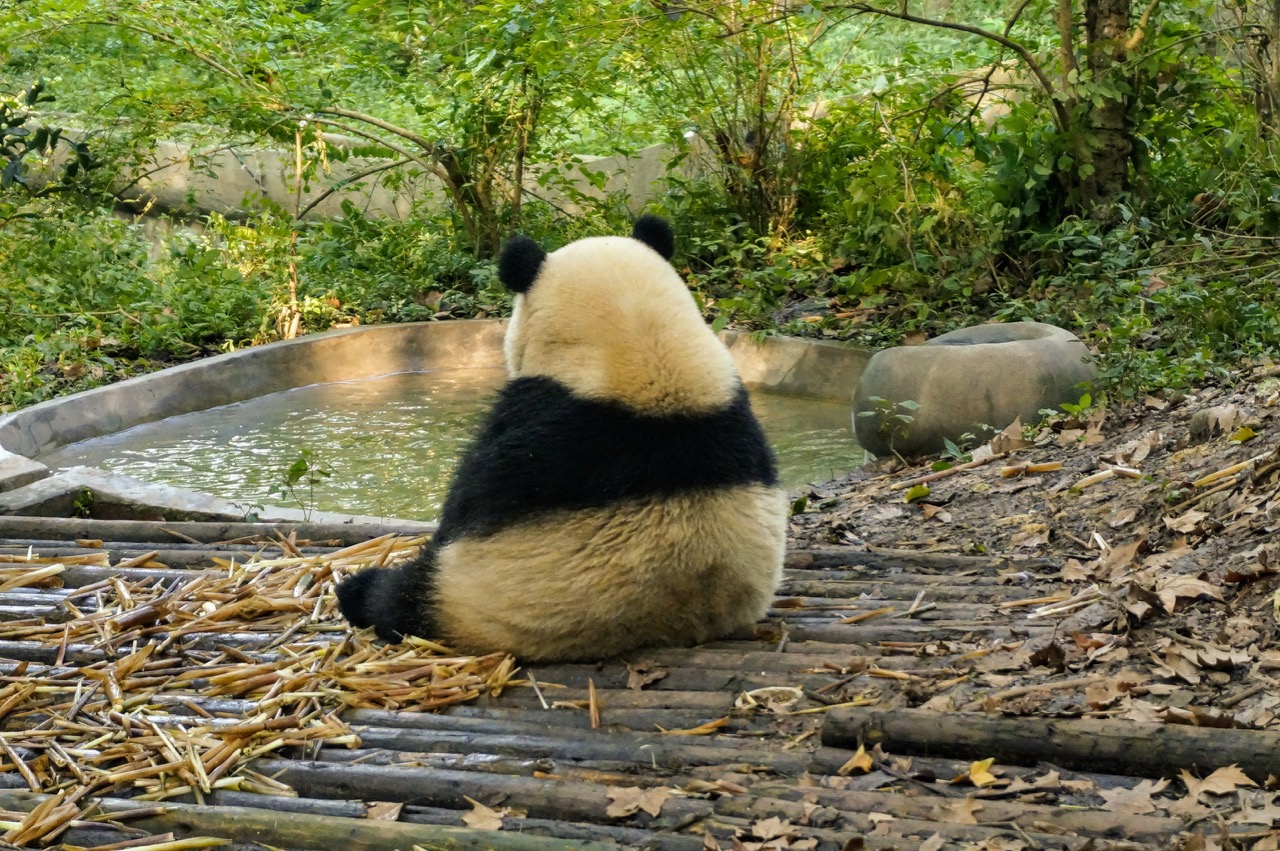 It was one of the best pieces of travel advice I've received in a long time. It was advice I took. And it was absolutely correct. So, thank you to the Belgium strangers. With no shame in stealing your advice, I'm going to share it far and wide, along with my own tips for how to visit the pandas in Chengdu without a tour.
I've touched on it above but let me dig into the detail of why you should do your own panda tour in Chengdu.
You'll probably get there too late with a group tour
Pandas are morning creatures. They're up and at their breakfast by around 7:30 a.m. (FYI, I would not make a good panda). The problem is, bamboo doesn't fuel them for very long so after a bit of playing around, the pandas are ready for a post breakfast nap (on second thoughts, maybe I could figure out the panda lifestyle). These cuddly creatures start to fall into a food coma from around 8:30 a.m. And, as cute as they are, a sleeping panda isn't what you've travelled all the way to China to see. You want to see them rolling around, playing, chomping through bamboo.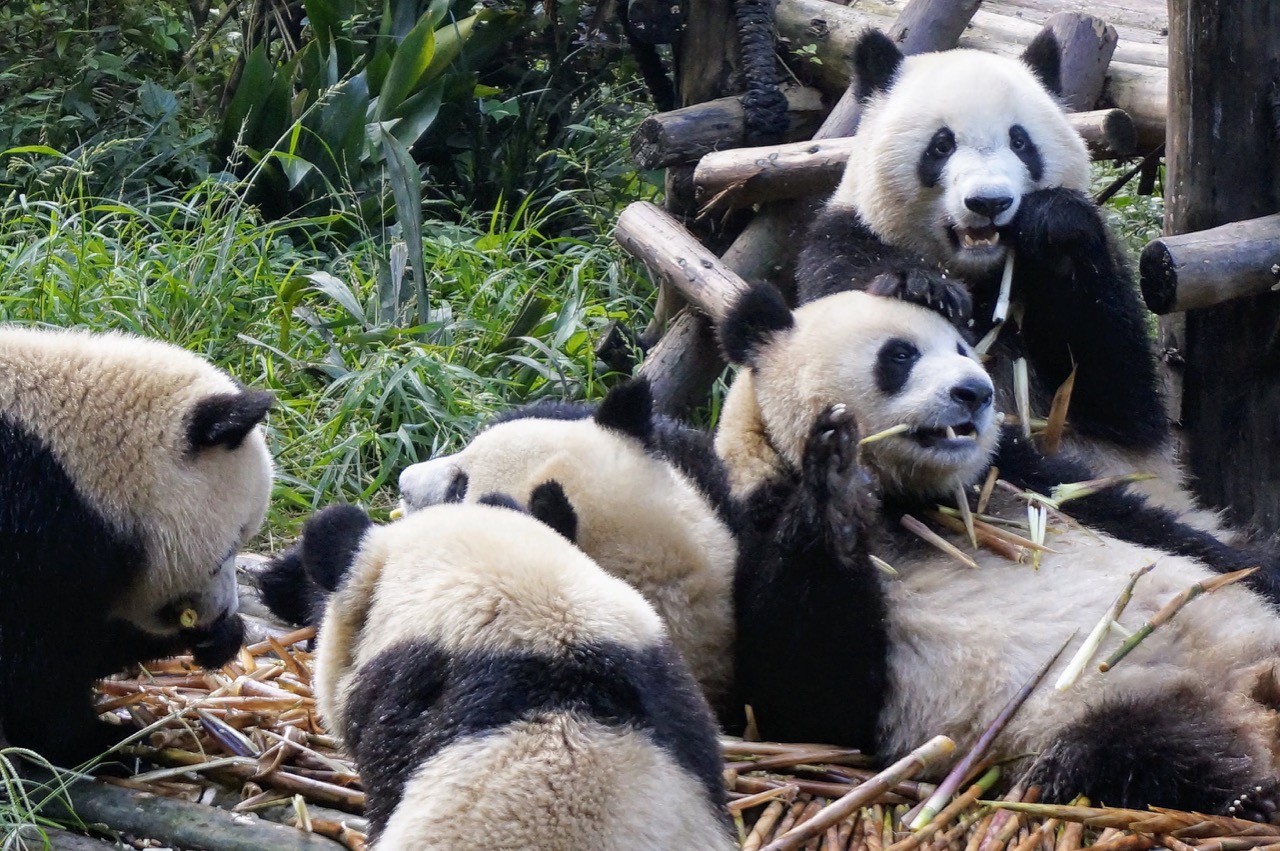 Yet, here's the rub – most tours won't get you there in time to see that.
The Chengdu Research Base of Giant Panda Breeding is about 30-40 minutes outside Chengdu and most tours don't do downtown pick ups until 8 a.m. If you've ever been on a group tour, you know that those hotel pick ups can mean up to an hour driving around the city, waiting for Bob and Barbara to finish their hotel breakfast because they could have swore the pick-up time was nine.
I've just scraped these itinerary details from some of the most popular tours online.
The following is a tour dedicated just to the pandas in Chengdu.
This included Leshan Buddha and left even later.
From a different popular tour booking website.
Even the private tours of just the panda centre started at 8 a.m. Yes, they'll avoid the one-hour round the city pick up but it's still too late in my opinion.
The only tour I found that could work was this one which allowed you to set your itinerary, including pick-up time. I have no idea how much this service costs – it will depend on your individual itinerary – but if you really do prefer to take a tour, I'd start here.
As you can see – they leave too damn late. Don't ask me why. Maybe they struggle to get bookings with an earlier start time. Maybe it's because a lot of the tours are bundled with other activities and the panda part is slotted in to fit with other timings during the day. Whatever the reason, taking one of the 8 a.m. departing tours means you'll be leaving the blocks an after hour after the the race has started.
You'll be there with a huge number of other groups
I did spot a few small group tours when I went to see the pandas but they were almost exclusively under the steam of a wider China tour like the ones you get with Intrepid Travel or Wendy Wu.
The rest of the groups – they day visitors – were there by the coach load.
Literally.
Out in front – the guide holding a panda head (not a real one) on a stick.
Behind, a slow train of 52 tourists wandering in zombie mode.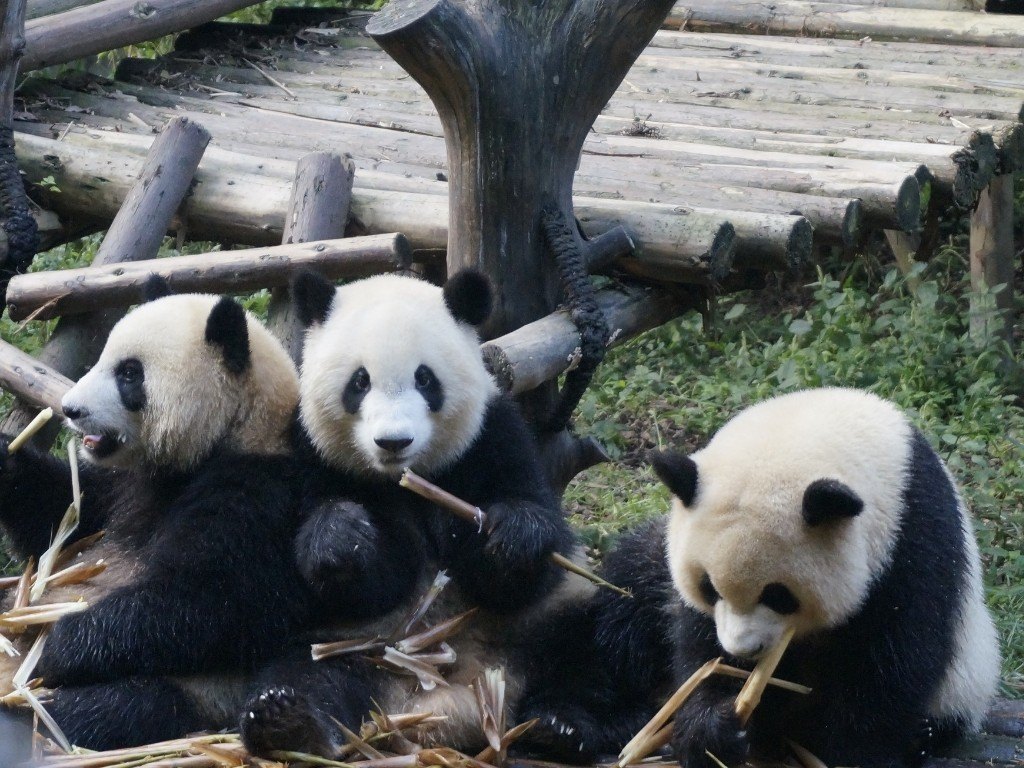 One man was so apparently un-thrilled with his tour that he was crushing down a can of Budweiser at 9 a.m. Or perhaps there were other things going on in his life. Nevertheless, these groups were large and came with all the things you can imagine.
A lot of noise: no chance of getting some quiet audio in the background of your panda video.
Pushy, pushy, pushy: because that's what you get when 52 people bustle to get a selfie in front of 4 pandas on the cusp of sleep.
If another tour group or two stops by, you can see how quickly the highlight or your trip can become the lowlight.
You won't have enough time watching the pandas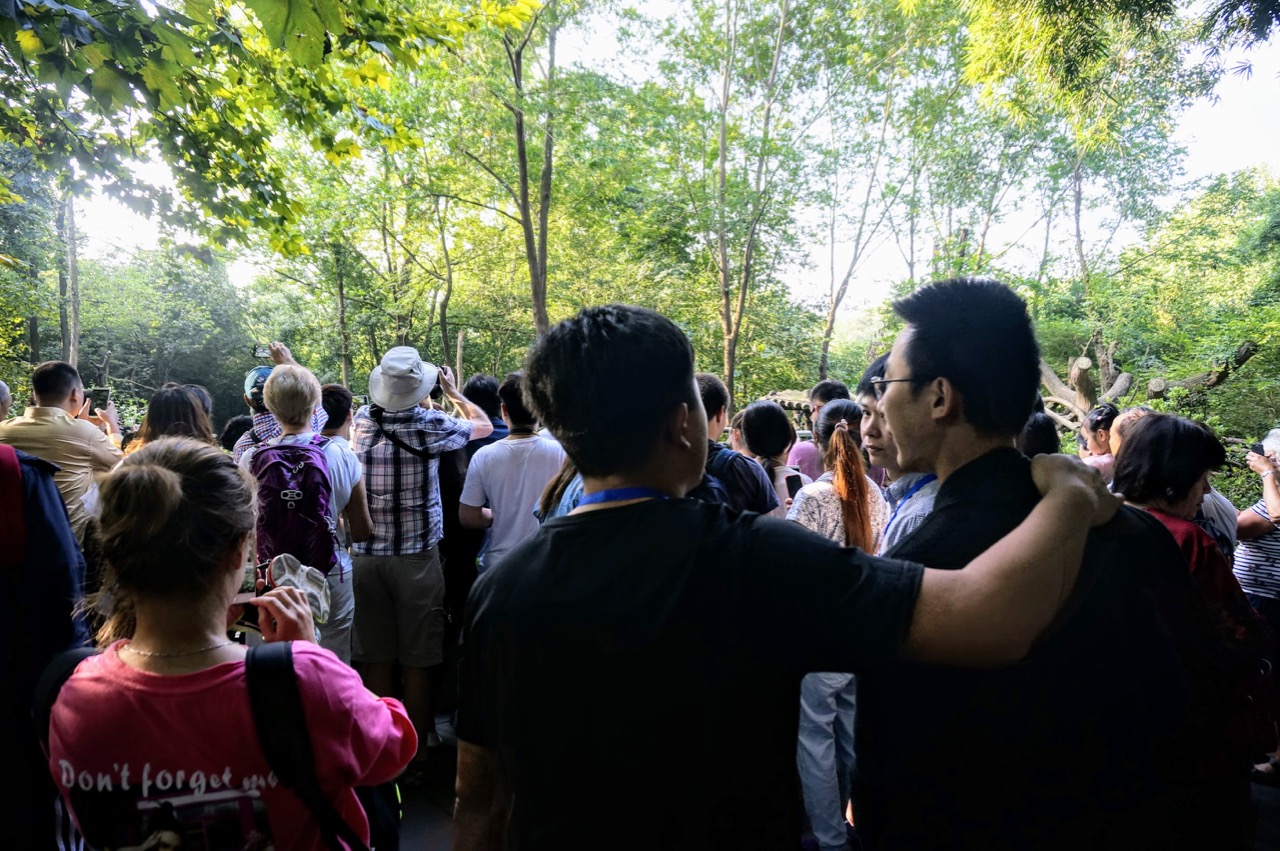 As I've mentioned, many of the tours are on a multi-activity schedule. So, post pandas, you might be off to see the sights of the city of Chengdu or to see the giant Buddha. And, as we all know, Buddha – impatient as he is – waits for no man (or woman or panda) and you'll be ushered through the panda centre until, before you know it, you're back on the bus with a black and white blur lingering behind your eyes.
In fact, one of the best things about going alone was that the group tours didn't ever have the chance to linger. I only had to wait a few minutes before each tour group was dragged on. Then, between busloads, there was peace. Me, my dad, a couple of other DIY tourists, and the pandas.
There's always someone who wants to shop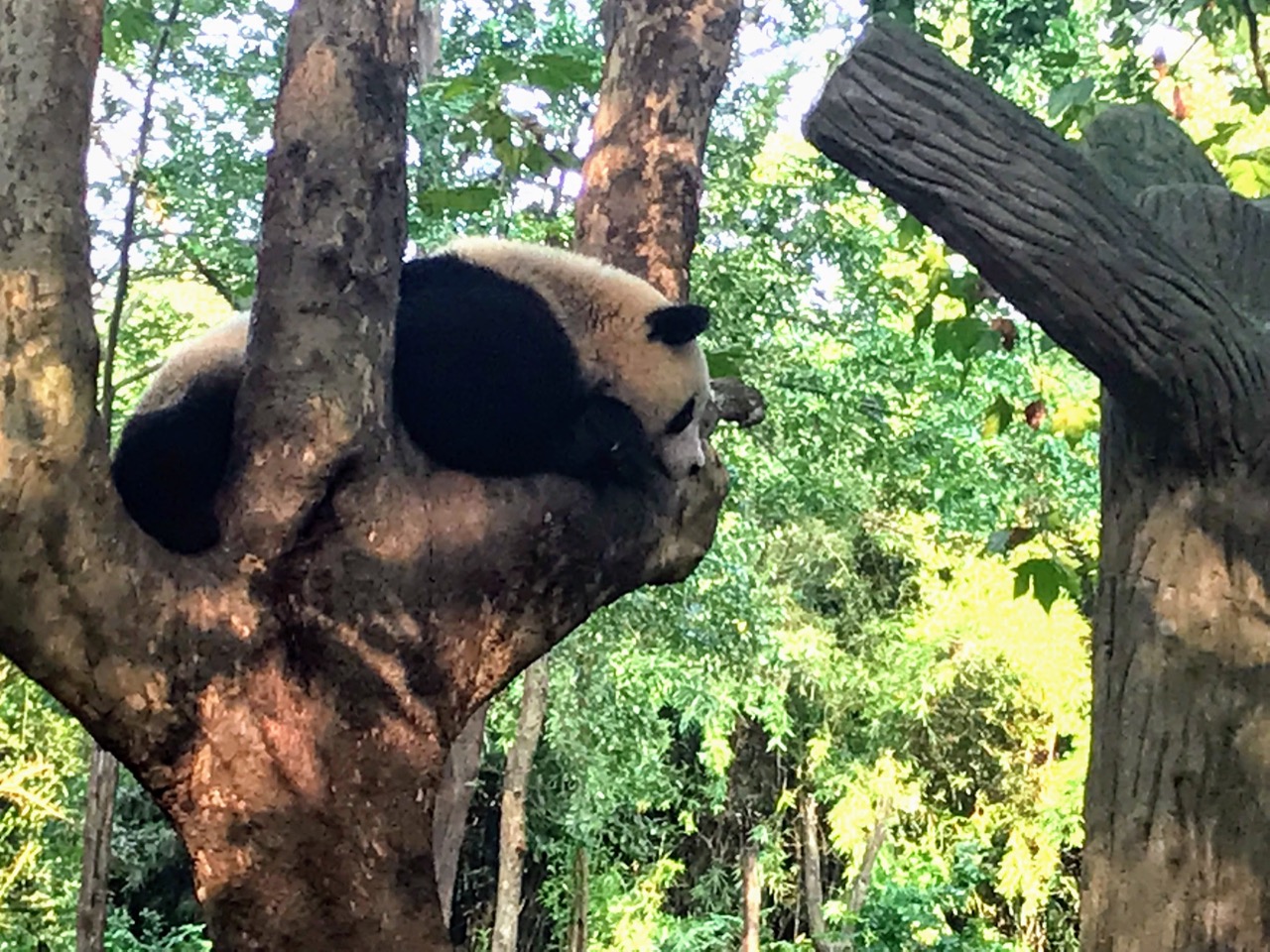 I'm not a shopper. So gift shops are rarely to ever on my travel itinerary. But there's always at least one couple (probably Bob and Barbara) who consider the gift shop to be the best part of their trip.
I thought I was going to see something from Lord of the Flies when I visited and saw one woman dump her multiple bags with her husband and head back into the gift shop while the rest of the busload waited outside. Such a waste, waiting around for other people to shop, when there are pandas to see.
It's more money for less time with the pandas
We all know that tours cost more than visiting on your own but often I'm convinced to pay the extra if I get value for my money. What I'm not prepared to do is pay more money and get less of what I want – time watching the pandas.
How to do your own panda tour in Chengdu
You're probably convinced that doing your own panda tour in Chengdu is a good idea but you might be put off by the idea of how.
Don't worry – it's actually super simple. Here's how to do it step by step.
Take a taxi from downtown Chengdu
I'm assuming you know how to flag a taxi and in China it's no different. The cars are very identifiable (green cars with a taxi sign on top) and they all operate on a metre. The fact that most taxi drivers don't speak English means there is limited likelihood that they'll try to negotiate a fixed (not in your favour) fee. If your driver does, wave them on and flag down another ride. Going on the taxi metre is what you're after and 99% of taxi drivers comply without you asking.
There are, however, a couple of things you should do to make your trip easier.
First, get your accommodation to write down 'take me to the panda base' in Chinese. As I've mentioned, most taxi drivers don't speak English so this one Chinese sentence is going to make the difference between getting to the pandas and not getting there at all.
It probably goes without saying, but make sure you have the reverse instructions to get you back to your accommodation from the panda centre. Don't worry – most hotels and hostels have business cards with this already printed on the back. Just pick up one (or two to be sure).
If you're stuck, this is what my accommodation wrote down for me.
Cost of taking a taxi to Chengdu Research Base of Giant Panda Breeding
The taxi cost is about 50 Yuan each way, approximately £6 / €6 / $8. You will need to pay in cash.
What about public transport?
Yes, public transport is an option but there's not one direct bus or metro. Your best option is to take the metro as far as you can (to Chengdu Junqu General Hospital) and take a taxi from there. It will save you a bit – you will then only travel about 7 km by taxi.
If you do decide to go this route, get up extra early because it's taken me up to 30 minutes to get a ticket for the metro in China thanks to the ticket lines and consistently malfunctioning ticket machines.
More details for visiting the pandas by public transport here.
Give yourself enough time
Traffic in Chengdu – like pretty much every city in China – can be horrific so you should build in extra time. The Chengdu Research Base of Giant Panda Breeding opens at 7:30 a.m. and I left at 7 a.m. with that in mind. However, it took almost 15 minutes to find a taxi at that time of morning (rush hour) so I arrived a little later than planned. It wasn't an issue but that's how the timing worked out for me.
The journey is about 15 kilometres over motorways and takes around 30 minutes, which will give you an idea of the traffic.
Of course, sod's law says that if you leave at 6:45 a.m. you'll get a taxi no problem and will arrive 15 minutes earlier than the panda centre opens, but then you'll be the first into so it's not all bad.
Getting tickets to the Chengdu Research Base of Giant Panda Breeding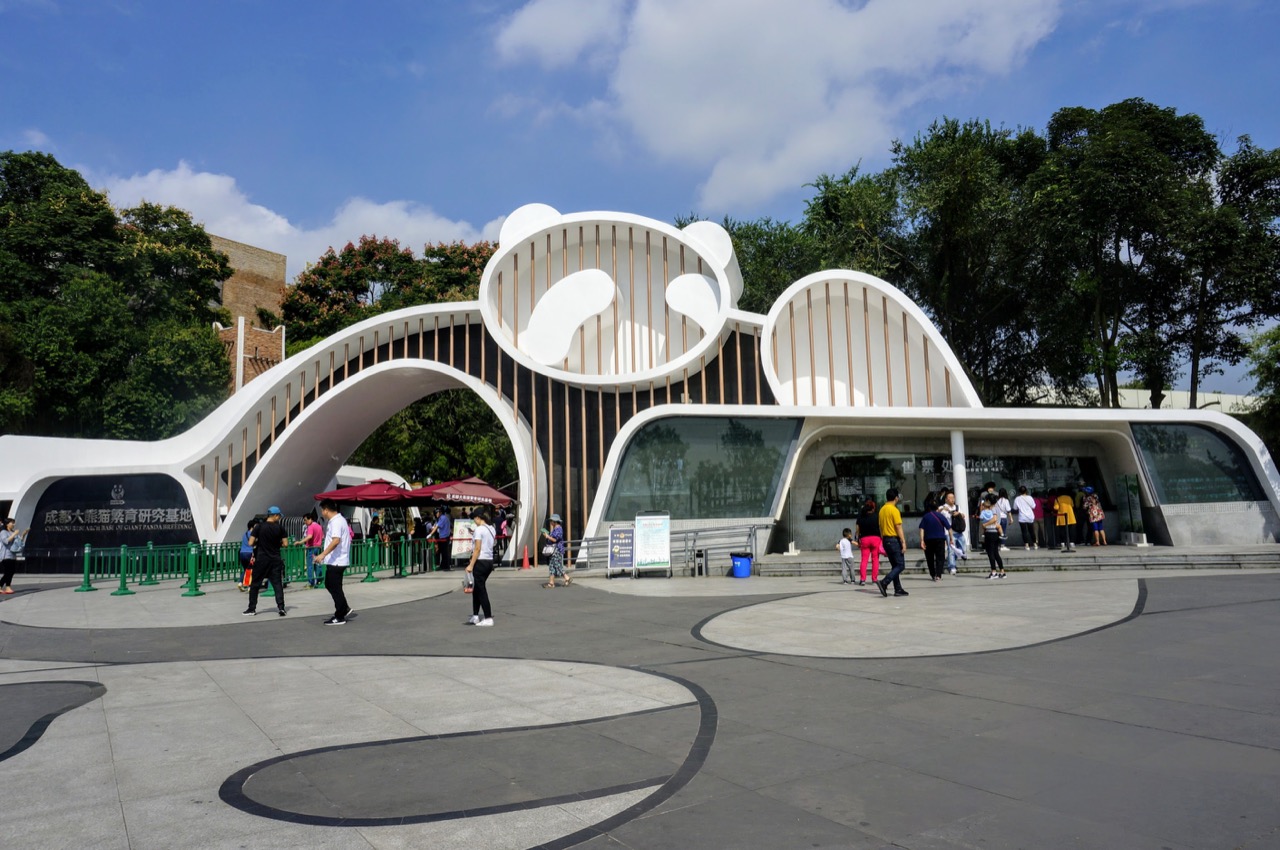 Getting tickets is one of the simplest parts of visiting without a tour. There are ticket booths just to the right of the entrance when you arrive – see picture above.
Arriving at about 7:45 a.m. there was only one couple queuing in front of me. This was the shortest queue I saw in all my time in China. It was about as empty when I left a few hours later, too. My guess is that the tour guides (responsible for the bulk of the visitors) buy their tickets in advance. Or, at least bulk-buy in one transaction making the whole ticket process smooth sailing.
Tickets cost 58 RMB, around £7 / €7 / $9.
Getting into the Panda base
About as simple as buying tickets – go through the turnstile, have a quick security check (on the left of the picture above). Don't worry – cameras and water are permitted, just no machine guns and explosives, for some curious reason. (I feel the need to point out that's a joke in case you're about to report me to Interpol).
Getting around the base and the bus
The first thing you'll see when you get into the site is a queue for a bus that will shuttle you around the park. The queue is long, the map of the centre makes the site look expansive, the hill ahead looks a bit steep so you'll be forgiven for thinking that you might need to take the bus…because all those people queueing can't be wrong.
They're wrong!
The centre is incredibly easy to walk around. This from the woman who's had knee surgery and was dragging along her dad who also has a bad knee. Stand in that queue, and with the shuttles arriving only every 10 minutes or so, at least 6 pandas will have their next birthday before you see them and, vitally, they may be approaching sleep by the time you arrive.
What to see in the Panda Centre
Pandas, of course. But which ones and where?
Through fear I'd miss something major, I was trying to tick off the various (confusing) panda viewing areas in a systematic order, as advised by the recommended itineraries on the little tourist leaflet. My advice – don't bother. Like with the bus, the leaflet leads you to believe that the centre is bigger than it is. Before long, you'll realised you've done the same few loops a few times and have seen all there is to see of the pandas. Better advice, keep an ear out for tourists, even a small number. They're lingering because there are pandas to see.
As for the pandas themselves, what you see will be seasonal. Cubs are typically born in autumn but there were none there when I visited. Catching sight of a pair of red pandas was wonderful. Overall, just seeing pandas was enough. The video above is a compilation of the breakfasting I observed. I didn't catch video of them playing – I was too busy watching with my eyes rather than through a lens.
Getting your picture taken with the pandas… I was going to skip this topic because my opinion is personal and I also don't know enough about the details of the subject to try and persuade you one way or another.
Personally, I didn't try to book a 'picture with the pandas' session. Why? Because I think non-domesticated animals shouldn't have to suffer human interaction for the sake of tourism. Especially when a quick bit of research told me that pandas like their space.
I know there are other arguments. Generating money for the continued breeding program is a good one. As I say, this is my personal view. All I do suggest is that you do your research about the pandas before you go down this road. And leave a comment below if you do learn more about it.
What else is at the base besides the pandas?
There are just enough extras at the panda breading centre to merit another hour or so and the centre itself is very beautifully done with wooden walkways and bamboo forests. As well as the pandas there is:
Swan Lake – a beautiful green space and lake with picnic tables. Contains: swans.
Giant Panda Story Cinema – a short movie about the centre that runs on a loop lasting (from memory) about 15 minutes. Definitely worth a watch.
A couple of museums – one was closed when I visited. The other was open but didn't particularly tickle my fancy having just seen the pandas in 3D.
The gift shop – Bob and Barbara may still be in there when you visit.
A postcard shop – this I did visit in order to send my 2-year-old niece a postcard of pandas. Very cutely, there is a table outside with pens and stickers where you can write and also decorate your postcard. The shop sells stamps and there's a special Chengdu panda postbox to boot.
What about eating at the panda centre?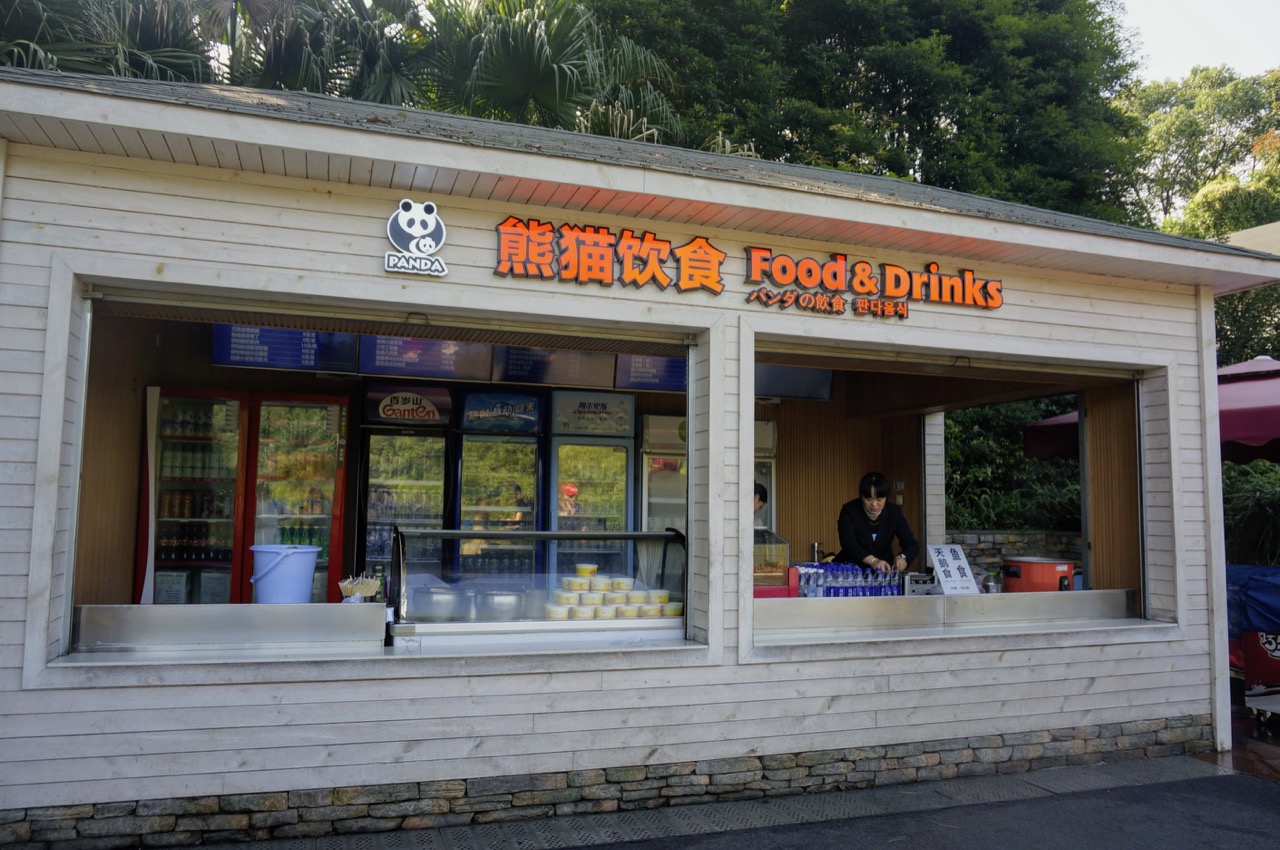 Food options were pretty slim for an early morning visit. There were a couple of restaurants geared to lunch visits that were not yet open when my breakfast hunger called. There was, however, a little noodle stall by Swan Lake which was decent enough. Grab a cheap box of noddles then go and watch the foolish tourists taunt the increasingly angry swans in a bid for a selfie. Bonus points is you see a swan spread its wings ready to attack.
The toilets at the panda centre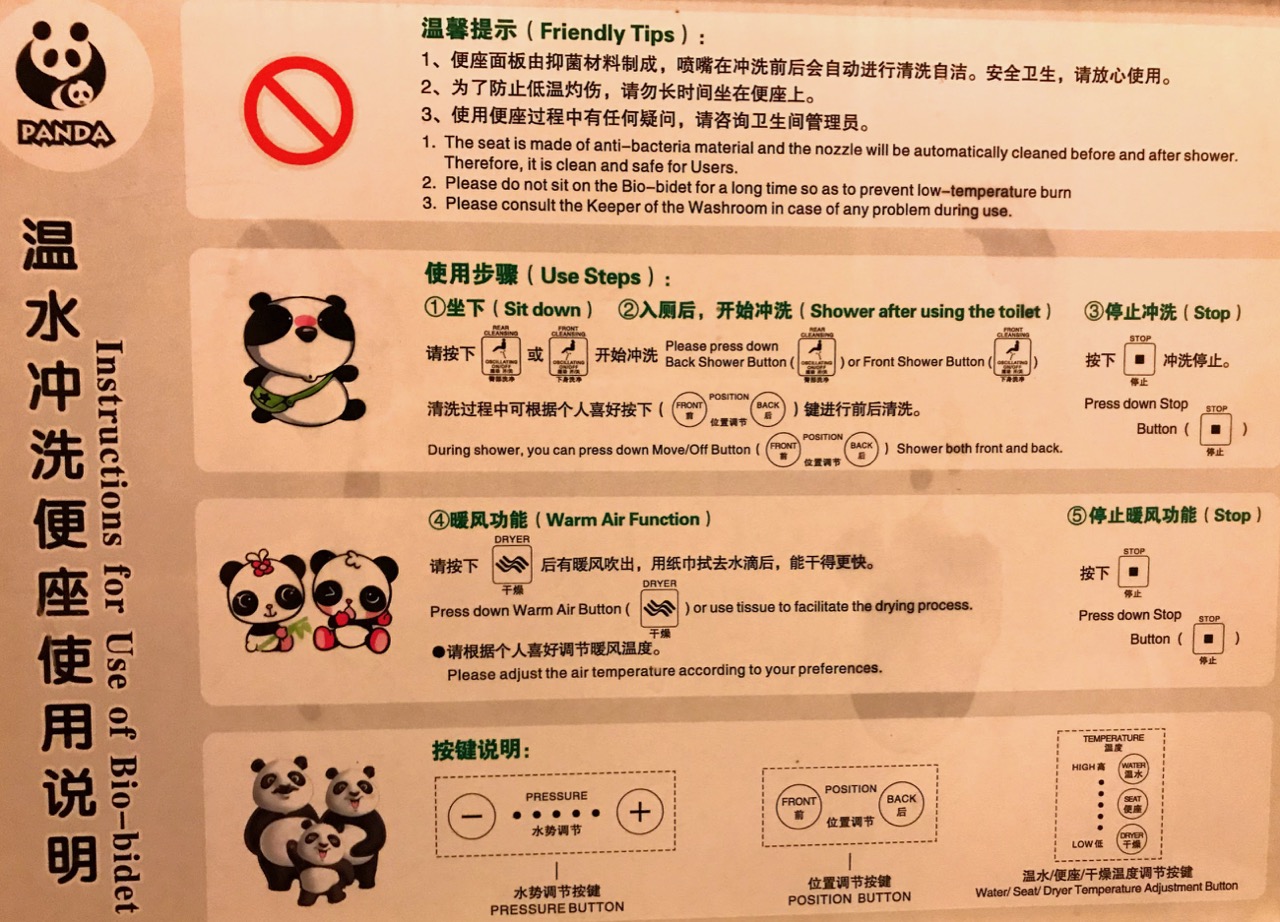 This may seem like a strange topic to merit a heading but I have to (over)share this with you. The Chengdu Research Base of Giant Panda Breeding has some of the best toilets you'll find in China. What makes them so special? The toilets are Japanese. If you're not familiar with a Japanese loo, I can tell you they are the Ferrari of the toilet world with self-cleaning heated seats and a remote control that allows you to spray water in a multitude of directions towards your bottom (if that's your thing), play music while you pee and spritz deodoriser should the cubicle need it (I'm not blaming you – it was definitely the person before you).
Things To Do in Chengdu
Yes, the pandas were the beginning, middle and end of my reason for being in Changdu but it turns out the city has a whole heap of things to do. I stayed there 2 nights, which was one of the longest stops on my itinerary (yes, that's the sound of my exhausted dad sobbing in the background). In that time I crammed in a few other activities:
Sezchuan opera – this really is a fantastic way to spend a couple of hours one evening. Tip, eat an early dinner because most restaurants will be closing by the time you're done. All the opera tours are much of a muchness in terms of price and what's included.
Food tour – I spend a fun evening taking a food crawl by tuk-tuk with Lost Plate. We ended up in wonderful locals' bar, being introduced to some almost drinkable rice wine. My tour was excellent so I'd highly recommend it.
Dongmen Bridge – picture above as evidence of why this should be on your list – but don't go too late as the lights went out 5 minutes after I arrived – about 10 p.m. from a hazy memory. I have done zero editing to that picture, which I took on my iPhone 7 after consuming much beer and rice wine. It's that stunning.
Kuanzhai Alley – sure, it's super touristy but some of the old buildings are spectacular. In a city (country) where modern high rise apartment blocks mar the skyline, this was a breath of fresh air, albeit a packed one.
Hot pot – there is most definitely an art to the Chinese hot pot and it's one I didn't fully understand (yes, I ate the 'flavourings' assuming it was an appetiser, must to the actual LOLs of the waiters). You'll definitely up your chilli tolerance in Chengdu. If you survive. It's not guaranteed. Wish I'd read this hot pot guide first.
Tea house – my dad, being an alien, doesn't drink tea or coffee, so we skipped this one in favour of a 'beer house' but if you've never participated in a Chinese tea ceremony before, I'd highly recommend it.
Leshan Giant Buddah – located outside the city, this is a day trip but it seems worth it given it's the largest stone carved Buddha in the world. I didn't have enough days to fit this in, sadly. You can book a Buddha day tour here.
There are other various landmarks around the city that I would have liked to have seen including Du Fu Thatched Cottage and Wenshu Monastery. Chengdu is pretty spread out but you can do it without a guided tour – use the metro or taxis are very cheap.
Where to stay in Chengdu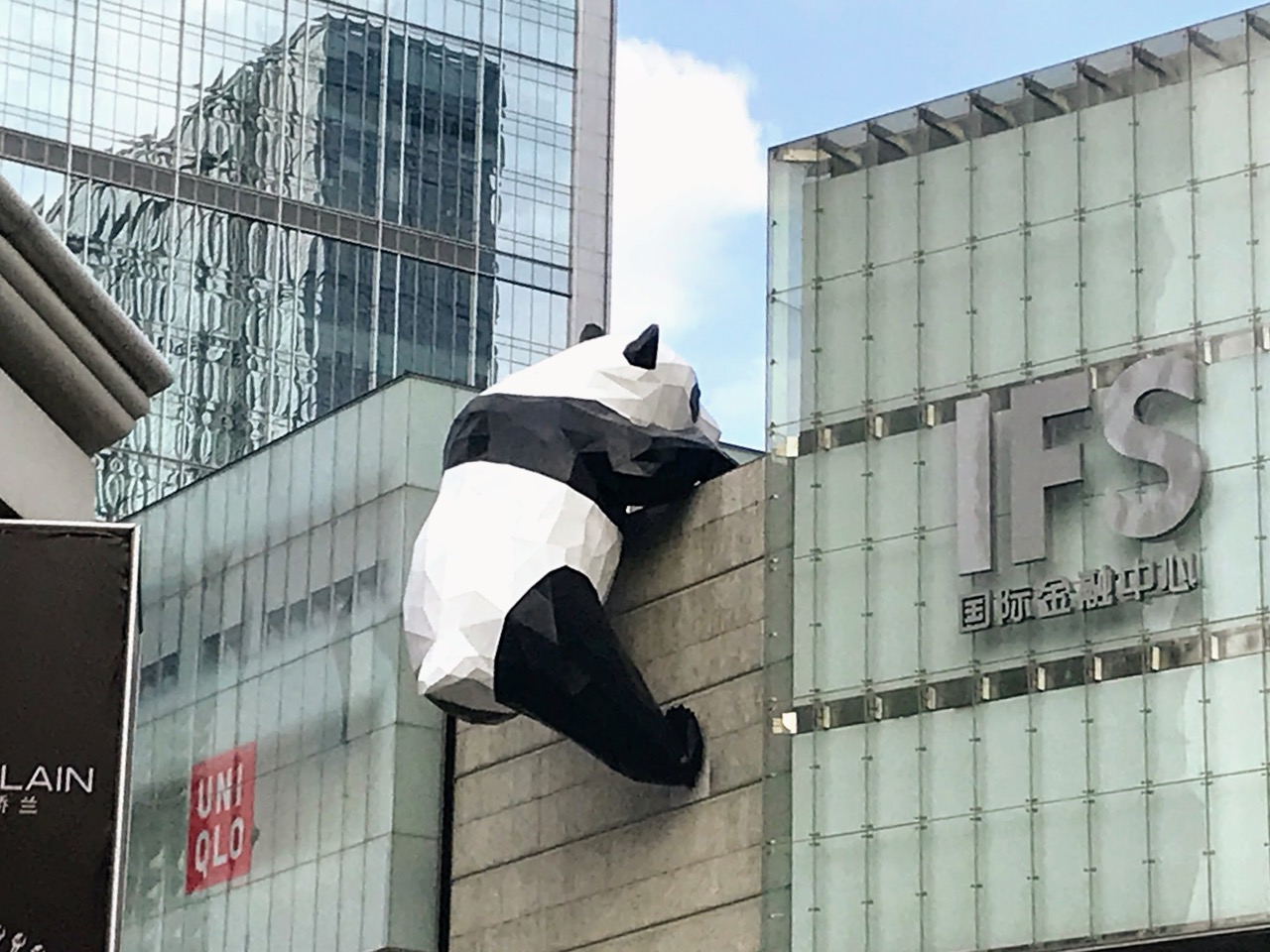 On a budget: I stayed at Chengdu Flipflop Hostel Poshpacker. It's a mouthful but don't let that put you off. The location is perfect, just around the corner from Chunxi Road, the main upscale shopping area/home to many high-end hotels, the staff was fantastically helpful and the chill out space had a wonderful vintage vibe.
Mid-range: Sofitel Chengdu Taihe is very reasonably priced, is located close to Chunxi road and is a brand you can trust.
Luxury: If I wanted to throw down some cash, I'd have chosen the Ritz Carlton Chengdu which hits all the right buttons for luxury whilst having a great location. They probably have toilets in there that are as nice as at the panda research centre.
And that seems like a wonderfully inappropriate place to end this post.
Share it on Pinterest…