If there is one thing Japan is famous for beyond the cherry blossom, it is Mount Fuji and I was determined to visit this snow-dipped wonder during my stay in Japan. However, things didn't go to plan. Learning from my mistakes, here are my tips for visiting Mount Fuji in spring.
Don't assume seeing Mount Fuji is more likely at Mount Fuji than Tokyo
I can't determine whether it is truth or urban myth that Mount Fuji is visible from Tokyo. All the literature says that on a clear day, it should be possible to view the elusive mount, with the top of the Sky Tree, Tokyo's tallest building, and the world's tallest broadcasting tower, reputed to be the best spot. Equally, it is possible to get a Fuji-view on the Tokaido Line train between Tokyo and Osaka assuming the mountain is on display as you shoot by.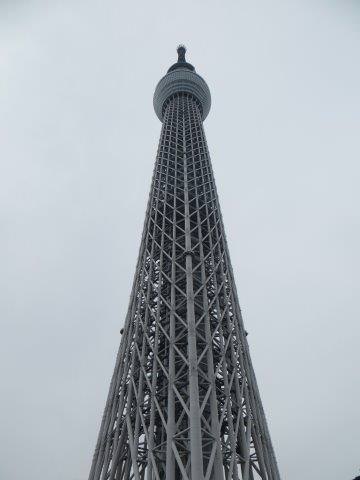 The problem with Mount Fuji is that it frequently hides behind cloud and catching even a glimpse from the city or by train requires such perfect weather conditions, which I assumed occur so rarely, I decided to get closer to the mountain in the hope of increasing my chances of seeing it.
Consequently, I took a two-night trip to the Fuji area and was expecting mountain viewing on demand. But it wasn't to be. As a native Brit, I should be more than familiar with the whimsy of the weather and the reality is that even if you're practically at the base of the mountain, you stand no greater chance of seeing Mount Fuji than elsewhere. If there is cloud, there is cloud.
Don't expect high season around Mount Fuji
The official climbing season on Mount Fuji is during July and August and during that time many hikers head to the area. Prior to that, it is still possible to visit the Fuji Five Lake Region, which includes the town of Kawaguchiko, a good spot for seeing the mountain up close and beautifully reflected in the lake.
Prior to my arrival, the Fuji area had experienced its annual cherry blossom season, which tends to peak early to mid-April. Although the blossom had all but passed by the time I visited, I had assumed it would in some way mark the end of the low season in the area. Not so.
Don't expect a thriving town
I've travelled to many locations in low season and with the exception of the Dordogne in France in February, rarely have I been confronted with so much closed business. Save for a few obligatory souvenir shops, a cheesecake café (with only one table that was occupied when I visited) and a small restaurant in front of the train station, the vast majority of the cafés and restaurants were closed.
So, when it came to finding lunch and dinner, my options were limited to two: i) buying packed noodles from the ubiquitous Lawson store (a competitor to 7-eleven); or ii) eating at the hotel.
I did both and neither made for a spectacular meal. However, the pre-packed noodles had the edge with a price tag under $3 compared to the hotel menu that may as well have been labelled 'The Out of Season, No Other Option, Exploitation Menu' with prices starting at $15 for a fist-sized bowl of stew to $60 for a small array of sushi. My disappointment was only exacerbated by not being able to try the local hōtō, noodles cooked in a thick broth with pumpkin and thought to have been eaten by warlords and Samurai before the battle. If you have tried them, let me know how they were.
Don't pack for spring weather in Mount Fuji
I'm familiar with the experience that altitude can see temperatures plummet dramatically and although I'd been wearing shorts in Tokyo the day before, I was expecting to swap to long trousers, jumpers and a coat. However, I wasn't expecting near-freezing temperatures.
Having seen plenty of images of beautiful cherry blossom cast against what looks like a bright blue summer sky, I had hoped the blossom season, which had passed, would mark the start of warmer weather. Not so. In fact, the weather was little different to what I'd been experiencing all winter in England – cold, grey and, worst of all, wet.
My uncle always say that there is no such thing as bad weather, only the wrong clothing and that being the case, I was missing a good set of waders, a fisherman poncho and thermals. Needless to say, walking around the lakes sent chills to my bones and quickly plunged the sightseeing experience from picturesque to painful. For only the second time in my life (the other time being in Prague in January), I stepped into a hot bath that night and was barely able to feel sensations in my legs for some time.
Don't visit Fuji-Q Highlands in bad weather
When the clouds hadn't cleared by the second day and having dismissed the idea of various boat trips (not without purchasing the aforementioned poncho and perhaps some gloves), I decided to spend the day at the local theme park, Fuji Q-Highlands, trying out the record-breaking twists and turns of Japan's biggest roller coasters.
However, once again my attempts were thwarted by the weather. Comparing a $10 entry fee for most rides against a $50 all-day pass, I opted for the latter. The ticket agent did explain that in the event of rain, some rides could be closed and a ticket refund would not be available. I responded with the sensible question – the prediction of the likelihood of rain.
In true, efficient, Japanese style, I was presented with an hour-by-hour chart anticipating the likelihood of rain at 0% until the park closed at 9 pm. Convenient, it seemed. A little too convenient, it turned out.
After almost 2 hours of feet aching, bone-freezing queuing to get on the first and one of the park's biggest rides, I approached the gate and was next in line. Then, with the operating staff twitching at their microphones, an announcement was made (in Japanese) that the ride was closing due to bad weather. Some 7 hours before the ticket agent had confidently predicted.
With hopeful anticipation of the weather stopping (it's ingrained into all British people as the only way for us to survive winter at home), and a queue jump pass if the rides started again, I headed to the food arena for a large bowl of steaming noodles to take the edge off the arctic weather.
One hour and then two hours passed as I slowly thawed and explored other parts of the park. I walked through a Manga exhibition that seemingly only made sense if you had read the comics and dismissed the idea of going on the only ride in operation (the teacups) before writing the day off and heading back to my hotel wondering how the UK theme parks would manage to turn a profit if they had to close every time it rained.
Don't stay in Mount Fuji over the weekend
I usually stay in hostels when I travel with cost, sociability and avoiding the soulless similarity of hotel interiors being the main reasons. However, when it came to booking accommodation for two nights in Mount Fuji, I quickly found that availability was limited to practically nothing except the $150 per night and above hotels.
Initially, this struck me as odd because I was booking nearly 2-weeks in advance (something I rarely do) and was visiting outside of summer and cherry blossom season. However, as my dad was with me on holiday for this portion of my trip, pre-booking was preferred and I ended up with a $180 a night hotel.
Don't get me wrong, the hotel – Mizuno – was beautiful, even if the Agoda website could have been more clear that this was a 'romance hotel' (clearly stated on the fascia of the hotel when we arrived – awkward!). The hotel made a nice change to sleeping in a dorm with 20 other people and my room came complete with a terrace, lake and Mount Fuji views (in theory).
However, it was the absence of people that puzzled me when I arrived on Friday afternoon. Not just in the hotel, but throughout the whole of Kawaguchiko. With so many hotels and so few people, I couldn't understand how it was possible for there to be an accommodation issue.
And then Saturday arrived and an influx of tour buses rode into town filling the hotels and hostels alike. It is common sense that Saturdays represent busier hotel periods near tourist attractions, but the percentage increase around Mount Fuji was phenomenal, pushing up prices in the process.
Don't wait to see Mount Fuji later in the day
Between the combination of the clouds and the rain, Mount Fuji barely revealed itself during our stay and even then I only got to peak at a small part of its magnificence before it darted back behind the clouds faster than I could set my camera to shoot. Despite being as close to the mountain as you can get without climbing it, and having a terrace facing the elusive mount, I did not spend the weekend staring in wonder at Fuji…because it wasn't sufficiently present to stare at.
My best sighting came at 5 a.m. when I woke briefly (I'd left the hotel curtains open in case Mount Fuji snuck out for a brief jolly) and could just about make out the famous snow-streaked peaks.
I don't entirely believe in fate, but in respect of Mount Fuji, I'm beginning to wonder whether your chance of spotting this famous landmark is down to nothing more than that – the whim of fate and whether you're in Tokyo, on a train or in Kawaguchicko, there doesn't seem to be any real way to increase your chances of seeing Mount Fuji, especially in spring. (However, if you do have any tips, I'll be in Japan for a while yet, so please do share them!)
More tips for seeing Mount Fuji in spring
If I was doing this part of my trip differently, here are my extra tips:
Decide when you're in Japan whether to visit Mount Fuji or not, depending on whether you've been able to spot the mountain from the city or by train.
If you visit Kawaguchiko, consider taking a day trip (the bus takes 2 hours each way and out of season the main sights can be seen in that time).
If you decide to stay overnight in Kawaguchiko, avoid the weekend if possible for cheaper accommodation and better availability.
Consider hostel accommodation with a kitchen to avoid overpriced, unsatisfactory hotel food.
Don't visit Fuji-Q if it looks like there might be rain.
Take plenty of extra layers including gloves, scarf and a hat.
Accept that there is no scientific method that can be applied for securing a sighting of Mount Fuji – if it's not meant to be, it's not meant to be.
If Mount Fuji is on your must-see list in Japan, here are 9 of the best places to try and see Mount Fuji, courtesy of Japan Talk.
See Mount Fuji on the bullet train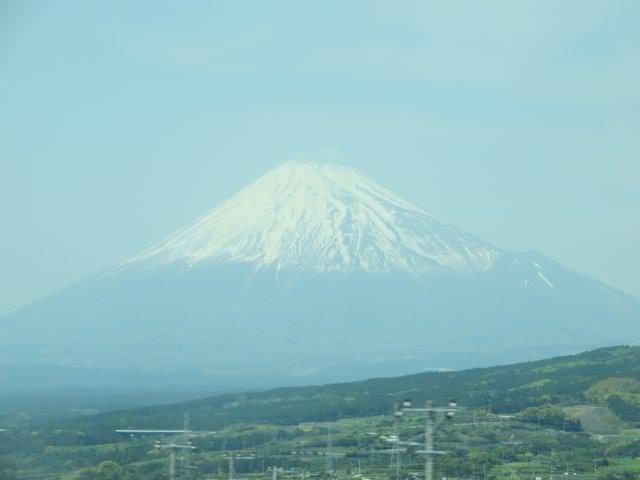 Since writing this post, I have taken the Shinkansen train (using my Japan Rail Pass and therefore not on the Nozomi, the fastest bullet train) and was lucky enough to get an excellent, clear view of Mount Fuji. Even with the train speeding by, the mountain was on display for several minutes and I managed to take some photographs.
To maximise your chance If you are heading from Tokyo, take a day train and sit on the right-hand side. From Tokyo, Fuji will be on your left. Around halfway through the journey, the mountain should appear. If you have any flexibility in your itinerary, try to save your trip until you have a clear day.
Take a tour of Mount Fuji
If you'd rather take a tour than plan your own trip, Viator has several trips going to Mount Fuji including an overnight stay and onsen experience from Tokyo or a one-day tour from Tokyo if you'd prefer not to stay over.
You can see all of Vaitor's Mount Fuji trips here.
Alternatively, Intrepid Travel has a 4-day trip to Mount Fuji from Tokyo
You can see all of Intrepid Travel's Japan tours here.
Although I haven't taken this specific tour, I've used both companies and would happily recommend them.
How to Get To Mount Fuji Five Lakes
I took a bus from the Keiho Highway Bus Station outside Shinjuku train station. The bus took just under 2 hrs and cost 1,700 yen (around $17) one-way. I called to book tickets in advance but in low season it's not necessary – just turn up 15-20 minutes before the bus leaves to get in line for a ticket.
---
Where to stay in Mount Fuji
On a budget: I didn't book in time so the hostel K's House Mt. Fuji, located in the centre of Kawaguchiko was all booked up. However, I did stay in a couple of K's House hostels while I was in Japan and they were great (clean and with friendly staff), so I'd expect the same from this place up in the mountains and it would have been my first choice for a budget stay.
For hotels: As mentioned above, I stayed at Mizuno Hotel, which was overall a wonderful hotel. However, if that doesn't take your fancy, here's a list of the 10 best hotels in Kawaguchico (according to Trip Advisor) with Lakeside Kawaguchiko Sunnide Resort winning Trip Advisor's Travellers' Choice Award.
Related Articles:
Like this? Share it on Pinterest…