I don't know which was more painful – the shot in the ass or the $500 bill. Either way getting sick within 24 hours of landing in Oahu was not my anticipated introduction to Hawaii. I'm sharing this somewhat personal and painful detail because I tackled the hike up Diamond Head just 48 after being given a steroid shot for tonsillitis that I'd picked up in Mexico and that turned bad on the flight to Oahu.
So, it's safe to say, I wasn't in peak health when I did the hike. Yet, I still managed it. In this guide, I share everything you need to know to help you hike Diamond Head.
What is Diamond Head?
You've heard about Diamond Head and you're considering hiking it, but what is it, exactly? From a tourist perspective, it's the dramatic backdrop to Waikiki Beach – the staggering volcanic mountain you see spread across social media, and which whispers to you 'Come climb me'.
From a technical perspective, Diamond Head is a volcanic tuff cone i.e. crater. It's not, in itself, a stand-alone volcano – it forms part of the Ko'olau Range of volcanoes – and it appeared after an eruption about 400,000 to 500,000 years ago. But don't worry Diamond Head is dormant. For simplicity, I'm going to call it a crater and volcano.
Being half a million years old, it's no surprise Diamond Head has some history to it, starting life, naturally as a sacred site for native Hawaiians. Due to its prime location and topography, the volcano became a military lookout and the land was bought by the US military who built Fort Ruger, the first USA military base in Hawaii. It was during the volcano's military history that the Diamond Head trail was created in 1908 as part of the coastal defence system i.e. a way for soldiers to access their lookouts.
The Diamond Head you can climb today came into being in 1962 when the volcano was declared a State park – Diamond Head State Park Monument (it's the tuft cone that is the State Monument).
Fun Diamond Head fact: The Hawaiian name for Diamond Head is Lēʻahi and the ahi part of the name is thought to be named after ahi tuna because the crater looks like a fin. As for the English name, Diamond Head, this is because some British soldiers thought the nearby beach was made of diamonds – wishful thinking. Even more fun, Papakolea Beach on Big Island is a rare green sand beach created from olivine crystals which are known as Hawaiian diamonds.
If hiking is on your list of things to do in the Hawaiian Islands, I highly recommend hiking through the crater in Volcanoes National Park on Big Island and the mammoth hike through Haleakala on Maui. Really want a challenge? Consider the overnight trek along Napali Coast in Kauai.
Not sure which island is which? Check out my Guide to The Hawaiian Islands – Maps, Names & Facts.
The Diamond Head Trail and Hike – Overview
The Diamond Head hike is best described as short and steep. Starting at the trailhead, the trail to the summit covers just under 0.8 miles (around 1.5 miles round trip) and ascends 560 feet. The trail includes a series of switchbacks – a path that zigzags up the volcano – taking some of the incline out of what would otherwise be a much steeper hike. There's also a set of steep stairs on the trail to the summit. You walk down the same way you go up.
While the route up is pretty short, it can be challenging for its steepness. Taking a steady pace with plenty of stops for increasingly beautiful panoramas, it took me an hour to reach the top. However, everyone will have their own experience – one woman's 'easy-peasy' is another woman's 'oh-my-god-I-thought-I'd-die'. What follows is a description of the hike at the beginning, middle and end together with some pictures so you can see for yourself.
Warning: you must now reserve a hiking spot in advance. Details at the end.
The start of the trailhead
The trailhead is pretty impressive – you reach it via a tunnel which cuts through the volcano and spits you out into the crater floor. The trailhead starts from there. The tunnel is lit and paved so you can walk to the trailhead. More on how to get to Diamond Head from Waikiki at the end of this article.
I was wowed to see that the start of the trail is actually a paved path, making it even more hiking-friendly than I imagined – having developed a thing for hiking volcanoes (like in Nicaragua, the Philippines and Italy), I've learned that they can make for tough hikes up craggy and sometimes muddy terrain. Not so at Diamond Head – that volcano hike comes with a neat, tidy, well thought out and ever-so-safe path, and stairs complete with handrails.
Diamond Head Hike – The Middle
Ambling along the path was a lovely introduction to the Diamond Head trail but since the hike is less than one mile, it doesn't take long before the trail changes. First, the pavement becomes a little more uneven.
And then you reach the point where you have to tackle the incline via the stairs.
I'm afraid there is no avoiding this staircase. It is the hardest and steepest of the two sets of stairs but it's good news that it comes first so you hopefully won't be out of too puff before you start it.
There are 74 steps in total (someone else counted them, not me) and from this close up hopefully, you can see they're not as steep as they might seem from the bottom.
The steps lead to a tunnel which is 225 feet long and is lit. I quite liked the tunnel because it was a welcome escape from the sun.
Diamond Head Summit – The End
Once you leave the tunnel, you have a choice – the easy way which is to the left or the hard way to the right. At that junction, I opted for the easy way. I'm no hero. Most people did the same. If you want to compare the two before you decide, the hard way is another set of steep steps followed by a climb inside the mountain up a steep spiral staircase. This spits you out in the Fire Control Station. If you want a challenge, this is the route for you.
For the rest of us, the easier route is an outdoor route with a gentler incline with less steepness to the steps. Also, the easier route has more chances to stop with a few benches and better views as you go.
Pictured above is the final route to the top using the easy way. Whichever route you take, there's every chance you're going to be puffing and panting when you finally hit the top, which isn't fair because the views will take your breath away (or what little you have left of it).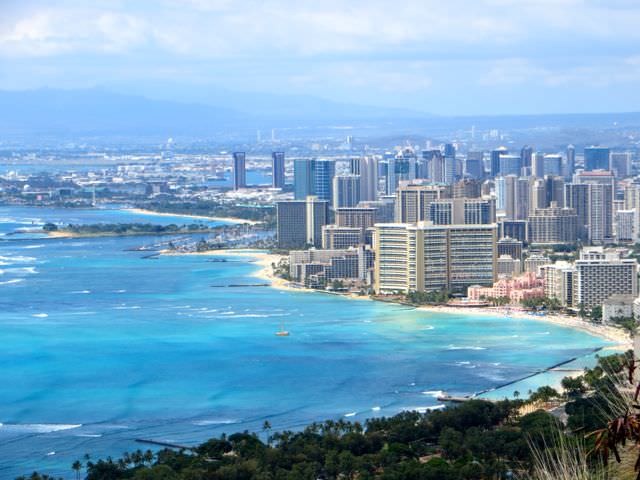 I do sometimes wish I could do these kinds of trails with my eyes closed, though, because the view at the top would be more of a surprise. With the Diamond Head trail, the views get progressively better until you reach the summit, when the views are, obviously, the best. Nevertheless, the panoramas at the tops are…well…they look like the image above. Stunning, right?
The Hike Down Diamond Head
You hike back down the same way you came up so the walk down is obviously nowhere near as interesting as the walk up, with the views growing less spectacular with every step. So, I headed back to the trailhead at pace. I made use of the facilities (bathroom, water fountains, coke machine and picnic benches) because I could – I've never had these at a volcano before – and then I headed back to Waikiki. Admittedly tired at this point, I took the bus.
That night I slept well, the perfect amount of fresh air, fatigue and wanderlust consuming my body. The trip may have started on a health low, but I knew that better things were going to come in Hawaii.
FAQs
In this section, I'll answer some of those frequently asked questions you might have about the hike. If there's something I haven't covered, drop me a note in the comments.
How easy is the hike?
Diamond Head is not a difficult trail for most people. I watched a lady who seemed very unfit tackle the trail. She looked like she was finding it tough – lots of panting and regular stops – but she got to the top (yay!). Also, hiking trails are going to help you get fit so go for it and since you come down the way you go up, you can turn back at any time you want – there is no rule that says you have to reach the summit. And don't let anyone (including yourself) tell you any differently. The super-fit could run it but please don't do so when I'm ambling along, it will just make me feel bad.
How long does the hike take?
I did the hike up Diamond Head from the trailhead in an hour. That included a slow pace with plenty of stops for pictures. The hike down took less time. I took longer overall because I decided to hike to the trailhead from Waikiki (more on that below). You can do the whole thing, including hiking to the trailhead from Waikiki, the hike up Diamond Head and down again in half a day at a leisurely pace. The official website tells you to allow 1.5 to 2 hrs to hike Diamond Head.
Is the hike worth it?
Without a shadow of a doubt, yes. Without going up in a helicopter, hiking up Diamond Head is going to give you the best panoramic views over Waikiki Beach and some of the best views in all of Oahu.
Tips for hiking Diamond Head crater
Hike early – the sun gets too strong after mid-day and it will just make your hike harder.
Go on a clear day – all that effort, you want to be able to take good pictures when you get to the top.
Wear good grip footwear – although the trail is paved, some running shoes will make the hike more comfortable and give you one less thing to think about on the stairs.
Pack snacks – if you're anything like me, you feel faint when you're hungry. Pack nuts, fruit or a granola bar to keep you charged on the way up. There are picnic tables if you pack a sandwich for a post-hike lunch.
Take a reusable water bottle – there is a refilling station at the bottom of the trail. And you get bonus karma points for being environmentally friendly.
Don't forget your sunscreen, even if you go early. Also, pack your hat if you're a hat wearer. I can't bear them – they make my brain hot but I have a good crop of hair for protection.
Expect crowds if you go for sunrise – and maybe add a little extra time for the hike because of it.
Planning your hike
Opening Hours
Diamond Head is open from 6 a.m. to 6 p.m. Beware, the last entry is 4.00 p.m. and the gates close at 6 p.m. so you must be finished by then. I've seen some bad advice online to hike up Diamond Head for sunset – don't even consider it. The park is closed long before sunset which is usually closer to 7 p.m.
Admission
In May 2022 new rules came into place so that any non-residents must make a reservation to visit Diamond Head. You can book up to 30 days in advance on the Go State Parks website. You get a 2-hour slot e.g. 2 p.m. to 4 p.m. The cost is $5 per person, $10 for parking, and a $1.78 reservation fee. This makes me sad as it used to be just $1 for entry, but I suppose times change. Children under 3 and Hawaiian residents can hike for free. Pets are not allowed in.
Facilities at Diamond Head
There are some basic facilities – toilets, vending machines, water refilling station, picnic tables and, usually, a food truck or two. There's also a small kiosk with essentials (sunscreen, water) and t-shirts. These are all located at the trailhead. There are no facilities at the top so go potty first and take your water with you.
How to get to the Diamond Head trailhead
There are plenty of easy ways to get to the Diamond Head trailhead from Waikiki. I walked from Waikiki and took the bus back. Here are your opens for getting to the Diamond Head hike.
By car (and parking at Diamond Head)
Diamond Head is very close to Waikiki – just 3 miles and the drive takes around 15 to 20 minutes depending on traffic. However, driving may not be your best option because, while there is parking at Diamond Head, it's very limited. So, unless you plan to start your hike sometime between 6 a.m. and 8 a.m., I'd consider catching the trolley or bus. If you do grab a parking spot (well done, you), the parking fee is $10 per car. You could look for an alternative spot nearby. I use Parkopedia for finding local parking spots.
If you want to arrive by car but don't want the hassle or parking, consider Uber or Lyft. Prices will vary but you're looking at around $10 to $15 each way for a rideshare.
By Waikiki Trolley
If you want the easiest public transport option for getting to Diamond Head from Waikiki, take the Waikiki Trolley. It is a lot more expensive than the bus starting at $25 for a one-day ticket for adults. However, it's a hop-on-hop-off system that's very simple to catch (also, it's super cute). Take the Blue Line from Waikiki Shopping Plaza or the Duke Kahanamoku Statue, both easy landmarks in Waikiki. The trip takes under 15 minutes from Duke's statue. The trolley runs hourly on this route and you can use your ticket to visit other places on the Trolley network including downtown Honolulu (Red Line) and use the Pink Line which connect to many of Waikiki's major hotels and hostels. You can buy Waikiki Trolley Tickets here.
By bus
You'll only want to take the bus if you're on a tight budget. There is nothing wrong with the bus in itself, but it is more complicated to figure out timings since there is a different schedule depending on day of the week and the timings change depending on the hour you take the bus. If you do want the bus, look for route 2. You can check the timetable on The Bus Website. I wouldn't rely on Google maps to give you the bus route – it didn't work for me.
Walking to the Diamond Head trailhead from Waikiki
If you want to increase your hike, it's a lovely walk from Waikiki to the Diamond Head trail, and that's what I did. You'll be walking just under three miles and it takes less than an hour.
Taking a slow pace that involved a lot of photographs of the scenery, I wound my way through a very nice residential area with tropical flowers and palm trees in the gardens as well as views over the Pacific. If you want to do the walk to the trailhead, use Google Maps.
Do you need a guide?
It's very simple to hike Diamond Head on your own, even if you're a solo traveler – there will be plenty of people about. If you want to enhance your hike, you can book an audio tour for $4. If you want to go with a guide, some of the day-long Oahu tours include a hike up Diamond Head.
More information about Diamond Head
Diamond Head is part of the Hawaii State Parks and full information can be found at the Hawaii State Parks website.
Things to do near Diamond Head
If you want to make the most of your time in this part of Oahu, here are some activities close to the Diamond Head hike.
Diamond Head Beach Park – hike Diamond Head in the morning and spend the afternoon on a beach with fewer crowds than Waikiki.
Kuilei Cliffs Beach Park and Wai'alae Beach Park are nearby alternative beaches.
Shangri La – Doris Duke (one dubbed the richest girl in the world) spent her money gathering a collection of Islamic art. Her house has now been turned into a museum.
Other hikes in Oahu
Had I been in better health, I'd have tackled a few more hikes in Oahu and these were on my list:
Makapu'u Point Trail – an easy trail for families with a lighthouse to enjoy at the end.
Koko Crater – a very challenging hike up the side of the conical Koko crater.
Mano Falls – a short(ish) hike, under 2 miles to a beautiful waterfall.
Note, the famous Stairway to Heaven hike up nearly 4,000 steps is currently closed (due to disputed land).
Other things to do in Oahu
You can read my full guide to the top 10 things to do in Oahu for first-time visitors. The highlights of the island include:
Waikiki Beach – soft golden sand and perfect pink sunsets.
Pearl Harbor – War memorial and one of the most historic sights in Hawaii (even if it is a sad place to visit). Find out how to visit Pearl Harbor.
North Shore – famous for surfing, skydiving and shrimp trucks, perhaps in that order.
Downtown Honolulu – Oahu's arts and cultural hub with iconic sights and great food.
Dole plantation – taste the famous pineapples, one of the most popular fruits in Hawaii.
Related Articles: