I don't know what was more painful – the shot in the ass or the $500 bill. Either way is was not my anticipated introduction to Hawaii.
As I mentioned in my overview of Hawaii, I spent three months exploring the main four islands: Oahu, Big Island, Kauai and Maui, and what will follow is a series of posts sharing my experiences of the islands – the good (skydiving and whale spotting), the bad (aforementioned shot in the ass) and the downright ugly (yes, I did step in human faeces…wearing flip-flops).
Planning to leave Oahu before I even got there
My dear flight friend, Skyscanner, had spewed out a series of flights that could get me from Mexico to Hawaii for under £200. I was excited but my bank account was quivering in its balance sheet. Surely Hawaii was too expensive to visit for more than a couple of weeks, especially given the only real means of getting between islands involved flying? Maybe I could just visit Oahu, where most people land from international destinations, experience a small part of Hawaii now and save the rest until I retire and have millions in the bank (plan to get from here to millions is still a work in progress).
I thought about it for 30 seconds and concluded I would never know the answer just by contemplating it, so I messaged a travel friend. She'd added Hawaii to her round the world ticket and would definitely have the low-down on what to see and do in Hawaii without going bankrupt.
If you want to see all the good stuff, you have to leave Oahu.
Volcanoes National Park, the Road to Hana and a whole bunch of other cool and exciting stuff lay in Hawaii but off the island of Oahu. It would involve more cost, but it would be worth it, was the advice. I weighed it up, concluded it was too pricey…and booked anyway. My friend's descriptions had me sold. Foolishly, I misinterpreted that advice as a need to get in and get out of Oahu. I intended to arrive in Oahu, see a couple of the big sites (Pearl Harbour, Waikiki Beach) and then leave. On to bigger and better sights. It was a plan. That quickly unravelled. And my time in Oahu was all the better for it.
Arriving in paradise: A shot in the ass
I was dangerously sick by the time I landed in Hawaii. After four days of freezing in the September chill of San Francisco with nothing more warming than my Caribbean clothes (and one jumper I bought on arrival – still love that jumper, which I irrationally believed saved my life!), I arrived at my accommodation in Honolulu and promptly went to bed…for three days.
I'd hoped that rest would cure my throbbing throat but as the hours passed by, the important opening in my neck that lets me sing (badly), drink (heavily) and swallow (essentially) had all but closed. Barely able to function, I took myself to the clinic (within the Sheraton Princess Kaiulani Hotel if you're interested) where I had my first (and hopefully last) brush with the American health system. I thought it was tonsillitis, something I suffered as a child, but it was more acute and involved a name that I can't pronounce but sounded like 'scary-itis'. Aforementioned affliction had apparently deposited pustules of bacterial on my tonsils that either required hospitalisation and syringing OR (I was so relieved to hear there was an or!) a dose of steroids. Five hundred dollars, a shot in my ass and a good measure of antibiotics later, I limped out of the clinic (did I mention the shot in my bottom?) and returned to my sick-bed. It wasn't the ideal introduction to Hawaii, but I was too ill to care.
48 hours later: Hiking the trail to Diamond Head
I genuinely expected to be bed-ridden for another week before venturing out to explore Oahu, but it seems that a plane ticket's worth of healthcare in the US can buy you a quick recovery rate. Within a few hours I felt impressively improved. The following day I was out and about and within 48 hours I celebrated my return to health with the leisurely task of …a hike up Diamond Head.
Ok, perhaps it wasn't the most gentle or sensible action off the back of being ill, but as soon as my legs were able to carry my body without the Bambi Effect, I was desperate to get out and explore. I'd spent months ingratiating myself with the beach in Mexico. I was in Hawaii to explore its peaks and troughs, its near unbelievable topography, and Diamond Head was the closest adventure to me.
If you want a really good, geographically accurate description of Diamond Head, you will find it here. From a non-expert (that would be me), Diamond Head is thought of by most as a dormant volcano crater (it's technically a tuff cone) that sits at the end of Waikiki Beach. It's a pretty imposing landmark and one that cries out "climb me". Eternally inspired by the film titled Joe versus the volcano, I have developed a propensity for tackling a volcano or two, with varying degrees of success. So, it made perfect logical (if not health) sense to spend my first well-day in Hawaii taking a hike up it.
Getting to the trailhead – doubling the challenge
I acquired two newly made friends, took a trip to the ever-present ABC Convenience store for water and banana bread (oh so good) and set off in search of the trailhead. Although there is a bus that will take you from Waikiki Beach to Diamond Head State Monument where the trail starts, we decided to lengthen the hike by getting to the State Park by foot.
Our decision to walk raised an eyebrow from a local man who we asked for directions and who was clearly unaccustomed to people walking anywhere other than the beach in these parts. Nevertheless, he gave a cautious warning of the long distance (2 miles – stifled a smile) and wished us well.
Taking a slow pace that involved a lot of photographs of the scenery, we wound our way through a rich residential area that made me long even more for those aforementioned millions in retirement. Houses decorated with tropical flowers, palm trees in the gardens and views over the pacific as far as the eye could see, it was a dramatic visual entirely different to the ceiling I'd been staring at for days.
The trail to the top
We arrived at the trail head and I was overcome with surprise and gratitude. Despite feeling fit and well, I was a bit anxious about the challenge of hiking a volcano – simply because past hikes hadn't always gone to plan. However, arriving at the Diamond Head trail I suddenly realised to my delight that I was in the USA. Land of the law suit. I wouldn't be scrabbling up craggy volcano face. There was a path. A neat, tidy, well thought out and ever so safe path…complete with handrail. As much as I adore Latin America and its liberal approach to safety (I think we should all take more responsibility for our own well-being), and the exhilaration that comes with picking your way through and surviving a precarious trail, sometimes it's equally nice to know that someone has thought through the hazards for you and removed them for the good of your health.
The route up is pretty short – under 1 mile, but can be challenging for its steepness. Again, taking a steady pace with plenty of stops for increasingly beautiful panoramas and the general slowness that comes from three girls non-stop gossiping, it took us an hour to reach the top.
I will confess that at the junction where the trail provides a choice i) easy but long or ii) difficult but fast, I opted for the easy way, the severe gradient of the other route playing to my fear of heights.
At the top
Sometimes I wish I could do these kinds of trail with my eyes closed because I want to be slapped the view at the top. With the Diamond Head trial, the views get progressively better until you reach the peak, when the views are, obviously, the best. Nevertheless, the panoramas at the tops are…well…they look like this…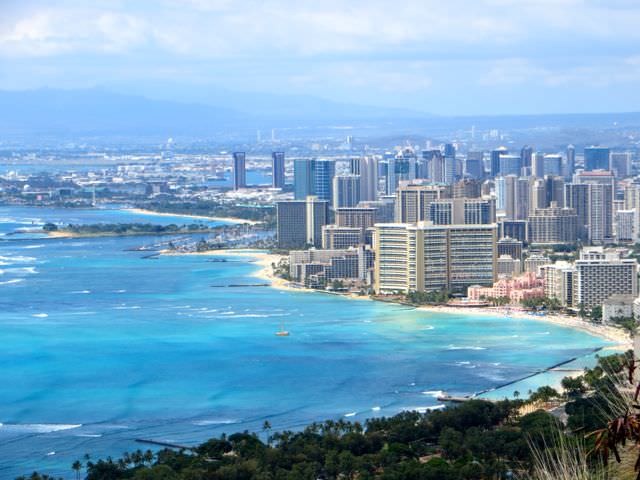 Stunning, right?
While I was wandering around the small space at the top, taking in the views from every conceivable angle, I came across this photo of a couple, which had been placed there by their children together with a note.
October 3rd 2012

We place these flowers here in memory of our parents Dolly & Charley. They shared a great love. They were not meant to grow old together. Sadly Dolly bid farewell to her great love long before she wanted to. When Dolly was in her 80's she climbed unaided, up this very trail, and saw the breath taking view. On this day: October 3rd 2011 our mother Dolly died peacefully in her sleep. Today we climb to celebrate her life. She bought joy to all those she knew. We miss you mom. We are here because of you. You went to join daddy just shy of your 92nd birthday.

Always in our hearts. Your loving daughters Sandy and Jules.
This story bought a tear to my eyes when I read it up Diamond Head and it did the same when I wrote it here.
Coming down
The walk down is obviously nowhere near as interesting as the walk up, with the views grow less spectacular with every step, so we headed back to the trail head at pace. I made use of the facilities (bathroom, water fountains, coke machine and picnic benches) because I could – I've never had these at a volcano before – and then we headed back to Waikiki. Admittedly tired at this point, we flaked out and took the bus.
That night I slept well, the perfect amount of fresh air, healthy cells, fatigue and wanderlust consuming my body. The trip may have started on a health low, but I knew that better things were going to come in Hawaii.
Useful information
[wpgmza id="1″]
Getting to Waikiki from the airport
I was in a bit of a sick daze when I arrived so I was glad I'd arranged my airport transfer in advance – in fact, it was included for free with my accommodation booking, provided I stayed a minimum of four nights.
I, like most tourists stayed in Waikiki, which is less than 10 miles from Honolulu International Airport. In order of expense (most to least), your transport options from the airport are:
Taxi – most efficient and expensive (around $30-40 depending on the company you use and your negotiation skills.)
Car hire – if you intend to do some exploring on the island, hiring a car from the airport makes sense. I'd recommend booking in advance as the rental rates vary depending on the time of year. However, Oahu is one of the few islands where you can get around by bus, so if you're on a budget, don't assume you need your own wheels.
Hotel shuttle – if you are booked into a hotel that offers this service, I'd suggest using it. Do check it's included in your room price.
Airport shuttle – one of the more common budget options is to take a shared minivan into Waikiki. The journey can take a bit longer as the shuttle works its way around the hotels, but it's very cost efficient. This is how I go to and from the airport (four times!).
Bus – routes 19 and 20 travel from the airport to Waikiki for only $2.50 but come with a significant problem – large luggage isn't allowed onboard. For die-hard budgeters, you can hang around and chance getting a lenient bus driver with an empty bus. Your chances decrease the more bags you have and the bigger they are. If it can fit under the bus seat (which is quite a small space – possibly big enough for a carry-on bag), you should be ok. More details can be found here.
For more details about getting around Oahu, see Go Hawaii.
Visiting Diamond Head
Diamond Head is part of the Hawaii State Parks and full information can be found at the Hawaii State Parks website.
Time needed – the hike up Diamond Head can be done in half a day if you take it as a leisurely activity, including getting to/from the trail head from Waikiki by foot.
Level of fitness required – this is not a difficult trail for most people. I watched a somewhat large and clearly very unfit lady tackle the trail. She looked like she was finding it tough – lots of panting and regular stops – but she got to the top (small cheer went off in my head for her). The super-fit could run it…but please don't do so when I'm ambling along, it will just make me feel bad.
Cost – $1 for pedestrians and $5 for cars – probably the cheapest thing to do in Hawaii beyond lie on the beach! Take advantage.
Opening time – 6am to 6pm (there's a 6am in the morning?!). Beware, last entry is 4.30pm.
A side note on travel insurance
Never underestimate the importance of insurance. A fellow traveller once told me that she didn't have insurance because she wasn't carrying anything valuable. Getting robbed is rarely what's going to cost you, it's medical expenses…especially in the States. I didn't have plans to visit the USA when I booked my insurance but knowing how impulsive I am, I added it just incase. It will bump your policy price up noticeably, but for me it added the freedom to be able to take last-minute bargain flights to a dream destination on a whim. And allowed me to get sick in my dream destination at my leisure. Happy, happy, joy, joy!
Want to know what to look for in a travel insurance police, check out my post: Travel Insurance: Don't Get Screwed by the Small Print.
Want to read more travel planning tips for Hawaii? Click below.