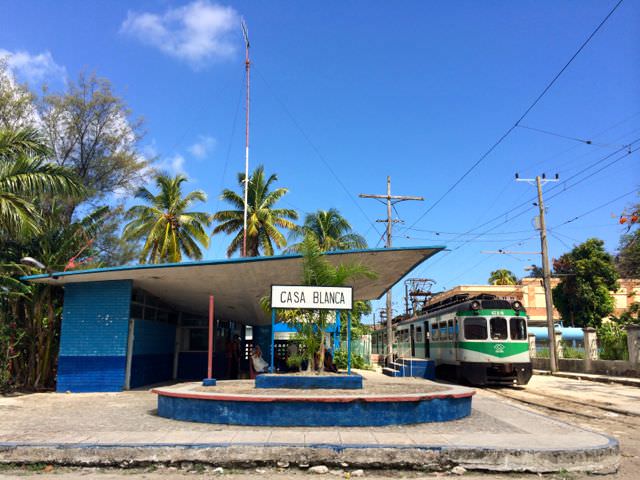 Cuba's Hershey Train is the epitome of how travel should be. Lazy, unpredictable, social and slow.
As someone who crammed herself into London's commuter trains for the best part of a decade, always watching the clock, multi-tasking the entire journey (sipping coffee, sleeping, standing, emailing and reading all in one shot), travel was a chore.
Modern public transport has, at our request, become perfunctory, clinical and uninspiring. Even air transport, which was once the most exhilarating way to travel has, somewhere along the way (ok, more specifically since the events of 9/11), stopped being fun. Line after line, queue after queue, we shuffle through the process being inspected like cattle, interrogated as potential terrorist, and treated like children only to be spat out at the end of the journey feeling wrinkled, bloated, abused and disoriented.
If it truly is the journey and not the destination that matters, how have we reached the stage where in all but the most remote of locations, the golden age of travel feels like it ended centuries ago?
The Hershey Train – slow travel at its finest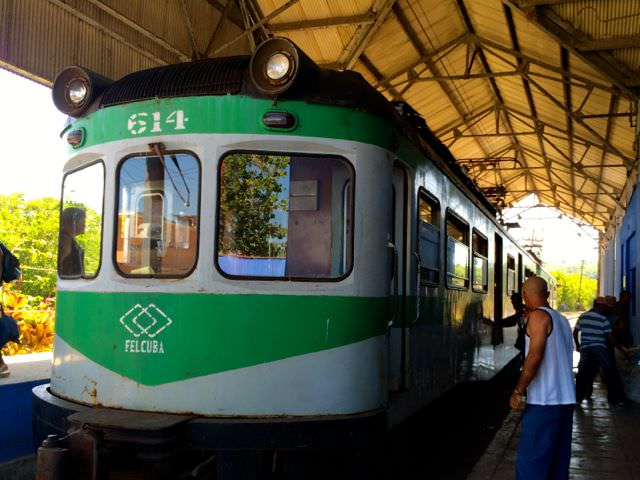 Based on my first visit to Cuba in 2011, I expected Cuban transport to be no different. Sure, the cities are overrun with cars that reached their peak in the 1950s and have been crumbling ever since, but in reality, the main mode of tourist transport over long distances in Cuba is by Viazul bus; modern, air-conditioned coaches that, thanks to high costs and Cuban rules that prefer to keep locals and tourists separate, Viazul commonly carries no more than a handful of travellers dispersed across 52-seater buses who travel with headphones on, Kindles out, one person per two seats, silence the entire way.
It's certainly an effective way of getting around, but the blandness of the experience is far from fun.
My first pass at researching the route from Havana to the Varadero pointed me towards Viazul bus where it is possible to complete the journey in 1 hour and 40 minutes. The route is direct, the road is smooth,the cost is reasonable and it is by far the quickest way for independent travellers to reach the Caribbean beaches that sit to the east of Havana.
But in the process of my research I stumbled across something much more exciting – the Hershey Train.
The Hershey Train line was built in 1917 by the chocolate company Hershey to transport sugar between the Hershey manufacturing plant and the port of Havana. Today, it is the only remaining electric railway in Cuba.
Travelling most of the route from Havana to Varadero, the Hershey Train takes four hours to traverse a mere 92 kilometres and couldn't represent a more contrary way of reaching the beach. My heart raised several beats with excitement and I instantly carved out a day in my itinerary for one simple activity – travelling by train.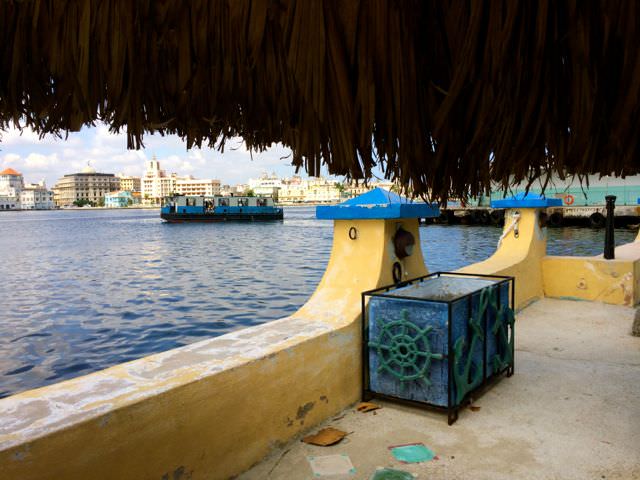 To start the slow route to Varadero, I first had to reach Casablanca, which is reached by a glorious 20-minute ride across the bay from Havana on a local lancha (boat).
I'd familiarised myself with this form of transport when I was in Nicaragua when I'd spent an entire ride ankle-deep in water wondering if the raft-like boat was going to sink or swim. And, more importantly, whether the pet dog who had been bundled into an empty potato sack and held above the waterline by his owner would last the duration of the ride without getting his paws wet. It was local travel for sure and I was keen to experience it again.
The ferry from Havana to Casablanca: A military shake-down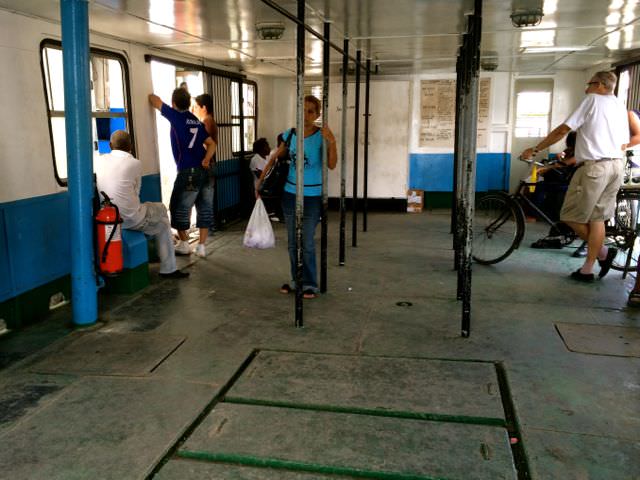 The terminal for the ferry in Havana is situated at the tip of the Malecon and was absent any form of signage. However, with the help of a few locals, I found it no trouble. Excited for my adventure to unfold, I stepped into the terminal and was instantly met with a wall of military personnel; a solid body mass of men and guns, and I stopped in my tracks.
For seconds nobody spoke and nobody moved. I looked at my Travel Amiga. She looked at me, and I resorted to the only tactic I have when confronted with so much fire power – I smiled.
"La Lancha?" I asked when nobody replied. I was prepared for another stretch of silence when one of the men stepped out of the line towards a desk and indicated to a woman that she should inspect our bags.
Sure, why not, I thought. I'd passed the myriad tests performed by British and then Mexican airport security just days before. I had nothing to hide…or so I thought until the military woman opened my bag.
It took less than a New York minute for me to realise that we were in the crux of a shakedown. Taking possession of a half-full bottle of Havana Club rum, the woman smiled victoriously as she placed the pilfered…ahem…confiscated item on the table behind her.
Fine. I shrugged. Half a bottle of rum was, it seemed, the cost of doing business in these parts. And anyway, I was in Cuba – it was hardly going to be difficult to replenish.
For a few more seconds the woman continued with her half-hearted attempt at rummaging through my tightly packed bag before looking over to her colleague, where they exchanged a look. "You have one of these," he stepped over, pulling a Swiss Army Knife out of his pocket. I paused a second, surprised that in Cuba, the land of no brands, that his personal pocket knife of choice bore the Swiss logo. Spoils of a past "confiscation" for sure.
I paused for a fraction of a second. My Swiss Army Knife is one of my most useful travel items. It's my only means of opening bottles of wine, cans of frijoles, plucking my eyebrows, trimming my toenails and slicing avocados on bus journeys (all with different knife tools, I assure you). To hand it over would have left me hairy, hungry and thirsty until I could hunt down a replacement – three states I don't like to be in.
Ordinarily a law-abiding citizen, I did a quick reality check. I considered the military man's intention and I considered mine. He hadn't asked me with any apparent concern whether I was packing a weapon or a knife. He'd specifically asked me if I had a Swiss Army Knife. But more than that, he asked me in a way that made me think he was shopping for his son's next birthday present.
I, on the other hand, had my knife firmly secreted away in the midst of my bag. I had no intention of wielding it on the lancha. Meanwhile, as the question hung in the air, the officer waved one local after another past his security wall, barely a peak in their bags or scan of their pockets. I turned my sight back to the officer, looked him straight in the eyes and with my best attempt at being Bill Clinton, I shook my head. No. I did not have a Swiss Army Knife in my bag.
The man looked at the woman and nodded for her to step back. With sweat beading down my back, I closed up my bag and was finally waved on through.
Afternote: on my return to Havana, I spoke to the owner of the casa particular where I was staying and found out that a couple of lanchas have previously been hijacked and taken to Miami. For that reason, weapons, which I guess includes alcohol glass bottles and, obviously, knives, are not allowed on the boat. Of course, that makes perfect sense as a policy but in practice the rules appear to have translated into a biased opportunity to make a gain from gringos.
From Casablanca to Matanzas: A Grand Adventure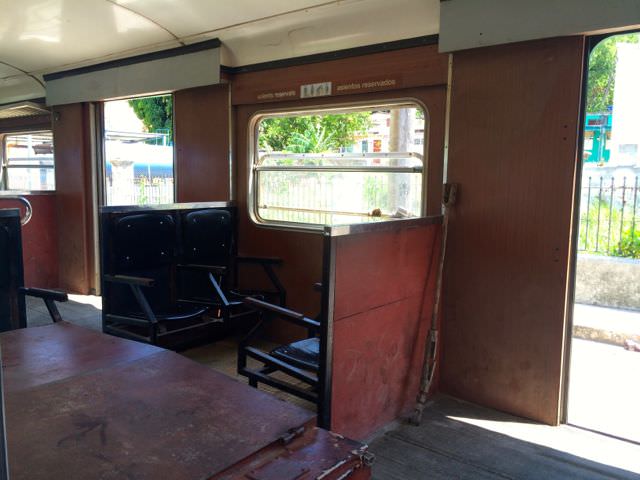 Lighter for the lack of rum, but grateful for not having to scout around Cuba in search of a replacement Swiss Army knife, I boarded the lancha, a rudimentary boat with no seating or other function beyond travelling from one point to another.
The crossing was quick (it felt like it took less time than the security search) and despite the boat being basic, the beauty of the journey lay in the sights as the curve of the Malecon spread out behind us and Havana slowly sunk into the distance.
Alighting the ferry and rounding the corner on dry land, the train station quickly appeared… not that there was much of it to appear: a two-way track, a small ticket office and a couple of benches forming an outdoor waiting room.
There are three trains per day that run from Casablanaca to Matanzas. The mid-day departure was scheduled to leave at the 12.21pm with a boarding time exactly 12 minutes before that at 12.09pm. The timing was beyond curious and I watched with interest wondering whether, in this laid back Caribbean land, the times would be strictly adhered too, I was expecting a day of delays yet, sure enough, as my watched ticked over from 12.08pm, people rose calmly and started to board.
It turned out that My Travel Amiga and I were the only non-Cubans taking the train, which I confess pleased me immensely. Being tourists also seemed to elevate us to a level of VIP status, the ticket guard taking extra care to ensure we boarded ok (at 12.09pm), had a safe place for our bags and had nice seats just across from where he sat.
As promised (and to my ongoing surprise), the train departed promptly at 12.21pm. In the 12 minutes between boarding and departure, I was already fast on my way to making new friends as I explained to the curious locals where I was from and why on earth I was taking the long way to Varadero.
"Un grand adventura" seemed sufficient explanation for most.
I genuinely lost count of the number of stops on the Hershey Train between Casablanca and Matanzas (the final destination that is about 40 minutes by taxi shy of Varadero), but there were surely more than 20 as the train ambled from city to countryside and into more and more rural terrain.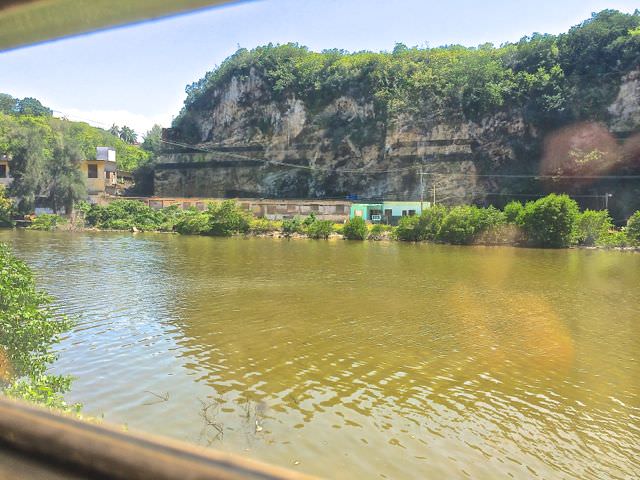 Hours passed effortless as I trained my eyes on the vistas rolling slowly by. Shacks, homes, washing lines so close to the track I could have reached a hand out and procured some new clothing, paddocks, sandy streets, farms and fields. People got off and people got on bring a fresh wave of intrigue with them – the young boys who (I guessed) were travelling down the line to see friends, the farmer complete with three crates of fresh mint adding a pungent and addictive scent to the train, the doctor who had spent a year in London and the ladies on a day trip out, "just the mujeres (women)".
For the entire journey, the train rocked casually from side to side in a rhythmic motion that, about 3 hours in, sent me into one of the best and deepest train sleeps I've had in a long time. Waking, I felt relaxed, comfortable and half wishing, despite four hours of bobbing around on solid wooden seats, that the journey wouldn't end.
But, sadly, eventually it did (impressively on time) and within an hour I arrived in Varadero ready for the next stage of my Cuban adventure to begin.
Useful Information
The Hershey rain leaves Casablanca three times a day at 4.45am, 12.21pm and 16.35pm.
The journey takes 4 hours and costs $2.70 CUC (bargain!).
To get to Casablanca, take a taxi to the ferry terminal on the Malecon in Havana (ask for the Casablanca Lancha).
The lancha/ferry leaves Havana approximately every 20 minutes, takes 20 minutes to reach Casablanca and costs $1 CUC one-way.
Be prepared for a thorough search at the ferry terminal and pack anything you don't want to loose in the middle of your bag.
The Hershey Train station is situated immediately on your left when you leave the ferry terminal.
Takes plenty of snacks and water for the train. Sweets or mints that you can share with your fellow train travellers are a good way of striking up a conversation.
Getting a taxi in Matanzas for Varadero can require patience and negotiation. The cost is around $20 to $35 CUC depending on your negotiation skills. One driver wouldn't consider a price less than $50 CUC. If you don't immediately find a driver, head straight from the station until you locate the main road that fronts the sea. Wait there long enough an eventually a ride will come.
Note: there are no toilets on the train so don't go crazy on the water or coffee before you board!
At the time of writing, $1 CUC is around $1 USD.
What's the most enjoyable journey you've ever taken? Let me know in the comments below.