Every now and then I come across a country and for one reason or another we don't get on – that was my experience with the Philippines. Don't get me wrong, the country is beautiful, the people even more so it really was not them – it was me.
Three months breezing through Hawaii at the end of last year and time spent in Thailand have both given me a false sense of ease when it comes to travelling around islands. Relaxed entry requirements, and cheap flights and boats were the norm.
However, in the Philippines, things are different and a bit more planning is required. From getting into the country to getting around to booking a room, I just didn't get it right and for most of my time it felt like I was pushing my Philippines journey up hill.
Fortunately, it doesn't have to be that way. With the benefit of hindsight, here is my guide to visiting the Philippines.
1. Consider if the 21-day visa-on-arrival is enough
I had to smile when someone recently asked me if I'd visited all of the islands during my stay in the Philippines. Given there are over 7,000 of them and factoring in that the standard visa on arrival permits a short, 21-day stay, that would involve over 300 islands a day. That's a lot even by a fast traveller's standards! And I am not a fast traveller. I can (and did) happily pass over a week in Manila, spent more time than most in Puerto Princesa, and before I knew it, my visa was fast running out.
There are at least 4 main islands most first time visitors explore:
Luzon: home to Manila (the usual international entry and exit point) and, in the north, the Batad Rice Terraces.
Bohol: for the chocolate hills.
Palawan: for the beaches in El Nido and Coron.
Boracay: for beaches with nightlife thrown in.
That's less than a week on each island if you work with the 21-day visa-on-arrival. For many (and for me) that wasn't enough. Particularly when travel between locations can be slow (e.g. getting to El Nido from Puerto Princesa is around 6 hours by bus) or involve flights.
In my usual style, I thought I'd turn up in Manila, have a look around the Philippines and decide after a couple of weeks how long I wanted to stay. And it didn't seem like a bad plan as it is possible to extend your visa within the Philippines for up to 56 days. But there is a catch.
In order to enter the Philippines you must have an outbound ticket and unless you have pre-arranged a visa, that ticket must be dated within 21-days of arrival. Extend your visa and you require a further ticket. Consequently, the reality of extending in-country is cost upon cost. Not something your average budget traveller likes to incur.
For that reason, it makes sense to decide on your length of stay in advance so you can book your return ticket and arrange your visa accordingly.
2. Make sure you have a return ticket
In light of the above, this may seem an obvious point, but I confess I had become complacent with entry requirements having spent a lot of time in Latin America where such things are largely free and breezy.
I've already written about the problem I had trying to board a flight to the Philippines with a one-way ticket. In short, you can't. For me, this lead to a panic purchase at the airport of a return flight on a date and to a destination that ultimately was a bad choice in terms of both location and time. However, holding that return ticket in my hand, I became reluctant to extend my visa in the Philippines as it would have meant saying goodbye my outbound ticket.
There are a few alternatives if you want more flexibility. You could consider a fully refundable ticket from the likes of Tiger Airways, though this can be costly. You could buy a cheap, disposable ticket, though such a clear waste of money sits badly with me. Or, the more sketchy alternative it to 'create' a ticket (some tips from Wandering Earl on this). The ex-lawyer in me feels the need to point out that this is not a legitimate way forward so make sure you think through the risks.
3. Advance book the backbone of your island hopping
One of the cheapest ways to get around the Philippines used to be by boat but since Superferry sank a while back and sadly people died, the ferry is currently suspended between many routes. This makes flights the only mode of transport in many cases.
The good news is that the routes are competitive, served by a number of airlines (including Air Asia/Zest, Philippines Airlines, Tiger Airways and Cebu Pacific Air). The downside for wing-it travellers (like myself) is that the cheap promo fares sell out quickly, making impulse flight purchasing pretty expensive. Once again, Hawaii with its well-priced last-minute inter-island tickets lured me into a false sense of travel-impulsiveness.
If I had my Philippines time again, I'd work out the backbone of my trip – pick the islands I wanted to visit, divide up my visa time accordingly and get my flights booked up front. Yes, it kills spontaneity, but I found that spontaneity in the Philippines kills your budget.
4. Remember it is a developing nation
This may seem like another obvious point, but travel through mainland Southeast Asia for any extended period of time and it's easy to take basic amenities for granted. In that respect, the Philippines is different.
In El Nido, power is only available between 2 p.m. and 6 a.m., making air conditioning upgrades a waste of money and serving as a good reminder to charge your electrical items when you can. Equally, there are frequent 'brown outs', when power simply cuts out. Toilet paper is rarely provided (except in hostels and hotels), hot water is considered a luxury (and often costs extra) and sewage management isn't what you might hope (impacting the nostrils and swimming conditions alike).
In honesty, this rudimentary side was one of my favourite parts of my trip (the toilet and sewage system aside), but can be a surprise for some used to the relative comforts of Thailand.
5. Hit the ground running if you have the 21-day visa
Did I mention that I'm a snail-like traveller? Consequently, I always take a few days to acclimatise to a new country, usually in its capital city, exploring the food, the culture and the people before doing any real sight-seeing.
However, if you're on a short visa in the Philippines, you're going to want to hit the ground running as there is too much to see to idle in one place without a plan. I'd recommend do at least some pre-planning of what you want to explore on the various islands. Whether that planning involves internet research, picking up a Lonely Planet or scraping the minds of fellow travellers the second you land, it will help you get the most out of your visa time.
6. Book beach accommodation and major sight-seeing ahead of time
I feel like a kill-joy with the repetitive message to plan ahead, but my impulsive travel approach tripped me up so many times in the Philippines, including when it came to getting good, well-priced accommodation.
In cities like Manila, cheap accommodation is pretty easy to come by. However, head to the likes of El Nido and you're going to struggle a bit more. Popular and not exactly budget, I found the cheaper accommodation all booked out when I arrived without a reservation. This is particularly so if you travel on a weekend (and can even be the case with popular hostels).
During my short 5-day trip to El Nido, I had to change accommodation three times because my decide-on-the-day approach simply didn't wash in these parts. That left me with limited room choices at the higher cost end.
And the book-in-advance advice doesn't just apply to accommodation. Most people who land in Palawan want to visit the Underground River, often as a day-trip from Puerto Princesa. However, when I arrived, at the start of low season, tickets were booked out for more than a week in advance and I know people who travelled to Sabang (the town closest to the river) who were still unable to access tickets.
I really didn't expect this sight, that I'd honestly not heard about until I reached the Philippines, to be as impossible to see as Alcatraz, but it appears to be the case. The lesson learned: book your ticket way in advance. You may be able to do that by emailing Banwa Art Cafe [Note: this is a lovely place and the owner is very friendly but if you think about staying here, check the beds first. I unfortunately found bedbugs here as well as rat droppings in the room.]
7. Accept that the Philippines is a bad food nation and get over it
I've met some people who disagree and perhaps it is because my trip to the Philippines was immediately preceded by a month in Japan, but I was consistently disappointed with the food in the Philippines. Street BBQ was nice and tapsilog enjoyable, but for me, that was as good as the food got. Unfortunately, fast food predominates in the Philippines where burger joints like Jollibee seem to be an institution.
I love to eat local and I spent weeks trying to search for something that simply doesn't exist – consistently good food. In my final week in the Philippines, I accepted that the food isn't their finest asset. With that disappointment gotten over, I ate amazing Indian, Japanese, European and Thai food during my stay as well as devouring the Sofitel Manila Sunday Brunch, banishing the guilt at not eating local.
8. Don't expect the Philippines to be Thailand 30 years ago
It's true that the hoards who have deeply trodden and churned up the banana pancake trail in the rest of South East Asia have barely begun to step foot in the Philippines. And for that reason many people expect the Philippines to represent some sort of panacea to the overcrowding of the beaches that has seized Thailand. Sadly, the Philippines has long been discovered by the beach loving crowd and the party is well under way.
This year Boracay was named number 1 island in the world (seriously, THE WORLD) by Travel + Leisure magazine – cue influx of American tourist. Equally, El Nido is far from the final frontier it claims to be. Not only is it possible to fly there (no machete needed to clear the jungle to get to these parts), the tours are so heavily organised that you can choose between tour A, B, C or D, like it or lump it. The result – Secret Beach is the biggest known secret around, Hidden Beach was hard to get a spot on and snorkelling necessitated boat dodging and sucking in diesel fumes. Add the omnipresent waking screech of tricycle brakes and development crammed into every square inch of prime Philippine coastline, and finding a quiet spot may not be as easy as you think.
That said….beauty is definitely on the itinerary if you can escape the masses. I'm almost tempted not to share this as I want it to remain relatively untouched, but search for Las Cabanas beach in El Nido (the main image above) and there you will find true paradise (during my visit there was a local family, a dog, a solo-Swedish backpacker and a fruit seller at the beach).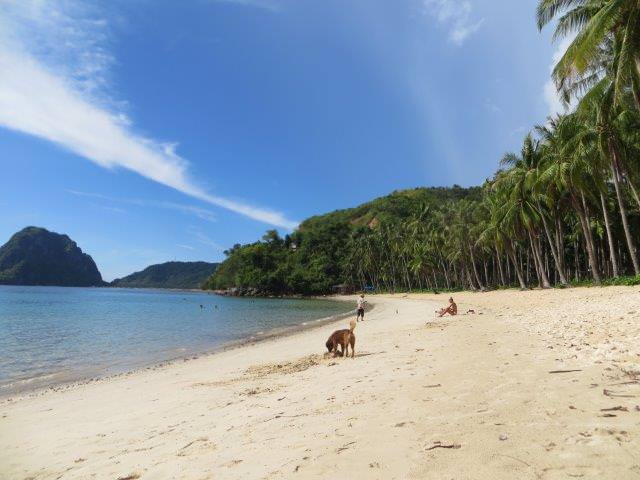 Las Canbanas aside, my advice – lower your expectations of paradise and you're less likely to be disappointed.
9. Don't be beaten
The most important thing I came away from the Philippines with was determination. I feel like I have barely scratched the surface of this beautiful country and my time to leave came too soon. But, I will not be beaten. I will return. But next time I will have a much firmer plan in mind.
For more travel planning tips and stories about Asia, see: