It seems a little premature, but as I saw blossom sprouting on the trees this weekend I couldn't help but feel that spring is in the air and if, like me, that prompts thoughts of travel, perhaps for a short break, I have just the place in mind: Montsoreau in France's beautiful Val d'Loire (Loire Valley).
This time last year Montsoreau was the place I called home. For three months from early January to early April I lived in the tiny French village of Montsoreau and although I've had smarter ideas than living in a Troglodyte cave in the depths of winter (at times the best way to warm the house was to open the windows), I got to explore this beautiful part of the world.
A place where breakfast meanders into lunch and slopes its way to dinner, with ample French roast coffee, crémant and the local vin to ease the way, I left several pounds heavier, but my taste buds all the happier for it. But it wasn't just the food (supplied fresh thanks to the efforts of the Sunday market and the village bakery) that felt magical in Montsoreau.
The sights follow the path of the Loire River, which fronts the length of the village: a 15th century château crowns the calf-stretching hills, Trogolodye houses cut into the cliff side and the tomb of Richard I is a short windy-road away (not to be confused with the more recent discovery of the body of Richard II, found is the far less elegant locale under a car park in Leicester, England).
Perhaps best of all, Montsoreau feels like a closely guarded secret. Architecture in the subtle shades of French lace hide the village's latent luxuries from the fleeting glances of the tourist hordes that stop in their coach load in neighbouring Saumur. If you want local Loire without the umbrella wielding tour guides, Montsoreau is ideal.
Tempted? Whether you want to blow your family budget or you're toting a backpack and want cheap, cheap, cheap, here's my guide to enjoying a stay in Montsoreau.
Montsoreau is hardly Rome – you don't trip over new sights at every turn, but it certainly had plenty to explore between meals (the real purpose of any trip to the Loire).
Visit Montsoreau Château
Imposing and oozing stature, the château can occupy a short afternoon wandering through the halls and observing the rooms, which have been recast with historical accuracy. There is a charming terrace that makes for a good drink and snack stop after your tour.
Shop at the local Sunday Market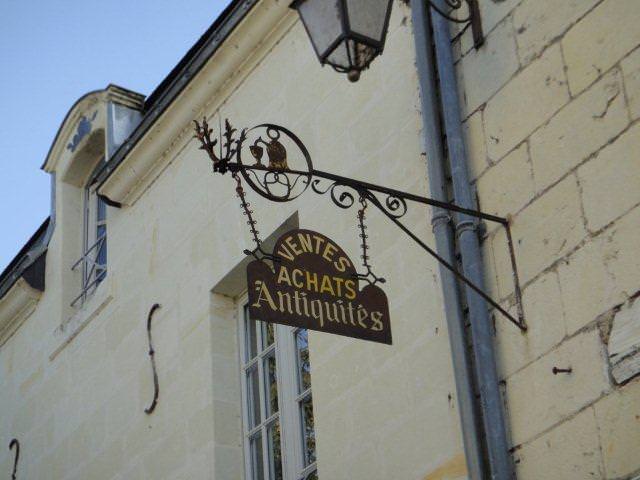 As mentioned, the Sunday market is a real hive of activity. It is not a creation put on for the benefit of the tourists, it is a genuine reflection of present day French village life. If you're lucky enough to visit on the fourth Sunday of the month, a flea market extends along the banks of the river with everything from kitsch to antique and from glass wear and candelabras to full dining room furniture, the flea market has an eclectic yet full range of items for purchase. Just keep your mode of return transport in mind before you get caught up in the whimsy of French flea market shopping.
Spend a day at the Spa
The spa at the La Marine de Loire hotel features high-end treatments, designer products and a hammam. Be prepared to spent as the prices are by no means competitive.
Visit Fontevraud Abbey for Richatrd I's Tomb
Check out Richard I's tomb in Fontevraud Abbey, a ten minute drive away in the next village. Be aware that there is a charge to of €10 (when I was there) to get in, which seemed steep and might be even less attractive if there is a group of you.
Enjoy the Loire River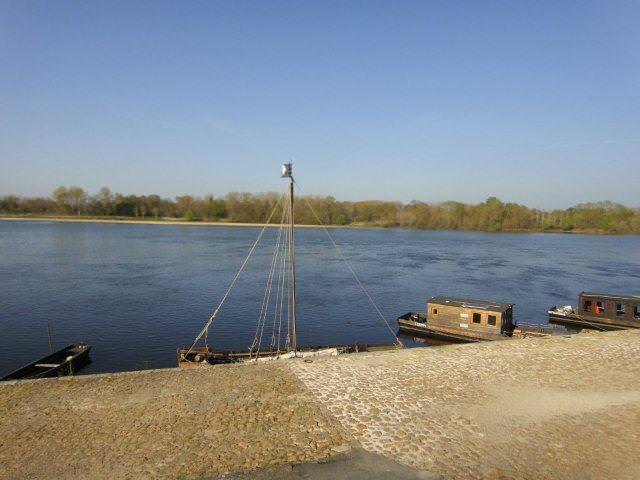 Walk, bike or enjoy a picnic on the river banks. Don't miss sunset when the sky can blend in blues and pinks and a short distance toward Saumur you will come across a restored Troglodyte village with cave houses that you can explore.
Day trip to nearby Saumur
If you find the sights of Montsoreau insufficient, head to the larger town of Saumur, about 20 minutes away by car. There you will find another château (common in these parts), shops and a large selection of restaurants.
Go Crémant tasting
The road signs in Montsoreau read like a fine wine list. The soils of Anjou and Touraine are particularly close, but the Loire Valley is also home to other grapes including my personal favourite, Sancerre. However, from Montsoreau, I would highly recommend sampling the local fizz. Whether you take a tour of a vineyard or simply pick up a few bottles in the supermarket, the brands I'd suggest trying are Gratien & Meyer, Ackerman and Ladubay. Try the white and rosé versions to truly understand how impressive the local crémant is – capable of competing with many Champagnes and at a fraction of the cost (€5 -€10 per bottle).
You might also be interested in my Cheat's Guide to Sparkling Wine and How To Visit Italy's Prosecco Region
---
Where to Stay in Montsoreau
If I could live in a hotel for the rest of my life it would be this one. The ground floor is an exercise in tranquility with flowing sheer drapes and designer driftwood perfectly placed to create an elegant beach feel. The Sunday brunch is pricey but enticing and there is a spa if you want to complete your indulgent stay. A cute boutique is attached to the hotel, perfect for gifts or mementos.
Hotel Le Bussy
I was pleasantly surprised by Hotel Le Bussy which is graded as 2-star but surpassed my expectations on every level. Perhaps I was just fortunate to get one of the best rooms in the hotel (I stayed out of season), but for under €100 a night I had an entry hall, large bedroom with traditional French furniture and decor, a writing desk and two picture windows offering dramatic views of the château. I was only supposed to stay one night. I ended up staying for two and if I didn't have a pre-booked Eurostar, I'd have been there much longer.
Although L'Isle Verte is the budget option, it's pretty luxurious as camp sites go, not least due to its location fronting the Loire River. As well as being able to pitch a tent, the site has eco-cabins and mobile homes. If you want to keep costs low, there is a grill (plancha) and terrace for making your own barbecue – handily, there is a butcher shop just opposite.
---
Where to Eat & Drink in Montsoreau
As you might expect in the heart of France, there are plenty of places to eat in Montsoreau. Options are a little more limited out of season. I won't give a full list, just my favourites.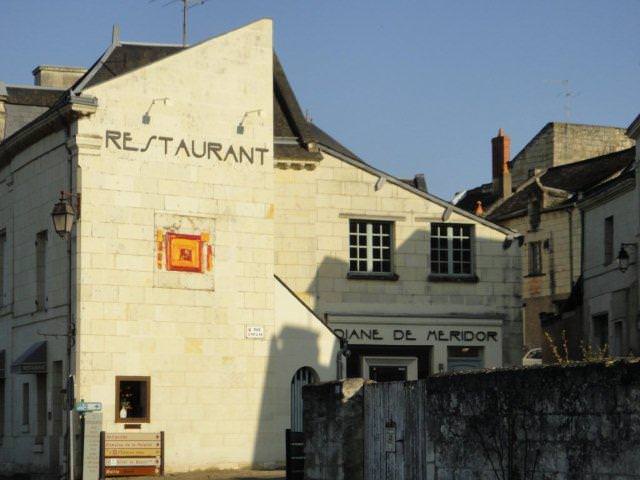 If you want to get a foie gras fix or dine on langoustines, Diane de Meridor is the place to go. The restaurant is by no means cheap and it's not the kind of place to throw bread and spill wine, but the fixed price menus offer premium French food. For not much more you can add wine pairing. To get the best deal, have a long lunch instead of dinner – the price is cheaper.
Crêperie
As well as serving fancy crêpes (the menu is two pages long with a fair split of sweet and savoury), the lady who owns this crêperie couldn't be more accommodating. Given a face lift (the restaurant, not the owner: I watched with intrigue for weeks as the work took shape) the crêperie works well for breakfast, lunch or dinner, though wine and a savoury crêpe doesn't quite work in my mind.
Aux Pains de Diane
If there is a chance you will develop an addiction in Montsoreau, it will be for the goods that come out of this bakery. Serving some of the best pastries and cakes I have ever tasted (and I've sampled extensively), I would return to Montsoreau for the bakery alone. Where should you start? Pick up a pain au raisin for breakfast, the caramel éclair or mille feuille for afternoon coffee and the bread for every meal in between. Aux Pains de Diane bakes twice a day and closes at lunch so plan your visit and if you go on a Sunday, prepare for a queue – it's worth the wait and the locals know it.
The couple who own the bakery are incredibly friendly (I procured many free samples during my visit) and will help if you want to try something new – ask for advice on which bread will suit which cheese.
Bar Tabac
Coffee strong enough to fuel you're entire trip without sleep, impressively priced coups de crémant (local sparkling wine) and a good range of beer on tap, local wine and spirits, this bar also has a traditional confectionery, tobacco and newspaper stand in the corner (even if the locals do no now need to pull on their rolled cigarettes outside the bar thanks to new smoking rules). The Bar Tabac sits at the heart of the community and is ram packed on Sundays. The unfussy proprietor is more than happy for you to grab some goodies from the bakery and enjoy them with your drink in the bar. In good weather there is outdoor seating with Loire River views.
Sunday Market
Like bees coming out of their hive, the Sunday market is a call to the locals who swarm to the main square to buy their produce. Fresh, high quality cheese, fish, fruit, vegetables, pates and drinks are sold along with some gift options including costume jewellery and scarves. The food is so divine and enticing, it's not difficult to find yourself with a basket comprising a kilo of mushrooms, two kilos of cheese and enough mussels to last a life time.
There are two further bar/restaurants in the main square, Place du Mail, and a pizza van occasionally appears on the banks of the river according to a schedule that I could never pin down. While the market is best for buying food for a picnic, the small shop in the main square stocks cheese, pâté, fresh meats and a small selection of fruit and vegetables if you can't wait until Sunday.
---
When to visit Montsoreau
European summer, late June to early September is the most popular time to visit with July and August representing the peak months. The shoulder seasons of April-May and late September-October will provide the best value with the least crowds.
How to get to Montsoreau
By air: Tours and Angers are the closest airports sitting around 70-80 km away. Both Tours and Angers have car rental agencies as well as a train that will get you to Saumur.
By train: Arguably better value if you don't intend to hire a car, you can take a train direct from Paris to Saumur via Tours (2hr if you get a good connection) or Angers (2.5 hrs). I like this site for clear scheduling and advance booking: GoEuro. Don't worry if your French isn't so good – you can buy train tickets by machines in the station with an English Language option.
From Saumur to Montsoreau
If you arrive by train, you are best taking a taxi to Montsoreau – around €25 (taxis in the area are not cheap). If you're on a strict budget, buses do run from Saumur to Montsoreau but the schedule isn't great – with more than an hour between buses during the day. Alternatively, you can hire a car in Saumur.
If you're looking to stay in the area for a week or more and are interested in hiring a house, you can find details here of the cave house I called home.
Related Articles: