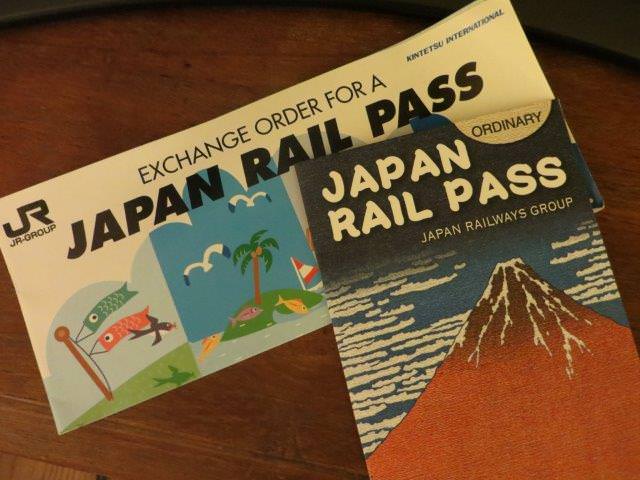 I consider myself to be a reasonably savvy traveller, yet the Japan Rail Pass had me stumped for a while. Why? It's not the simplest rail ticket around.
After several days researching what the pass is about, whether it is worth it, how to get it and how to use it (which I'm currently doing in Japan) here's my guide to the Japan Rail Pass.
The Vital Information
Yes, the JR Pass is expensive, but it can almost pay for itself with a couple of long distance rides, e.g. return trip from Narita Airport to Kyoto and back.

It's cheaper to buy the pass

before

you get to Japan.
What is the Japan Rail Pass?
The JR Pass is a discounted rail ticket that allows you to use the national Japanese rail network in Japan without extra cost. It is similar in principle to Europe's Interrail tickets – aimed at tourists to facilitate cheaper transport through the country.
Who can get the Japan Rail Pass?
It is only available to non-Japanese visitors entering the country on a short-stay, 30-day visa.
What does the Japan Rail Pass cover?
Although the JR Pass covers most of the country, it does not cover every route/train type. The Japan Guide website provides a good list of exclusions while the JR Pass website has an interactive map of where you can travel.
If time is against you, it may also be more time effective to take routes not covered by the pass, e.g. to get to Mount Fuji, there is a direct bus from Shinjuku Station to Fuji whereas the pass requires a change of train and an additional fee to travel on a non-covered section of the railway.
Be aware that if you board a train and the pass doesn't cover you for the ride, playing dumb tourist won't get you anywhere. You will have to pay the going rate for that fare, which is likely to equal a lot of Yen.
Does the pass cover the Tokyo subway?
The pass isn't valid on the metro in Tokyo, however the JR trains cover much of the city, so get hold of the city's JR map to limit your use and the additional cost of the metro.
What is the JR Pass price?
The current prices to purchase a rail pass from outside of Japan are:
A green-type pass is a first class ticket.
Alternatively, the price in Japan is:
Currently (October 2018) 100 Yen equals around $0.88 USD or £0.67 GBP.
Are the travel days consecutive?
Unlike Interail passes, the JR Pass runs for consecutive days up to midnight on the final day (and beyond, to the end of your journey if you boarded before midnight).
If you stay for 10 days and plan to spend a few days exploring Tokyo, it is worth considering getting your pass to start a few days after you arrive to get full value.
Is the Japan Rail Pass worth it?
Clearly, it will depend on how much you intend to travel, but if you plan to cover any distance from Tokyo, the ticket is likely to pay for itself within a few rides. Many visitors at least make the journey down to Kyoto and back from Tokyo. Adding in a return fare to Narita airport, the comparative costs assuming a 7-day ordinary (brought outside of Japan) pass are:
JR Pass cost: 29,110
Individual ticket costs:
1,320 Yen – Narita Airport to Tokyo by Narita Express (N'EX)
27,820 Yen – return Tokyo to Kyoto (ordinary class, reserved seat)
1,320 Yen – Tokyo to Narita Airport by Narita Express (N'EX)
Total Cost: 30,460
Where to buy the pass?
Where to buy the pass is a question which probably takes a lot more explaining than it should. During my last visit to Japan, the pass had to be purchased before you arrived in the country. However, it's now also being sold in some stations and airports in Japan. Saying this, buying before you arrive is still the cheaper option for getting the pass.
The second point to note is that when buying in advance you only ever buy an Exchange Order, which must be swapped for a pass once you arrive in Japan.
You can purchase the Exchange Order online through a number of sites. I used the company JR Pass and found the online service easy and efficient. As far as I can tell, the price is the same regardless of the company.
Getting the pass if you're at home
Home delivery of the rail pass costs £2 and it will be received within 3 working days in the UK, but if you need to guarantee delivery sooner, it will cost £7 for next day delivery.
I understand similar speeds are available in Europe, Australia, New Zealand, America, Asia and Russia. The JR Pass company also delivers passes around the world and has an option to have the pass sent to you by DHL. Here are the full delivery options.
Getting the pass if you're already travelling (outside Japan)
If you're already on the road, you can buy an Exchange Order from Japan Airlines and authorised agencies in many countries around the world agency. The list of agencies is eclectic and includes travel agents such as Trailfinders (UK), KNT and Nippon agencies.
The more important point to note is that the agencies listed tend to be based in capital cities – London, Bangkok etc., so you may want to factor this into your route and booking timetable.
Getting the rail pass in Japan
To purchase your Rail Pass in Japan you can head to a number of travel service centres, train stations and airports across the country. You need to remember to bring your passport to prove you are not a citizen of Japan when buying the pass.
How to swap your Exchange Order for a Pass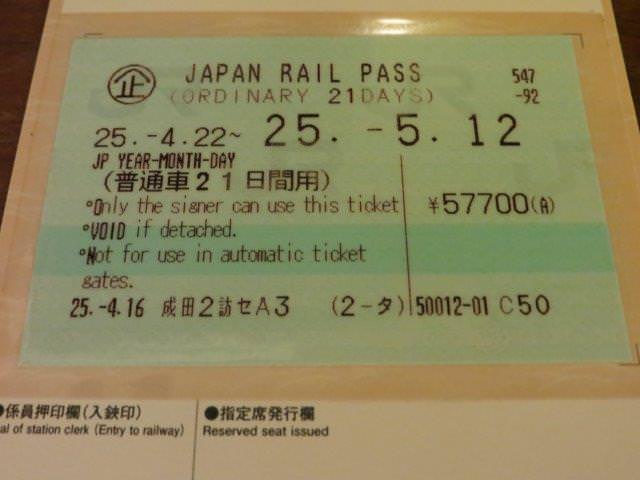 This is where Japan's usually impressive efficiency seems to fall a little below standard.
As mentioned above, when you order your pass from outside of Japan, what you're actually sent is an Exchange Order, not the pass itself. The Exchange Order will merely state the number of days of validity and your name.
When you get to Japan you must exchange (the clue is in the name!) the paper you have for your actual pass. I used the one at Narita Airport.
At the office, you will be asked to fill in another piece of paper (see what I mean about duplication of effort?).
Pay attention to this form as your pass will be generated from this document and it can't be changed once it has been issued. It can be hard if you've just stepped off a flight but double-check you get the start date right particularly if you are getting a post-dated pass or if you've taken a night flight/crossed the international date line and therefore lost a day.
Knowing I'm not at my best after a long flight, I made a note of my start and end dates before I left home and simply copied those without brain work when it came to the exchange.
You will then be handed your official Japan Rail Pass. Treat is as cash as it cannot be replaced if it is lost.
The advantage of getting your pass at Narita airport is that you can get immediate value by hopping on the Narita Express. The downside is that you won't be the only one with this idea and will stand in a long queue (by Japanese standards – i.e. not too long) as a bunch of exhausted tourists try to grapple with the complex system. Be patient, the staff will work faster than in any country I've ever visited to get you on your way.
How to use the pass
Japan operates a barrier system in its stations, but the pass is a card that cannot be slotted into the machines. Instead, you must present your pass to a guard each time you enter and leave a station.
Don't worry Japanese efficiency has returned by this point and guards are always available, there are rarely queues and it's a good double-check that you can use the train/line you're about to take.
Are there alternatives to the Japan Rail Pass?
There are other regional tickets available at lower costs including the JR East Pass (mainly for travel in and around Tokyo) and Kanto Area Pass (for the region around Kyoto, though you still have to pay to get south if you start travelling in Tokyo). If you're focusing on a specific area, check if there is a better value pass before you buy the full pass.
For more information, I found the Japan Guide website the most helpful.
Having cracked the Japan Rail Pass, all I need to do now is figure out the Metro, JR and Suica system in Tokyo – a whole different post is merited on that subject!
Want to read more travel blogs about Japan? Click here.