This post about how to get to San Juan del Sur in Nicaragua from Santa Teresa in Costa Rica.
I hit Central America without much of a plan, so comfortable I had become with my wandering ways. Nicaragua was next door to Costa Rica, I was generally heading north and so that was how simple my decision to visit was. Plus, I'd heard amazing things about this tiny country.
Images of war-torn Nicaraguan teens toting guns is often what springs to mind at the mention of Nicaragua, but as the Lonely Planet puts it, 'The civil war is over, people.' And Nicaragua is, ironically, now one of the safest countries in Central America. Ok, we're not talking Redbourn with its residents so infirm as to be incapable of getting out of their plaid slippers to commit a crime, but by backpacking standards, the statistics looked good.
Yes, gun possession is still high – check out any park signage as proof: No littering, no spitting, no guns, no dogs off leads, but it is all a matter of perspective. My mum would sooner face a loaded gun than a dog any day of the week (cat-size Chihuahuas included) and there is something about people gobbing-up a throat full of phlegm in certain parts of Asia that would make me consider the practice of carrying guns in Nicaragua less offensive.
But what comes with a country that has faced a war induced tourist drought is the very thing most backpackers are searching for – the chance to tread their own path in a place that hasn't become a carbon copy of South East Asia. A place where beaches are still pristine and the people are bright eyed and intrigued, welcoming visitors with open arms (machetes and guns safely stowed on a string slung cross body and around the back).
Though I didn't really know any of this until I arrived, of course. My main experience of Nicaragua was the reaction of non-travellers, their eyes widening at my suggestion pre-trip that I might skip into Nicaragua along the way. But there are many more common dangers threatening our existence, the scape-goat banana skin being one of them, and I haven't turned me back on our yellow fruit friend so why would I avoid this apparent gem of Central America? And anyway, Lonely Planet had practically guaranteed that I wouldn't come to harm. So, equipped with a false sense of security and a pinch of trepidation I headed for the border.
Now, from my last blog (no need to confess if you haven't read it, just skip back a beat to read about Monteverde, Cahuita, Puerto Viejo, Tortuguero National Park, Manuel Antonio and La Fortuna), you will recall that I had gathered one of the German girls to accompany me. The night before the border crossing we were all set – clothes randomly distributed around the room that had been our home for two weeks, lost room keys (tut-tut, naughty German Girl, how annoyed were you), vague plan for a 6am start and…I'd like to say early night…
…after the first bottle of rum, we decided to head to the beach for a final finale and farewell bonfire. Fate had contrived it so that the majority of Tranquilo Backpacker's hostel had decided to decamp the following day, various destinations in mind. And with that many people leaving, it would have been improper to not have a 'leaving-do'.
The next part of the blog should be a description of the events of the night, the teary goodbyes, lamenting the departure from Santa Teresa, and I'm sure all of this happened, but with the addition of a further bottle of rum and some red wine, there is little recollection that I can drag from my brain. I do have a fleeting memory of us going to a post bonfire bar, I'm guessing around 2am.
Somewhere around 4am we found our bunks and slept, the next moment of startling reality being the sound of collective alarm clocks ringing out the worst news. It was 5:30am and time to get up. No pancakes that morning, panic ensued as we crammed our articles into our bags and with less than three minutes to go, hoofed it to the dusty roadside in the hope that the ever irregular 6am bus intended to put in an appearance.
Bus from Santa Teresa
Like all buses that you are running late for, it came early but with a wing and a prayer myself and the German Girl, bleary eyed and holding back vomit, threw ourselves onto the suspensionless, sports-bra requiring vehicle. And that is when the pain began.
Always keen to avoid going backwards (to San Jose) we decided getting to San Juan del Sur from Costa Rica would best be enjoyed with a tortuous route up the side of Costa Rica.
On the plus side, we managed to pick up two ex-tranquilo hostel travel buddies on the way:
Us: Where are you headed?
Them: Monteverde [Costa Rica]
Us: Cool. [Pause to stifle vomit] How you getting' there?
Them: Dunno. [Pause to stifle vomit]
Us: Hmmm, wanna come to Nicaragua instead?
Them: Er, ok.
Bus to Paquera followed by Ferry to Punterenas
Twenty minutes later we were dumped road-side for a bus change, dust and grit spraying into our eyes as the first bus wheel spun out of town. We knew this was going to be the first of many transport changes. Only 6:30am and already the day was feeling long and hot.
To our surprise, the next bus arrived quite quickly, a chicken bus picking up all manner of people and species, music bobbing as the bus wobbled on its old axels before spewing us out at the port of Paquera for the choppy one hour crossing. This time without the jubilance of a Costa Rica stag do. (Look, if you don't get the reference,you really must follow my blog more diligently!).
Claiming mental prizes for retaining our stomach contents (bonfire smoke, red wine, rum and more red wine) we made it to the other side having picked up a Canadian Couple on the way. The Canadians knew the way to the bus stop, a 1.5km hike it turned out, in the increasingly hot sun.
From Punterenas to Liberia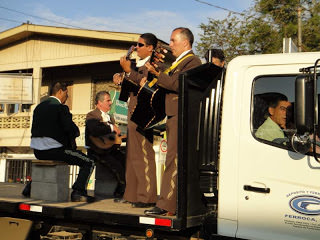 We could have collectively cried when at 11am we turned up at the bus stop (read: shack) to find out that for the second time in Central American history and both times being in the same day, the 11am bus had left early. Arghhh. A one and a half hour wait, an attempt at some slime covered undercooked chicken later and we were off on our third bus journey to Liberia.
A one and a half hour journey the guide book promised. Three hours later, we finally limped into the bus terminal, the feeling of death eating at our stomachs.
We would have been at an all-time low if I had not spoken to the Canadian Couple. There is something about somebody else's misfortune that can brighten your spirits. Firstly, I should explain that the Canadian Couple were really young, but, I'm afraid to say, that does not excuse their stupidity. They too had an incredibly long journey ahead of them. They had singularly failed to look at a map, check a guide book or indeed speak to anyone about the best way to get to Tamarindo.
Located a mere one bus and one hour north of their original location near Santa Teresa, the couple had deemed it necessary to go across (by ferry), up, over and down the peninsula in order to get to their destination. A journey that looked set to take 20 hours to complete. Six hours into their journey, I didn't have the heart to show them the error of their ways. Instead, with sadness in my eyes for their plight, I said goodbye at Liberia unsure that anyone would ever see them again. I guess some people are not safe to travel alone.
Liberia to Pena Blancas – Nicaraguan Border
Back to our own journey, Liberian tiredness had taken hold and we buckled at the offer of a $20 taxi to Pena Blancas, the long awaited Costa Rican – Nicaraguan border. It turned out to be the best decision as we sailed past lines of traffic that were so long the queues had to be broken into three, each sprawling back for miles. We would have been there all night our taxi driver proudly informed us as he sailed past the queues, apparently not required to join it. We were not necessarily convinced, but we certainly did not care – we were moving and no one else was.
From the border To San Juan del Sur
As we neared the border, it once again became apparent that I had got into a 'taxi' that was not, in fact, a taxi as the driver pulled over and unloaded our bags. We had to change vehicle from his 'unofficial' vehicle to an 'official' one. We paid the fake driver who paid the real driver, money swapping and changing hands at a rate I could barely keep up with. Bags re-loaded, keeping an eye on the string holding the back seat door closed and we were on our way, the sound of 80s classic weepy love songs blurring in our ears. Hello, is it me you're looking for? Apparently our new driver was searching for the love he'd lost circa 1986.
At the border we were once again thrown out on our ears and made the border crossing by foot. All day we had one plan in mind, to follow all the advice and make the crossing before nightfall. Approaching the administration building the sun was rapidly disappearing from the horizon while our tension turned up a notch, desperate to get the paperwork done before dark when the machete wielding, gun owning Nicaraguans would surely come out to play and relieve us of, at best, our possessions and, at worst, our lives.
Fortunately, we were the only idiots to attempt the crossing so late in the day and had missed the queues by hours, promising a rapid transition from one country to another. But not so rapid that we managed to escape the lingering locals allegedly offering assistance. As suspicious tourists we clutched our bags, kept a close eye on our passports and prayed for the best. What did these people want, telling us where immigration was, what forms we needed, no, don't go that way, the bus is this way. Surely it was all a ploy to rob and kill us? Darkness loomed in the distance, the theme music from Lost Boys looping in my mind.
Where are you going, they asked? Towards Rivas, we reluctantly admitted (fear isn't conducive to lying no matter what Jack Bauer will have you believe). 'Go-go-go, run,' we were instructed as the locals wrestled our bags off us and legged it. What, where, when, how, confusion, panic…then a short burst of realisation as we gave chase. We were about to miss the bus.
With a great team effort of locals at the border and those on the bus and with a running entrance we managed to board the bus, our backpacks slung onto the roof – by the locals, of course, not the poor, weak travel-weary gringos.
Bus..blah, stopped counting: Penas Blancas to Rivas, so close yet so far
Another chicken bus and thirteen hours of travel under our belts, we were over-due a shower, food and bed (not necessarily in that order) when, once again, we were slung out of the bus road side. We had to change bus one final time.
The further north I travelled in Central America, the more makeshift the 'bus stops' became, but this one was almost comedic, I mused, as we sat in a drunk Nicaraguan man's garden on the brink of a junction looking in all directions for any sign of a vehicle that might pass as public transport (definition includes a car with a vacant seat) that could be flagged down at a moment's notice.
Still reeling from our suspicions at the border we were once again overly cautious as our new friend hefted our bags onto his property. But half an hour later, despite the fact that the night had turned pitch black (permanent power not something Nicaragua is known for) and being exhausted and consequently vulnerable, we realised this man wanted nothing more than to chat. It was Saturday night, he'd had some fizzy pop and his only company had been his mother until four gringos were unceremoniously dumped in his garden. Of course we were a better option.
Another effing bus: Nicaraguan man's garden to San Juan del Sur
And so chat we did until eventually the saviour that was our final bus arrived. We were smelly, famished and desperate for a lie down. The next part of the journey should have described a final 30 minute ride, ten minutes locating our pre-selected hostel then shower, food and bed.
Alas, no.
We arrived at the hostel to be told sorry, no rooms. Hmm, we walked a few paces and asked at the hostel a few doors down. Same story. Double hmm. San Juan was a backpacking enclave and had apparently become quite popular, but we did not fear, there were no less than 12 hostels to stay at in the town.
After we were told sorry, no room for the 12th time, our hearts sank. Still packing around 15 kilos each, we trudged our feet from door to door now borderline begging for anywhere to sleep for the night. So desperate we had become we got excited at the idea of a bed some other backpackers told us about in the local 'crack den'.
Even they were full. But they were kind enough to take us to the man next door who would let us sleep on his concrete floor. Almost admitting defeat and bedding down with the curious stranger, we tried once more, this time splitting up, and after an hour of begging and pleading found ourselves proper beds in two hostels.
What was with San Juan, we asked as we checked in, wearier than weary. We really must have been tired, our new hostel mates informed us, to miss the four hundred Harley Davidson bikers who had rocked up in town for a one-off festival. Ahhh, those scary looking people were not the locals? No. For the third time since arriving, I had massively misjudged the locals.
My initial fears about the people of Nicaragua were consistently proved wrong over the coming days. There were so many wonderful people in this country – the kind man who let us hitch a lift in the back of his truck to the beach, the man who offered to buy me a drink after he mistakenly saw me naked (Hannah – why does anyone have to be naked?), the man who took us to the jazz festival, and finally the man who saved my life when I found myself barefoot, in the dark, half way down a volcano – all to come in my next blog.
As the long day of travel came to an end and the dawn rose on a whole new day, the Alice in scary Nicaraguan Wonderland pills had worn off. The machete wielding men were farmers not fighters, the Harley bikers were fun and not permanent. The Nicaraguan people were some of the nicest I have ever met* making Nicaragua one of the best places I have visited. By far.
* exclusion applies to all locals I encountered in connection with my broken tooth (see next blog).