Niagara State Park is the oldest State Park in the USA and sees over 8 million visitors per year. Spanning both the USA and Canada, Niagara Falls is the second largest waterfalls in the world (after Victoria Falls in Africa). Isn't that reason enough to put it on your travel bucket list? In this guide, I'll share how to visit Niagara Falls from Buffalo in New York state, including how to get there by plane, bus, train, car and ride share. I'll also explain how to get to the falls from the Niagara Falls Visitor's Center, how to cross Rainbow Bridge into Canada and how to travel onwards to Toronto. I also have a guide for the 15 Best Things To Do In Niagara Falls.
At the end of this article I've included a map. While you're in New York State and ticking off the big sights, here's are a few guide to visiting the Big Apple, including the 10 Iconic Things To Do in New York for Tourists, Inside The Statue of Liberty – Are Crown Access Tickets Worth It? and How to Visit The Statue of Liberty
Best Airport for Niagara Falls – Buffalo
If you want to fly to Niagara Falls, there are three airports to choose from. Buffalo Airport is the closest airport that offers the best range of flight routes. Here are your airport options in detail.
Niagara Falls International Airport (airport code: IAG) – Niagara Falls Airport is the closest airport to the falls, located just 4 miles east of the town of Niagara in New York State. However, flight routes are limited with an ever reducing number of airlines serving the airport – Allegiant is the main airline, with routes mainly from Florida. Since Covid, even Spirit has pulled their service to Niagara Falls.
Buffalo Niagara International Airport (airport code: BUF) – Buffalo Airport is the best airport for reaching Niagara Falls (both the USA and Canadian side). It's located 24.7 miles, around 35-40 minutes by car from from the USA side of the falls. See below for details of how to get from the airport to the falls if you don't have a car.
Toronto Pearson International Airport (airport code: YYZ). Although Toronto in Canada is the city most often associated with trips to Niagara Falls, it's 77.7 miles / 125 km (about 1hr 25 to drive) to Niagara Falls from Toronto, making Buffalo much closer.
By bus from Buffalo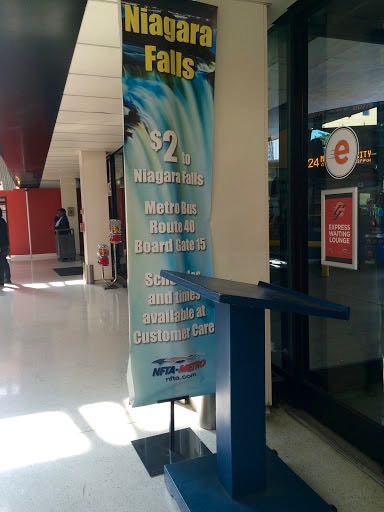 Getting to Niagara Falls by bus from Buffalo is by far the cheapest way to get there – it costs just $4 return if you take the public bus. Here are the details.
From downtown Buffalo
Cost: $2 one-way | Time: Approx. 1 hr | Bus route: 40
Take the number 40 bus from Buffalo's Buffalo Metropolitan Transportation Center. It runs directly to Niagara Visitor Center on the USA side of the falls. The bus takes just under an hour and costs $2 each way for an adult. You pay the fare on the bus (use correct money because no change is given). The bus runs every hour, 7 days a week. You can check the bus schedule before you go.
The Buffalo Transit Center is located in Downtown Buffalo on the Southeast Corner of North Division and Ellicott Street. The bus leaves from Gate 15. Not many tourists were using the bus when I visited (I was the only one) so don't rely on following the tourist pack. The station is small but be at the gate before the scheduled time of your bus because the bus pulls in and pulls out.
I've got a section below on how to get to the Niagara Visitor's Center from the bus stop – it's not as easy as you think, even with Google Maps (see my 'personalised' Google Map below).
From Buffalo Airport
Cost: $5 for a day pass | Time: Approx. 2 hrs | Bus route: 24 then 40
The good news is that you can travel from Buffalo Airport to the Falls by public bus. The bad news is that you will have to travel to Buffalo city center first on bus route 24 then take route 40 as described above. If you look at a map, it doesn't add much extra distance, but it does add a lot of time – around two hours to get from Buffalo airport to the falls. However, it's definitely the cheapest way to travel. Pick up a day pass for $5 for the cheapest rate.
If you do decide to travel by bus, bus route 24 will drop you off at Washington St. and S. Division St. It's just a few minutes across the park to the Buffalo transit center to catch route 40. See my map below.
To the Canadian Falls with Greyhound
Cost: $14 one-way | Time: Approx. 1.25 hrs | Bus route: Greyhound
Greyhound offers a bus route from Buffalo to the the Canadian side of Niagara Falls. Buses depart from 181 Ellicott Street, downtown Buffalo and drop off at 4555 Erie Ave at Niagara Falls. The route includes crossing the border between the USA and Canada over the Peace Bridge. The bus runs twice a day – at 8 a.m. and 5.15 p.m. The only advantage I see compared to the public bus is that you save the walk from the USA side to the Canadian side of the falls, which might feel like a long way if you're not used to walking very far. But it does mean you'll miss out on seeing the USA side of the falls, which are stunning. Taking the public bus to the USA Falls and crossing the border by foot will be cheaper and quicker. You can book Greyhound tickets in advance.
Note: Megabus no longer offers a route from Buffalo to Niagara Falls.
By train
Cost: $14 one-way | Time: Between 45 mins to 1.25 hrs | Note: only 3 trains per day in the late afternoon
Many websites will tell you that the best way to get to Niagara falls from Buffalo is by taking the train with Amtrak. But I find this puzzling as the train times are not useful unless your goal is to Niagara Falls at night and you then plan to stay in Niagara. Trains run 3 times a day around 3pm, 6pm and 9pm. And that's with me searching over 6 months ahead. Sure, the train only takes 45 minutes if you book the fast train (1hr 25 on the slow route) but still, it's not a great option if you want to spend the whole day exploring the falls.
Nevertheless, for completeness, here are the details. The train departs from a choice of Exchange Street Station in Buffalo or Depew Station (10 miles east of Buffalo) and drops you at Niagara Falls Station, New York State. There is one train a day (around 3 p.m) that will take you to Niagara Falls in Canada from Buffalo. You can book Amtrak Tickets in advance. Doing the journey in reverse, you'll need to book on ViaRail (Canadian Rail Network). If you enjoy a train journey, check out my guide to How to Get From New York To Washington DC.
By car
Getting there by car is going to be the easiest and quickest option. The drive takes around 35-40 minutes from the airport and around 25 minutes from Downtown Buffalo. If you have your own car, check out my Google Map below for directions to the Niagara Visitor center as well as other useful points of interest. For GPS on Google Maps, head to Niagara Visitor Center Parking Lot 1.
Cost: around $80 per day rental; around $100 Rideshare | Time: Approx 25 minutes from Downtown Buffalo; 40 minutes from Buffalo Airport.
Car rental
If you're looking for a car rental when you arrive, Hertz have a couple of rental locations within Downtown Buffalo. Otherwise, the airport is your best option with most of the popular car rental brands available. I use RentalCars.com to compare and book my rental cars in advance. It's easier and I'm less likely to get pressured into buying extra insurances on the spot.
Rideshare wit Uber or Lyft
Not got your own car and don't want to rent one? It's still possible to get to the falls by car, using a rideshare service like Uber or Lyft. Cars are readily available in Buffalo and a one-way trip from Downtown Buffalo to the USA side of the falls costs around $40-$50 (excluding tips) one-way assuming a ride time of around 30 minutes. I'd almost double that for the journey from the airport. Note: Uber and Lyft drivers are not allowed to take you across the bridge into Canada.
Peace Bridge vs Rainbow Bridge
There are two bridges to choose from if you're crossing from the USA to Canada to see Niagara Falls. If you take the bus, you'll walk over Rainbow Bridge. If you drive, you have a choice. Peace Bridge is located closer to Buffalo. Rainbow Bridge is in the town of Niagara Falls. Different people have different views on what's better for crossing time and views. I recommend Rainbow Bridge because that will allow you to fit in a visit to both sides of the falls – USA and Canada.
---
From the Visitor Center to the falls
If you take the public bus, ask the bus driver if they will let you know when you're at the Niagara Falls Visitor Center. The landmark you're looking for is this "haunted house" at the cross-section of Rainbow Boulevard and Old Falls Street. It will come up on your left-hand side.
From there, walk a little further down Rainbow Boulevard (in the direction the bus was travelling) until you see this building – it's technically called One Niagara Welcome Center, but don't be fooled – the official Visitor Center is around the corner, behind this building. The name is a ploy to get you inside to buy stuff (and boy does it contain a lot of stuff – Niagara t-shirts in EVERY colour). That said, this oversized souvenir mall does have toilets if you happened to have drunk a very large coffee before getting on the bus.
If you don't need to go inside the mall, continue on Rainbow Boulevard until you get to the end of the block at Niagara Street and turn left. Then, as you get towards Rainbow bridge, veer left towards the official (but well tucked away) official Visitor Center.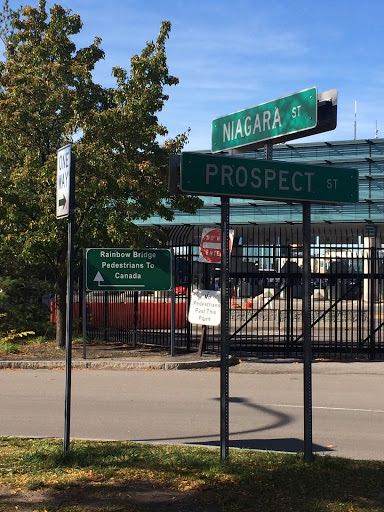 You do have the opportunity to go over Rainbow Bridge and on to the Canadian side of the falls from here. In fact, all of the signage is aimed at getting you over the bridge, making it a bit confusing. However, I recommend spending an hour or two seeing the USA side of the falls first.
To do that, ignore the signs for the Rainbow Bridge and instead double back, behind the fake Welcome Center building onto Prospect Street. From there, you'll reach the entrance of the USA Niagara Falls State Park and the official Visitor Center. The park is free to enter by foot so just walk right in.
Luggage Storage: A few people have asked me this. Yes – you can store luggage at the Visitor's Center. It costs between $10-$20 per bag for the day. You can find out more here.
How to cross Rainbow Bridge to the Canadian Falls
I would advise seeing the falls from both the USA and Canadian side. It's very simple to do. Rainbow Bridge is the Bridge that spans the falls and connects the USA to Canada, and you can simply walk across it. The price is $1 each way for pedestrians and bikes. The rate is $5 one-way for cars. For a day-trip to the falls and back into the USA, US Citizens need to show either: a) a passport; b) a passport card; or c) an enhanced driver's licence (available in some states only). More details here on ID requirements for the Canadian Falls.
How to get to Toronto from Niagara Falls or Buffalo
If you want to head on to Toronto from Niagara Falls and you're not on a tour, the good news is there is a pretty easy public transport option. I'm assuming you've crossed Rainbow Bridge and are now on the Canadian side of Niagara Falls. From there, take the number 12 bus to Burlington. At Burlington, you can change to the LW train that takes you into Toronto. Use the GO Transit website to plan your route and schedule. The journey takes around 3 hours including the transfer. The cost is around $10-$15 one way. If you're travelling directly between Buffalo and Toronto, there is a direct service with either Megabus or Greyhound. You can also drive (around 1hr 30 minutes).
---
Where to stay in Buffalo
Buffalo is the perfect base for a visit to Niagara falls. It's s a fun city that has a lot of restaurants, cafes, bars and hotels. Here are some of the best Buffalo hotels and places to stay in downtown Buffalo:
Niagara Falls Tours – Quick Book
If you prefer to take a tour, here are some quick-book links:
Map of How to Get To Niagara Falls
Here's my Google Map of all the places mentioned in this article.
That's my guide to how to visit Niagara Falls from Buffalo. Leave a comment below if you have any questions or suggestions.
Related Articles
Like this guide to visiting Niagara Falls from Buffalo? Share it on Pinterest.